3D printing elastomers employ a specific form of spray able liquid polymer with a hardness that can be adjusted on the fly and in the same liquid, making it an excellent choice for prototyping components that will be over molded at some point. 3D printing of elastomers saves time. It allows you to properly test these modules and check right away if the form is produced correctly or not. The models have fine detailing and a silky smooth finish. This increases the printing quality. For 3D printing, it employs additive manufacturing techniques. Elastomers and the F123 series alter workflow, saving up to 40% on 3D printing costs.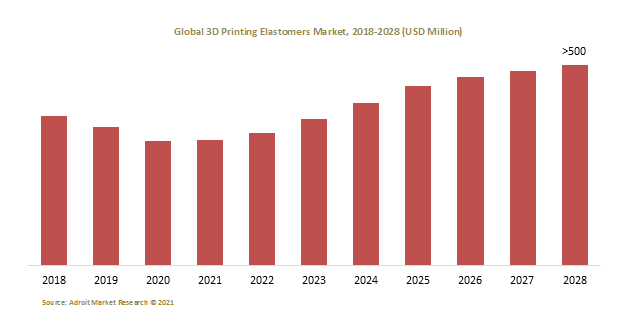 Adroit Market Research study on the global market for 3D Printing Elastomers offers a holistic view of the industry from 2020 to 2028 as forecast period, including factors such as market drivers, limitations, opportunities, threats and regulatory overview. The market has been analyzed from 2018 to 2028, with a base year estimate of 2019 and a projection from 2020 to 2028. The report covers the current status and potential characteristics of the market at both the global and the country level. Moreover, the report also assesses market competition with Porter's analysis of five strengths and places leading players on the basis of their product range, regional presence, strategic initiatives and overall sales. Prominent players in the global 3D Printing Elastomers market have been analyzed in depth.
The expansion of the 3D printing elastomers market is being driven by the increasing usage of home 3D printers and increased demand from the automotive, consumer, and medical industries. In the healthcare business, 3D printing technology has been used to create tissues, prostheses, and medical implants, making difficult designs simpler for product designers and engineers to produce cheaper, quicker, and more effective complicated designs.
Key player in this industry includes, Carbon Inc. (United states), Formlabs Inc. (United states), BASF SE (Germany), 3D Systems Inc. (United states), Stratasys Ltd. (Israel), Proto Labs Inc. (United states), Henkel (Germany), Materialise NV (Belgium), EOS (Germany), Dow Chemical Company (United states), Evonik Industries AG (Germany), Arkema SA (France), Sinterit (Germany), The Lubrizol Corporation (US),
Key Segments of the Global 3D Printing Elastomers Market
Type Overview, 2018-2028 (USD Billion)
Material 2018-2028 (USD Billion)
TPE (Thermoplastic Elastomer)
SBR (Styrene-Butadiene Rubber) & SBS (Styrene-Butadiene Styrene)
Others
Regional Overview, 2018-2028 (USD Billion)
North America
Europe
UK
Germany
France
Rest of Europe
Asia Pacific
China
Japan
India
Rest of Asia-Pacific
Middle East and Africa
UAE
South Africa
Rest of Middle East and Africa
South America
Brazil
Rest of South America