The global whole exome sequencing (WES) market is expected to remain robust over the next few years which signifies that the potential growth of the whole exome sequencing market is poised to surpass USD 3,812.0 Million by 2028 growing at a CAGR of over 20% throughout the projected forecast years, 2021-2028.
The influence on the market value can be attributed to the key factors like WES integration in identifying and determining genetic variants and novel R&D expeditions in WES development. However, interpretation of variants of unknown significance, incidental findings, high costs, lack of competitive skills are some lingering challenges rampant in the global whole exome sequencing (WES) market.
Also, psychological risks associated with the disease are also the key constraints of the market. Furthermore, technology innovations, advanced bioinformatics tools have remained almost successful in addressing the bottlenecks in the whole exome sequencing methods. Therefore, this as well as unfaltering progress in personalized therapeutics to tackle critical ailments such as cancer are expediting rapid expansion in exome sequencing space.
The purpose of the whole exome sequencing methods is to facilitate genetic sequencing from the blood samples or saliva samples. It is more beneficial to people facing genetically transferred disorders. For example, Whole Exome Sequencing methods are extensively used to detect uncommon and common genetic mutations in humans.
Study of genetic variants strongly associated with heart disease can also be classed under Whole Exome Sequencing services. The reputed players and new market players are triggering novel ways to stay ahead of the competition and improve care delivery while reducing the gaps in diagnostics and therapeutics alike.
Several market participants are offering high-level whole genome sequencing services and methods to expedite care delivery across patient pools. They are carrying out broader operations in whole sequencing-related business segments. The high threat of new entrants providing workflow solutions around sequencing, whole exome sequencing technologies are disrupting the well-established players' tested growth strategies resulting in intensified competition.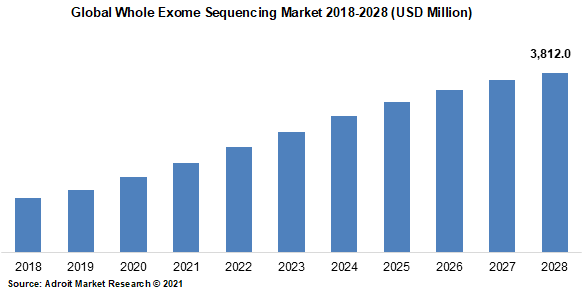 The key competitors and innovators in the whole exome sequencing market are Ambry Genetics, Macrogen, Knome, GENEWIZ, Sengenics, Eurofins Genomics, BGI, Agilent Technologies, Roche NimbleGen, Life Technologie, and Illumina among others. The market players are working on implementing big data analytics to wipe out existing challenges of personalized medicine. Additionally, the strategic initiatives such as mergers and acquisitions and new agreements are increasing market share and dominance. This is boosting up prospects in their whole exome sequencing services market considerably.
Whole Exome Sequencing Market Scope
| | |
| --- | --- |
| Metrics | Details |
| Base Year | 2020 |
| Historic Data | 2018-2019 |
| Forecast Period | 2021-2028 |
| Study Period | 2018-2028 |
| Forecast Unit | Value (USD) |
| Revenue forecast in 2028 | USD 3,812.0 million |
| Growth Rate | CAGR of 20% during 2021-2028 |
| Segment Covered | Technology Type, Products and Services, Applications, End User, Regions |
| Regions Covered | North America, Europe, Asia Pacific, Middle East and Africa, South America |
| Key Players Profiled | Ambry Genetics, Macrogen, Knome, GENEWIZ, Sengenics, Eurofins Genomics, BGI, Agilent Technologies, Roche NimbleGen, Life Technologie, and Illumina among others |
Key Segments of the Global Whole Exome Sequencing Market
Technology Type Overview 2018-2028 (USD Million)
Sequencing by Synthesis
Ion Semiconductor Sequencing
Others
Products and Services Overview, 2018-2028 (USD Million)
Products
Systems
Kits

DNA Fragmentation End Repair, A-Tailing and Size Selection
Library Preparation Kits
Target Enrichment Kits

Services

Sequencing Services
Data Analysis Services
Others
Applications Overview, 2018-2028 (USD Million)
Diagnostics
Cancer
Monogenic Disorders
Diabetes
Others
Drug Discovery and Development
Personalized Medicine
Agriculture and Animal Research
Others
End User Overview, 2018-2028 (USD Million)
Research Center, Academic and Government Institutions
Hospitals and Clinics
Pharmaceutical and Biotechnology Companies
Others
Regional Overview, 2018-2028 (USD Million)
North America
Europe
Germany
UK
France
Rest of Europe
Asia Pacific
China
Japan
India
Rest of Asia-Pacific
South America
Brazil
Mexico
Rest of South America
Middle East and Africa
Reasons for the Study:
To ensure you gain better knowledge about every aspect of the market.
The primary goal of the presenting this research study is to help the market players know their customers and target market that will help them further to build a sustainable business.
To present a detailed study of the global "keyword" market and give brief idea where the market is headed.
The report presents a forward-looking perspective considering various factors that are driving or leading the market growth.
The report pin points the changing market dynamics and keeps you ahead of the competitors.
What does the report include?
Overview of the market with a coverage from 2018-2028, base year 2020, and future forecasts of the year 2021-2028.
Market dynamics such as market size, growth forecasts barriers, opportunities, challenges, and business benefits of investing in the market.
The report gives brief explanation of the market competitors and describes their strengths and weaknesses also covering their product portfolios, revenue, and new technology advancements.
The report presents the financial study of the market, demographic study, segmentation, target markets, market needs, competition landscape, entry barriers, and regulatory environment.
Present a summary of local and global market supportive events taking place to boost a wide range of interest groups.
Business benefits, barriers, and challenges of investing in the market.
Current and future perspectives on the Whole Exome Sequencing Cost Market.
Who should buy this report?
Researchers, experts in the field of technology, medical professionals, common people, and the investors.
The Whole Exome Sequencing Market report is intended to all the players across the supply chain including raw material providers, manufacturers, distributors, and other entities across the supply chain.
The Whole Exome Sequencing is the next generation technology that is being commonly used as an alternative to whole-genome sequencing (WGS) as it offers broader coverage in identifying disease variants and is cost friendly. The Whole Exome Sequencing is becoming attractive in healthcare and research for identifying genetic variations. The sequencing technology is embedded with advanced whole exome sequencing methods and services and allows faster sequencing of large amounts of DNA than the traditional sequencing methods. This is boosting the growth probabilities in whole exome sequencing market.
The growing focus of healthcare organizations for using the whole exome sequencing for faster diagnosis of diseases causing mutations is accelerating the use of whole exome sequencing leading to increased scope of whole exome sequencing services market expansion. Also, Whole exome sequencing services allows speeding up of the process which is now able to do human genome sequencing in just a few weeks' time while reducing the cost. An increasing number of organizations and research institutions are trying to find out valuable methods for researchers. They are conducting study on exome and genome sequences to further make its use in determining new genetic variations affecting health conditions. This research study is expected to aid disease diagnosis in the future and anticipated to be an opportunity to the whole exome sequencing cost market.
Technology Segment
Depending upon the technology segment, the market is bifurcated into key categories namely sequencing by synthesis, ion semiconductor sequencing, and others. The sequencing by synthesis segment is expected to grow exponentially in the forecasted years due to technology advances and improved processes.
Products and Services Segment
Depending upon the products and services segment, the market is bifurcated into key categories namely products, systems, services, sequencing services, data analysis services, and others. Further for reader convenience and accurate understanding of the current market conditions, several sub-categories of the kits segment have been included, such as size selection library protection, DNA fragmentation end repair, and target enrichment
The target enrichment kits is experiencing good growth in the whole exome sequencing cost market and is expected to accelerate its growth in the forthcoming years. The benefits offered by the target enrichment kits including potential to sequence exomes or large numbers of genes using advanced workflows, and delivery of dependable results are the key reasons driving the Whole Exome Sequencing Services Market.
Applications Segment
As the report progressed further, the application segment is further dissected segments to induce growth relevant reader awareness. Some of the major ones are diabetes, cancer, diagnostic disorders and monogenic disorders, animal research, personalized medicine development and the like.
Cancer is a rapidly rising disease worldwide. Due to its rising prevalence the whole exome sequencing is used to sequence the cancer genome. Its use it is providing better understanding of the coding mutations that are leading to tumour progression. Thus, the segment is experiencing huge growth in the whole exome sequencing method market.
End User Segment
Elaborate diversification of the end-user segment suggests that hospitals, clinics, biotech companies and drug manufacturing organizations, government and academic centers are the major segments based on end-user classification in whole exome sequencing market. The biotechnology companies in whole exome sequencing are offering faster and direct-to-consumer genome sequencing services which is increasing the scope of the market. The segment is projected to dominate the Whole Exome Sequencing Method Market.
The North American region is performing best in sequencing efforts leading the Global Whole Exome Sequencing Market. The number of SARS-CoV-2 sequences included by the North American based countries has increased rapidly. More specifically, the countries including Australia, UK, Netherlands, Iceland, and USA are the top performing countries in global exome sequencing market.