Owing to benefits that include the provision of location-specific information on the tips of one's fingers, the Weather app market is experiencing rapid adoption in opposition to its traditional alternatives that include radio, websites, television, etc.
The need for accurate weather information during times of unprecedented natural calamities or any other uncertain phenomenon has accentuated the need for weather apps thus, improving the dependence on weather apps.
The global weather app market is making remarkable progress thanks to quick end-use applications from a variety of sectors, including aviation, mining, construction, retail, marine, military, turf-related sports, amusement parks, and others. Weather apps are undergoing a variety of technological advancements that are enabling them to provide weather reports with a greater amount of accuracy and a better sense of efficiency in the delivery of these reports thus, fostering overall growth in the weather app market systems.
Advantages such as accurate information about the climatic conditions and also the need for accurate weather reports so as to improve the generation of renewable energy encourage further adoption of weather apps.With the evolution of technology, people are able to have access to weather reports on their smartphones itself without any haphazard, thus increasing the demand for these apps. Considering these factors, it is reasonable to say that the weather app market is growing at an appreciable compound annual growth rate (CAGR) of 8.7%. It is expected that the market might acquire a size of USD 4.1 billion during the period of forecast, that is, 2021-2031.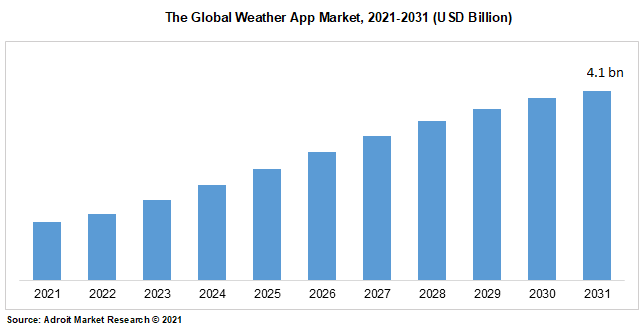 Weather apps provide their users with information about the weather that includes forecasts, news, as well as minor or major changes that are probable to take place in the environmental conditions. In addition, they also give an insightful account of the weather conditions with special reference to a specific location. They enable the provision of improved weather information by means of an android application or an iPhone. The enhanced accuracy of weather reports also owes a lot of credit to the increasing number of weather stations across the globe.
A significant rise in the demand for weather apps is because they provide data after researching on various weather variables such as temperature, air density, pressure, temperature, humidity, and other climate-related factors. They also assist various businesses in reducing the costs involved with the operation and management by providing accurate reports about the weather within a stipulated period of time. The process of weather forecasting begins by creating a brief sense of understanding the basic physical environmental conditions of the area that is to be covered, post which the climatology of that region is determined.
However, weather apps are never cent percent accurate and cannot be considered completely reliable as they are just predictions and not. Though weather apps are automatic, but not always hence, there are times when the updated forecast is not presented on the app and the lagged information is delivered to the users thereby, misleading them. However, in spite of all these drawbacks, weather apps are largely used by people in order to get details about the climatic conditions prevailing over a specific area. With the technological advancements that have been taking place, these apps are being altered time and again in an attempt to provide information that is more accurate and reliable.
Segment Analysis
Google Play Store Marketplace to Remain the Most Lucrative Segment
The Google Play Store segment has emerged as the segment that is more lucrative than any other because it is more economic than other app stores. Android users can make use of the google play store and also obtain benefits from cloud-based content management. It provides over a thousand apps with weather-related functionalities and the number is expected to amplify in the near future thereby, increasing its popularity.
Asia-Pacific Region to is Expected Render Ample Investment Avenues
According to forecasts, Asia-Pacific will account for the largest market share during that time. India and China have grown to be digital hubs in the last decade thereby, acquiring a considerable amount of consumer base. Several projects are being undertaken in order to put into use renewable forms of energy to prevent a situation of energy crisis. Europe however, is expected to hold the second-largest share of the market by the end of the study period.
Covid-19 Impact and Market Status
During the covid-19 crisis, some industries like the medical industry gained enormous profits while many others had to face negative impacts. The economic condition of various countries had been adversely affected. The pandemic affected the behavior of customers globally. There were restrictions imposed on the physical movement of people hence, a multitude of them preferred to stay indoors as a precautionary measure. The mode of work was shifted to online, that is, work from home, in many institutions. During this time, a boom was seen in the use of weather applications because people chose to stay aware of the conditions of the weather. Thus, the market gathered a lot of audience during the Covid-19 pandemic due to the rise in demand for location-specific weather information.
The key players in the border security market are AccuWeather Inc., CARROT Weather, GroundTruth, Weather Line, The Weather Company, Windyty, Apalon, and Yahoo among others. These players operate in the Weather app market and adopt various strategies including mergers and acquisitions to maintain their positions in the market.
Latest Innovations in the Global Weather app Market: a Snapshot
• Recently, in November 2022, Apple integrated a news segment with the Weather app on iOS 16.2 beta. As a result of this update, when one will open the app, they will witness varied news pop-ups that will portray regional stories. '9to5Mac' called this a smart way 'to populate these apps by including useful data by means of integrating relevant stories from Apple News in Stocks and Weather.'
• In October 2022, ahead of the Pixel Watch event, Google updated Weather, Fitbit, and Phone apps. For Wear OS 3 smartwatches, there is a new Weather app. It initially shows the weather of the current location of the wearer. However, once permission is granted, it displays the information about the weather from weather.com as well as the forecasts for the following eight hours followed by that of the next five days.
• Apple (in iOS 16) made the decision to significantly update and add to its weather app in September 2022. This included the addition of new types of notifications and also the increased amount of weather information that ranged from humidity to temperature and visibility. Apple referred to Dark Sky, another weather app that it purchased in 2020, for many of these features. Certain changes that came were in these categories: temperature, weather app for iPad, humidity, pressure, visibility, UV index, precipitation, sunset and sunrise, more locations, weather widgets, feels like feature, air quality, wind, weather lock screen, and severe weather notifications.
Weather App Market Scope
| | |
| --- | --- |
| Metrics | Details |
| Base Year | 2022 |
| Historic Data | 2021-2022 |
| Forecast Period | 2022-2031 |
| Study Period | 2021-2031 |
| Forecast Unit | Value (USD) |
| Revenue forecast in 2032 | USD 4.1 billion |
| Growth Rate | CAGR of 8.7% during 2021-2031 |
| Segment Covered | by Market place, Regions |
| Regions Covered | North America, Europe, Asia Pacific, South America, Middle East and Africa |
| Key Players Profiled | AccuWeather Inc., CARROT Weather, GroundTruth, Weather Line, The Weather Company, Windyty, Apalon, and Yahoo among others. |
Key Segments of the Global Weather App Market
Market place Overview, 2021-2031 (USD Billion)
Google Play Store
Apple iOs store
Regional Overview, 2021-2031 (USD Billion)
North America
Europe
Germany
France
UK
Rest of Europe
Asia Pacific
China
India
Japan
Rest of Asia Pacific
South America
Mexico
Brazil
Rest of South America
Middle East and South Africa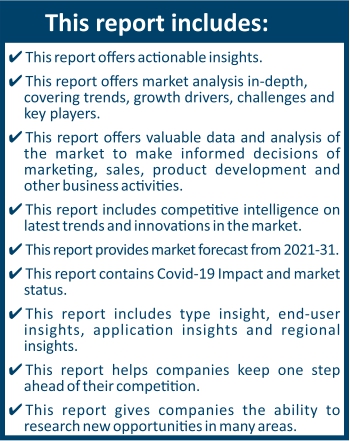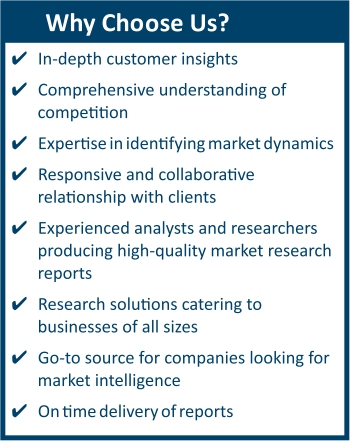 Frequently Asked Questions (FAQ) :
The global Weather App market size projected to reach USD 68.2 billion by 2031.
The Weather App market is growing at a CAGR of % during the projection period
The key market players listed in the Weather App report are Ceramic Sanitary Ware Market vendors, which involve Geberit Group, Duratex SA, Villeroy & Boch AG, Kohler Co., Roca Sanitario SA, TOTO Ltd., HSIL, RAK Ceramics, LIXIL Group Corporation, Duravit AG