Water-soluble fertilisers are becoming more widely recognised and appreciated as a rapid nutrient deficit corrector.
The global Water Soluble Fertilizer market is anticipated to increase at a 4.23% CAGR to reach value $19.89 billion in 2030
Covid-19 Impact & Market Status
COVID-19's lockdowns, logistical disruptions, lower outputs, and related economic repercussions continue to pose a threat to the worldwide water-soluble fertiliser business. Since the beginning, the worldwide fertiliser business has been impacted, notably in China, the world's largest producer and user of agriculture micronutrients. The emergence of a new coronavirus in China has had the greatest impact on the Chinese agriculture industry to yet, disrupting the movement of micronutrient products and raw materials in and out of the nation. Furthermore, the water-soluble fertilisers business in the United States, Brazil, India, and the EU-5 nations is projected to be damaged by this epidemic.
Analysis on the basis of Type
In the market for water-soluble fertilisers, the urea phosphate category has the biggest share. With the largest nitrogen concentration, urea is the most significant nitrogenous fertiliser on the market (about 46 percent). It's a crystalline organic chemical molecule that's white in colour. Urea has a pH of neutral and can grow in practically any soil. It's a waste product produced by humans, other animals, amphibians, and certain fish when they metabolise protein. Both as a fertiliser and an animal feed ingredient, urea is widely utilised in agriculture. The primary purpose of urea fertiliser is to supply nitrogen to plants in order to encourage green leafy growth and make them appear lush. Urea also helps plants with their photosynthesis.
Analysis on the basis of Application
The principal market for water soluble fertilisers has been the agriculture sector. Fertigation is the injection of fertilisers into an irrigation system for soil amendments, water amendments, and other water-soluble compounds. Chemigation, or the injection of chemicals into an irrigation system, is connected to fertilisation. Any irrigation system may be used to apply fertiliser. Drip irrigation is the most popular fertigation technology used in fresh market vegetable production, yet it takes the greatest understanding to utilise effectively. Drip irrigation, also known as micro irrigation or trickle irrigation, drips water into the soil surrounding the crop gently and directly. Drip irrigation consumes about half the amount of water as overhead and furrow irrigation. Drip irrigation has a high efficiency of over 90%, but a sprinkler system has a low efficiency of 50 to 70%.
Analysis on the basis of Region
With a market share of more than 35 percent, APAC has led the water-soluble fertilisers industry, followed by North America and Europe. India and China, for example, are key actors in this region. Rice, sugar beet, fruits and vegetables, cereals, and grains are among the major crops grown in Asia; the area consumes 90% of the world's rice. The direct use of micronutrients to address plant shortages has created a great need for agricultural micronutrients in Asia Pacific, and they are frequently sprayed in combination or as additives. Micronutrients are little amounts of important elements utilised by plants. Crop absorption of most micronutrients is less than one pound per acre. Despite this minimal demand, if micronutrients are not available, important plant processes are hampered, resulting in plant deformities, restricted growth, and poorer production.
Analysis on the basis of Region
Its worldwide market is further divided into fertigation and foliar application based on user application. Foliar application is often restricted to micronutrients; however, fertigation treatment can be applied to any nutrient. Furthermore, the use of fertigation application is less expensive than the use of foliar application. As a result, fertigation is preferred over foliar treatments.
WSFs were once only popular in rich countries, but with to increased research and development and active engagement from fertiliser behemoths, they are now becoming a significant element of the agriculture business in emerging nations as well.
Water-soluble fertiliser is a multi-compound fertiliser that may be dissolved in water. It is more easily absorbed by plants and has a higher absorption and usage rate than traditional chemical fertilisers. This fertiliser can readily deliver a fixed amount of nutrition to the plants. This fertilizer's technology is ideal for current irrigation systems. Furthermore, it protects groundwater from pollution. Water soluble fertilisers are distinguished from traditional chemical fertilisers by the technical developments mentioned above. The application of a water-soluble fertiliser is straightforward.
It not only saves water and fertiliser, but it also reduces labour costs since it is ideally suited in sophisticated irrigation technology. Furthermore, compared to chemical fertilisers, water-soluble fertilisers have less contaminants, have lower conductivity, and fertiliser concentration is easier to control. It's also a chemical that's safe for early seedlings. Wider applications of green houses, government subsidies for adoption of this technology, economic incentives with Fertigation to reduce ground water usage, and increased demand for micro-irrigation systems are the primary drivers of the industry. The cost of this product is higher than other soil fertilisers, and it has a negative seasonal impact and requires a large initial setup cost. In Asia, the wide range of micro irrigation systems gives chances for water soluble fertiliser uptake.
Water soluble fertilisers market expansion will be aided by a quick increase in worldwide horticulture crop production despite rising crop prices and hefty labour expenditures. Horticulture will benefit from the shift in attention toward dietary food and increasing demand for fruits and vegetables. Water soluble fertilisers enable farmers to grow more food on smaller plots of land while also providing a high return on investment.
For example, 192 kg of nitrogen per hectare may produce roughly 9.3 tonnes of grains, compared to 2.1 tonnes of grains without the use of nitrogenous water-soluble fertilisers. This provides farmers with an 800 percent return on investment, resulting in increased profits. To fulfil the increased food demand, this will stimulate the use of water-soluble fertilisers.
During the projection period, the market would be driven by rising usage of speciality fertilisers to fulfil rising food demand. The overall market size of the global water soluble fertilizer market is estimated to supersede over USD 22.1 billion by 2028.
Agrium Inc., Israel Chemical, Lowa Fertilizer, Qatar Fertilizer, Yara International, Sinochem Fertilizer Co. Ltd., Everris International B.V., and Hebei Monband water Soluble Fertilizer Co. Ltd. are the major competitors in the industry. Sinochem Fertilizer Co Ltd is developing cooperative scientific fertiliser application strategies with the aid of China's Ministry of Agriculture.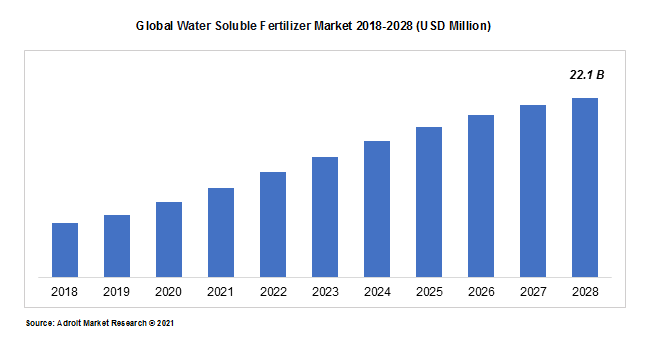 Latest Innovations in the Water-Soluble Fertilizer Market: A Snapshot
Potash Corporation of Saskatchewan Inc. (PotashCorp) concluded the merger of equals between Agrium Inc. (Agrium) and Nutrien Ltd. (Nutrien) in January 2018, resulting in the world's leading crop inputs and services supplier.
Water Soluble Fertilizer Market Scope
| | |
| --- | --- |
| Metrics | Details |
| Base Year | 2022 |
| Historic Data | 2020-2021 |
| Forecast Period | 2022-2030 |
| Study Period | 2020-2030 |
| Forecast Unit | Value (USD) |
| Revenue forecast in 2030 | $19.89 billion |
| Growth Rate | CAGR of 4.23 % during 2022-2030 |
| Segment Covered | by product type, by Application, by crop type, Region. |
| Regions Covered | North America, Europe, Asia Pacific, South America, Middle East and Africa |
| Key Players Profiled | Yara International ASA (Norway), Agrium Inc. (Canada), K+S Aktiengesellschaft (Germany), Coromandel International Limited (India), Compo GmbH & Co (Germany), Haifa Chemicals Limited (Israel), Sociedad Quimica Y Minera SA (SQM) (Chile), Israel Chemical Limited (Israel), The Mosaic Company (US), EuroChem (Switzerland) |
Key Segments of the Clinical Workflow Solutions Market
Type Overview, 2018-2028 (USD Billion)
Nitrogenous
Phosphatic
Potassic
Crop Type Overview, 2018-2028 (USD Billion)
Field Crop
Horticulture
Turf
Ornamentals
Regional Overview, 2018-2028 (USD Billion)
North America
Europe
Germany
France
UK
Rest of Europe
Asia Pacific
China
India
Japan
Rest of Asia Pacific
South America
Mexico
Brazil
Rest of South America
Middle East and South Africa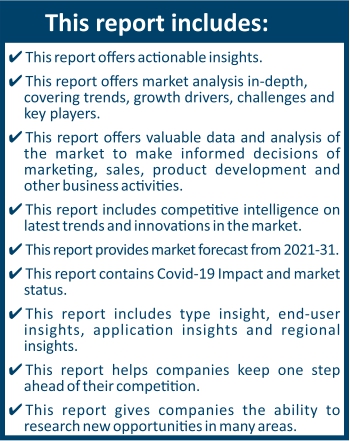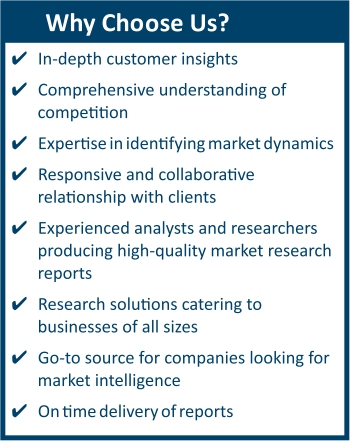 Frequently Asked Questions (FAQ) :
The global water soluble fertilizer market size is expected to reach USD 22.1 billion by 2028.
The water soluble fertilizer market is growing at a CAGR of 7.5% over the forecast period.
Asia-Pacific dominated the market for water soluble fertilizer market and accounted for the largest revenue share.
The top companies that hold the market share in water soluble fertilizer market are Agrium Inc., Israel Chemical, Lowa Fertilizer, Qatar Fertilizer, Yara International, Sinochem Fertilizer Co. Ltd., Everris International B.V., and Hebei Monband water Soluble Fertilizer Co. Ltd. are the major competitors in the industry. Sinochem Fertilizer Co Ltd
To get latest version of water soluble fertilizer market report can be obtained on demand from the website.