The global market for the Warehouse Robotics is anticipated to develop at a compound annual growth rate (CAGR) of 13.2% throughout the course of the forecast, to reach $15,792.0million by 2030.
The ever-changing customer expectations, disruptive evolution of retail marketplace, technology innovations, smartphones, and smart devices is driving the global warehouse robotics market
COVID-19 Impact & Market Scenario:
Global Covid-19 Outbreak and Lockdown has greatly affected the robotics market with the other FMCG, Automotive and other major markets. Due to the lockdown, orders couldn't be able to reach the consumers in time. Hence, as the govt of many countries as well as different sectors were more conscious about health, industries couldn't invest more in robotic technologies. But almost after one year of covid outbreak, orders started to rise in a large amount as people didn't step out mostly in lockdown situation to buy from the local markets. That time, the need of automation has increased the robotics market again. To produce and deliver vaccination to the global citizens, pharmaceuticals have greatly used warehouse robotics system to safely manage the operations. This new report on Global Warehouse Robotics market provides valuable insights to the market participants and strategies on how to maximize benefits, minimize risks, avoid market pitfalls. Moreover, competitive environment and financial details based on individual segments, challenges and present as well as the future investment opportunities are provided in detail in this report.
Warehouse Robotics Market Expected to Hit $50B
With the constant increase in the demand of robots in the warehouses in order processing, automation, it's expected that the market will hit 20B$ USD. Amazon recently announced $1B only to facilitate order processing and marketing automation. In Pharmacy and automotive sectors, there have also we've seen an increasing demand. By Type, the global warehouse robotics market is classified into different categories – automated storage and retrieval system, goods-to-person technology, autonomous guided vehicles, automated robotic arms, automated guided carts mostly used in the warehouses. Thus, automated storage and retrieval system segment has seen a higher growth in the market instead of others. Automated storage and retrieval system is being heavily used in the warehouses.
Industrial Applications To Grow Productivity And Maximize Revenues
Rather than E-commerce sectors, FMCG Sectors, Pharma Labs, Automotive industries have seen a major growth in terms of revenues after adopting warehouse robotics technologies. They have been able to reduce the operating cost almost half and also cut down the labor cost by 60%. Robots have greatly helped in producing different kind of products in several product lines together. Smart low cost automation by the use of AMRs in integration with more intelligent AI/ML algorithms, big data and analytics, laser sensors, camera have greatly fuelled the revenue growth in the FMCG sectors when it comes in action in terms of quality check and accomplish objectives in time.
Asia Pacific Countries Occupied Around 52% Of Global Robotics Market
If we see the regional segmentation, Asia pacific countries have adopted warehouse robotics more than the other regions in global warehouse robotics market. Therefore, most of the key players have been centralised in the Asia Pacific regions. Japan has become the dominant country in ASIA Pacific countries in this market. Around 44% of the global warehouse robots are being supplied by Nippon Technologies. In Europe, Germany has the largest share (around 38%) in Robotics market. US E-commerce company has even left behind amazon in terms of using new robotic technologies in the warehouses to fully automate the operation tasks. In US investment, they're currently using Symbiotic robots in the warehouses.
The ever-changing customer expectations, evolving retail marketplace, and drastic rise in global population have increased the need of advanced systems that serve current market demands. This has improved the reliance on warehouse robotics furthering the development of global warehouse robotics market.
Owing to benefits such as lower costs, improved workforce productivity and retention, healthier inventory, sustainable green practices, improved brand reputation and building, the warehouse robotics is experiencing rapid adoption as opposed to traditional human enabled work processes thus fostering remarkable progress in global warehouse robotics market.
The global warehouse robotics market is anticipated to reach close to USD 10.45 Bn by 2029 with an annualized growth rate of 15.6% in the forecast period 2022-2029.
In warehouses also, there've a strong demand for robots. Warehouse robots are specifically designed technologies that automate the overall order analyzing and processing operations. Different robots are designed to perform certain tasks in a warehouse. Some robots do the packaging, some does palletizing, some transports inventories from one place to another – these are the tasks robots perform in a warehouse. Warehouse robots are not just made to perform in-warehouse tasks, but they also keep track of a customer's buying habit, collect data and send to the core team. This is driving the global warehouse robotics market.
Owing to benefit such as performing high quality tasks in a short time, increased productivity, reduced labor costs, increased output in minimum time,
Warehouse Robotics has occupied a significant place in different industry verticals and is thus showing a fostering growth in year after years. In opposite with the traditional methods used to perform the tasks, for the endless benefits, now modern robotics are being used in warehouses to automate the product packaging, labelling, performing quality checks and in transportation of the goods. The need to ease the work of the working professions, collect data and analyze the consumer behaviors, automate day to day tasks, free up the little thoughts and focus more on the current scenarios has increased the reliability over warehouse robotics.
In our current global market where almost, everyone buys their needy things online through e-commerce stores, due to a large scale of orders, to carefully manage, package and deliver the right orders to right persons become urgent priority and such heavy tasks cannot be performed by man-force. Hence, warehouse robotics plays a very significant role in performing various warehouse tasks thereby increasing the global warehouse robotics market prospects in the current and future market dynamics.
However, ethical issues related to AI, Deep learning, customer information security, enormous working pressure, high monetary investment hamper the global warehouse robotics market growth of warehouse robots. Here a company also needs to keep a support team to take care of the robotic functions. But despite that, the growing need specially in the e-commerce sectors are steadily increasing.
Furthermore, the rise of integrated digital e-commerce leading to growth of new and innovative business models, evolving warehouse logistics and warehouse management, enterprises especially e-commerce companies heavily investing in innovative business models, experts have anticipated that these market scenarios may prove profitable to the growth of global warehouse robotics market.
Additionally, growing use of IT supported technologies such as Artificial Intelligence is streamlining warehouse management. This has ever in increased the demand of warehouse likely to be a growth opportunity to the global warehouse robotics market.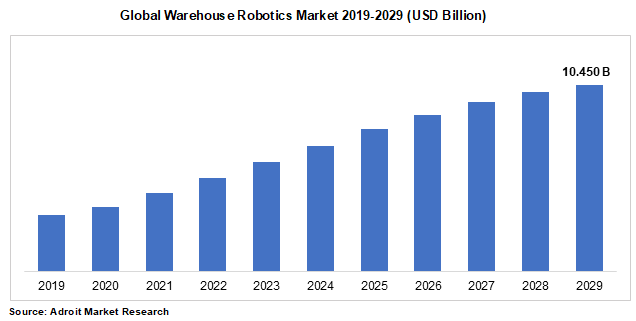 Among the companies which provide robotic solutions for warehouses, the majority of the global warehouse robotics market has been dominated by ABB Ltd., Fanuc Corp., Kuka AG, Siemens A.G., Honeywell Int., Locus Robotics, Amazon Inc., Toshiba and Kiva Systems. Besides, various startup companies have been born to take the lead in this market. BionicHive, Fabric, PicCommerce, Caja Robotics, NoMagic, and Hai Robotics are also the key companies among others.
Current Trends and Innovations in the Global Warehouse Robotics Market:
ABB Ltd. Has recently done a partnership with Berkshire Grey to innovate powerful AI-driven Robotic solutions for better and intelligent warehouse management, and collection of orders and store filling. Together, they are going to provide Intelligent Enterprise Robots (IER) to improve the operations in a warehouse.
KUKA A.G has recently developed Voltechnik ALR-4000 that are successfully disposing warehouse wastes and is automating waste disposal processes through recycling robots. It's been a very helpful discovery where warehouse waste disposal becomes very important to maintain a healthier and safer atmosphere.
Warehouse Robotics Market Scope
| | |
| --- | --- |
| Metrics | Details |
| Base Year | 2020 |
| Historic Data | 2018-2019 |
| Forecast Period | 2021-2028 |
| Study Period | 2018-2028 |
| Forecast Unit | Value (USD) |
| Revenue forecast in 2028 | USD 10.45 Billion. |
| Growth Rate | CAGR of 15.6% during 2021-2028 |
| Segment Covered | Type, Application, End User, Regions |
| Regions Covered | North America, Europe, Asia Pacific, South America, Middle East and South Africa |
| Key Players Profiled | ABB Ltd., Fanuc Corp., Kuka AG, Siemens A.G., Honeywell Int., Locus Robotics, Amazon Inc., Toshiba |
Key Segments of the Global Warehouse Robotics Market
Type Overview, 2019-2029 (USD Billion)
Automated Storage And Retrieval System
Goods-To-Person Technology
Autonomous Guided Vehicles
Automated Robotic Arms
Automated Guided Carts
Application Overview, 2019-2029 (USD Billion)
Packaging
Load Carrier
Quality Check
Palletizing
End User Overview, 2019-2029 (USD Billion)
Food Processing
Logistics
E-Commerce
Pharma Labs
Automotive
Regional Overview, 2019–2029 (USD Billion)
North America
Europe
Germany
France
UK
Rest of Europe
Asia Pacific
China
India
Japan
Rest of Asia Pacific
South America
Mexico
Brazil
Rest of South America
Middle East and South Africa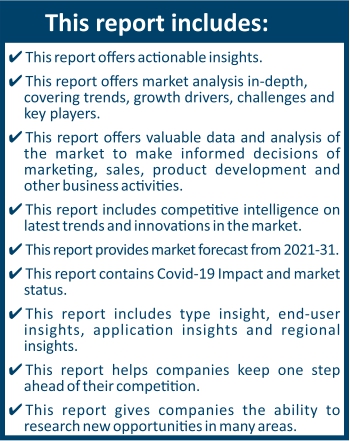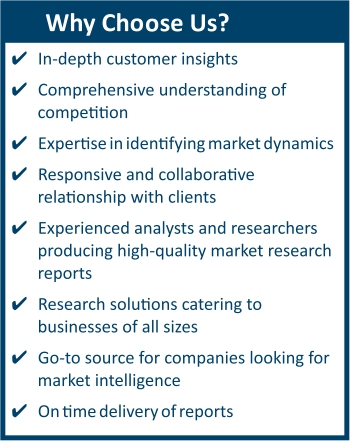 Frequently Asked Questions (FAQ) :
The market value of warehouse robotics market in 2029 was USD 10.45 Billion.
The warehouse robotics market is growing at a CAGR of 15.6% over the forecast period.
The application of the warehouse robotics market packaging, lifting & placing, palletizing and other.
Asia-Pacific dominated the market for warehouse robotics market and accounted for the largest revenue share.
The top companies that hold the market share in warehouse robotics market are ABB Ltd., Fanuc Corp., Kuka AG, Siemens A.G., Honeywell Int., Locus Robotics, Amazon Inc., Toshiba and among others.