The global viscosupplementation market was valued at USD 3.07 billion in 2020 and is projected to grow at a CAGR of 9.9% during the forecast period. Factors driving the growth of the viscosupplementation market include increasing cases of osteoarthritis, up surging elderly populace and demand for minimally invasive treatments.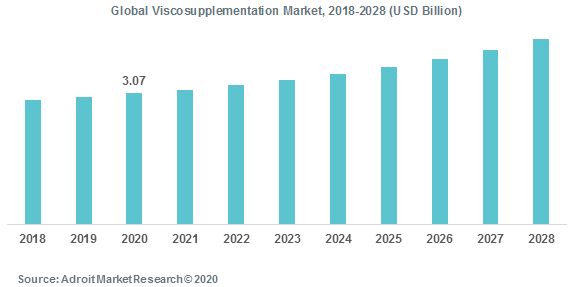 The global viscosupplementation market is segmented based on product and end use. On the basis of product, the market is segmented into single injection, three injections, and five injections. The three injection segment was the largest market in 2019. By end use, the market is segmented into hospitals and orthopedic clinics/ambulatory surgical centers. The orthopedic clinics accounted for the largest share of the global viscosupplementation market and is projected to sustain its dominance over the forecast period.
Regionally, Asia Pacific accounted for the largest market share of the global viscosupplementation market attributable to development of healthcare facilities. Leading players of the global viscosupplementation market include Sanofi, Seikagaku Corporation, Zimmer Holdings Inc., Ferring B.V., Bioventus, Lifecore Biomedical, LLC, Anika Therapeutics, Inc., LG Life Sciences Ltd. among others.
Key segments of the global viscosupplementation market
Product Overview, 2018-2028 (USD Billion)
Single Injection
Three Injection
Five Injection
End Use Overview, 2018-2028 (USD Billion)
Hospitals
Orthopedic Clinic/ Ambulatory Surgical Centers (ASCs)
Regional Overview, 2018-2028 (USD Billion)
North America
Europe

Germany
United Kingdom
France

Asia Pacific
Latin America
Middle East & Africa
Reasons for the study
The increasing demand for non-surgical treatments for osteoarthritis
Prevalence of lifestyle-induced disorders
Advancements in the development of hyaluronic acid-based therapies
What does the report include?
The study on the global viscosupplementation market includes qualitative factors such as drivers, restraints and opportunities
The study covers qualitative and quantitative analysis of the market segmented on the basis of product and end use. Moreover, the study provides similar information for the key geographies.
Actual market sizes and forecasts have been provided for all the above-mentioned segments
The study includes the profiles of key players in the market with a significant global and/or regional presence
Who should buy this report?
The report on the global viscosupplementation market is suitable for all the players across the value chain including product manufacturing companies, suppliers/distributors, R&D labs, CROs, healthcare organizations, medical reimbursement and insurance providers
Venture capitalists and investors looking for more information on the future outlook of the global viscosupplementation market
Consultants, analysts, researchers, and academicians looking for insights shaping the global viscosupplementation market
The monetary burden of OA is considerable. A Canadian Osteoarthritis Research Program study discovered that the average care price each patient was USD 12,200 for every year. Around 80% were indirect costs linked with lost time from employment and unpaid caregivers. Based on the Arthritis Alliance of Canada, it is projected that the existing total Canadian economic burden for OA is USD 27.5 billion, with direct costs accounting for around USD 10.2 billion. Government programs are liable for maximum direct prices comprising healthcare provider appointments, diagnostic processes, and pre and post care for surgery. Companies' health benefit plans typically cover a share of the specialized services (e.g., physiotherapy), assistive devices (e.g., custom knee braces), and drugs essential to treat or relieve this condition. Companies are also obstructed by the indirect prices linked with time away from work and loss of yield accompanying OA. Effective treatments not only result in optimistic medical and health results, including quality of life, it can also have a positive economic influence on the workroom efficiency and nonattendance owing to reduced physician visits, hospitalizations, and reduced recovery episodes.
The three injection segment was the largest market in 2019. Doctor's typically choose hyaluronic acid injection treatments that are implemented as 3 injections over a span of 3 weeks. They recommend hyaluronic acid injections to patients presenting with chronic, low-grade OA which is frequently contained to the medial, lateral, or anterior compartment. Patients with mild arthritis often have substantial relief from viscosupplementation and habitually arrive at the clinic every 6 to 8 months asking for repeat injections with repeated symptomatic improvement. Doctors are unlikely to recommend hyaluronic acid injections to patients with substantial inflammation or alleged synovitis since the anti-inflammatory effects are not stronger than those of corticosteroid or platelet-rich plasma injections.
Osteoarthritis (OA) is a progressive degenerative disorder of the cartilage and is one of the 10 leading causes of disease burden in Australia. In an Australian survey of older adults (over 65 years of age) living in the community, over 55% of females and 40% of males experienced some form of long-term arthritis or rheumatism. It has been estimated that in European and North American population's one -third of all adults aged 25-74 years have features of OA as determined by radiographic methods. Osteoarthritis sufferers can experience a significant loss in the quality of life. In a study comparing quality of life of OA sufferers over 65 years of age with control patients suffering no chronic illnesses, OA patients scored significantly lower than controls on all quality of life domains. In an Australian community survey of older adults (65 years or older), presence of self-reported OA was a significant predictor of higher disability scores when assessed by a Health Assessment.