The advent of virtual reality (VR), augmented reality (AR), and mixed reality (MR) is said to be the next frontier in global virtual tour market. Predictions revealed that the global virtual tour market size is projected to reach close to USD 24.10 billion by 2028 with an annualized growth rate of 30.95% from 2021 to 2028.
The adoption of VR, AR, and MR devices is the key factor positively impacting Virtual Tour Platform and boosting its revenue threefold. Additionally, Blockchain technology revolutionizing the BFSI and supply chain management sectors is driving growth of the market. Most importantly, the virtual tour influencing psychological well-being (virtual tour experience to reduce stress and anxiety during and after pandemic) has also become the key market influencer.
However, the display latency energy consumption affecting the virtual tour based AR, VR, MR devices, high costs, visualization, navigation, and interaction challenges are likely to hamper the market.
Furthermore, the growing level of immersion due to technological developments, reduced cost of products, increasing gaming and entertainment solutions, potential uses for virtual tour in healthcare, advanced headsets and display units, 5G and other advanced networks is anticipated to be growth opportunity to the global virtual tour market.
Virtual tour is a sequence of panoramic images combined together to create a virtual experience of any location. The use of technology that enables viewers enjoy an immersive experience of a location, activity, destination is referred to virtual tour. For example, Preschool & Childcare Virtual Tour or 3D virtual tour for real estate.
The market players providing products and solutions in the global virtual tour market are racing against each other to stay competitive in the market. They are providing products at best price and with premium features. Some are focused on providing SaaS enabled cloud based whole some are providing web based virtual tour platform. Their well-designed and advanced features products are attracting the real estate agents, photographers, dronists, companies and many suc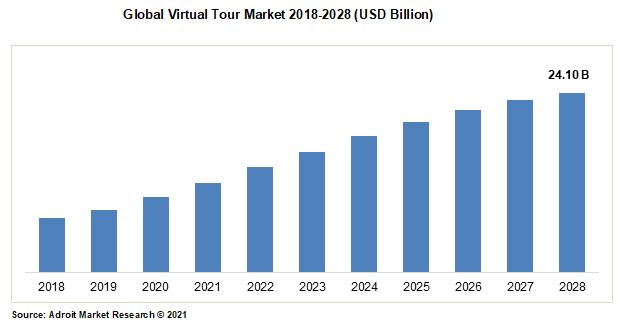 The global virtual tour market competitors based on market capital, price, features, equipment, geographical dominance, and other market aspects are Sixense Enterprises, Leap Motion, CyberGlove Systems, Vuzix, Eon Reality, Oculus, HTC, Microsoft, Google, Samsung Electronics, and Sony among all other well-established and emerging players.
Key Segments of the Global Virtual Tour Market
Product Type Overview, 2018-2028 (USD Billion)
Device Type Overview, 2018-2028 (USD Billion)
Head Mounted
Gesture Tracking
Application Overview, 2018-2028 (USD Billion)
Real Estate Professionals
Tourism Industries
Marketing Professionals
Regional Overview, 2018-2028 (USD Billion)
North America
Europe
Germany
UK
France
Rest of Europe
Asia Pacific
China
Japan
India
Rest of Asia Pacific
South America
Brazil
Mexico
Rest of South America
Middle East and Africa
Reasons for Study
To give a detailed study about the global virtual tour market individual market dynamics, winners, Covid-19 impact, expected growth opportunities, and major companies operating in the market.
To conduct proactive analysis of market demand for the product and service.
To highlight then market attractiveness and the market dynamics of the global virtual tour market.
What is Included in the Report?
To provide an unmatched and comprehensive detail about the market and the future growth opportunities.
Latest trends including drivers, challenges, constraints, opportunities shaping the virtual tour market.
Study of the competitive environment, applications, device types and product types of the global virtual tour.
Who Should Buy This Report?
Real estate agents, photographers, dronists, companies, marketing scholars and practitioners, and all other interested market participants seeking for up-to-date and detailed market insights.
h customers driving more revenue and increasing market dominance in the global virtual tour market.
Virtual tour platform is witnessing increased market demand as it is positively impacting the industry verticals including Real Estate Professionals, Tourism Industries, Marketing Professionals and others. Moreover, the technological tools such augmented reality, virtual reality, mixed reality are proving to be very promising for producing satisfactory consumer experiences.
The digital information and communication technology has improved the digital marketing space thereby enabling better e-commerce experience and other experiences. Thus the demand for virtual tour platform is increasing. Pandemic led lockdown restrictions have also been the key reasons shifting customer preference to virtual tour. This is the key factor boosting the global virtual tour market.
As a result, the small and medium along with the large enterprises are adopting advanced virtual tour platforms driving the virtual tour platform in the market. Virtual tour platform embedded with AR, VR, ER, MR is offering thrice return on investment to the providers as well as the end users which is propelling its use and driving the market.
Product Type Segment
The web-based virtual tour platform held largest market share as it offers personalised content and new business model. Also, it provides immersive and interactive VR applications.
Application Segment
Tourism Industries, and Marketing Professionals. The real estate professionals segment accounted for maximum revenue in the market especially due to pandemic. The virtual tour enables real estate agents to provide realistic and immersive experience.
Device Type Segment
Based on various approaches the global virtual tour market is classified into segments namely head mounted and gesture tracking. The head mounted device held largest market share in 2020 and is expected to record substantial market revenue in the forecasted years.
North America held accounted for highest market share due to growth of healthcare and enterprise sectors in the region. The increasing entertainment adoption of digital technologies, presence of large virtual tour products and solution providers are some key market influencers leading to North America's growth in the market.