The global virtual car market has been expanding significantly and is anticipated to expand with overall market size worth 14,700 USD million, clocking at a CAGR of 47.1% during the forecasted period 2021-2028. In automotive facilities and dealer showrooms, the automobile industry has been experiencing virtual reality (VR)-led innovations. The need to automate retail processes is more pressing than ever. The advantages of VR in automotive industry include a holistic and immersive driving and riding experience. Additionally, showroom tours and test drives are further improved with an immersive VR experience. These are all aiding in consumer awareness and thereby strengthening growth possibilities in the global virtual car market.
Prototype design at OEM production facilities is achieved by employing VR simulation, which allows for smooth adjustments. VR may be used to develop virtual staff training programs, virtual car vehicle simulation testing, and collaborative design reviews, among other things. However, VR inside automobiles is still a very small market today. Because gaming-capable CPUs are required for integrating VR in automobiles, VR-based entertainment services will be integrated in luxury brands (such as Tesla and Audi) over the forecast period. Mass-scale adoption of features such as virtual car games based on VR is till afar.
Consumer preferences for and increasing awareness pertaining to virtual car games, virtual car rides and virtual driving are anticipated to unravel new growth opportunities in the global virtual car market in the coming years.
VR is widely utilized in automotive digital showrooms and car manufacturing operations to provide an interactive user experience and boost workforce efficiency. However, the virtual car is still a niche use case that will not be deployed until beyond the forecast period. Passengers in future ownership and user vehicles will employ VR for entertainment purposes such as virtual car driving, movie streaming, virtual car ride, media playback, virtual car games, virtual tours, and online concerts.
As car manufacturers are determined to align their services with consumer preferences, in-car experiences are being upgraded to include novel features such as on-demand digital cockpits to ensure unhindered convenience and comfort. Individual sound bubbles and separate infotainment displays for each passenger are envisaged in future linked automobiles.
VR will be crucial in enabling virtual entertainment alternatives and providing tailored experiences for travelers. 5G integration is likely to offset the challenges pertaining to high-speed network connections, sluggishness and lags in overall operations, computing inefficiencies pertaining to the virtual car space.
Through a series of virtual simulations, automakers will be able to accelerate the testing of virtual car vehicles. Instead of extensive road trial programs, VR simulations will ensure that AV safety testing may be done virtually at a low cost. As consumer buying capabilities take a fillip, the overall growth trajectory of the global virtual car market is also expected to witness reasonable amplification.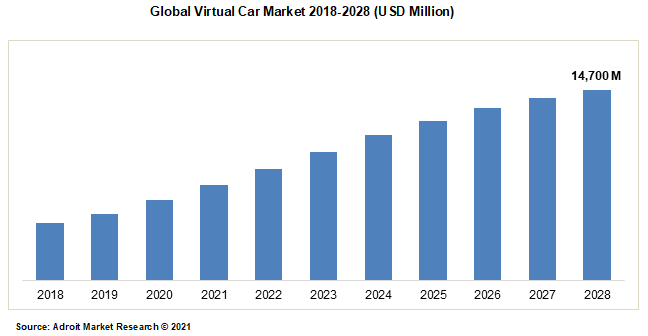 The major players of the global virtual car market are Continental AG, Garmin Ltd., DENSO Corp., Hyundai Motor Co., Microsoft Corp., JAGUAR LAND ROVER AUTOMOTIVE PLC, Nippon Seiki Co. Ltd., Robert Bosch GmbH, NVIDIA Corp., and Volkswagen AG. The projection cycle will help the user comprehend the characteristics of the players by highlighting their product price, international earnings, and market share. It also includes regional market trends and drivers, risk and penetration obstacles, opportunities, and threats, suppliers and customers, and distribution networks.
To gain traction in the fast-growing global virtual car space, these companies would develop new products, implement development strategies, and participate in collaborations, partnerships, and mergers and acquisitions to sustain stringent competition.
Virtual Car Market Scope
| | |
| --- | --- |
| Metrics | Details |
| Base Year | 2020 |
| Historic Data | 2018-2019 |
| Forecast Period | 2021-2028 |
| Study Period | 2018-2028 |
| Forecast Unit | Value (USD) |
| Revenue forecast in 2028 | USD 14,700 million |
| Growth Rate | CAGR of 47.1% during 2021-2028 |
| Segment Covered | Component, Application, Regions |
| Regions Covered | North America, Europe, Asia Pacific, Middle East and Africa, South America |
| Key Players Profiled | Continental AG, Garmin Ltd., DENSO Corp., Hyundai Motor Co., Microsoft Corp., JAGUAR LAND ROVER AUTOMOTIVE PLC, Nippon Seiki Co. Ltd., Robert Bosch GmbH, NVIDIA Corp., and Volkswagen AG. |
Key Segments of the Global Virtual Car Market
Application Overview, 2018-2028 (USD Million)
Training
Designing & prototyping
Research & Development
Virtual Showrooms
Others
Component Overview, 2018-2028 (USD Million)
Regional Overview, 2018-2028 (USD Million)
North America
Europe
France
UK
Germany
Rest of Europe
Asia Pacific
China
Japan
India
Rest of Asia Pacific
South America
Brazil
Mexico
Rest of South America
Middle East and Africa
Reasons for the study
The study looks at key advances in the global virtual car industry, as well as organic and inorganic growth techniques.
The global virtual car market's industrial chain structure, raw material costs, production base, and marketing channel analysis are all addressed.
It discusses probability analysis, mergers and acquisitions, and analyst perspectives and opinions.
What does the report include?
Corporate insights, a business description, a SWOT analysis, and product benchmarking are all included in comprehensive company profiles for the major market participants.
Includes a thorough examination of the market from a number of angles, including Porter's five forces model.
The characteristics of the industry and the potential for market expansion will be studied.
Who should buy this report?
Managers in the global virtual car market are interested in discussing the present and future global market data.
Market data is sought by strategy managers, researchers, and government organizations to aid in the planning of future operations.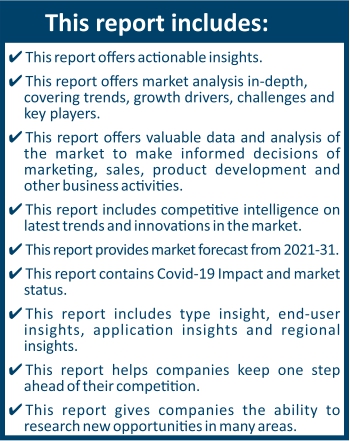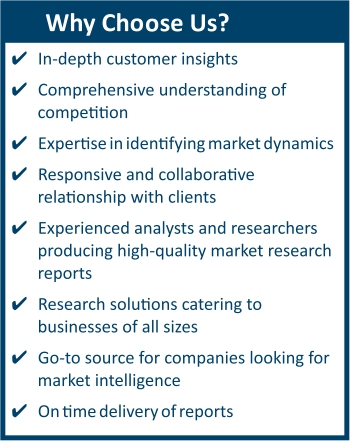 Frequently Asked Questions (FAQ) :
The market value of virtual car market in 2028 was USD 14,700 million
The Global virtual car market is Segmented on the Component, Application, Regions
The major contenders in the global market are Continental AG, Garmin Ltd., DENSO Corp., Hyundai Motor Co., Microsoft Corp., JAGUAR LAND ROVER AUTOMOTIVE PLC, Nippon Seiki Co. Ltd., Robert Bosch GmbH, NVIDIA Corp., and Volkswagen AG.
A virtual car (also known as an autonomous car or driverless car) is a system that is used to travel between locations without the assistance of a human operator by utilizing sensors, radar, cameras, and artificial intelligence (AI). A vehicle could be acknowledged as an autonomous one only when it meets the requisite parameters such as traversing automatically to a set location without having the components altered.
There is limited opportunity for development loops with more rigorous worldwide emissions laws and a rising number of vehicle variations. Indeed, given the complexity of contemporary vehicles, it is critical that we investigate the feasibility of concepts before building any hardware. It has never been more difficult to develop powertrain and vehicle solutions that fulfill quality, performance, economy, and emissions criteria within acceptable schedules and budgets. To address these issues, stakeholders have developed AVL VSMTM, a virtual car system that eliminates the risk of vehicle development.
AI technologies are at the heart of virtual car automobile systems. Engineers specializing in virtual cars designs bank upon humongous data streams acquired from image recognition systems, self driving automotive, ML based user data and extensive neural networking to obtain data patterns for subsequent utilization in the ML-based learning models.
Images from cameras on virtual cars are among the data sources from which the neural network learns to recognize traffic signals, curbs, trees, street signs, pedestrians, and other elements of any particular driving environment.
Application Segment
Based on application, the market is divided into designing and prototyping, research and development, virtual showrooms, training, and others. In terms of virtual reality in the automotive market share, the training category had 27.2 percent in 2019. This expansion can be attributed to VR technology's capacity to provide technicians and engineers with extensive industry training. Aside from that, it significantly decreases the rate of mistakes and provides a safe atmosphere for trainees.
Component Segment
Owing to depreciating prices and consumer affordability of hardware components such as headsets, the hardware segment is likely to remain the most lucrative segment based on component. Additionally, rapid R&D expeditions in VR devices are further poised to fuel revenue maximization in the component segment of the global virtual car market.
In 2020, North America produced over USD 280.0 million in sales. This growth might be due to the presence of major automakers in the United States, including Tesla, General Motors, and Ford Motor Company. According to the American Automobile Council, vehicle manufacturing in the United States is expected to exceed 12 million by the end of 2025.
The Asia Pacific region is anticipated to develop quickly in the future years, fuelled by the rise of the automobile sector in nations such as India, Japan, and China. China is spending much on different technologies in order to obtain efficient and competent experts for its industrial facilities. Japan is seeing rapid development as a result of the rise of augmented and virtual reality applications, the introduction of 5G technology, and the government's ongoing support.