With the demand for commercial vehicles growing and the production of passenger cars steadily increasing, the vented brake disc market is anticipated to see a rise in growth. As automotive technology improves and safety concerns among consumers continue to grow, the market will only benefit more from these advancements. Vented brake discs with dual pin capability enable cars to achieve fast braking, while also providing benefits like resistance against corrosion and extended service life. The demand for passenger cars is rising rapidly across the world owing to the factors such as economic growth, increase in population, rise in disposable income, etc.
Vehicles ranging from passenger automobiles to large trucks employ vented brake discs. The market for vented brake discs is propelled by the rise in demand for comfort and safety in automobiles. Compared to solid brake discs, vented brake discs provide greater cooling and performance. They are a great option for high-performance applications since they are also less prone to warping. Due to their superior performance and safety compared to solid brake discs, vented brake discs are becoming more and more popular in the aftermarket. Vented brake discs are available from aftermarket suppliers for a variety of automobiles, including passenger cars, commercial vehicles, and race cars.
The vented brake disc is a particular style of automotive brake disc that was made to be more efficient at dissipating heat than traditional solid discs. This is accomplished by including one or more ventilation channels, which allow air to circulate through the disc and cool it. In order to accommodate the higher heat produced by the brakes under heavy use on race vehicles, vented discs were first created. On a variety of vehicles, including passenger automobiles and commercial trucks, they are now, however, often used. Cast iron and composite materials, such as ceramic matrix composites, are the two main materials used to make vented brake discs (CMCs).
The market for vented brake discs was valued at over USD 14 billion in 2021 and is anticipated to increase at a CAGR of over 14% from 2021 to 2031, reaching a value of USD 24 billion.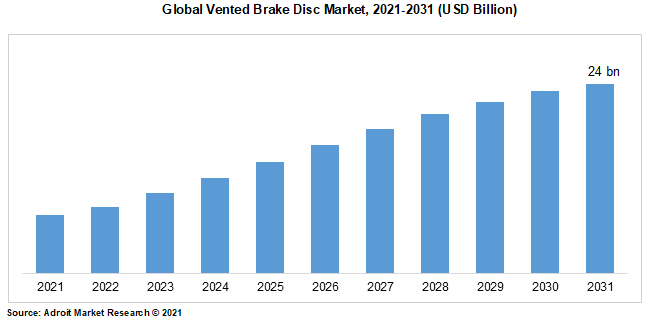 The market for vented brake discs is being driven by the automotive industry's rapid expansion as well as rising consumer demand for safety features in automobiles. Both passenger cars and commercial trucks employ vented brake discs, which can be composed of cast iron or ceramic matrix composite (CMC). They outperform non-vented brake discs in terms of performance and longevity, and as a result, are gaining popularity in the automobile sector.
Brembo, Bosch Braking Systems, Nissin Kogyo, Akebono, Zimmerman, Pagid, Aisin Seiki, ATE, and others are major industry participants in the vented brake disc market. These vendors are concentrating on increasing the availability of their goods and services. They are using a variety of organic and inorganic growth techniques to strengthen their position in the international market.
Segment Analysis
The Cast Iron Segment emerged as the Most Lucrative Type
Cast iron and CMC are the two main segments for vented brake discs. Due to its exceptional qualities, including affordability, superior heat resistance, and high wear resistance, cast iron commands a 65% market share. Cast iron vented brake discs' increased popularity is also due to the fact that they are lighter than CMC, which lowers fuel consumption.
The Most Prominent Application is the Passenger Vehicle Segment
The market for vented brake discs is further divided into three categories: two-wheelers, commercial vehicles, and passenger cars. Due to improving living standards that enhance consumer spending on personal vehicles such as cars, SUVs, MUVs, etc., passenger vehicles are predicted to have the biggest market share in the anticipated time range.
The OEM Segment to emerge as the Most Promising End-user
End users have been seen to have a direct impact on the expansion of the global vented brake disc market. OEM and aftermarket products make up the segments of the vented brake disc market. Due to their superior quality, high cost, unique design, and durability, OEMs are predicted to dominate the vented brake disc market with a CAGR of more than 4% throughout the forecast period.
The North American Region to render Ample Financing Opportunities
North America, South America, Asia Pacific, Europe, and the Middle East & Africa comprise the segments of the vented brake disc market. With a market share of 30%, North America is the dominant region. An increase in the demand for luxury cars and SUVs is another element boosting North American economic growth. More than 25 million luxury vehicles will be on American roads by 2031, which will further increase demand for vented brake discs. Additionally, other nations like Canada and Mexico will see an increase in the vented brake disc market as a result of this.
COVID-19 Impact and Market Status
The market for vented brake discs has been significantly impacted by the COVID-19 pandemic epidemic. The manufacturing and sales of vehicles have decreased as a result of the tight limitations implemented by many governments throughout the world, which has negatively impacted the demand for vented brake discs. The disruption of the supply chain and the closure of auto manufacturing facilities have also slowed the market's expansion. However, the market is anticipated to revive in the upcoming years as tight limitations are gradually lifted and economic activity picks back up.
Recent Developments in the Cargo Trailer Market
• New ceramic technology for disc brakes was announced by Akebono Brake Industry in December 2016; it can extend disc life by more than 15% in comparison to earlier models. The new ceramic disc brake pads have a changed composition that boosts the material's longevity and enables them to handle heavy loads at high temperatures.
• Brembo unveiled the Brembo Sport GT brake kit for the Audi R8 V10 Plus in January 2017. Brembo experts created this item with consideration for how automobiles would be used on the road and on the racetrack. By substituting a full system made especially for this vehicle type for the front and rear braking discs, pads, wear sensors, and installation hardware, this component represents a significant breakthrough.
• A new generation of vented brake discs for passenger automobiles was announced by Bosch in March 2019 in Europe. In comparison to the present models, the upgraded brake discs will offer up to 15% longer service life and up to 10% shorter braking distance. Bosch wants to grow its market share in Europe with the launch of this product.
• Nissin Kogyo created a new type of brake disc in May 2019 that uses its special composite material, "K-Surface" for the disc surface, to provide a shorter operation delay and improved durability. The company intends to launch this product first in Europe before expanding to other markets like North America, China, and Japan.
• A new generation of vented brake discs for big vehicles was introduced by Bosch Braking Systems in April 2020. In comparison to the old product, the new one is lighter and lasts longer.
• Nissin Kogyo debuted two types of disc brake friction materials in July 2020 that are appropriate for electric vehicles. These two materials were created to be suitable for the conditions that electric vehicles operate in, including hot temperatures and heavy loads.
• Brembo unveiled a new front brake system in September 2020 with a 400 mm disc diameter that was created especially for the Tesla Model S Long Range Plus. This part, developed by engineers at Brembo's High-Performance division, outperforms a standard vehicle in terms of performance when used off-the-shelf because the pad and disc combination was specifically calibrated for the particular vehicle model.
Vented Brake Disc Market Scope
| | |
| --- | --- |
| Metrics | Details |
| Base Year | 2022 |
| Historic Data | 2020-2021 |
| Forecast Period | 2022-2031 |
| Study Period | 2020-2031 |
| Forecast Unit | Value (USD) |
| Revenue forecast in 2031 | USD 24 billion |
| Growth Rate | CAGR of 3.8% during 2021-2031 |
| Segment Covered | Type, Application, Regions |
| Regions Covered | North America, Europe, Asia Pacific, South America, Middle East and Africa |
| Key Players Profiled | Brembo, Bosch Braking Systems, Nissin Kogyo, Akebono, Zimmerman, Pagid, Aisin Seiki, ATE, and others |
Key Segments of the Automotive Variable Displacement Market
Type Overview, 2021-2031 (USD Billion)
• Cast Iro
• CMC
Application Overview, 2021-2031 (USD Billion)
• Passenger Vehicle
• Commercial Vehicle
Regional Overview, 2021-2031 (USD Billion)
North America
• U.S
• Canada
Europe
• Germany
• France
• UK
• Rest of Europe
Asia Pacific
• China
• India
• Japan
• Rest of Asia Pacific
South America
• Mexico
• Brazil
• Rest of South America
• Middle East and South Africa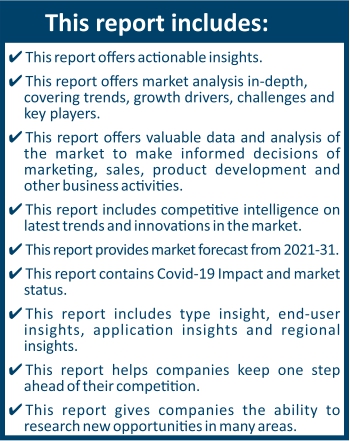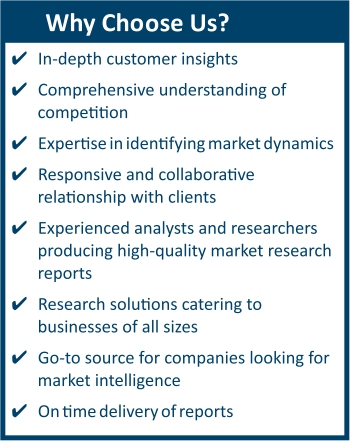 Frequently Asked Questions (FAQ) :
Vented Brake Disc Market is projected to reach USD 24 billion by 2031, growing at a CAGR of 14