The issuance of strict safety regulations, the adoption of brakes on commercial vehicles are expected to boost market demand for brake system.
Covid-19 Impact & Market Status
With the rise of COVID-19 cases, the implementation of emergency legislation and the closure of various operations and facilities have been recognized by the year 2020. The outbreak of COVID-19 in Wuhan, China, has spread across the larger APAC, Europe and North America. countries, affecting the brake systems market as most of the world's companies have their headquarters in these countries. This effect of COVID-19 has created a disruption in the supply chain, which has delayed market growth due to lack of resources and unavailability of workers.
By 2020, the market for Brake System had a much higher impact on the COVID-19 epidemic with a psychological decline in CAGR. The market is disrupted by declining raw material production, supply disruption, and trade disruption by 2020. The industries used in the latter, such as LCV and Passenger Vehicle and transportation, were affected by the epidemic.
HCV has Accounted for Highest Revenue during the Prediction Period
Bus consists of smaller brakes in number than other vehicles but use air disc brakes as primary option. For example, according to Brendix, three leading Asia Pacific school bus manufacturers - Blue Bird Corporation, Thomas Built Buses, and Navistar's IC Bus - provide ADB22X (air disc brake models) to their vehicles, as does Motor Coach . Industries (MCI), a leading manufacturer of co-operative trainers in the US and Canada. The influx of more efficient braking systems is increasing in Asia Pacific, Europe, and Asia Pacific. Asia Pacific is a large and fast market for bus brakes. As laws in India and China tighten, these regulations will have a profound effect on the market for the bus brake system. For example, the ESC will enter Indian buses in 2023 as part of the regulations. This will provide greater market strength.
High Opportunities Wire Enabled Brake Systems
The Brake-by-wire system is one of the latest technologies that helps to achieve the goal of weight loss. The brake-by-wire system eliminates mechanical communication between the system and replaces it with electrical wiring, motors, and actuators to help reduce weight and improve system response time. In a brake-by-wire system, other braking systems such as antilock braking system (ABS), electronic stability program (ESP), electronic parking brake, and electronic traction control (ETC) can be integrated, thus eliminating hardware used for such systems. programs and weight reduction for vehicles. This is expected to further the adoption of brake-by-wire technology in the coming years. Also, the increased focus of automotive OEMs on changing integrated electrical components for better operational accuracy will lead to faster adoption of brake-by-wire. Additionally, further development is expected to drive the introduction of brake-by-wire in the coming years.
APAC Region to Hold the Highest Revenues during the Predicted Period
Asia Pacific is expected to be the largest market for the braking system at the time of forecasting. The Asia Pacific market is expected to grow due to increased adoption of advanced electronic security systems such as ABS, ESC and TCS. The growing partnership between domestic and international athletes is driving the production of air disc brakes in the region. For example, in April 2021, Haldex and FAST Group announced an agreement to build a joint venture company to manufacture and sell air disc air brakes and sales equipment for trucks and buses with a major focus on the Chinese market. The entry of electronic braking systems into the Rest of Asia Pacific is limited from now on and is not a mandatory feature. Thailand has higher ABS and ESC penetration than Indonesia and Malaysia. But the collaboration between domestic and international NCAP drives the popularity of advanced electronic braking systems. Also, the Malaysian Government has announced the mandatory installation of ESC on new passenger cars in June 2018. Also, the growing sales of luxury and luxury cars in the region are driving the brake system market.
The braking system controls the movement of the car by converting the kinetic energy developed by the car into thermal energy. Due to major vehicle safety concerns to avoid accidents the brake systems drive market growth. New trends and improved technologies to make brake transport safety systems also stimulate market growth.
In August 2013, the National Highway Traffic Safety Administration (NHTSA) amended the Federal Motor Vehicle Safety Standard (FMVSS) 121 air brake systems to improve the operational distance of truck tractors. The law requires that many new heavy-duty truck tractors receive a 30% reduction in stopping distance compared to currently required standards. For these heavy truck tractors (about 99 percent of vessels), the modified standard requires that vehicles be parked at a distance of more than 250 feet when loaded at a gross vehicle weight rating (GVWR) and inspected at a speed of 60 miles per hour (mph). With a small number of large heavy tractors, the stopping distance will be 310 feet under these same conditions. In addition, this last rule requires that all heavy truck tractors have to stop at a of 235 feet when loaded with "light weight truck" (LLVW). Modern disc brakes are excellent for stopping power during braking. Also, about 60-90% of the car stop power comes from the front wheels. Therefore, with the implementation of regulations to reduce the distance of improved safety standing, the acceptance of disk brakes is expected to increase significantly.
The global Brake System market is projected to be around USD 21,443.4 million by 2028, at a CAGR of 4.9 % during the prediction period.
Furthermore, technological advancements and increased investment in this sector are likely to boost the global Brake System market ahead throughout the forecast period.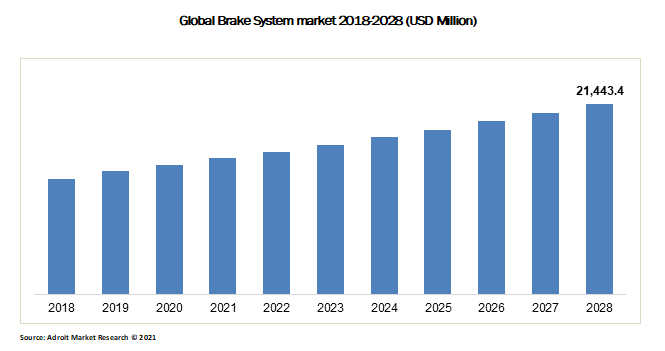 The market is fragmented due to the growing number of consumer industries that use of Brake System. High demand from end users has posed a serious rivalry in the market, leading to fragmentation.
Market players in the global Brake System market are expected to invest in new technologies. Moreover, the success of these vendors depends largely on their willingness to embrace innovation. Some of the major manufacturers in the industry are Robert Bosch GmbH, ZF Friedrichshafen AG, Continental AG ,Continental Aisin Seiki Co, Ltd., Knorr-Bremse AG, Brembo S.p.A, Haldex AB , and others.
Key Findings in the Global Brake System market: a Snapshot
Key players working in the brake systems market are producers and suppliers of tier I and tier II. The production and distribution centers of these players are spread across various countries in Asia Pacific, Europe, North America, Latin America, and the Middle East and Africa.
Increasing demand for more productivity is attracting international players to invest more in the supply of their products. Manufacturing companies are focused on expanding their businesses in the undeveloped Latin American markets.
The outbreak of COVID-19 undermines the shut of business in many industries. Governments around the world have pushed for the closure of the door to control the spread of the disease. This has resulted in a decline in the production and production capacity, restrictions on supply and transportation, and a decline in infrastructure. Subsequently, this has led to a reduction in the demand for Brake System worldwide
This market research study was created by compiling data from primary and secondary sources. Secondary research was conducted using a variety of sources, including (but not limited to) SEC filings, company websites, technical journals, paid data sources, financial reports, and other industry publications. In addition, to acquire first-hand data, the research methodologies perform comprehensive primary research with important industry players. Industry specialists then examine and validate the data.
Brake System Market Scope
| | |
| --- | --- |
| Metrics | Details |
| Base Year | 2020 |
| Historic Data | 2018-2019 |
| Forecast Period | 2021-2028 |
| Study Period | 2018-2028 |
| Forecast Unit | Value (USD) |
| Revenue forecast in 2028 | USD 21,443.4 million |
| Growth Rate | CAGR of 4.9 % during 2021-2028 |
| Segment Covered | Product Type, Application, Brake System, Regions |
| Regions Covered | North America, Europe, Asia Pacific, Middle East and Africa, South America |
| Key Players Profiled | Robert Bosch GmbH, ZF Friedrichshafen AG, Continental AG ,Continental Aisin Seiki Co, Ltd., Knorr-Bremse AG, Brembo S.p.A, Haldex AB , and others. |
Key Segments of the Global Brake System market
Product Type Overview, 2018-2028 (USD Million)
Application Overview, 2018-2028 (USD Million)
Passenger Vehicle
LCV
HCV
Construction & Mining
Brake System market by Technology, 2018-2028 (USD Million)
Regional Overview, 2018-2028 (USD Million)
North America
Europe
Germany
France
UK
Rest of Europe
Asia Pacific
China
India
Japan
Rest of Asia Pacific
South America
Mexico
Brazil
Rest of South America
The Middle East and South Africa
Saudi Arabia
UAE
Rest of MEA
Frequently Asked Questions (FAQ) :
The global brake system market have aimed to meet a CAGR of 4.9% for the forecast period.
The COVID-19 health crisis will negatively impact the overall supply chain and brake system demand due to the slowdown in production activities and negative growth in end-use industries such as automotive, construction equipment and handling equipment.
The brake system market is dominated by globally established players such as Robert Bosch GmbH, ZF Friedrichshafen AG, Continental AG ,Continental Aisin Seiki Co, Ltd., Knorr-Bremse AG, Brembo S.p.A, Haldex AB , and others.
The report sample for brake system market report can be obtained on demand from the website. Also, the 24*7 chat support & direct call services are provided to procure the sample report.