Vacuum equipment plays an important role in a variety of industries, from electronics to optoelectronics and photovoltaics. In this article, we'll explore the different types of vacuum equipment available on the market today, their applications in various industries, and the pros and cons of each. Whether you're looking for an efficient way to create high-performance components or just want to learn more about these technologies, this article has it all!
Drivers of the Vacuum Equipment Market
1. Growing demand for advanced vacuum equipment in the semiconductor industry.
2. Increasing research and development activities in the healthcare sector.
3. Expansion of industrial production activities and increasing investments in manufacturing hubs across the globe.
4. Growing demand for efficient operation of digital devices and gadgets, leading to increased adoption of vacuum pumps and systems.
5. Introduction of automated systems with better performance capabilities and energy-saving features, leading to higher sales of vacuum pumps and systems across various end-user industries such as automotive, aerospace, medical devices, etc.
6. Rising focus towards cleanroom technology coupled with growing investment in research & development activities are some other major drivers of the market growth.
Advantages of the Vacuum Equipment Market
1. Longer Lifespan: Vacuum equipment is designed to last for a long time, making it an excellent choice for those who want to invest in equipment that will last.
2. Cost-Effective: Vacuum equipment is often more cost-effective than other types of industrial equipment. This is because vacuum technology requires fewer components and the parts are simpler to manufacture than most other types of machines.
3. Versatile Applications: Vacuum equipment can be used in a variety of industries and applications, including automotive, aerospace, medical, electronics, food processing, and many more. This makes it ideal for any business looking to expand its portfolio or find new ways to increase efficiency and productivity.
4. Energy Efficient: Vacuum systems are also highly energy efficient due to their simple construction and use of suction rather than electricity or motors for power. This reduces both energy bills and the environmental impact associated with other types of machinery.
5. Easy Maintenance: Since vacuum systems require less maintenance than other types of machinery, they are easier to maintain over time which helps reduce downtime and related costs associated with repairs or replacements.
Market value and CAGR of the Vacuum Equipment Market (2021-2032)
The market value and CAGR of the Vacuum Equipment Market are expected to reach $19,847.6 million by 2032, at a CAGR of 4.3% during the forecast period 2021-2032.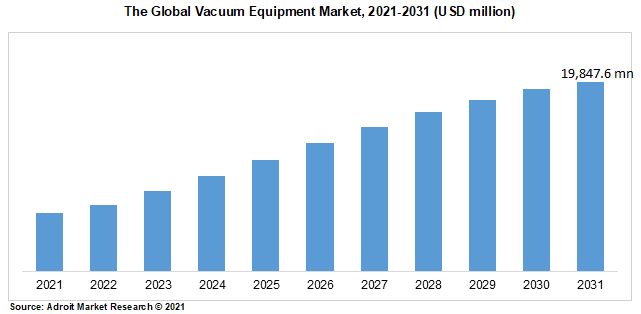 The vacuum equipment market has significantly gained traction over the past few years due to its increasing usage in various industries such as automotive, semiconductor manufacturing, healthcare and others.
Challenges of the Vacuum Equipment Market
1. High cost of vacuum equipment: Vacuum equipment is expensive when compared to other types of equipment, making them difficult for some companies or individuals to afford.
2. Limited technical knowledge: Vacuum technology can be complicated and often requires specialized training in order to operate the equipment properly. This can create a barrier for those who are unfamiliar with the technology.
3. Lack of standardization: Since there is no single standard that all vacuum equipment must adhere to, it can be difficult to compare different models and make an informed decision when purchasing a new piece of equipment.
4. Fragmented market: The vacuum equipment market is highly fragmented, with many different manufacturers offering a wide range of options and prices. This can make it difficult for buyers to find the right product at the right price point.
5. Safety concerns: Vacuum systems involve high pressures and temperatures, making them potentially hazardous to use if not handled correctly or maintained properly.
Key players of the Vacuum Equipment Market
1. Edwards Vacuum (U.K.)
2. Pfeiffer Vacuum (Germany)
3. Ansett Iwata Corporation (Japan)
4. Seybold GmbH (Germany)
5. Ulva, Inc. (Japan)
6. Busch LLC (U.S.)
7. Vauban GMBH & Co KG (Germany)
8. Kurt J Lasker Company LLC (U.S.)
9. Tuthill Corporation (U.S.)
10. Piaf AB (Sweden).
Market Analysis
The most demanded product of the Vacuum Equipment Market is expected to be vacuum pumps, followed by vacuum furnaces and systems. Vacuum equipment is used in a variety of applications such as material processing, medical, semiconductor fabrication, and laboratory research. Industries ranging from automotive to aerospace & defence are increasingly using vacuum equipment for components and materials processing.
By type,
the global vacuum equipment market can be divided into dry pumps, wet pumps, rotary pumps and others. The dry pump segment dominated the market in 2018 due to its relatively low cost compared to other types of pumps.
By application,
the end-use industry segment is expected to register significant growth owing to its wider usage range in applications such as material processing, medical testing, semiconductor fabrication and laboratory research. The industrial segment accounted for the majority share of the market in 2018 due to widespread usage across different industries around the world.
By end user,
the consumer electronics sector is expected to witness strong growth over the forecast period due to high demand for consumer electronic products such as smartphones and tablets that require vacuum equipment for manufacturing components. The automotive industry is also projected to register significant growth due to increased usage of vacuum equipment for engine components cleaning and welding operations.
By region,
the market in North America and Europe is expected to dominate the global vacuum equipment market due to the presence of leading manufacturers, technological advances and high demand for vacuum equipment from various industrial sectors. Asia Pacific is expected to register strong growth over the forecast period due to increasing investments in automation technology, growing population and rising automotive sector in countries such as India and China.
Impact of Covid-19
The outbreak of Covid-19 has led to a decrease in demand for vacuum equipment, as many industries have been affected by the pandemic. The electronics and semiconductor
industry, which is a major consumer of vacuum equipment, has seen a decline in demand due to the slowdown in global economic activity. This has resulted in a decrease in revenues for manufacturers of vacuum equipment.
Key developments in the Vacuum Equipment Market
New innovations in the Vacuum Equipment Market include:
1. More compact and efficient vacuum pumps that offer improved performance for greater reliability.
2. Advanced filtration systems capture more particles, resulting in a higher-quality vacuum environment.
3. Vacuum robotics that can be used to automate tasks and reduce energy consumption while improving quality control.
4. Wireless technology that allows users to easily monitor and control their vacuum equipment remotely.
Vacuum Equipment Market Scope
| | |
| --- | --- |
| Metrics | Details |
| Base Year | 2021 |
| Historic Data | 2020-2021 |
| Forecast Period | 2022-2031 |
| Study Period | 2021-2031 |
| Forecast Unit | Value (USD) |
| Revenue forecast in 2031 | $19,847.6 million |
| Growth Rate | CAGR of 4.3 % during 2021-2031 |
| Segment Covered | By Type, By Application, End Users, Regions |
| Regions Covered | North America, Europe, Asia Pacific, Middle East and Africa, South America |
| Key Players Profiled | Edwards Vacuum (U.K.), Pfeiffer Vacuum (Germany), Ansett Iwata Corporation (Japan), Seybold, GmbH (Germany), Ulva, Inc. (Japan), Busch LLC (U.S.), Vauban GMBH & Co KG (Germany), Kurt J, Lasker Company LLC (U.S.), Tuthill Corporation (U.S.), Piaf AB (Sweden). |
Key Segment of Vacuum Equipment Market
By Type Overview 2021-2031, ($ Million)
• MBE
• PECVD
• E-beam Evaporation Systems
• Plasma Etching System
• Rapid Thermal Processing (RTP) System
By Application Overview 2021-2031, ($ Million)
• Electronics Industrial
• Optical Industrial and Glass Industrial
• Photovoltaic Industrial
• Others
By End-User Overview 2021-2031, ($ Million)
• Manufacturing companies
By Region Overview 2021-2031, ($ Million)
North America
• USA
• Canada
Asia Pacific
• China
• India
• Japan
• Rest of Asia Pacific
South America
• Mexico
• Brazil
• Rest of North America
Europe
• Germany
• France
• UK
• Rest of Europe
Middle East and Africa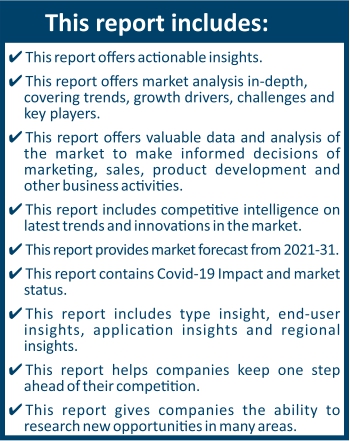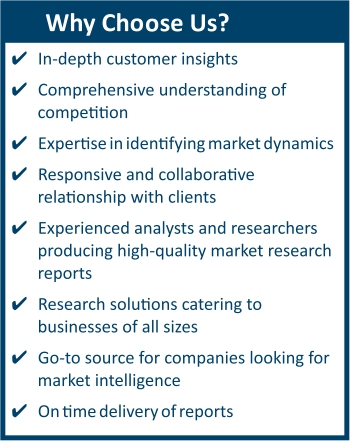 Frequently Asked Questions (FAQ) :
Vacuum Equipment Market is projected to reach $19,847.6 million by 2031, growing at a CAGR of 4.3