The global cleanroom technology market was valued at USD 3,392.1 million in 2019 and is expected to grow at a CAGR of 7% over the forecast period. Cleanroom technology is witnessing multilayered adoption across a broad category of end-user industries such as pharmaceutical, F&B, and packaging verticals. A crucial impact of cleanroom technology is in R&D expeditions across diverse end-use applications. Cleanrooms are specifically and mindfully designed enclosures to accommodate controlled development under specific working conditions, eliminating pollutants and contaminants.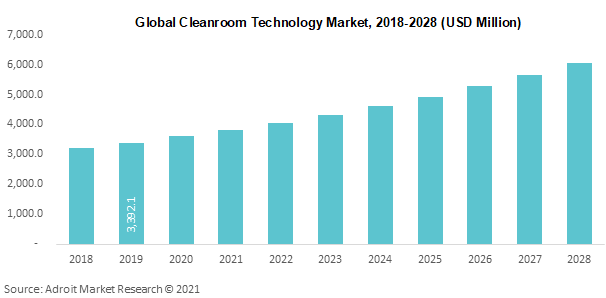 The cleanroom technology market is segmented into product type and applications. The majority of cleanroom consumables fall under the protection and cleaning category, which includes gloves, clothing, wipes, swabs, sticky mats, adhesive tapes, disinfectants, and vacuum systems, among other things. Glove demand is expected to increase due to expanded usage in a variety of industries, including pharmaceutical, medical device, biotechnology, and diagnostic centers. Due to rapid industrialization and increased manufacturing capacities in developing countries such as China, India, the Philippines, and Vietnam, the Asia-Pacific cleanroom disposable gloves market is expected to grow significantly during the forecast period. Furthermore, developed countries such as Japan and South Korea have used industrial robots in manufacturing processes, particularly in the semiconductor and electronics industries. Cleanroom gloves are in high demand due to the semiconductor industry's growth and innovations. The growing semiconductor industry has developed regulatory requirements to ensure a safe manufacturing climate. As a result, demand for cleanroom space and ancillary consumables has remained steady.
Key players serving the global cleanroom technology market include Azbil Corporation, Kimberly-Clark Corporation, Clean Air Products, Labconco Corporation, Dynarex Corporation, DowDuPont Inc., Clean Rooms International, Inc., Illinois Tool Works Inc., Taikisha Ltd., Exyte AG, COLANDIS GmbH, ABN Cleanroom Technology, Inc., Bouygues Group, Terra Universal, Inc., Connect 2 Cleanrooms Ltd, Camfil, OCTANORM-Vertriebs-GmbH, Parteco Srl, and Airtech Japan, Ltd. among other prominent players.
Key segments of the global cleanroom technology market
Product Type Overview, 2018-2028 (USD Million)
Cleanroom Equipment
Cleanroom Consumables
Applications Overview, 2018-2028 (USD Million)
Pharmaceutical
Biotechnology
Medical Device
Semiconductor
Others
Regional Overview, 2018-2028 (USD Million)
North America
Europe

Germany
United Kingdom
France
Spain
Rest of Europe

Asia Pacific

China
Japan
India
Rest of Asia Pacific

Central and South America

Brazil
Mexico
Rest of Central and South America

Middle East & Africa

GCC
South Africa
Rest of Middle East and Africa
Reasons for the study
The purpose of the study is to give an exhaustive outlook of the global Cleanroom Technology industry
The overall segmentation of cleanroom technology market, especially key segments are thoroughly studied.
Presence of major players and their wide product portfolio across developed countries is anticipated to further boost the growth of cleanroom technology market
What does the report include?
The study on the global cleanroom technology market includes analysis of qualitative market indicators such as drivers, restraints, challenges, and opportunities
Additionally, the market competition has been evaluated using the Porter's five forces analysis
The study covers qualitative and quantitative analysis of the market segmented based on applications, product, technology, and end user. Moreover, the study provides similar information for the key geographies.
Actual market sizes and forecasts have been provided for all the considered segments
The study includes the profiles of key players in the market with a significant global and/or regional presence
Who should buy this report?
The report on the global cleanroom technology market is suitable for all the players across the value chain including raw material suppliers, Cleanroom Technology providers, pharmaceutical and medical device manufacturers, distributors, suppliers, and retailers
Venture capitalists and investors looking for more information on the future outlook of the global cleanroom technology market
Consultants, analysts, researchers, and academicians looking for insights shaping the global cleanroom technology market
Cleanroom technology is in high demand due to the construction of new plants and production lines in the manufacturing industry. As a result, cleanroom demand growth is fueled by rising investment in these industries around the world. Consider the semiconductor manufacturing industry: in 2017, global investment in wafer fabrication plant facilities reached a new high of USD 57 billion, and global investment in wafer fabrication plant is expected to continue to rise in the coming years.
Asia is also seeing a surge in high-tech applications. Singapore, Taiwan, Korea, and Hong Kong have all reported on high-tech cleanroom construction this year. In Singapore, the Systems on Silicon Manufacturing Company has constructed a USD 220 million, 4,400 square meter cleanroom for silicon chip development. Vanguard Semiconductor International, based in Taiwan, increased its wafer manufacturing capabilities with a USD 110 million equipment and cleanroom upgrade. SK Hynix is constructing four new semiconductor fabrication plants in Seoul's high-tech cluster. Meanwhile, the Hong Kong Science and Technology Parks Corporation (HKSTP) opened a new sensor lab with ISO Class 2 and 3 cleanrooms that can be shared. Simultaneously, global investment in other high-tech fields such as biomedicine and aerospace has increased significantly, boosting demand for the global cleanroom industry.
The global cleanroom technology has been segmented by product types and application. The pharmaceutical cleanroom industry's growth can be attributed to the sector's industrial growth, a strong pipeline of injectable formulations, and a growing emphasis on ensuring the quality of healthcare products. Clean room equipment is in high demand in India, and foreign companies are attempting to capitalize on this trend. Roxtec International, a Swedish sealants solutions provider, was in discussions with Indian pharmaceutical companies about providing piping and sealing solutions for cleanrooms and regulated environments within a pharmaceutical unit. Cipla Limited and Sun Pharmaceutical are two Indian pharmaceutical behemoths with whom the company has previously collaborated. The company is presenting its sealants and piping systems solutions in response to the demand for equipment to avoid contamination in the pharmaceutical manufacturing process in India. Airborne pollutants that would otherwise escape through poorly sealed wall penetrations are regulated by sealants. The company has described three implementation sectors in the clean room section: customized solutions, cabinets/panels/equipment, and floors/walls. The three key components of a pharmaceutical plant's cleanroom, also known as the sterile line, account for a significant portion of the equipment procurement costs for a drug manufacturing facility seeking to sell its goods in controlled markets.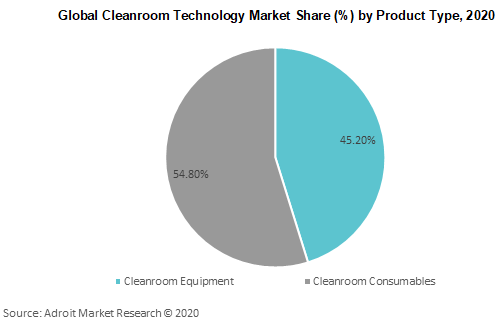 Based on regions, the global cleanroom technology market is segmented into North America, Europe, Asia Pacific, Central and South America and Middle East & Africa. The United States played a key role in establishing cleanroom standards that have now been embraced and harmonised around the world as an early adopter of emerging technologies in the electronics, nuclear, and space exploration industries. It has the largest medical device market in the world, a large pharmaceutical and biological manufacturing sector, and is at the forefront of nanotechnology research and development for the next generation of wafers and chips. Due to rises in total square footage and developments toward more energy intensive, higher cleanliness applications, the number of cleanrooms in the United States is rising, and the energy usage of cleanroom environmental systems is increasing.
Cleanrooms are used in many industries in California that are critical to the state's economy. About 150 cleanrooms totaling 4.2 million square feet are used by these industries. High-tech, energy-intensive buildings provide a compelling opportunity for significant base-load energy reduction. In almost all operating cleanrooms, as well as in modern designs, there are opportunities to increase energy efficiency. Pacific Gas and Electric Company funded a project to benchmark energy usage in cleanrooms in the electronics (high-tech) and biotechnology industries to better understand the opportunities and their future effects. For research and manufacturing, both industries depend heavily on cleanroom environments. In California, these two sectors account for 3.6 million square feet of cleanroom space and 4349 GWh per year. Benchmarking energy usage allows for direct comparisons, which can lead to the discovery of best practices, efficiency innovations, and the detection of previously hidden design or operational issues.