The military sector's expanding need for USVs and the public's growing understanding of their advantages are anticipated to fuel market expansion. Military applications such as mine countermeasures, anti-submarine warfare, intelligence gathering and surveillance, target practice and interception, and search and rescue operations (SAR) in hostile environments have been identified as key areas that could benefit from USVs. In addition, the growing demand for USVs in civil and commercial applications such as maritime security and surveillance, environmental monitoring, disaster management, ocean data collection (hydrography), autonomous shipping, dredging operations, and aquaculture is driving the growth of the market.
The need for USVs is increasing due to rising maritime security concerns, the advancement of autonomous technologies, and an increase in sea-based operations. These vessels offer a reliable alternative to manned missions, as they are capable of carrying out long-term operations with minimal human intervention. Because of their modular nature, they are also cost-effective and give more versatility.
Unmanned surface vessels offer numerous advantages to their users. USVs have the ability to operate autonomously and execute pre-programmed missions without the need for human control, which allows them to be deployed in hazardous areas or regions of instability. Moreover, they provide increased situational awareness and safer operations due to their ability to monitor their environment without putting personnel in harm's way. In addition, they are cost-effective and can carry out extended missions with minimal human intervention. Furthermore, USVs are more fuel efficient than manned vessels and have a greater range due to their smaller size.
An unmanned surface vessel (USV) is a semi-autonomous or autonomous platform designed to perform missions at sea without any human intervention. USVs are typically equipped with sensors and cameras that allow them to detect, analyze and respond to the environment. Their modular design allows for easy customization according to operational requirements, making it suitable for a wide range of applications. USVs vary in size, ranging from small boats to larger vessels, and can be powered by diesel, electric, or hybrid motors.
The unmanned surface vessel market offers a range of services such as system integrations, training, and support, mission planning, software development, and upgrades. System integrators provide complete turn-key solutions for USV platforms including design and manufacturing, system integration, testing and validation, programming, and software development.
The global unmanned surface vessel market is estimated to be worth USD 8.37 billion in 2021 and is projected to reach USD 34.01 billion by 2031, at a CAGR of 16.43% from 2021 to 2031.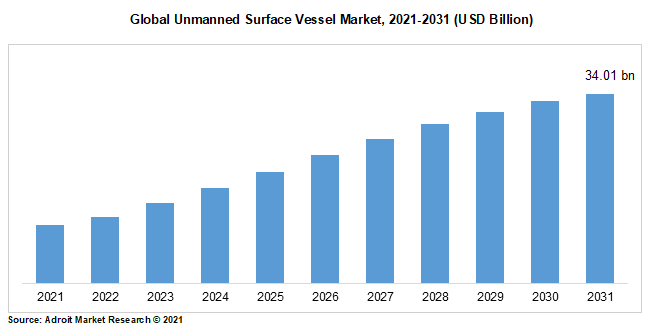 The major restraining factors in the unmanned surface vessel market include high cost, lack of awareness, and stringent regulations. The high cost of USV components such as communication systems, navigation systems, sensors, and software limit the adoption of these vessels. In addition, inadequate public awareness regarding benefits offered by USVs is another factor hindering the growth of the market. The increasing demand for intelligent surveillance systems and the rising focus on maritime safety are major factors propelling the market growth. The growing need for efficient monitoring of water bodies to detect illegal activities such as piracy, terrorism, smuggling, and drug trafficking is driving the adoption of USVs.
The key players operating in the global unmanned surface vessel market include and Kongsberg Gruppen ASA. (Norway), ASV Global Limited (U.K.), Saab Group (Sweden), RH Marine Group (the Netherlands), L3Harris Technologies, Inc. (U.S.), Atlas Elektronik GmbH (Germany), Elbit Systems Ltd. (Israel), Teledyne Technologies Incorporated (U.S.), The Hydroid, Inc. (U.S.), and Bluefin Robotics Corporation (U.S.). To strengthen their position in the market, these businesses are working to introduce new products. To strengthen their position in the market, these businesses are working to introduce new products. Additionally, strategic alliances and partnerships are assisting these businesses in establishing a solid foundation in the global USV industry. In addition, companies are expanding their product and service portfolios by launching new USVs for diverse applications.
Segment Analysis
The Remote-Control Type Emerges as the Most Lucrative Segment
The Remote-Control segment is projected to be the fastest-growing type segment of the unmanned surface vessels market during the forecast period. This growth can be attributed to the rising demand for remotely operated vessels from military and commercial applications, owing to their usage in hazardous operations.
The Propulsion segment to Ensure Revenue Maximization
The Propulsion segment is estimated to be the fastest-growing system segment of the unmanned surface vessels market during 2021–2031. This growth can be attributed to the increasing demand for efficient propulsion systems that require less maintenance and can operate in extreme conditions with greater efficiency. In addition, rising research and development activities regarding advancements in USV technology are also propelling the growth of this segment.
The Most Popular Application Segment is the Military segment
The military sector is anticipated to see the quickest rate of growth in the unmanned surface vessel market between 2021 and 2031. The increasing use of USVs by militaries for surveillance and security purposes is driving the growth of this segment. Furthermore, several countries are substantially investing in the development of sophisticated surveillance systems for military use.
North America region to render Adequate Financing Avenues
North America is anticipated to be the largest geographical market for autonomous surface boats from 2021 through 2031. The USV market in this area is being driven by increased investments in navigation technology as well as rising demand for USVs from military and commercial applications. The USV market in North America is expanding as a result of the presence of important players in this area.
COVID-19 Impact and Market Status
The COVID-19 pandemic has had a major impact on the unmanned surface vessel market. With various countries enforcing lockdowns, transportation of essential goods and services is hampered, resulting in a decline in revenue. Moreover, as manufacturers are adopting new techniques to reduce costs during the pandemic, they are facing supply chain disruption due to a shortage of labor and raw materials. However, the USV market is expected to witness a gradual recovery in 2021 and beyond, as the demand for digital technologies related to maritime operations increases.
Recent Developments in the Unmanned Surface Vessel (USV) Market
• In April 2020, Kongsberg Maritime launched its new range of remotely operated vehicles (ROVs) and autonomous underwater vessels (AUVs).
• In May 2020, Saab Seaeye introduced the Ranger-class ROV for deep water operations.
• In June 2020, Teledyne Marine launched the Bluefin-21 Autonomous Underwater Vehicle (AUV), a USV for commercial and research applications. The company also provides services such as training, customer support, and fleet management.
• In November 2020, Atlas Elektronik launched its SeaOwl-class USV for operations in remote locations. In addition, several companies are investing heavily in research and development activities for the development of advanced unmanned surface vessels.


Unmanned Surface Vessel Market Scope
| | |
| --- | --- |
| Metrics | Details |
| Base Year | 2022 |
| Historic Data | 2020-2021 |
| Forecast Period | 2022-2031 |
| Study Period | 2020-2031 |
| Forecast Unit | Value (USD) |
| Revenue forecast in 2031 | USD 34.01 billion |
| Growth Rate | CAGR of 16.3% during 2021-2031 |
| Segment Covered | Type, Application, Regions |
| Regions Covered | North America, Europe, Asia Pacific, South America, Middle East and Africa |
| Key Players Profiled | Kongsberg Gruppen ASA. (Norway), ASV Global Limited (U.K.), Saab Group (Sweden), RH Marine Group (the Netherlands), L3Harris Technologies, Inc. (U.S.), Atlas Elektronik GmbH (Germany), Elbit Systems Ltd. (Israel), Teledyne Technologies Incorporated (U.S.), The Hydroid, Inc. (U.S.), and Bluefin Robotics Corporation (U.S.). |
Key Segment of Global Unmanned Surface Vessel (USV) Market
By Type Overview 2021-2031, (USD Billion)
• Remote Control
• Autonomous Control
• Semi-autonomous
By Application Overview 2021-2031, (USD Billion)
• Propulsion
• Component
• Communication
• Software
• Chassis Material
By End-User Overview 2021-2031, (USD Billion)
• Military Use
• Civil Use
By Region Overview 2021-2031, (USD Billion)
North America
• USA
• Canada
Asia Pacific
• China
• India
• Japan
• Rest of Asia Pacific
South America
• Mexico
• Brazil
• Rest of North America
Europe
• Germany
• France
• UK
• Rest of Europe
Middle East and Africa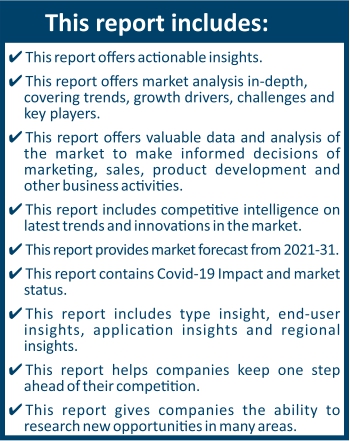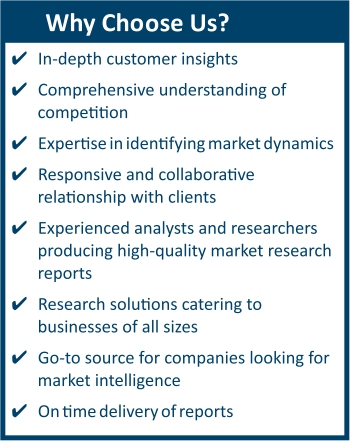 Frequently Asked Questions (FAQ) :
Unmanned Surface Vessel (USV) Market is projected to reach USD 34.01 billion by 2031, growing at a CAGR of 16.43