The growing demand for autonomous undersea vehicles is driven by their ability to conduct tasks in the marine environment with minimum human interference. Unmanned maritime systems have an edge over traditional manned systems as they provide cost-effective solutions for remote data acquisition. AUVs are widely used for conducting missions such as bathymetric mapping, acoustic surveying, seabed imaging, and ocean exploration. Moreover, the increased investments in defense and security projects along with rising awareness about marine life have created a need for AUVs that can be used for military operations such as surveillance, reconnaissance, and communication.
The need for AUVs is driven by their potential to be used in a wide range of applications such as monitoring and surveying activities, search and rescue operations, and mapping and inspection of ports, oil rigs, pipelines, and other underwater facilities. They are also capable of providing real-time information about the ocean floor which can be utilized for safe navigation and exploration. In addition, AUVs can also be used for environmental monitoring and pollution control as it helps in collecting data about underwater ecosystems.
The market for AUVs offers benefits such as high efficiency, cheap cost, and flexibility.
Compared to manned vehicles, AUVs require less maintenance and can be used for a wide range of mission profiles. They are also capable of collecting data in challenging maritime environments that would otherwise be inaccessible to humans or traditional manned vehicles. Furthermore, they are also more efficient in terms of energy consumption.
Unmanned underwater vehicles (UUVs) that can operate independently without the aid of a remote control or a human pilot are known as autonomous underwater vehicles (AUVs). AUVs are typically used for oceanographic research, hydrographic surveying, and military applications such as search and rescue missions. They navigate using pre-programmed instructions and are capable of collecting data about the ocean environment such as temperature, salinity, and currents. They are also used for object detection, mine countermeasures, and underwater inspection.
The AUV market provides a range of services including manufacturing and commissioning, system integration, training, and maintenance. Manufacturers typically offer customization services to meet the specific requirements of the customer. System integrators provide comprehensive solutions by combining hardware components such as sensors, cameras, sonars, navigation systems, propulsion systems, etc. Training is provided to ensure that the AUV operators are capable of safely and efficiently operating the vehicle. Maintenance services involve providing post-sales support such as repairs, spare parts, system upgrades, and other related services. In 2021, the worldwide underwater drone market was valued at USD 4.5 billion.
The global AUV market is expected to reach USD 12.5 billion by 2031, at a CAGR of 11.9 percent during the forecast period 2021-2031.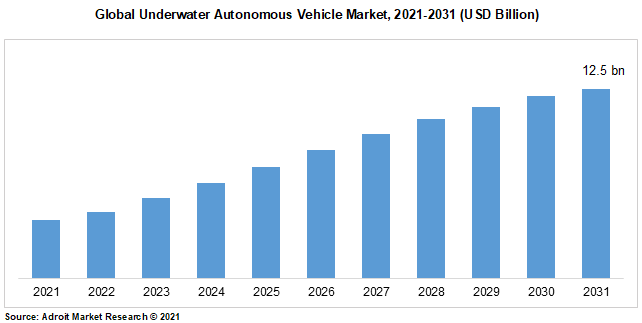 High fabrication costs and complex system design are the major restraining factors of the AUV market. Additionally, the lack of skilled personnel adept at operating these vehicles is also hindering the growth of the market. Moreover, stringent regulations imposed by governments to control the usage of AUVs in certain areas are another factor that might hamper their adoption. The increasing demand for autonomous underwater vehicles in oil and gas exploration, military applications, and oceanographic research is propelling the growth of the AUV market. Additionally, technological advancements such as 3D printing, artificial intelligence (AI), and machine learning are further driving the market's growth.
The key players in the global AUV market include Atlas Elektronik GmbH (Germany), Bluefin Robotics Corporation (US), Deep Ocean Engineering Inc. (US), Fugro N.V. (Netherlands), Hydroid, Inc. (US), International Submarine Engineering Ltd. (Canada), Oceanserver Technology, Inc. (US), Saab AB (Sweden), Teledyne Technologies Inc. (US), and UVS International BV (Netherlands).
Segment Analysis
The large AUV System Type emerged as the Most Lucrative Segment
During the projected period, the big AUV sector is anticipated to develop at the greatest CAGR. This can be attributed to the increasing adoption of these vehicles in deep-sea exploration activities by oil and gas companies, defense organizations, and scientific research institutes. Large AUVs have sophisticated sensors and navigational systems that enable them to operate in depths more than 1000 metres. These vehicles allow operators to monitor vast areas at a lower cost and with more accuracy than traditional methods.
The electric propulsion system to Ensure Revenue Maximization
During the forecast period, the electric propulsion system market is expected to expand significantly. This can be attributed to the increasing adoption of these systems in AUVs due to their energy efficiency and low noise levels. They also require less maintenance compared to mechanical propulsion systems such as gas turbines or diesel engines, making them more cost-effective.
The Most Popular Application Segment is the defense & security segment
During the projection period, the defence & security category is anticipated to develop at the greatest CAGR. This can be attributed to the rising demand for autonomous underwater vehicles in naval operations, intelligence-gathering activities, maritime surveillance, anti-submarine warfare, and mine countermeasures.
The Asia Pacific (APAC) region to render Adequate Financing Avenues
During the forecast period, the Underwater Autonomous Vehicles (AUVs) Market is expected to develop at the quickest rate in the Asia Pacific region. This can be attributed to rising investments in defense and security by governments, increasing oil and gas exploration activities, and advancement in oceanographic research activities across various countries of the region.
COVID-19 Impact and Market Status
The COVID-19 pandemic has had a negative impact on the global AUV market, as many activities such as oil and gas exploration projects, oceanographic research operations, defense & security activities, and commercial underwater exploration were put on hold. Furthermore, the reduction in investments by governments across various regions has further hindered the growth of the market. However, as the conditions start to normalize, the market is expected to bounce back in 2021.
Recent Developments in the Underwater Autonomous Vehicle (AUV) Market
• In July 2019, Hydroid Inc. partnered with Dawn VME Systems (US) to develop and manufacture next-generation marine robotics solutions.
• In March 2020, Ocean server Technology Inc. collaborated with the United States Navy to develop advanced navigation systems for unmanned underwater vehicles.
• In April 2021, International Submarine Engineering Ltd. partnered with the Canadian Coast Guard to provide Long-Range Autonomous Underwater Vehicle (LR AUV) services.
• In July 2020, Saab Seaeye Ltd. launched a new range of autonomous underwater vehicles called Seaeye Falcon DR ROVs for deep sea operations.
• In August 2020, Teledyne Marine announced the launch of its Teledyne DTG3 Autonomous Underwater Vehicle (AUV) for a range of oceanographic operations.
• In February 2021, Airbus launched its deep-diving autonomous underwater vehicle (AUV), called the 'Explorer', to assist in underwater exploration and mapping activities.

Underwater Autonomous Vehicle Market Scope
| | |
| --- | --- |
| Metrics | Details |
| Base Year | 2022 |
| Historic Data | 2020-2021 |
| Forecast Period | 2022-2031 |
| Study Period | 2020-2031 |
| Forecast Unit | Value (USD) |
| Revenue forecast in 2031 | USD 12.5 billion |
| Growth Rate | CAGR of 11.9% during 2021-2031 |
| Segment Covered | Type, Application, Regions |
| Regions Covered | North America, Europe, Asia Pacific, South America, Middle East and Africa |
| Key Players Profiled | Atlas Elektronik GmbH (Germany), Bluefin Robotics Corporation (US), Deep Ocean Engineering Inc. (US), Fugro N.V. (Netherlands), Hydroid, Inc. (US), International Submarine Engineering Ltd. (Canada), Oceanserver Technology, Inc. (US), Saab AB (Sweden), Teledyne Technologies Inc. (US), and UVS International BV (Netherlands). |
Key Segment of Global Underwater Autonomous Vehicle (AUV) Market
By Type Overview 2021-2031, (USD Billion)
• Shallow AUV (Depth up to 100m)
• Medium AUV (Depth up to 1000 m)
• Large AUV (Depth over 1000 m)
By Application Overview 2021-2031, (USD Billion)
• Electric Systems
• Mechanical Systems
• Hybrid
By End-User Overview 2021-2031, (USD Billion)
• Business
• Defence & Security
• Scientific Research
• Commercial Exploration
• Others
By Region Overview 2021-2031, (USD Billion)
North America
• USA
• Canada
Asia Pacific
• China
• India
• Japan
• Rest of Asia Pacific
South America
• Mexico
• Brazil
• Rest of North America
Europe
• Germany
• France
• UK
• Rest of Europe
Middle East and Africa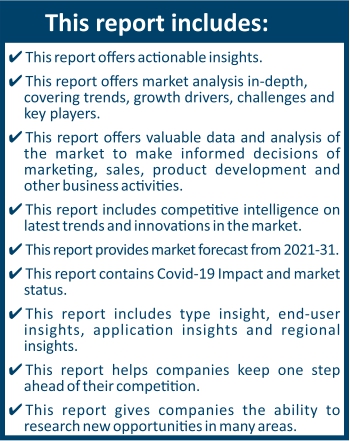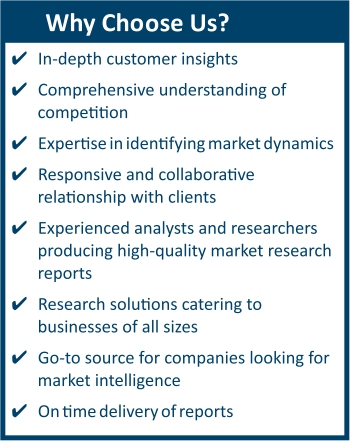 Frequently Asked Questions (FAQ) :
Underwater Autonomous Vehicle (AUV) Market is projected to reach USD 12.5 billion by 2031, growing at a CAGR of 11.9%