The global tuberculin skin test market has grown rapidly in recent years, and it is expected to grow by USD 3084 million at a 5% CAGR over the projected period. Tuberculosis (TB) is a bacterial infection that mostly affects the lungs but can also affect other regions of the body. To diagnose the infection, a Mantoux TST (tuberculin skin test) or TB blood test is utilized. Depending on the organs invaded, more tests are necessary to confirm TB illness.
In the case of pulmonary tuberculosis, chest radiography is used to detect anomalies in the chest, as well as acid-fast staining and microscopic inspection of the patient's sputum. MRI, CT, endoscopy, biopsies, urine and blood tests, laparoscopy, and lumbar punctures can all be used to identify extrapulmonary tuberculosis.
When someone has been exposed to tuberculosis, a TB skin test is done to check for tuberculosis infection. It is also used to diagnose TB illness when someone exhibits symptoms. A little quantity of testing fluid, also known as tuberculin, is injected into the inside of the forearm and the subsequent swelling is measured several days later.
A tuberculosis skin test assesses a person's immunological response to a testing solution containing Mycobacterium tuberculosis antigens. Antigens are protein indicators found on the surface of bacteria that cause an immunological response. During a tuberculosis skin test, the testing solution is injected beneath the skin of the forearm, causing a raised, swollen area on the skin's surface.
A health expert interprets the results of a tuberculosis skin test after 48 to 72 hours by measuring the size of the raised area. A doctor interprets this test by taking into account a person's risk of tuberculosis infection as well as the width of the swelling in millimeters.
One of the primary reasons driving market expansion is the rising incidence of multi-drug resistance (MDR) TB throughout the world. MDR tuberculosis is caused by bacteria that are resistant to the most effective tuberculosis antimicrobials, isoniazid and rifampicin.
In addition, the availability of technologically sophisticated POC (Point-of-Care) diagnostic technologies is hastening market development. Interferon-Gamma Release Assay (IGRA) and NAATS (Nucleic Acid Amplification Tests) are advanced diagnostic technologies that are more accurate, convenient, and deliver faster results than traditional diagnostic processes.
Furthermore, major advancements in healthcare infrastructure, as well as increased public knowledge of various diagnostic techniques, are working as growth-inducing factors. Other factors such as the growing senior population, government efforts and expenditures to support research and development activities, and rising healthcare spending are expected to push the market even more.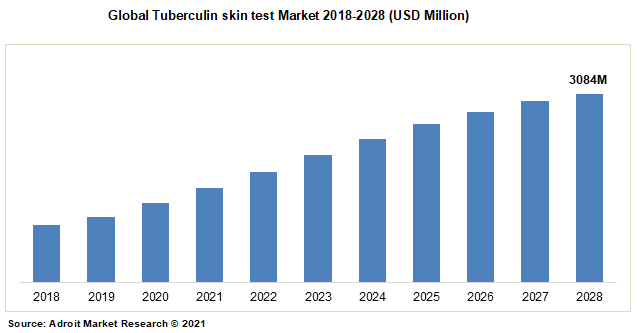 The prominent market players of the tuberculin skin test industry are Abbott Laboratories, Becton Dickinson and Company, Alere Inc., BioMerieux, Epistem Ltd., Cepheid Inc., Roche Holding AG, Hologic Inc., Hain Lifescience GmbH, QIAGEN GmbH, Thermo Fisher Scientific Inc., and Siemens, etc. This research looks at the market revenue, business strategies, market shares, current trends, and growth rates of the leading Tuberculin skin test companies. When establishing these firms' player position in the Tuberculin skin test market, recent events such as geographical expansions, research activities, new solution/product releases, acquisitions, and technical breakthroughs are taken into account.
Tuberculin Skin Test Market Scope
| | |
| --- | --- |
| Metrics | Details |
| Base Year | 2020 |
| Historic Data | 2018-2019 |
| Forecast Period | 2021-2028 |
| Study Period | 2018-2028 |
| Forecast Unit | Value (USD) |
| Revenue forecast in 2028 | USD 3084 million |
| Growth Rate | CAGR of 5% during 2021-2028 |
| Segment Covered | Product Type, Application, Regions |
| Regions Covered | North America, Europe, Asia Pacific, Middle East and Africa, South America |
| Key Players Profiled | Abbott Laboratories, Becton Dickinson and Company, Alere Inc., BioMerieux, Epistem Ltd., Cepheid Inc., Roche Holding AG, Hologic Inc., Hain Lifescience GmbH, QIAGEN GmbH, Thermo Fisher Scientific Inc., and Siemens, etc. |
Key Segments of the Global Tuberculin skin test Market
Product Type Overview, 2018-2028 (USD Million)
Mantoux Test
Pirquet Test
Mom Test
Application Overview, 2018-2028 (USD Million)
Hospitals and Clinics
Diagnostic Laboratories
Regional Overview, 2018-2028 (USD Million)
North America
• U.S.
• Canada
Europe
• France
• UK
• Germany
• Rest of Europe
Asia Pacific
• China
• Japan
• India
• Rest of Asia Pacific
South America
• Brazil
• Mexico
• Rest of South America
The Middle East and Africa
Reasons for the study
• To understand the market in terms of present trends, drivers, and future industry strategies.
• To appreciate various strategies devised by major corporations functioning on the global market.
What does the report include?
• This study provides an analytical representation of the Tuberculin skin test market size, as well as future forecasts to aid in the identification of potential investment possibilities.
• The extensive Tuberculin skin test market study tries to find profitable trends in order to get a competitive advantage.
• The report includes the leading manufacturers' Tuberculin skin test market shares as well as industry trends.
Who should buy this report?
• Executives in the Tuberculin skin test sector who want to learn more about the target market.
• Industry executives, analysts, government agencies, and researchers seek market data to aid in future operations planning.
Tuberculosis isn't usually simple to detect. Tuberculosis can cause either a dormant infection or active tuberculosis that requires treatment. To determine if you have TB, your doctor will do a physical exam as well as a skin or blood test. Depending on the results, more tests are required. Many persons with tuberculosis show no symptoms. They have latent tuberculosis, as physicians call it. Doctors most usually employ the Mantoux tuberculin skin test to diagnose TB. A little quantity of tuberculin fluid will be injected just beneath your forearm's skin. It includes TB protein that is inactive. The needle should provide a little prick.
Tuberculosis infection causes a delayed-type hypersensitivity skin reaction to certain bacterial components. Medical practitioners collect organism components from TB cultures, which are the basic ingredients of the conventional tuberculin PPD (also known as purified protein derivative). This PPD substance is used for TB skin testing. The skin's reaction to tuberculin PPD begins when the immune system recruits immune cells known as T cells to the skin location, where they release chemical messengers known as lymphokines. These lymphokines produce induration by promoting local vasodilation (expansion of blood vessel diameter), which leads to fluid deposition, edema, and the recruitment of different types of inflammatory cells to the region.
Product Type Segment
On considering the product type, the global market for tuberculin skin test is fragmented into pirquet test, mantoux test, and mom test.
Application Segment
In terms of the application, the global market for tuberculin skin test is fragmented into diagnostic laboratories as well as hospitals and clinics.
The tuberculin skin test market is geographically expanded into regions such as Europe, Asia Pacific, North America, South America, and the Middle East and Africa.