The global Triazine market is expected to develop $814.55 million by 2030, at a compound annual increase in price (CAGR) of 5.6% throughout the forecast period.
Owing to the growth in the use of triazine in the medical field especially due to its anti-cancer, anti-microbial, anti-viral, anti-fungal property, biodegradable nature, insolubility in water, agriculture, biological power, chemical industry, oil, and gas industry the triazine market is experiencing swift development as opposed to traditional methods, thus causing exponential growth in global triazine market
Covid-19 Impact & Market Status
COVID-19, also known as the Novel Corona Virus, has had a significant impact on the cosmetics industry. Due to the lockdown, which has had a domino effect on the Tris-Biphenyl Triazine business, the demand for grooming & cosmetics has decreased in the last two quarters. The reopening of markets in all regions has brought the market back to normal in the third quarter of FY2020. From a near-low in the second quarter of FY2020, the price of Tris-Biphenyl Triazine has returned to normal. Due to the fast changes in the price of the product, which are projected to do is provide marginal benefits to suppliers and distributors during the short-term projected timeframe, speculative demand for Tris-Biphenyl Triazine is high.
The 1,3,5-triazine segment is likely to grow at the highest CAGR during the prediction period
The 1,3,5-triazine segment is accounted for highest consumption in 2021. This is explained by the employment of 1,3,5 triazine, the most stable isomeric form of triazine, in a variety of sectors, including the chemical and oil & gas industries. It is widely employed in the creation of triazine derivatives such MEA, MMA, and melamine, all of which are used in the production of different end products. The rising demand for 1,3,5-triazine-based derivatives for oil and gas industry scavenging operations and their expanding usage for pesticide production are both driving the market's expansion.
The Oil & Gas segment is expected to grow at a faster rate
The oil & gas segment is likely to dominate the industry during the course of the projection period. This is mainly because the substance is thought to be the most economically advantageous sour management chemical. Along with decreasing the emission of unpleasant odours, the increased demand for effective corrosion protection in storage tanks and pipelines is anticipated to drive the global triazine market over the forecast period.
North America expected to invest the largest chunk
Due to increased demand for triazine inside the chemical & oil & gas industries, America Is expected to hold the biggest triazine market position in 2021. The shale industry in the United States has surged twelvefold in the last decade, according to the Energy Agency (EIA). Shale is a less costly option for oil products, and it's used to make a variety of chemicals. For high-profit margins, chemical industries in the nation are increasingly selecting shale gas above crude oil for the production of bulk chemicals, intermediary chemicals, and triazine. Furthermore, increasing investment in the oil and gas sector in the United States is likely to drive compound demand growth in the region, presenting significant potential again for the Northern American triazine market throughout the forecast period. Even if COVID-19 caused a major drop in petroleum and chemical production in 2020, it will rebound as soon even as the industry finally opens, as countries focus on restoring normalcy to their economies. This will drive up prices for triazine inside the United States, which is the world's largest producer and exporter of oil.
Triazine is a nitrogen-based molecule with three connected nitrogen atoms. They are highly stable and heat resistant, making them ideal for usage as intermediate products in a variety of industries, including pharmaceuticals, insecticides, pigments, paints, and textile auxiliaries.
The global triazine market is expected to grow at a CAGR of 5.1 percent between 2022 and 2029, worth Approximately USD 550.8M in 2022 until USD 802.4M in 2029. Triazines are indeed a non-regenerating sulfide removal agent that is widely utilized inside the oil, gas, or petroleum processing sectors. Melamine, also known as MEA-triazine, is most typically employed as a hydrogen sulfide scrubber and was also utilized as a resin before commercial resins became available. Herbicides based on chlorine substituted triazines also are employed. On the negative side, according to a study, workers who manufacture triazine or triazine herbicides are at risk for cancer. A number of 1,2,4-triazine derivatives have also been studied for application in advanced nuclear processes.
Over the long-term forecast period, the market of Tris-Biphenyl Triazine has now become appealing due to rapid adoption and rising demand. Because of the product's widespread use in cosmetics, the likelihood of new market entrants over the short-term forecast timeframe is considerable. Because of the high sunk investment and poorer returns in the early years, new entrant barriers remain high. However, makers of Tris-Bisphenyl Triazine should expect great marginal revenue throughout the mid-term forecast period, allowing them to expand and the forward integration over the long-term projection period.
Additionally, the chemical is employed in oil reservoirs as a scavenger chemical to extract hydrogen sulfide (H2S) from crude oil. Since H2S is a combustible, toxic, and life-threatening gas, petroleum firms monitor its concentration in reservoirs to abide by safety regulations pertaining to oilfield operation and exploration. To reduce corrosion and the operational dangers brought on by petroleum products, triazine is also pumped into production pipes.
Colorless to brown crystalline solid that has been dissolved in a water-emulsifiable organic carrier is the appearance of the toxic triazine insecticide. However, factors such as the challenge to ignite, toxicity when consumed, ingested, or inhaled and it might burn at times when ignited are some key points that might affect the global triazine market negatively. But since the 1,3,5-triazine-based derivative is the most stable isomeric form of the molecule and a crucial component of monoethanolamine, the oil and gas sector largely employs it for scavenging purposes (MEA). The petroleum industry uses MEA as a scavenger for H2S mercaptan and hydrogen stream. So, in the near future, the use of MEA will increase due to the growth of the oil and gas industry and the increase in exploration and production (E&P) operations.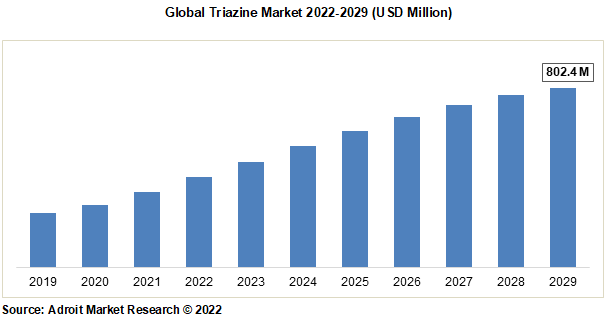 Some of the companies that are profiled in this report are Hexion, Eastman, Stepan, Lonza, Evonik, DBWT, and Baker Hughes. The most noticeable trend in the global triazine marketplace is the surge in the percentage of mergers, which has helped players to raise their income. Furthermore, through mergers and acquisitions, market leaders can focus on sustained growth, gain access to a larger consumer base, and diversify their goods and services, all of which contribute to their company's long-term growth prospects.
Latest Innovations in the Global Triazine Market: a Snapshot
At its La Porte factory in Texas, Foremark Performance Chemicals finished expanding its triazine production activities in January 2020. Due to rising shale oil and gas production in North America and Foremark's compelling value offer, the capacity expansion indicates a significant triazine demand rise.
Stepan Company purchased Logos Technologies LLC's NatSurFact product, a rhamnolipid-based range of biosurfactants, in March 2020. Stepan Company's product offerings were increased as a result of this transaction. Because of their degradability, low cytotoxicity, and unique antibacterial capabilities, rhamnolipids, a type of biosurfactant, are gaining popularity.
Triazine Market Scope
| | |
| --- | --- |
| Metrics | Details |
| Base Year | 2020 |
| Historic Data | 2018-2019 |
| Forecast Period | 2021-2028 |
| Study Period | 2018-2028 |
| Forecast Unit | Value (USD) |
| Revenue forecast in 2028 | USD 802.4 million |
| Growth Rate | CAGR of 5.1% during 2021-2028 |
| Segment Covered | Type, Application, Regions |
| Regions Covered | North America, Europe, Asia Pacific, South America, Middle East and South Africa |
| Key Players Profiled | Hexion, Eastman, Stepan, Lonza, Evonik, DBWT, Baker Hughes |
Key Segments of the Triazine Market
Type Overview, 2022-2029 (USD Million)
1,3,5-triazine
1,2,3-triazine
1,2,4-triazine
Application Overview, 2022-2029 (USD Million)
Medical Industry
Biological Energy Industry
Agriculture
Chemical Industry
Oil & Gas
Regional Overview, 2022-2029 (USD Million)
North America
Europe
Germany
France
UK
Rest of Europe
Asia Pacific
China
India
Japan
Rest of Asia Pacific
South America
Mexico
Brazil
Rest of South America
Middle East and South Africa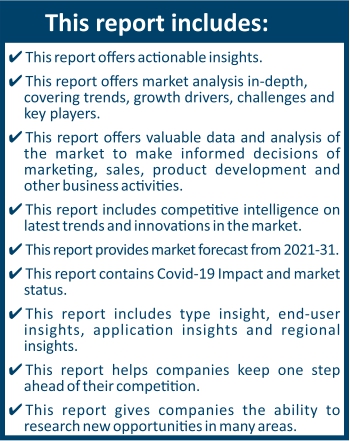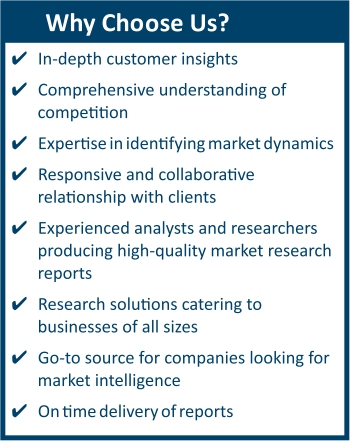 Frequently Asked Questions (FAQ) :
The market value of triazine market in 2029 was USD 802.4 million.
The triazine market is growing at a CAGR of 5.1% over the forecast period.
The application of the triazine market medical industry, biological energy industry, agriculture, chemical industry, oil & gas and other.
North America dominated the market for triazine market and accounted for the largest revenue share.
The top companies that hold the market share in triazine market are Hexion, Eastman, Stepan, Lonza, Evonik, DBWT, Baker Hughes and among others.