The primary reasons propelling the growth of the global telescopic boom lift market are rising urbanization, increased demand for maintenance and repair work in hazardous places, and the expanding telecommunications sector. Increased investments in public infrastructure projects, growing acceptance of automated services in construction applications, and stringent environmental legislation are other factors boosting the market growth.
The market demands improved performance, industry-leading operator safety requirements, affordable solutions, and high access capabilities. The creation of unique products using cutting-edge technologies like machine learning and artificial intelligence is also projected to fuel the market's growth in the ensuing years. Tools that perform effectively in communications applications and safely function in hazardous situations are being developed by manufacturers. It is also projected that the need for customized goods for outdoor applications will drive market growth.
There are various advantages to the market for telescopic boom lifts, such as simpler access, a wide range of applications that may be used in many industries, and better production. Telescopic boom lifts are being utilized more and more often for maintenance and repair work in hazardous areas where safe and effective operations are necessary. When compared to other forms of equipments, these machinesfunction more efficiently and have higher uptime. In comparison to other aerial work platforms, telescopic boom lifts are also more sturdy and have a longer reach. These machines are also available in a variety of sizes and configurations to satisfy various operational requirements.
Over the course of anticipated year, a large growth in the telescope boom lift market is predicted. The market is being driven by a number of factors, including escalating demand from the construction and telecommunications sectors, an increase in the demand for maintenance and repair work in hazardous places, and stringent environmental regulations. It is also projected that in the approaching years, emerging technologies like machine vision and AI will aid in the expansion of this market.
A telescoping boom lift is an aerial work platform that makes it possible to access high places and hard-to-reach areas. It consists of a platform and an articulated arm that can be extended either vertically or horizontally to permit secure work at . Telescopic boom lifts offer better accessibility, a wide range of uses that can be found in various industries, and enhanced production. They are being used more frequently for maintenance and repair jobs in hazardous areas that necessitate efficient and safe operations. The stability and reach of telescopic boom lifts are also superior to those of traditional aerial work platforms.
By 2031, the market for telescopic boom lifts is projected to be worth USD 10.83 Billion, growing at a CAGR of 5.2% between 2021 and 2031.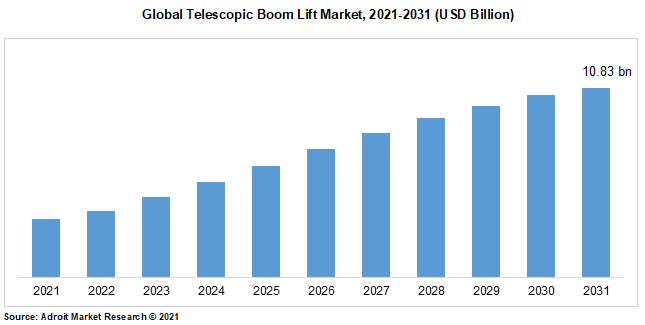 In 2021, the market is expected to be valued at USD 6.56 Billion. The growth of this market is primarily attributed to increased demand from the telecommunications and construction sectors as well as rising demand for maintenance and repair work. It is also projected that in the approaching years, emerging technologies like machine vision and AI will aid in the expansion of this market.
The primary factor impeding the expansion of this industry is the high cost of telescopic boom lifts. A dearth of operators with experience is another obstacle to this market's growth. The difficulty of reaching remote locations and stringent government regulations are additional factors preventing this business from expanding. However, the market is anticipated to grow strongly throughout the forecast period as a result of numerous initiatives undertaken by government organizations for infrastructure development. It is also anticipated that rising spending by top manufacturers on R&D initiatives will aid in the market's continued growth.
The major players in the global market for telescopic boom lifts include Haulotte Group, Terex Corporation, JLG Industries Inc., Altec Industries Inc., Skyjack Inc., Manitou B.F SA, Genie Industries LLC, Aichi Corporation, Dingli Group Co Ltd., and Time Manufacturing Company Inc. These companies have employed a range of strategies, such as product launches, mergers and acquisitions, partnerships, and collaborations, to stay competitive in the market.
Segment Analysis
The self-propelled segment will account for the majority of the market
The self-propelled category is anticipated to grow at the highest CAGR during the projected period. Their increased stability and ease of mobility, which make them ideal for use in hazardous environments, maybe the cause of this expansion. They also offer a better reach and demand less work than truck-mounted telescopic boom lifts. Therefore, these factors are also promoting the growth of this industry.
The municipal sector will dominate the market
Municipal is expected to experience the highest CAGR growth during the forecast period. This growth may be explained by the increasing demand for maintenance and repair work in public areas like parks, buildings, and roads. During the forecast period, it is also anticipated that rising government spending on infrastructure development will fuel market expansion.
America will command the market
Due to increasing infrastructure development investments and growing demand from end users for cost-effective solutions, North America is predicted to dominate the global telescopic boom lift market during the forecast period. The advancement of technology in the area is also helping this industry grow.
Covid-19 Impact & Market Status
The Covid-19 epidemic has had a significant impact on the world market for telescopic boom lifts. Production was halted and construction was postponed as a result of the Covid-19 pandemic lockdown, which in turn had an effect on the growth of this market. However, due to the easing of restrictions, market participants predict that demand will increase during the anticipated period.
Latest Innovations in the Global Telescopic Boom Lift Market: A Snapshot
Telematics systems, automated safety features, and lithium-ion batteries are some of the most recent innovations in the worldwide telescopic boom lift market.

Telescopic Boom Lift Market Scope
Metrics

Details

Base Year

2022

Historic Data

2020-2021

Forecast Period

2022-2031

Study Period

2020-2031

Forecast Unit

Value (USD)

Revenue forecast in 2031

USD 10.83 Billion

Growth Rate

CAGR of 5

.2%

during 2021-2031

Segment Covered

Type, Application,

By End User,

Regions

Regions Covered

North America, Europe, Asia Pacific, South America, Middle East and Africa

Key Players Profiled

Picanol NV, Bonas Machine Company Ltd., Dornier GmbH, Karl Mayer Textilmaschinenfabrik GmbH, and Sulzer Ltd.
Key Segment on Telescopic Boom Lift Market
By Type Overview 2021-2031, (USD Billion)
Truck Mounted
Self-Propelled
By Application Overview 2021-2031, (USD Billion)
Telecommunication
Municipal
Garden Engineering
Construction
Others
By End-User Overview 2021-2031, (USD Billion)
Government
Construction Companies
Rental Agencies
By Region Overview 2021-2031, (USD Billion)
Asia Pacific
China
India
Japan
Rest of Asia Pacific
South America
Mexico
Brazil
Rest of North America
Europe
Germany
France
UK
Rest of Europe
Middle East and Africa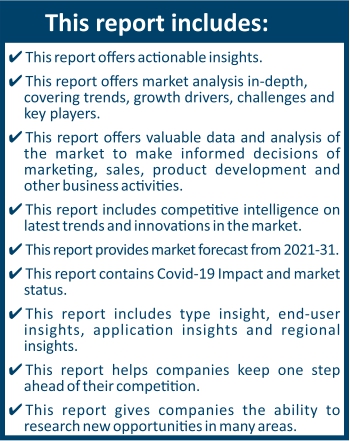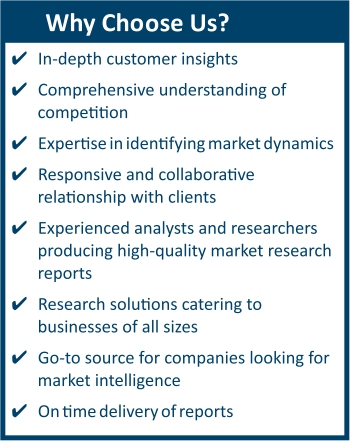 Frequently Asked Questions (FAQ) :
Telescopic Boom Lift Market is projected to reach USD 10.83 Billion by 2031, growing at a CAGR of 5.2%