The global surface Plasmon resonance market has expanded fast in recent years, and it is predicted to increase by USD 1245 million at 7% CAGR over the forecast period. The global surface plasmon resonance market is expected to grow significantly because of the high specificity and sensitivity advantages it provides in the pharmaceutical sector.
Aside from the pharmaceutical industry, surface plasmon resonance is employed in other areas such as food, clinical research, and biotechnology. Surface plasmon resonance is a method used to study bimolecular kinetic interactions. It is a unique approach for the real-time detection of label-free biomolecular interactions. This technique is used in biosensors, material science, and drug development.
The rising usage of label-free detection techniques, as opposed to over-labeled detection procedures, is a crucial factor driving the surface plasmon resonance market's rise. The final results are refined as a result of the simple availability of such versatile items, especially at such cheap costs.
Aside from that, when SPR is combined with various complementary procedures, the test results are improved, functioning as a vital role in fueling the total market in the long term. However, limitations such as a lack of detection sensitivity and the increased cost of integrating a POC system with a microfluidic chip and sensor may limit the overall market's development. Furthermore, there is a large manufacture of long-lasting metal nanostructure on the substrate, which may impede future market growth in the coming years.
SPR (Surface Plasmon Resonance) is an important method for monitoring label-free biomolecular interactions. The metallic film is often constructed of gold because it produces an SPR signal at appropriate reflectance angles and wavelength combinations.
Surface plasmons are used extensively to enhance surface sensitivity prevalent in spectroscopic experiments. One classic example for this is the Ramen scattering besides fluorescence and second harmonic generation.
Nonetheless, one major element predicted to propel the global market for surface plasmon resonance is an increase in the use of microfluidics methods to minimize reagent use. Furthermore, new imaging software was employed to evaluate the surface plasmon resonance. Several vendors have made significant investments in research and development, which is expected to enhance the market's revenue share on a global scale.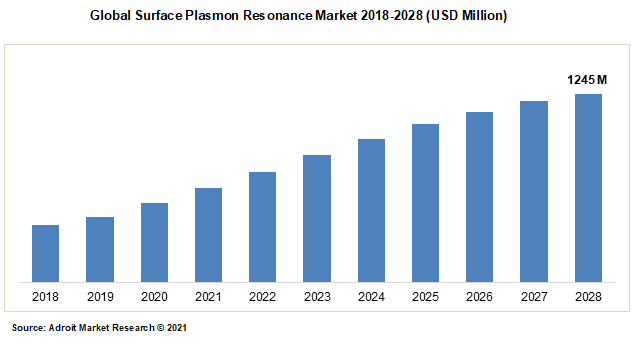 The prominent market players of the surface plasmon resonance industry are Bio-Rad Laboratories, Inc., Kinetic Evaluation Instruments BV, Biosensing Instrument Inc., AMETEK, Inc., and Nicoya Lifesciences Inc. This study examines the market revenue, business strategies, market shares, current developments, and growth rates of major Surface Plasmon Resonance firms.
Recent events such as regional expansions, research activities, new solution/product launches, acquisitions, and technological developments are considered when confirming these organizations' player status in the Surface Plasmon Resonance market.
Key Segments of the Global Surface Plasmon Resonance Market
Product Type Overview, 2018-2028 (USD Million)
Reagents
Sensor System
Imaging Systems
Application Overview, 2018-2028 (USD Million)
Material Science
Biosensors
Drug Discovery
Regional Overview, 2018-2028 (USD Million)
North America
• U.S.
• Canada
Europe
• France
• UK
• Germany
• Rest of Europe
Asia Pacific
• China
• Japan
• India
• Rest of Asia Pacific
South America
• Brazil
• Mexico
• Rest of South America
The Middle East and Africa
Reasons for the study
• To understand the market in terms of present trends, drivers, and future industry strategies.
• To appreciate various strategies devised by major corporations functioning on the global surface plasmon resonance market.
What does the report include?
• This study provides an analytical representation of the global surface plasmon resonance market size, as well as future forecasts to aid in the identification of potential investment possibilities.
• The extensive surface plasmon resonance market study tries to find profitable trends in order to get a competitive advantage.
• The report includes the leading manufacturers' Surface Plasmon Resonance market shares as well as industry trends.
Who should buy this report?
• Executives in the Surface Plasmon Resonance sector who want to learn more about the target market.
• Industry executives, analysts, government agencies, and researchers seek market data to aid in future operations planning.
SPR (Surface Plasmon Resonance) has become a significant optical biosensing technique in biology, medical sciences, and biochemistry because of its noninvasive, label-free, and real-time nature. Because of the high cost of commercial instruments and consumables, SPR has not been implemented in the undergraduate laboratory.
We demonstrate here an inexpensive handmade SPR gadget with all of its components visible. This design facilitates integration with electrochemistry and qualifies the gadget for educational use. The features and presence of surface plasmon polaritons may be described using a variety of models (Drude model, quantum theory, etc.).
The most straightforward approach is to consider each material as a homogeneous continuum with a frequency-dependent relative permittivity between the surface and the external medium. The complicated permittivity of a material is referred to as its "dielectric function." In order for the terms that characterize the electronic surface plasmon to exist, the real component of the conductor's dielectric constant must be negative and higher in magnitude than the dielectric.
The increasing use of surface plasmon resonance in drug discovery is one of the key reasons driving the global market growth. The protein-small molecule, protein-protein, and protein-peptide interactions are monitored using SPR, which provides relevant equilibrium and kinetic data. Characterizing the reaction affinity and kinetic interaction between a receptor and a proposed chemical is required for new medication development.
The rising usage of surface plasmon resonance (SPR) in the food business would assist in the market expansion of SPR. By measuring vitamins in food matrices, SPR is used to assess food quality. In comparison to alternative approaches such as microbiological assays, SPR gives many benefits like shorter assay time, quicker preparation, and simplicity of use, which will help in market expansion. However, the high cost of SPR goods may limit the market's expansion.
Product Type Segment
On considering the product type, the global market for surface plasmon resonance is fragmented into imaging systems, reagents, and sensor systems.
Application Segment
In terms of the application, the global market for surface plasmon resonance is fragmented into material science, biosensors, as well as drug discovery.
On considering the region, surface plasmon resonance industry is anticipated to be more popular in North America. The rising use of biosensors and imaging systems in life science research and development is projected to drive the development of the region's surface plasmon resonance market.