The global label-free detection market was valued at USD 402.8 million in 2020 and is projected to grow at a CAGR of 7.4% during the forecast period. Factors driving the growth of the label-free detection market include high sensitivity of label-free technologies, introduction of scientifically advanced products and growing spending on research and development by biotech and pharmaceutical companies.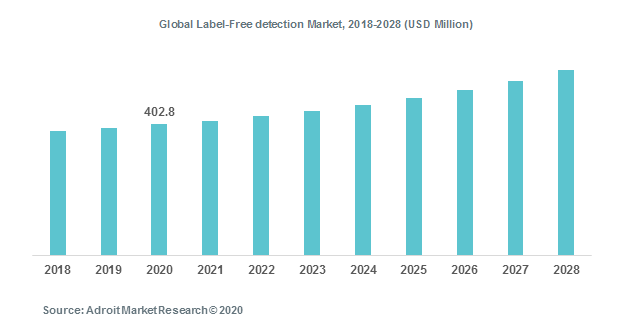 Label-free binding assays enable analysis of biomolecular interactions using conditions close to native biological conformations, faster assay design, development and reagent preparation via use of unmodified reagents and substrates, more robust assay signals with less interference from fluorescent or other reporters, direct monitoring of binding complex formation, as secondary detection reagents aren't needed to establish binding responses.
Regionally, North America accounted for the largest market share of the global label-free detection market attributable to the existence of major players. Leading players of the global label-free detection market include Bio-Rad Laboratories, Bioptix, General Electric, Attana, Corning, Inc., Ametek, Inc., Pall Corporation, X-body Biosciences, Danaher Corporation, Roche Diagnostics among others.
Key segments of the global label-free detection market
Product Overview, 2018-2028 (USD Million)
Technology Overview, 2018-2028 (USD Million)
Surface plasmon resonance
Bio-layer interferometry
Differential scanning calorimetry
Isothermal titration calorimetry
Other label-free detection technologies
Application Overview, 2018-2028 (USD Million)
Binding kinetics
Hit confirmation
Lead generation
Endogenous receptor detection
Binding thermodynamics
Other applications
End User Overview, 2018-2028 (USD Million)
Pharmaceutical & biotechnology companies
Academic & research institutes
Contract research organizations
Other end users
Regional Overview, 2018-2028 (USD Million)
North America
Europe

Germany
United Kingdom
France

Asia Pacific
Latin America
Middle East & Africa
Reasons for the study
Introduction of technologically advanced products
Growing number of drug discovery programs through academic-industrial partnership
High sensitivity of label-free technologies
What does the report include?
The study on the global label-free detection market includes qualitative factors such as drivers, restraints and opportunities
The study covers qualitative and quantitative analysis of the market segmented on the basis of product, technology, application and end user. Moreover, the study provides similar information for the key geographies.
Actual market sizes and forecasts have been provided for all the above-mentioned segments
The study includes the profiles of key players in the market with a significant global and/or regional presence
Who should buy this report?
The report on the global label-free detection market is suitable for all the players across the value chain including product manufacturing companies, suppliers/distributors, R&D labs, CROs, healthcare organizations, medical reimbursement and insurance providers
Venture capitalists and investors looking for more information on the future outlook of the global label-free detection market
Consultants, analysts, researchers, and academicians looking for insights shaping the global label-free detection market
The myriad of technologies now available to researchers allows for label-free methods to impact drug development from early discovery to entry into the clinic and beyond. However, each of these methods comes with its own advantages and disadvantages. While many of these methods can be used at several stages of drug discovery and development, researchers may find any individual technology lacking either the throughput, sensitivity, or the ease of use that they may require. In addition, each method requires that can be used in the design and analysis of the experiments to ensure quality data are obtained. However, by combining several technologies one can leverage the strengths of the individual technology while avoiding the pitfalls.
On the basis of technology, the market is segmented into surface plasmon resonance, bio-layer interferometry, differential scanning calorimetry, isothermal titration calorimetry, and other label-free detection technologies. The surface plasmon resonance segment dominated the market in 2020.
Surface plasmon resonance (SPR) sensing has been demonstrated in the past decade to be an exceedingly powerful and quantitative probe of the interactions of a variety of biopolymers with various ligands, biopolymers, and membranes, including protein:ligand, protein:protein, protein:DNA and protein: membrane binding. It provides a means not only for identifying these interactions and quantifying their equilibrium constants, kinetic constants and underlying energetics, but also for employing them in very sensitive, label-free biochemical assays
As an early adopter of new technology in the electronics, nuclear and space exploration industries, the US has a pivotal role in setting label-free detection that has now been adopted and harmonized across the globe. It is the world's largest medical device market, has a massive pharmaceutical and biological manufacturing sector, and is at the forefront of nanotechnology research and developing technology for the next generation of wafers and chips. Europe also has one of the strongest and most productive life sciences industries in the world. There is a significant opportunity in label-free detection to be grasped, with global health and life science markets predicted to grow up to 10% per annum in the next decade.