The global super-resolution microscopes market was valued at USD 2570.6 million in 2019. Factors such as an increasing number of inventions in the field of microscopy and a rising emphasis on nanotechnology, and life science research are driving the demand for super-resolution microscopes. By providing resolution of up to 10-20 nm, super-resolution microscopy is expected to offer new insights to ongoing research in medical science and nanotechnology worldwide which will further propel the growth of global super-resolution microscopes market.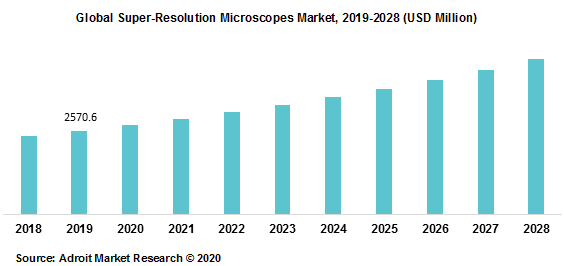 Microscopes are valuable tools used in biological research. Super-resolution microscopy (SRM) requires different methods to achieve higher resolution than conventional light microscopy. Owing to the diffraction of light, the resolution of conventional light microscopy is restricted to about 200 nm. The resolution of current super resolution microscopy approaches can be around 20 times greater than that of traditional light microscopy. Super-resolution microscopes allow the cellular sample to be visualized with a resolution close to that of an optical fluorescence microscope and a resolution limited by diffraction. The target molecular species can be visualized in a specific way in three dimensions, in the cellular environment, and in live cells.
Rising applications in the life science industry, technological advancements, coupled with growing emphasis on nanotechnology are expected to drive the market during forecast period. Furthermore, the growth is also driven by the growing acceptance of super-resolution microscopy in diagnosis of platelet granule disorders. Deficiencies in platelet granules contribute to bleeding disorders. Usually their precise diagnosis involves electron microscopy of the entire mount transmission, which is frequently not available. It also has a range of severe limitations. Structured-Illumination Microscopy (SIM) overcame CD63-positive structures in fixed platelets successfully. In objectively differentiating between patients with a platelet bleeding disorder and healthy volunteers, a super-resolution imaging approach is efficient and fast. Hence, this is likely to flourish the demand for super-resolution microscopes during the forecast period.
Key players operating in the global super-resolution microscopes market include Carl Zeiss Meditec AG, Nikon Corp., Olympus Corp., Leica Microsystems (Danaher Corp.), Hitachi High Technologies, Applied Precision (GE Healthcare), Bruker, and Carl Zeiss Meditec AG among others.
Key Segments of the Global Super-Resolution Microscopes Market
Technology Overview, 2019-2028 (USD Million)
Structured-Illumination Microscopy (SIM)
Stimulated Emission Depletion (STED) Microscopy
Stochastic Optical Reconstruction Microscopy (STORM)
Photoactivated Localization Microscopy (PALM)
Fluorescence Photoactivation Localization Microscopy (FPALM)
Application Overview, 2019-2028 (USD Million)
Life Science
Nanotechnology
Material Science
Semi-conductors
Others
Regional Overview, 2019-2028 (USD Million)
North America
Europe

Germany
United Kingdom
France
Rest of Europe

Asia Pacific

China
Japan
India
Rest of Asia Pacific

Latin America

Brazil
Mexico
Rest of Latin America

Middle East & Africa
Reasons for the study
Increasing number of inventions in the field of microscopy
Increasing demand for focus on nanotechnology and life science research
What does the report include?
The study on the global super-resolution microscopes market includes qualitative insights such as drivers, restraints, challenges and opportunities
Additionally, the market has been evaluated using the Porter's five forces analysis
The study covers qualitative and quantitative analysis of the market segmented on the basis of technology and application. Moreover, the study on super-resolution microscopes market provides similar information for the key geographies.
Actual market sizes and forecasts have been provided for all the above-mentioned segments
The study includes the profiles of key players operating in the market with a significant global and/or regional presence
Who should buy this report?
The report on the global super-resolution microscopes market is suitable for all the players across the value chain including raw medical material suppliers, laboratories, biotechnology, medical diagnostics device manufacturers, healthcare organizations, distributors, and suppliers
Venture capitalists and investors looking for more information on the future outlook of the global super-resolution microscopes market
Consultants, analysts, researchers, and academicians looking for insights shaping the global super-resolution microscopes market
In the coming years, due to rising corporate funding for microscopy, technical developments and a growing emphasis on nanotechnology, the global demand for super resolution microscopes is predicted to develop at a cracking pace. Using lenses, conventional microscopes operate by magnifying the light passing through a sample which generates a magnified image. However, these microscopes have focuses that are limited to light diffraction, which occurs mostly beyond a chosen magnification. The microscopes (SRMs) with super resolution are highly advanced adapted light microscopes that provide a high resolution image of an object by overcoming the diffraction limit of light. This is accomplished either by encouraging the reconstruction by nanometer scale scanning devices of an image under scan, or by using real super-resolution methods performed by super lens, better axial resolution by 4Pi microscopy, or by using pre-diffracted light near field optics.
Techniques such as Stochastic Super-resolution Microscopy (SSRM) have proven to provide better results for different catalysis processes, such as metal nanoparticle catalysis, in the nanotechnology application segment, and promise to accelerate the production and discovery of new and better catalysts. As super-resolution microscopy provides increased X-Y resolution beyond the limit of 200-250nm, super-resolution microscopes overcome the limitations of confocal as well as fluorescence microscopy. Intracellular structures can be examined with the STED technology in ten times greater detail compared to traditional fluorescence microscopy. Visualizing the interaction of nanomaterials with biological entities at high resolution in 3D is a powerful tool in nanotechnology, which benefits the market expansion. Factors such as growing applications in cell biology, biomedical imaging are expected to drive demand for super-resolution microscopy.
In both private and public business settings, the COVID-19 pandemic has led to extreme restrictions. During the pandemic, due to the sudden shutdown of activities to prevent the spread of infection, a decrease in the output and supply of all kinds of medical devices, including super-resolution microscopes, was reported. In most countries, any ongoing study has been paused, as most of the research labs are engaged in studies of the novel coronavirus as well as related diagnostics. However, the demand for super-resolution microscopes is expected to witness a fall for the time being with the reduction in the production of imaging devices & microscopes and the disrupted supply chain which is hindering the market for the time being.
The global super-resolution microscopes market has been segmented based on technology, application and region. Based on technology, the super-resolution microscopes market is segmented into structured-illumination microscopy (SIM), stimulated emission depletion (STED) microscopy, stochastic optical reconstruction microscopy (STORM), photoactivated localization microscopy (PALM) and fluorescence photoactivation localization microscopy (FPALM).
Wherein the Stimulated Emission Depletion (STED) microscopy segment dominated the market. Stimulated Emission Depletion (STED) microscopy have wide application in various fields. With no need for further computational processing, it is capable of delivering diffraction-unlimited images. As one of the fastest super-resolution imaging techniques available, the application of fast-beam scanners has established STED microscopy as it does not require data processing after the acquisition.
On the basis of application, the super-resolution microscopes market is segmented into life science, nanotechnology, material science, semi-conductors and others. The life science segment dominated the market in 2019 as neuroscience relies heavily on advanced microscopy, particularly for in vivo brain imaging, to develop a proper understanding of neurological dysfunction and mechanisms. Increased research on mechanisms of infectious diseases, understanding of viral structures, and mechanisms of cancer cell proliferation and signaling pathways is a major factor driving the life science segment 's development.
The global super-resolution microscopes market is cumulative to North America, Europe, Asia Pacific, Latin America, and Middle East & Africa. North America dominated the global super-resolution microscopes market in 2019, however Asia Pacific is expected to grow at a highest pace through 2028.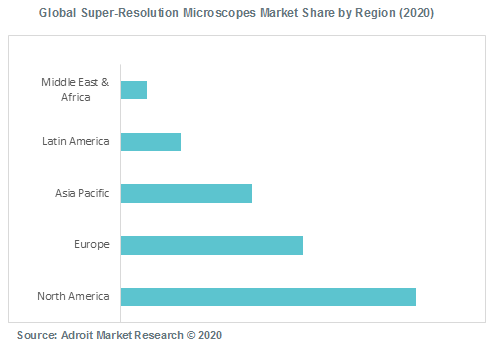 In North America, the market growth of super-resolution microscopes is projected to be driven by advanced healthcare facilities, high investment in R&D to understand the mechanisms of different diseases, and extensive drug development activities in the area. In addition, the availability of medical care reimbursement facilities is also likely to boost the development of the regional market.
Asia Pacific is expected to be the fastest growing regional market for super-resolution microscopes owing to the growing adoption of such microscopy across industries such as academics, biotechnology, pharmaceutical, and nanotechnology. However, relative to the Asia Pacific demand, the market in Europe is larger, primarily due to the presence of a large number of high-end systems in the region. Moreover, its development is likely to be driven by technological developments and the high prevalence of infectious diseases in Europe.