The global market for the Nanotechnology is anticipated to develop at a compound annual growth rate (CAGR) of 36% throughout the course of the forecast, to reach USD 60.86 billion by 2029.
The global nanotechnology market has been expanding progressively in recent years and it is anticipated to surpass USD 34 billion at a CAGR of 37% over the forecasted period, 2021-2028. The global nanotechnology industry is expanding at a rapid pace owing to several factors such as technological advancements in the sector as well as augmented adoption of nanotechnology in medical imaging & diagnostics.
However, problems in deploying nanodevices in harsh environments, as well as the expensive cost of the technology, act as major roadblocks, limiting the market expansion. On the contrary, increased government backing and R&D funding, as well as the introduction of self-powered nanotech gadgets, are expected to provide profitable prospects for the nanotechnology market projection through the forecast journey, 2021-2028.
Nanotechnology and nanoscience are concerned with the study of nanoparticles and devices, which have applications in a wide range of scientific fields, including chemical, mechanical, bio-medical, and material science, among others. The global nanotechnology market encompasses the creation and use of chemical, physical, and biological technologies with dimensions ranging from individual atoms or molecules to roughly 100 nm.
Nanotechnology has a major influence and is a revolutionary and useful technology in a wide range of industrial sectors, including health, communication, transportation, energy, consumer items, agriculture, materials and manufacturing, and homes. Emerging use cases and applications are projected to be major contributors to the expansion of the global nanotechnology market size.
According to the US National Nanotechnology Initiative, there are around 20,000 scientists working on nanotechnology. As per the Institute of Occupational Medicine, about 2,000 individuals work in developing nanotechnology institutions in the UK, where they may be launched to nanoparticles. Moreover, different companies throughout the world are investing in the nanotechnology industry and its developing applications.
Furthermore, nanoscale devices and sensors may enable cost-effective long-term monitoring of the structural integrity and performance of tunnels, bridges, parking structures, railways, and pavements. Communications devices, sensors, and other nanoelectronics-enabled innovations support an improved transportation infrastructure that can connect with vehicle-based systems to assist drivers in maintaining avoiding collisions, lane position, enhancing drivers' interfaces to onboard electronics, and adjusting travel routes to evade jamming. All of these variables are likely to be key global nanotechnology industry developments.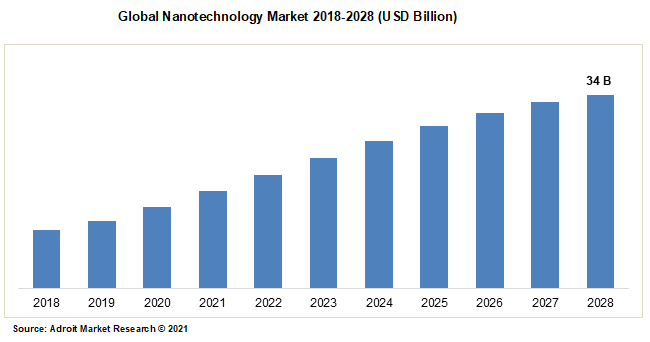 The prominent market players of the global nanotechnology industry are Kleindiek Nanotechnik GmbH, Altair Nanotechnologies Inc., Thermofisher Scientific, Applied Nanotech Holdings Inc., Bruker Axs, Imina Technologies Sa, Advanced Nano Products, eSpin Technologies Inc Biosensor International, Nanoics Imaging Ltd., and others. To expand their market share in the nanotechnology market over the projected period, these key players employ a variety of tactics such as new product introduction, acquisition, research and development, partnership and cooperation, and business innovation.
Nanotechnology Market Scope
| | |
| --- | --- |
| Metrics | Details |
| Base Year | 2020 |
| Historic Data | 2018-2019 |
| Forecast Period | 2021-2028 |
| Study Period | 2018-2028 |
| Forecast Unit | Value (USD) |
| Revenue forecast in 2028 | USD 34 billion |
| Growth Rate | CAGR of 37% during 2021-2028 |
| Segment Covered | Product Type, Application, Regions |
| Regions Covered | North America, Europe, Asia Pacific, Middle East and Africa, South America |
| Key Players Profiled | Kleindiek Nanotechnik GmbH, Altair Nanotechnologies Inc., Thermofisher Scientific, Applied Nanotech Holdings Inc., Bruker Axs, Imina Technologies Sa, Advanced Nano Products, eSpin Technologies Inc Biosensor International, Nanoics Imaging Ltd., and others. |
Key Segments of the Global Nanotechnology Market
Product Type Overview, 2018-2028 (USD Billion)
Nanosensor
Biosensors
Optical Nanosensor
Nanodevice
Nanoscale infrared spectrometers
Nanomanipulator
Physical Nanosensor
Nanomechanical test instruments
Chemical Nanosensor
Application Overview, 2018-2028 (USD Billion)
Electronics
Energy
Healthcare
Chemical manufacturing
Aerospace & Defense
Regional Overview, 2018-2028 (USD Billion)
North America
Europe
France
UK
Germany
Rest of Europe
Asia Pacific
China
Japan
India
Rest of Asia Pacific
South America
Brazil
Mexico
Rest of South America
The Middle East and Africa
Reasons for the study
To get accurate knowledge of the global nanotechnology market along with its recent as well as future market trends and opportunities.
To understand various strategies developed by the prominent players functioning in the global market.
What does the report include?
This report includes an analytical portrayal of the global nanotechnology market size, as well as current trends and future projections to show the potential investment pockets.
The entire nanotechnology market study is focused on identifying profitable trends in order to acquire a firmer footing.
The study contains top manufacturers' nanotechnology market shares as well as nanotechnology industry trends.
Who should buy this report?
Bureaucrats in the nanotechnology market who aspire to unravel about existing and future developments in the global market statistics.
Market data is sought by industry executives, analysts, government organizations, and researchers to help in future operations planning.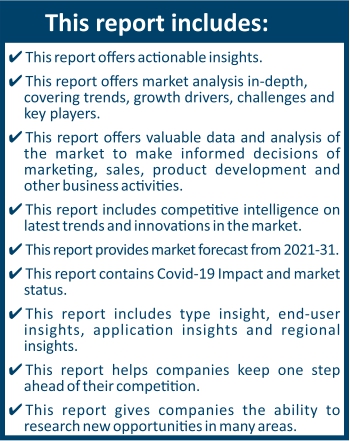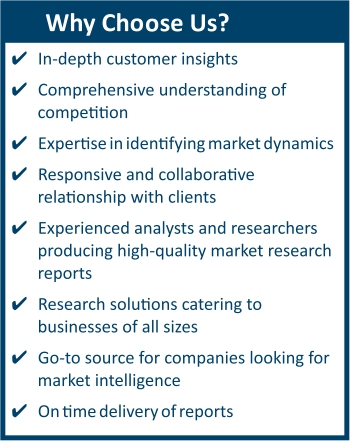 Frequently Asked Questions (FAQ) :
The market value of nanotechnology market in 2028 was USD 34 billion
The Global nanotechnology market is Segmented on the Product Type, Application, Regions
To get latest version of nanotechnology market report can be obtained on demand from the website
Every now and again, the winds of change impact the surrounding climate in a way that affects the future. Nanotechnology is an example of this in science and engineering. Nanotechnology has had such tremendous influence on science and engineering that it has transformed the way researchers think, affecting future solutions and innovations. The influence is so significant that new fields of research, such as nanotoxicology and nanomedicine, are required to properly comprehend the potential and hazards.
Nanotechnology is also having an influence on the consumer goods industry; numerous products that integrate nanomaterials are already in a variety of things, many of which consumers are unaware contain nanoparticles, products with unique functionalities ranging from easy-to-clean to scratch-resistant.
Using nanotechnology, current textiles industries will become "smart" in the mid-term, thanks to embedded "wearable electronics." Such innovative goods have great potential, particularly in the sphere of cosmetics, and have various potential uses in heavy industry. Nanotechnology is expected to be a major driver of technology and industry in the twenty-first century, promising higher performance materials, intelligent systems, and new manufacturing processes with far-reaching implications for all sectors of society.
Nanotechnology is a burgeoning scientific field that includes areas like biomechanics, electronics, and coatings. These fields help with building materials and civil engineering. Nanotechnology will make homes and infrastructure stronger if it is used in their construction. Buildings that are stronger will require less renovation and generate less trash.
Product Type Segment
The nanodevices segment is accounted for the highest revenue share in 2020, and it is likely to grow with a significant share in the coming future. Excessive weather circumstances, such as high vacuum, radiation, and high temperature, and electromagnetic noise are predicted to work with nanotech devices.
Devices in the realm of nanotechnology must meet strict precision standards for displacement, force, and reaction times. When exposed to severe conditions, many electronics lose precision and dependability. It is critical that sophisticated nanosensors and other devices maintain maximal autonomy so that they can work independently and with little maintenance.
Application Segment
The healthcare segment is held for the maximum revenue share in 2020. The term nanotechnology refers to a variety of nanometer-scale technologies that have extensive applicability in a variety of sectors.
Nanotechnology-based diagnostic methods that are now being developed may give two main advantages: early illness diagnosis and immediate treatment possibilities. Various improvements are being used in the realm of medical diagnostics in order to increase efficiency.
Geographically, North America dominates the nanotechnology market owing to an increase in patients and healthcare practitioners, growth in technologically advanced healthcare infrastructure, and an increase in the presence of various ranges of nano-technology in this region.