The main driver of this market is the growing demand for dependable and effective substation inspection. Robots used for substation inspection are able to provide precise, real-time data on the state of various station components, assisting in the early identification of defects and their mitigation. The fact that they can cut expenses associated with human inspections further encourages their adoption by a variety of end-users, including utilities, oil and gas firms, military facilities, and others. In the upcoming years, it is anticipated that the availability of advanced features like remote monitoring and control capabilities would further fuel demand for these robots.
Due to a number of circumstances, the demand for substation inspection robots has increased dramatically in recent years. Robots are being utilized increasingly to cut expenses and increase efficiency due to factors including the rising cost of labour and time as well as potential problems with traditional inspection methods, like human error or fatigue. Additionally, robot technology can collect data more accurately and produce more precise metrics than any human-based approach could. When performing routine maintenance on high-voltage equipment, where safety should always be considered, this is especially crucial.
Robots can improve productivity and safety for substation inspectors while lowering expenses related to substation inspection and maintenance. Robots are employed in substation environments to test electrical components in the absence of people. These examinations can be carried out significantly faster than manually using automated robot systems. Robots are also better suited to checking huge regions where human resources would be difficult or expensive to deploy because they can be designed to work autonomously and continually.
Robotic automated systems called "substation inspection robots" inspect substations and other energy infrastructures like power lines, switching stations, and transformers. By removing the need for employees to physically enter dangerous regions for inspection reasons, these robots assist in lowering the expenses associated with manual inspection of these sites. The maintenance crews can receive prompt and effective information from the robots about any systemic issues that are now occurring in detail.
The market for substation inspection robots is anticipated to grow at a CAGR of 11.2% from 2021 to 2031. According to estimates, the market would grow from USD 196 million in 2021 to USD 567 million in 2031.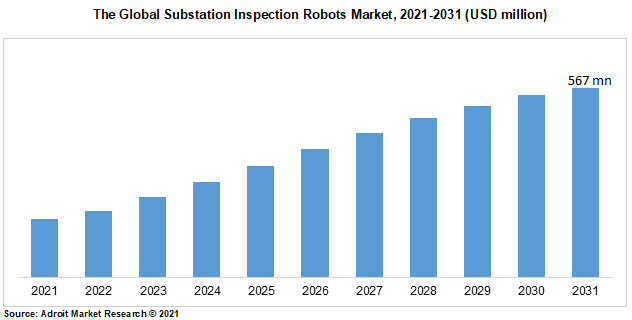 Examination of the market for Substation robots is constrained by a number of variables. Three significant barriers to the market's expansion are the high cost of robotics, the scarcity of skilled workers, and the slow adaption rate. In poor nations where there are few resources available to be devoted toward robot installation, the high investment costs connected with robot installations impede progress. However, with the advent of various affordable solutions, including collaborative robots, the market is predicted to overcome these obstacles.
Kuka AG (Germany), Kawasaki Heavy Industries, Ltd. (Japan), General Electric Company (U.S.), ABB Group (Switzerland), and YASKAWA Electric Corporation (Japan) are participants in the global substation inspection robot market.
Segment Analysis
The Wheel Type to Emerge as the Most Lucrative Segment
The market for substation inspection robots is divided into two types, wheel type and crawler type, based on type. Due to its affordability and user-friendliness, the Wheel Type now has a leading share of the worldwide Substation Inspection Robots market. This kind of robot can move swiftly and cover vast regions. As a result, it is frequently utilised in substations throughout many different geographical areas for inspection purposes. On the other hand, because they can navigate difficult terrain without sacrificing speed or precision, crawler-type robots are also becoming more popular. These robots are mostly employed for checking confined areas and delivering more precise results that may be difficult to obtain with wheeled robots.
The Most Popular Application Segment is Single Station Type
Based on application, the market for substation inspection robots is divided into two categories: single station type and concentrated use type. Due to its affordability and ability to cover wider regions than traditional methods, the Single Station type dominates the market. This kind of robot can examine numerous pieces of substation machinery, improving operational effectiveness. Contrarily, concentrated-use types of robots are becoming more popular because they can perform inspection and maintenance tasks concurrently at multiple substations, hence decreasing human labour and raising safety requirements. These robots include cutting-edge features like laser mapping, which gives precise details about the state of numerous substations across a region.
The Asia Pacific (APAC) region to render Adequate Financing Avenues
The market for substation inspection robots is segmented into North America, South America, Africa, Asia Pacific, Europe, and the Middle East on a regional basis. The Asia Pacific retains a significant market share among these areas as a result of rising investments in the infrastructure for smart grids across numerous nations, including China and India. Due to this, there is now a higher need for robots that can quickly and accurately inspect substations. On the other hand, the North American region is anticipated to experience a solid growth rate throughout the forecast period as a result of utility firms increasingly adopting cutting-edge technology like robotics to streamline operational procedures. Similarly, it is projected that Europe and the Middle East would have strong growth over the coming ten years due to increased public awareness of technological developments in substation equipment inspection.
COVID-19 Impact and Market Status
The COVID-19 epidemic has had a substantial negative influence on the global market for substation inspection robots, resulting in a significant decline in demand. However, there is optimism that this market would rebound swiftly as a result of governments all over the world implementing measures to help economic recovery and resume manufacturing activity. Budget restrictions may limit expansion due to the high cost of substation inspection robots, but over the projected period of 2021–2031, improved safety precautions for workers in dangerous regions are expected to spur adoption.
Latest Innovations in the Global Substation Inspection Robots Market: A Snapshot
• Exotec Solutions, a French software start-up, was purchased by Kuka AG in February 2021 to help the company's warehouse automation operations grow internationally.
• The new "HiPM-Vii" high-power and high-speed drive system for industrial robot applications was introduced by Yaskawa Electric Corporation in July 2020.
• For the development of robotic welding solutions for the automobile industry, ABB Group and Hyundai Heavy Industries (South Korea) expanded their partnership.
Substation Inspection Robots Market Scope
| | |
| --- | --- |
| Metrics | Details |
| Base Year | 2022 |
| Historic Data | 2021-2022 |
| Forecast Period | 2022-2031 |
| Study Period | 2021-2031 |
| Forecast Unit | Value (USD) |
| Revenue forecast in 2031 | USD 567 million |
| Growth Rate | CAGR of 11.2 % during 2022-2031 |
| Segment Covered | by Type, By Application, Regions |
| Regions Covered | North America, Europe, Asia Pacific, South America, Middle East and Africa |
| Key Players Profiled | Kuka AG (Germany), Kawasaki Heavy Industries, Ltd. (Japan), General Electric Company (U.S.), ABB Group (Switzerland), and YASKAWA Electric Corporation (Japan) |
Key Segments of the Global Substation Inspection Robots Market
By Type Overview, 2021-2031 (USD Billion)
By Application Overview, 2021-2031 (USD Billion
Single Station Type

Concentrated Use Type
By Regional Overview, 2021-2031 (USD Billion)
North America
Europe
Germany

France

UK

Rest of Europe
Asia Pacific
China

India

Japan

Rest of Asia Pacific
South America
Mexico

Brazil

Rest of South America
Middle East and Africa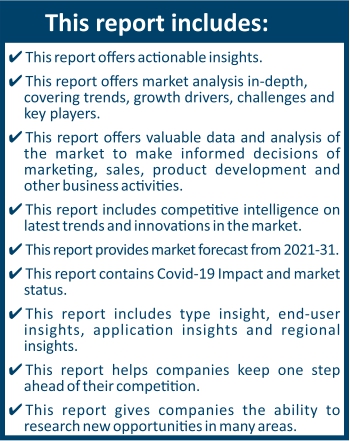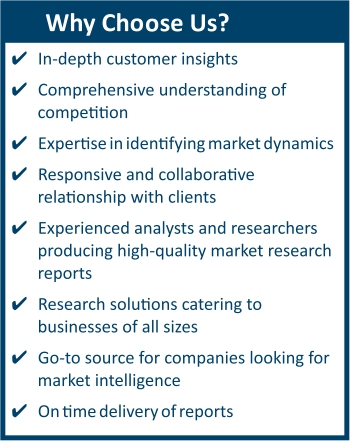 Frequently Asked Questions (FAQ) :
Substation Inspection Robots Market is projected to reach USD 567 million by 2031, growing at a CAGR of 11.2 %
The Substation Inspection Robots market is growing at a CAGR of 11.2 % during the projection period
The key market players listed in the Substation Inspection Robots report are Kuka AG (Germany), Kawasaki Heavy Industries, Ltd. (Japan), General Electric Company (U.S.), ABB Group (Switzerland), and YASKAWA Electric Corporation (Japan)