The global Structural Steel market is anticipated to increase at a 5.3% CAGR to reach value USD 146.41 Billion in 2028
The global structural steel market was valued at USD 142.9 billion in 2018 and is expected to grow with a CAGR of 3.5% from 2019 to 2025. Growing investment of domestic governments and private institutions in infrastructure development, along with surge in domestic growth in emerging countries together contribute to the stable growth of the global structural steel market.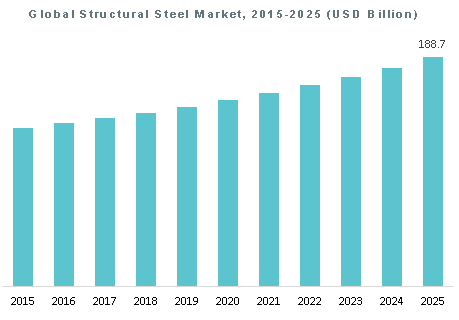 Structural steel, is one of the most commonly used building materials in the construction field, is perhaps the most researched and well-known material in the field of building and construction. Structural steels are subject to numerous standards and codes developed by agencies such as the American Institute of Steel Construction (AISC), which describe the basic form, cross-section, chemical composition and mechanical properties.
Structural steel is primarily used as a construction material to overcome the poor tensile strength and ductility of the concrete. Ductility is an essential property of structural steel and enables stress transfer in continuous members and at places of high local tension, such as gaps or other discontinuities. As a rule of thumb, while structural steel is often used below its yield point (in the elastic region), ductility is a valuable attribute as it gives an indication before actual breakdown, thus preventing adverse events.
Being 100% recyclable, structural steel is one of the most recycled materials in the world. Iron can be categorized as carbon steel, high-strength low-alloy (HSLA) steel, heat-treated carbon steel, and heat-treated construction alloy steel. Structure of steel under the sustained impact of operating factors such as strain, temperature, cyclic loads, radiation and the atmosphere can contribute to friction due to thermal aging and fatigue, as well as corrosion damage.
Structural Steel Market Scope
| | |
| --- | --- |
| Metrics | Details |
| Base Year | 2020 |
| Historic Data | 2018-2019 |
| Forecast Period | 2021-2028 |
| Study Period | 2018-2028 |
| Forecast Unit | Value (USD) |
| Revenue forecast in 2028 | USD 146.41 Billion |
| Growth Rate | CAGR of 5.3 % during 2021-2028 |
| Segment Covered | Application, Regions |
| Regions Covered | North America, Europe, Asia Pacific, Middle East and Africa, South America |
| Key Players Profiled | ArcelorMittal, Baogang Group, Evraz plc, Gerdau S.A., JSW Steel, POSCO, Nippon Steel Corp., Tata Steel, SAIL |
Key Segment Of The Structural Steel Market

Application, 2021-2028 (USD Million)
o Residential
o Non-Residential
• Industrial
• Commercial
• Offices
• Institutional
Regional Overview, 2021-2028 (USD Million)
North America
• US
• Canada
Europe
• Germany
• France
• UK
• Rest of Europe
Asia Pacific
• China
• India
• Japan
• Rest of Asia Pacific
South America
• Mexico
• Brazil
• Rest of South America
Middle East and South Africa
Frequently Asked Questions (FAQ) :
structural steel market was valued at USD 142.9 billion.
The base year for the report is 2018 in structural steel market
The major contenders in the global structural steel market Arcelor Mittal S.A., Baosteel Group Corporation, Anshan Iron & Steel Group Corporation, Benxi Beiying Iron & Steel Group Co. Ltd., Baogang Group, Bohai Steel Group Co. Ltd, Gerdau S.A, Hebei Steel Group, Nippon Steel & Sumitomo Metal Corporation (NSSMC), JSW Steel Limited, Tata Steel Limited, Anyang Iron & Steel Group Co. Ltd, Hunan Valin Iron & Steel Group Co., Ltd, Hyundai Steel Co., Ltd. (HSC), and POSCO
Despite the continuing global economic recession of 2019-20, the U.S. accounted as a strong regional market for structural steel goods. The U.S. building industry is the second-largest in the world after China and is expected to have seen a favorable growth rate over the projected period.
Rapid urbanization, combined with significant infrastructure projects for sporting activities such as the FIFA World Cup 2022, is expected to fuel demand for structural steel in the Middle East region in the coming years. According to the official FIFA website, the roof of the Al Rayyan Stadium is backed by 48 steel columns. Each column has a weight of almost 140 metric tons, creating a significant demand for structural steel components.
Increasing construction of high-rise buildings is another important factor expected to boost the use of structural steel in the coming years. According to the Council on Tall Buildings and Urban Environment (CTBUH), 18 new super-sized skyscrapers were constructed in 2018, where China became the leading destination for such towers. A total of 143 buildings with a height of 200 meters were constructed globally in 2018, of which 88 were in China. As a result, the steady development of new high-rise buildings is expected to have a significant effect on structural steel demand over the forecast period.
The global structural steel market has been segmented based on application and region. On the basis of application, the market has been segmented into residential and non-residential. The non-residential category is also classified as manufacturing, corporate, business and educational. In terms of both value and quantity, the residential market emerged as the main application category in 2019. Added population, combined with increasing housing needs, is the main driver to this segment's growth. The residential market accounted for a revenue share of 54.9% in 2019.
The non-residential sector is projected to develop at a greater growth rate due to growing demand for high-quality construction materials in retail, business, office and institutional buildings. Infrastructure development in the form of hospital and administrative buildings, public facilities and commercial buildings form a key factor supporting the growth of this segment.
Increased installation of lightweight industrial building systems using thin sheet-covered surfaces comprises a recent advancement gathering further demand for high-strength structural steel.
The global structural steel market is cumulative to North America, Europe, Asia Pacific, Latin America and Middle East & Africa. However, Asia Pacific is expected to witness the highest growth in the structural steel market during the forecast period.
Asia Pacific was the largest market and accounted for a share of over 54.5% in 2019. The global demand is driven by an expansion in residential building activities in developing economies. Unfractured schemes in these countries are another exciting field that is projected to fuel demand for structural steel products. For example, the Indian government increased their infrastructure spending from USD 75.9 billion to USD 89.2 billion in the 2018-19 Union budget.
The trade war between the US and China is expected to have an impact on the economics of the structural steel industry. In September 2018, the U.S. government placed a 10.0% tariff on USD 200 billion worth of Chinese products, including steel and aluminum. To counter this, the government of China imposed tariffs on an additional USD 60.0 billion worth of U.S. products. There is uncertainty about the period of the trade war between these two countries. The impact of tariffs and retaliation could be significant, which would result in increased consumer prices and slowdown in investments.
Renovation of residential structures in Europe is anticipated to create numerous opportunities for structural steel vendors. According to the European Parliament report, over 90.0% of the buildings in Europe were built before 1990 and over 40.0% before 1960; thus, several buildings would require renovation and reconstruction. North and West European regions have more old residential buildings compared to other regions..