Market analysis and insights
The global structural steel market was valued at USD 105.05 billion in 2021, and it is predicted that it will grow at a CAGR of 7.25% from 2023 to 2032, reaching USD 168.90 billion in 2032.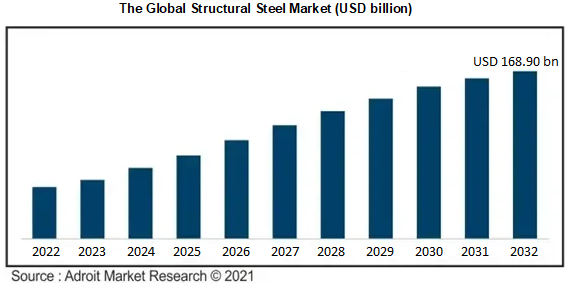 The production and construction of structural steel are now more efficient thanks to technological developments like digitalization, automation, and Building Information Modeling (BIM). Because of the increased productivity and shortened project schedules, structural steel is a more desirable choice.
Structural Steel Market Scope :
| | |
| --- | --- |
| Metrics | Details |
| Base Year | 2022 |
| Historic Data | 2021-2022 |
| Forecast Period | 2022-2032 |
| Study Period | 2022-2032 |
| Forecast Unit | Value (USD) |
| Revenue forecast in 2032 | USD 168.90 Billion |
| Growth Rate | CAGR of 7.25% during 2022-2032 |
| Segment Covered | By Product, By Application, By Regions |
| Regions Covered | North America, Europe, Asia Pacific, South America, Middle East and Africa |
| Key Players Profiled | Arcelor Mittal S.A., Nippon Steel & Sumitomo Metal Corporation, Wuhan Group, Hebei Group, Baosteel Group Co., POSCO, Tata Limited, and Bohai Group |
Market Definition
A kind of steel called structural steel is made especially for use in engineering and construction applications where strength and load-bearing capacity are crucial. Buildings, bridges, stadiums, warehouses, and other substantial constructions are frequently built using it.
High strength, ductility, and adaptability are the key traits of structural steel. Because of these characteristics, it is the perfect material for bearing enormous loads like the weight of a structure or the traffic on a bridge. It gives architects and engineers more flexibility in their designs by enabling them to create bigger buildings and longer-spanning structures.
Iron, a small quantity of carbon, manganese, silicon, and occasionally trace amounts of additional elements like phosphorus or sulfur are the main ingredients used to make structural steel. While other alloying elements enhance the steel's mechanical qualities, such as toughness and weldability, the carbon content contributes to the steel's increased strength.
The steel used for structural purposes comes in a variety of grades and varieties, each having unique characteristics and uses. The most typical kind used in construction is ASTM A36, which is readily accessible and has great weldability. For more demanding applications, such as high-rise structures and long-span bridges, stronger grades, like ASTM A572, are employed.
Key market segmentation
Insights on Products
The Heavy Structural Steel Segment Valued for the Highest Share
Strong, ductile, easy to fabricate, high strength, and quick erection are just a few of the physical and chemical qualities of heavy structural steel. It is also projected that increased use of heavy structural steel in big-box shops, manufacturing buildings, airports, healthcare facilities, and data centers would boost demand for the material. Considering the application segment, it is probable that the non-residential sector will be the largest application segment. This is because institutional buildings, businesses, and offices have a significant need for structural steel as a high-quality building material.
Insights on the Region
The APAC region accounted for the highest share.
The most important region for business is Asia-Pacific. Due to its large population and quick industrial sector development, China is anticipated to be the area that will contribute most to the growth of this market. Furthermore, encouraging government initiatives like ""Make in India"" in emerging nations like India has bolstered the development of business in the area. With the U.S. accounting for three-quarters of the region's total consumption of structural steel, North America is likewise a profitable regional market for this material. But operations in end-use industries like the automobile are anticipated to slow down as monetary policies are gradually tightened. The European Central Bank will likely provide financial support to Europe's largest steel consumers, on the other hand.
Key Company Profiles
Arcelor Mittal S.A., Nippon Steel & Sumitomo Metal Corporation, Wuhan Group, Hebei Group, Baosteel Group Co., POSCO, Tata Limited, and Bohai Group are a few of the major participants.
COVID-19 Impact and Market Status
Lockdowns and travel restrictions were enacted in several nations, which disrupted the global supply chain. This might have caused delays and higher costs by affecting the manufacturing, shipping, and distribution of raw materials and finished structural steel products.
Many building projects were halted or postponed at the pandemic's peak because of safety and financial concerns. Short-term structural steel demand decreased as a result, which had an effect on steel suppliers' and manufacturers' income.
The interruptions to the supply chain and shifting demand trends led to price volatility for structural steel products. The cost of structural steel as a whole was impacted by changes in the prices of raw materials like iron ore and scrap metal.
For the duration of the epidemic, certain countries put in place economic stimulus plans. These actions may have included building incentives or infrastructural initiatives that inadvertently increased the demand for structural steel in particular areas.
The outbreak could have altered how various building projects were prioritized. For instance, a greater emphasis on data centers, e-commerce infrastructure, and healthcare facilities would have affected the market for particular categories of structural steel goods.
Latest Trends
1. The construction sector is changing as a result of the introduction of digital technology, especially Building Information Modeling (BIM). Better cooperation, coordination, and visualization of structural steel projects are made possible by BIM. It aids in streamlining the fabrication, design, and construction processes, resulting in increased effectiveness and fewer mistakes.
2. Prefabrication is the process of constructing structural steel parts in controlled settings away from the building site before transferring them there to be put together. Due to its potential for quicker construction, financial savings, and less waste, this approach has grown in popularity. By generating complete building modules that are built on-site, like building bricks, modular construction advances prefabrication.
3. The development of cutting-edge, high-strength steel alloys and coatings is the result of research and development activities. These materials enable construction to be lighter overall while providing improved performance, durability, and corrosion resistance. These materials may be used to create designs that are more effective and eco-friendly.
4. The structural steel sector, along with the construction industry as a whole, is now heavily focused on sustainability. Utilizing recycled steel, maximizing material used to reduce waste, and putting energy-efficient procedures into practice during manufacturing and construction are all part of this. Additionally, designs that support eco-friendly construction practices and energy efficiency are becoming more and more popular.
Significant Growth Factors
The need for new roads, bridges, airports, and public amenities is still being driven by urbanization and rising world populations. These large-scale projects require a lot of structural steel, which has raised demand.
The industrial and commercial building industries are major market drivers for structural steel. Because of its strength and adaptability, structural steel is used in warehouse construction, manufacturing facilities, data centers, and office buildings.
The use of structural steel in green building projects has increased as a result of the growing emphasis on environmentally friendly and sustainable construction methods. Steel is highly recyclable, and environmentally friendly practices are spreading, such as employing recycled steel and maximizing material utilization.
The market for structural steel is growing as a result of the continuous urbanization trend, which is especially pronounced in emerging markets.
Restraining Factors
Iron ore and scrap metal are used as raw materials in the fabrication of structural steel. Variations in the cost of these raw materials can have an effect on manufacturers' and suppliers' profit margins as well as the overall price of structural steel.
Despite being recyclable, steel manufacturing nevertheless has a major negative impact on the environment due to energy use and greenhouse gas emissions. The steel sector may face difficulties as a result of expanding environmental restrictions and customer demand for eco-friendly products. Alternative construction materials, such as concrete and wood, compete with structural steel.
The use of these materials may restrict the future expansion of structural steel in those applications where they are favored. Construction operations may be impacted by economic turbulence and uncertainty, which might result in project delays or cancellations. There may be a decrease in demand for structural steel during recessionary times. There is a labor shortage in the construction sector, which includes the manufacturing and erection of steel. Project delays and greater labor costs may result from a shortage of trained personnel.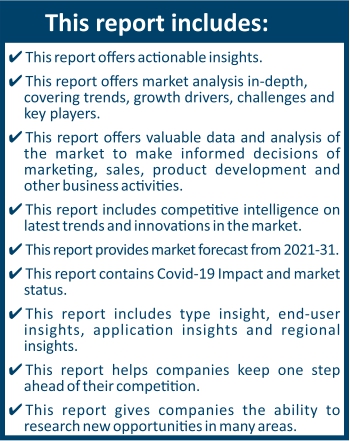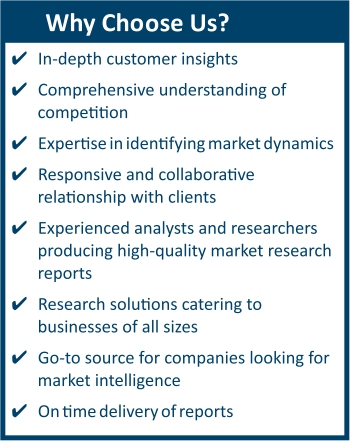 Frequently Asked Questions (FAQ) :
structural steel market was valued at USD 142.9 billion.
The base year for the report is 2018 in structural steel market
The major contenders in the global structural steel market Arcelor Mittal S.A., Baosteel Group Corporation, Anshan Iron & Steel Group Corporation, Benxi Beiying Iron & Steel Group Co. Ltd., Baogang Group, Bohai Steel Group Co. Ltd, Gerdau S.A, Hebei Steel Group, Nippon Steel & Sumitomo Metal Corporation (NSSMC), JSW Steel Limited, Tata Steel Limited, Anyang Iron & Steel Group Co. Ltd, Hunan Valin Iron & Steel Group Co., Ltd, Hyundai Steel Co., Ltd. (HSC), and POSCO