The global structural foam market was valued at USD 28.57 billion in 2018. The rapid development of the building & design sector is considered to be a key factor driving growth in the market. Moreover, the rise in sales of products for key applications such as automobile, building, consumer electronics and material handling, in the countries such as India, Brazil, Russia, South Africa, and China is expected to drive the structural foam market over the forecast period.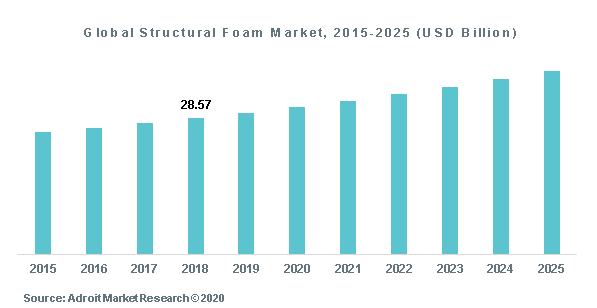 The global structural foam industry is progressing a higher rate, and shall further continue in the coming years. This rise is anticipated mainly by the increasingly growing demand in the Asia-Pacific and Rest of World.
The size of the global market for Structural Foam is expected to reach USD 54.11 Billion by 2030, expanding at a compound annual growth rate (CAGR) of 6.1, %.
Structural foams are considerably lighter in weight than the other types of rigid plastics and shows a greater ratio of weight to strength. These are used to provide longevity, heat resistance, conductivity, and strength in various applications, including columns, wind turbines, building roof insulation, vehicle parts, doors, etc.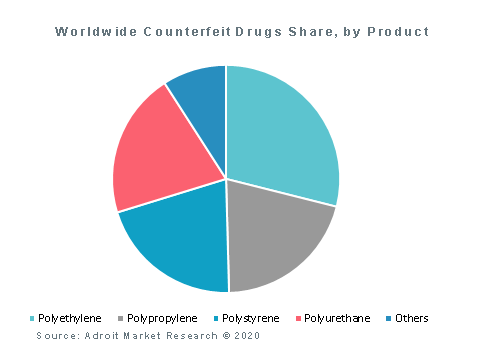 The global structural foam market is categorized based on product, and application. Region wise, North America was the largest market in 2018, and is anticipated to grow at a significant CAGR over the forecast period. Asia Pacific is also expected to grow at a highest rate over the coming years.
Key players serving the global structural foam market include Armacell International S.A., Diab International AB, Evonik Industries, Covestro AG, Gurit Holding AG among others.
Key Segment Of The Structural Foam Market
Product, 2022-2030 (USD Million)
• Polyethylene
• Polystyrene
• Polypropylene
• Polyurethane
• Others
Application, 2022-2030 (USD Million)
• Material Handling
• Automotive
• Building & Construction
• Electrical & Electronics
• Others
by Product, 2022-2030 (USD Million)
o Biobanking Equipment
• Temperature Control Systems
• Freezers & Refrigerators
• Cryogenic Storage Systems
• Thawing Equipment
o Biobanking Incubators & Centrifuges
o Biobanking Alarms & Monitoring Systems
o Biobanking Accessories & Other Equipment
o Biobanking Consumables
• Cryovialsand Cryomolds
• Tubes
• Others
Regional Overview, 2022-2030 (USD Million)
North America
• US
• Canada
Europe
• Germany
• France
• UK
• Rest of Europe
Asia Pacific
• China
• India
• Japan
• Rest of Asia Pacific
South America
• Mexico
• Brazil
• Rest of South America
Middle East and South Africa
Frequently Asked Questions (FAQ) :
The market value of structural foam market in 2025 was USD 42.20 billion
The base year for the report is 2018 in structural foam market
North America dominated the market for structural foam market and accounted for the largest revenue share
The global structural market has seen strong development over the past couple of years with its end-business, and is anticipated to continue in the coming years. The main driving factor for the global structural market would be a rise in demand for foam in various end-industries such as material handling, construction, automotive, electronics and others.
However, the constraining factors in the market are growing preference for biobased plastics as a durable substitute to non-biodegradable foam and the fluctuating prices of raw materials. In comparison, major corporations have formed sourcing relationships and shown higher forward and backward convergence across the value chain. However, they do need to address obstacles such as rising gasoline costs, facing pressure from other local manufacturing firms and delivering top quality goods at reasonable rates.
The extensive use of foams in the material handling equipment used for the short-distance transport of products inside the manufacturing plant and in other packaging applications is projected to drive the market over the coming years. The increased usage of the product in shipbuilding, consumer products, and wind power is projected to promote the development in other segments.
The global structural foam market has been segmented based on applications, and products. Based on products, the market is categorized into polyethylene, polypropylene, polystyrene, polyurethane, and others. Based on applications, the market is categorized into material handling, building & construction, automotive, electrical & electronics, and others.
Rigid polyurethane is used as a construction material and the product is projected to emerge as the fastest growing segment in terms of volume by 2025. The products have superior properties including lightweight, hardness, and strength. The substance is immune to a variety of contaminants and humidity allowing it to be ideal for use at various temperatures. They are likely to rise at a faster pace, particularly in Asia Pacific and Latin America, because of their large-scale utilization in the construction segment.
The global structural foam market is cumulative to North America, Europe, Asia Pacific, Latin America and Middle East & Africa. North America dominated the global structural foam market in 2018, however Asia Pacific is expected to grow at a highest pace through the year 2025.
In 2018, North America emerged as the largest region in the global structural foam industry. Growing usage of lightweight materials in building and manufacturing, wind turbines, is projected to push the industry to a significant growth over the coming years. Europe, also accounted for a significant share of overall demand in the structural foam market. The availability of innovative building & construction materials combined with the favorable laws in the region has contributed to growth in the market.