The excellent qualities of insulating material that help in keeping a suitable indoor temperature, easy installation, and low cost are driving the growth of the roof insulation market. The market is also fueled by technological advancements that have led to the creation of novel insulating materials with improved performance. Government rules governing energy efficiency are also anticipated to fuel market expansion. Additionally, it is projected that initiatives to promote energy efficiency and green construction will fuel market expansion. Additionally, it is anticipated that during the projection period, demand for roof insulation would increase due to people's growing awareness of the importance of conserving energy and protecting the environment.
Due to the outstanding insulation material characteristics that contribute to maintaining a suitable internal temperature, easy installation, and low cost, the roof insulation market is expanding. The development of novel insulating materials with greater performance due to technological advancements is another factor driving the market. The government's energy efficiency standards are also anticipated to spur market expansion. In addition, it is projected that rising demand for green construction and energy-saving initiatives will fuel market expansion. Additionally, the demand for roof insulation is anticipated to increase during the forecast period due to people's growing awareness of energy efficiency and environmental protection.
Roof insulation is a type of thermal insulation material positioned between a home's interior and its roof. It serves to provide an air barrier and a layer of insulation that stops heat from entering or leaving the home by conduction in order to reduce heat loss or gain, depending on the season. Numerous materials, including fibreglass, mineral wool, rigid foam boards, cellulose fibres, and spray foam, can be used to provide roof insulation.
During the projection period of 2021–2031, it is expected that the global market for roof insulation will grow at a CAGR of almost 4.9%, reaching USD 23.2 billion in 2021 and USD 34.5 billion by 2031.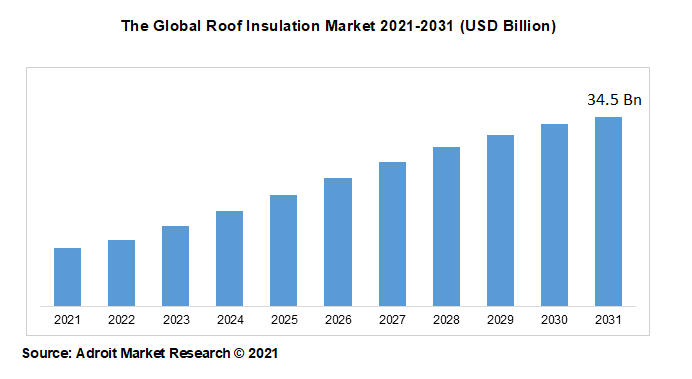 Several reasons, including the rising need for thermal insulation solutions, the rising number of green construction projects, and the rising awareness of energy efficiency, are propelling the roof insulation market.
One major issue limiting the expansion of the worldwide roof insulation market is the cost of insulation. Recent price increases in insulation have made it more expensive for people to afford. Additionally, there are a variety of substitute products currently available that can be used in place of insulation, including solar films and reflective coatings. The market growth for roof insulation may be constrained by this ened competition.
Another aspect is that many nations have implemented strict restrictions governing the usage of insulating goods in order to achieve energy efficiency standards. These rules may make it harder for producers to sell their goods and may prevent the market for roof insulation from expanding. However, the creation of novel and affordable insulating materials may present a chance for the market to grow. Additionally, the increased interest in energy efficiency, particularly in developing nations, may create new markets for insulation goods.
Because there are so many manufacturers, the roof insulation market is very fragmented. Owens Corning, Johns Manville, Knauf Insulation, Atlas Roofing Corporation, CertainTeed Corporation, and Dow Chemical Company are some of the leading producers in the market. Additional notable market participants include Kingspan Group plc, Polyfoam Corporation, Rockwool International A/S, Saint-Gobain, PAROC, and Saint-Gobain.
Segment Analysis
The Glass Wool Segment emerged as the Most Lucrative Type
Due to its outstanding qualities, including its high thermal insulation compared to other materials, cost-effectiveness, lightweight, and stronger fire resistance property, glass wool is predicted to have the largest share in terms of value. Other aspects that are propelling this market include easier installation, decreased noise levels, and enhanced air quality.
The Most Prominent Application is the Pitch Roof Insulation Segment
The market is further divided into pitch roof insulation, flat roof insulation, and other applications. Due to their greater than flat roofs, pitch roofs are most frequently employed in residential buildings because they aid in reducing heat gain or loss. Flat roof insulation, which is primarily employed in commercial structures, is also a crucial part.
The North American Region to render Ample Financing Opportunities
The market can be divided into North America, Europe, Asia Pacific (APAC), the Middle East & Africa (MEA), and South America based on geography. Due to rising demand for energy-efficient buildings and growing concerns about environmental sustainability and safety, North America is predicted to have considerable growth throughout the projected period.
COVID-19 Impact and Market Status
Roof insulation sales have been significantly impacted by the COVID-19 outbreak. Roof insulation goods have seen a drop in demand as a result of the pandemic, as construction has ceased in many regions of the world. In 2021, the market is anticipated to rebound as building activity picks up and demand for roof insulation products rises. Furthermore, it is anticipated that the demand for roof insulation materials would increase as governments make greater efforts to improve energy efficiency and cut carbon emissions. Additionally, the need for green building materials is being driven by the rising awareness of sustainability, which is fueling the market for roof insulation products.
Recent Developments in the Roof Insulation Market
• Owens Corning introduced its new EnergyCompleteTM Roof Insulation product in March of 2022. This cutting-edge composite insulation is made to reduce noise and condensation while offering improved thermal performance and moisture protection. When compared to conventional roof insulation products, the product offers up to 15% more energy savings and is available in two R-value levels, 6.5 and 10.
• A new kind of roof insulation from CertainTeed dubbed EcoBatt® with GripcladTM Technology was introduced in April 2021. With the help of a cutting-edge adhesive system and patented technology, this product improves attic temperature regulation while reducing air leakage. Mineral wool fibres are used as part of the construction. It is perfect for hotter regions because it has greater R-values than conventional fibreglass insulation.
• A new line of EnergyWise® Roof Insulation products from Johns Manville, utilising ground-breaking EnerfoamTM foam technology, was introduced in October 2020. Extreme environmental testing has shown that this foam performs well in terms of energy efficiency, fire resistance, and water vapour transmission management. It is offered in a range of thicknesses and R-values to accommodate specialised application requirements.
Roof Insulation Market Scope
| | |
| --- | --- |
| Metrics | Details |
| Base Year | 2022 |
| Historic Data | 2020-2021 |
| Forecast Period | 2022-2030 |
| Study Period | 2020-2030 |
| Forecast Unit | Value (USD) |
| Revenue forecast in 2030 | USD 34.5 billion |
| Growth Rate | CAGR of 4.9 % during 2021-2030 |
| Segment Covered | Type, Application, Regions |
| Regions Covered | North America, Europe, Asia Pacific, South America, Middle East and Africa |
| Key Players Profiled | Owens Corning, Johns Manville, Knauf Insulation, Atlas Roofing Corporation, CertainTeed Corporation, and Dow Chemical Company |
Key Segment of Global Roof Insulation Market
By Type Overview 2021-2031, (USD Billion)
• Glass Wool
• Rock Woo
• Foam
• Others
By Application Overview 2021-2031, (USD Billion)
• Pitch Roof Insulation
• Flat Roof Insulation
• Others
By Region Overview 2021-2031, (USD Billion)
North America
• USA
• Canada
Asia Pacific
• China
• India
• Japan
• Rest of Asia Pacific
South America
• Mexico
• Brazil
• Rest of North America
Europe
• Germany
• France
• UK
• Rest of Europe
Middle East and Africa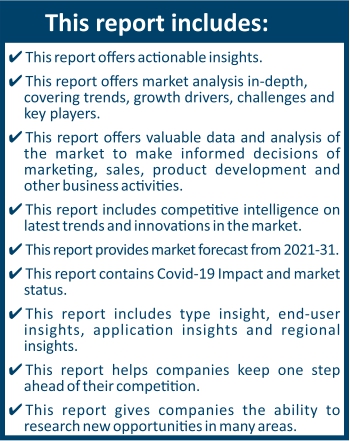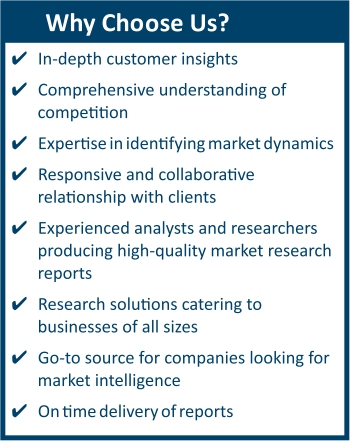 Frequently Asked Questions (FAQ) :
Roof Insulation Market is projected to reach USD 34.5 billion by 2031, growing at a CAGR of 4.9