Due to its benefits, steel wire rods are employed in numerous industrial applications. As a result, they must fulfil a set of requirements, including strength, ductility, cold formability, draw ability, and hardenability. Much more efficient handling in port operations than standard hooks. Magnets' lifting capability may be custom-designed to meet the exact demands of your cargo, and their small size allows them to be utilized in a variety of port applications without having to change their settings. The remote controlled capability makes unloading procedures safer.
It's being expected that by 2030, the Steel Wire Rod market cap will hit USD 156.32 billion at a CAGR growth of about 4.7%.
Covid-19 Impact & Market Status
The global impact of COVID-19 has been unprecedented and devastating, with demand for steel wires rod falling across all areas as a result of the epidemic. The Market Will Slow Down Due to the COVID-19 Pandemic as in this period no construction was happening anywhere in the world no dams, no building, no bridges were constructed or renovated during the time period. Furthermore, due to lockdown measures, individuals are not buying steel wire for any of their uses. As the market all over the world is going to better after lockdown we can assume that the demand of steel wire rod is also going to further increase during the forecasted period.
Stainless steel to Emerge as the Most Lucrative Segment
Three categories— alloy steel wire, carbon steel wire, and stainless steel wire—are available on the market. Steel reinforcement, wire mesh, barbed wires, car components, and hardware manufacturers are just a few of the industrial uses for stainless steel wire rods, which is what is driving the market.
Construction to Witness Fastest Growth
The market is divided into automotive, construction, electricity, agriculture and other end-use industries. Construction occupies most of the market share of the end-use industry. Steel wire demand is impacted by increased construction activity in residential and commercial areas as well as infrastructure. In addition, the development of bridges, dams, airports and other infrastructure projects to improve the country's infrastructure is driving the steel wire industry. Over the course of the forecast, it is predicted that the automotive segment would expand significantly. This is because of its flexibility, low weight, heat resistance, and abrasion resistance.
Asia Pacific and Europe Region to Render Ample Investment Avenues
High demand for building applications characterizes the industry in the area. During the anticipated period, it is anticipated that the markets in Europe and Asia-Pacific will grow significantly. Steel wire demand for automotive applications has expanded as a result of the presence of large car manufacturing businesses in Europe. Increasing development and infrastructure activities in Asia Pacific's emerging countries, such as China and India, will boost demand throughout the projection period.
Steel wire rods are made into steering and suspension components, as well as tire cords and bearings. Not all wire rods, however, are made equal, and improvements in manufacturing technique can improve vehicle performance, cost-effectiveness, and safety.
Steel wire rod is a rolled steel product (alloy or non-alloy) with a rectangular, rounded, hexagonal, or squared form made from semi-finished steel. Cold drawing is used to get fine cross-sections in particular. Wire rod is coiled into coils and transported in this manner as well. A hot-rolled billet is reduced into a wire rod coil to make steel wire rod. You may make it out of any carbon, alloy, or stainless steel grade you like. Mesh, industrial, cold heading, and high carbon steel wire rod are just some of the grades available. Waves compress and shape metal from different angles, turning pieces of metal into long, thin wires. This wire is twisted with a special coiler at the end of the mill and the rod is wound around the strands for further cooling.
Governments all over the world are increasing the amount of money they put into building infrastructure. The nation's infrastructure is being improved with billions of dollars from the government. These wires' exceptional tensile strength, flexibility, toughness under adverse conditions, and load-bearing capacity make them ideal for use in suspension bridge cables. The building of suspension bridges to increase connectivity and infrastructure has increased the use of steel wire.
The economy for steel wire rod is being driven by the expanding infrastructure development investments made by emerging country governments. Ropes and mesh made of steel wire are used as reinforcement to provide the construction strength. Some of its characteristics are lighter weight, high tensile strength, and deformation resistance, and stress and wear resistance. Another factor driving up demand is the residential sector's increased development activities in response to the growing demand for homes.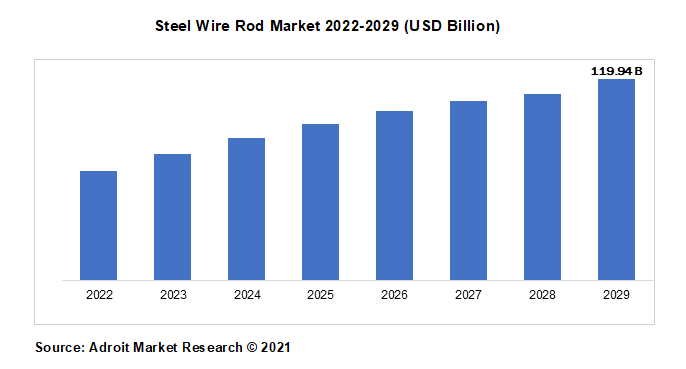 The key players in this market are Tata Steel, Shandong IronandSteel, Bohai Steel, Bao Steel, Fagersta Stainless, Hebei IronandSteel, Emirates Steel, Shagang Group, JFE Holdings, Shougang Group. These are the global market players of steel wire rod.
Latest Innovations in the Steel Wire Rod Market
Suspension springs improve ride quality by absorbing and damping shocks and vibrations from the road surface while driving, and greatly improve safety by ensuring cornering balance. As the automotive industry seeks to reduce vehicle weight and improve fuel economy, the need for high-strength suspension springs has recently increased. This application requires decarburization protection (reduction of carbon content in steel by oxidation) and anticorrosion properties. POSCO uses the latest equipment and technology to manufacture spring steel wires.
Steel Wire Rod Market Scope
| | |
| --- | --- |
| Metrics | Details |
| Base Year | 2022 |
| Historic Data | 2020-2021 |
| Forecast Period | 2022-2030 |
| Study Period | 2020-2030 |
| Forecast Unit | Value (USD) |
| Revenue forecast in 2030 | USD 156.32 billion |
| Growth Rate | CAGR of 4.7 % during 2022-2030 |
| Segment Covered | Type, Region. |
| Regions Covered | North America, Europe, Asia Pacific, South America, Middle East and Africa |
| Key Players Profiled | Arcelor Mittal, Bekaert, JFE Steel Holdings, Kobe Steel Limited, LIBERTY Steel Group, Nippon Steel Corporation, Tata Steel Limited, VAN MERKSTEIJN INTERNATIONAL, Henan Hengxing Science & Technology Co., Ltd., Tianjin Huayuan Metal Wire Products Co.Ltd. |
| Key Players Profiled | Tata Steel, Shandong IronandSteel, Bohai Steel, Bao Steel, Fagersta Stainless, Hebei IronandSteel, Emirates Steel, Shagang Group, JFE Holdings, Shougang Group. |
Key Segments of the Steel Wire Rod Market
Type Overview, 2022-2029 (USD Billion)
Stainless Steel Wire
Carbon Steel Wire
Alloy Steel Wire
End User Overview, 2022-2029 (USD Billion)
Construction
Energy
Automotive
Agriculture
Others
Regional Overview, 2022-2029 (USD Billion)
North America
Europe

UK
Germany
France
Rest of Europe

Asia-Pacific

China
Japan
India
Rest of Asia-Pacific

South America
Mexico
Brazil
Rest of South America
Middle East and South Africa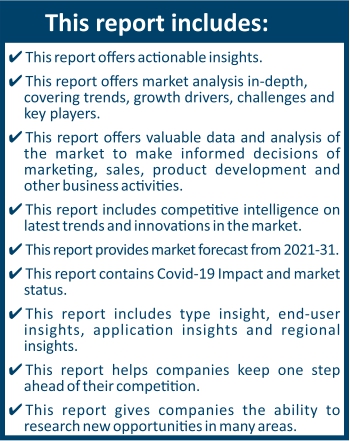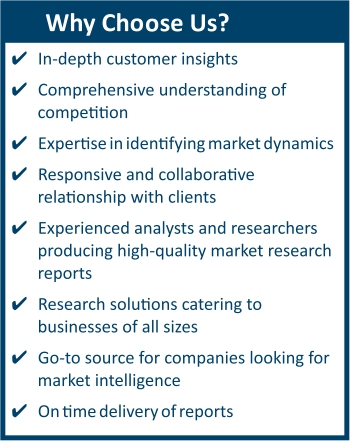 Frequently Asked Questions (FAQ) :
The market value of steel wire rod market in 2029 was USD 119.94 billion.
Asia Pacific dominated the market for steel wire rod market and accounted for the largest revenue share.
The top companies that hold the market share in steel wire rod market are Tata Steel, Shandong IronandSteel, Bohai Steel, Bao Steel, Fagersta Stainless, Hebei IronandSteel, Emirates Steel, Shagang Group, JFE Holdings, Shougang Group & among others.
To get latest version of steel wire rod market report can be obtained on demand from the website.
The base year for the report is 2021 in steel wire rod market.