The global stand mixer market stood at USD 2.91 billion in 2018. Over the forecast period from 2019 to 2025, North America, Asia Pacific and Europe may see a steady growth in the mixing industry. The stand mixer market growth will be facilitated with intensive and creative marketing strategies such as recognition through social media and offering lucrative discounts. Capacity expansion, design fusions and acquisitions by global players in local businesses are expected to increase consumer awareness that will pave the way for new growth opportunities on the global standing mixer market over the coming years.
Global stand mixer market trend, 2015 - 2025 (USD Billion)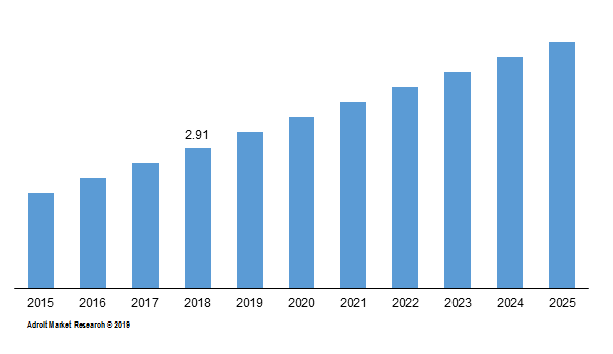 Emergence and rapid development of food processing industry and reduced consumer preference for hand-held mixers is a prominent trend observed in developed markets of US, Canada and Western Europe. Another important market factor in boosting the demand for stand mixers is the modification of product design such as introduction of improved in-house kneading gear systems, buil in metal constructed parts or components and increased bowl capacities.
Stand mixers are large in size and have powerful motor system, which is completely different from the traditional components. The bowl lock system in stand mixers gives stability to the system during operation. In comparison with the traditional mixers, stand mixers have bigger bowl capacities. For instance, heavy duty commercial stand mixers have capacity in the range of 90 to 95 liters. Larger capacity stand mixers gives bigger food processing capabilities in less time. Typical components inside of a stand mixer includes dough hook, flat beater, and wire whisks.
Stand Mixer Market Scope
| | |
| --- | --- |
| Metrics | Details |
| Base Year | 2019 |
| Historic Data | 2017-2018 |
| Forecast Period | 2020-2025 |
| Study Period | 2015-2025 |
| Forecast Unit | Value (USD) |
| Revenue forecast in 2025 | USD 3.30 billion |
| Growth Rate | CAGR of 1.8% during 2021-2028 |
| Segment Covered | Product Type, Application, Regions |
| Regions Covered | North America, Europe, Asia Pacific, Middle East & Africa, Central & South America |
Key segments of the global stand mixers market
Product Type Overview, 2013-2025 (Million Units) (USD Million)
Tilt-head type
Bowl-lift type
Application Overview, 2013-2025 (Million Units) (USD Million)
Regional Overview, 2013-2025 (Million Units) (USD Million)
North America
Europe

Germany
UK
France
Italy
Spain
Rest of Europe

Asia Pacific

China
India
Japan
Southeast Asia (ASEAN)
Rest of Asia Pacific

Central & South America

Brazil
Argentina
Rest of Central & South America

Middle East & Africa

UAE
Rest of Middle East & Africa
Reasons for the study
The purpose of the study is to provide a broad view of the global stand mixer market.
We have been analyzing the recent growth trends of the consumer goods, food processing, and bakery industry sectors. This further helped us in understanding the usage of devices and appliances such as stand mixers for mixing or blending operations of food ingredients.
Modification in stand mixer designs, adoption rates of the product across each region and comparison with other product substitutes are some of the trends analyzed while working on the study
Product marketing channels and competence of the top global players through new product launches are some of the other industry trends that have been taken into consideration for studying the stand mixer market
What does the report include?
The study on the global stand mixers market includes qualitative market dynamics such as drivers, restraints, and opportunities
Additionally, the market has been evaluated using the value chain, SWOT analysis and Porter's five forces analysis
The study includes qualitative and quantitative analysis of the market categorized on the basis of product type, application and region
Actual market sizes and forecast figures have been provided for all the afore-mentioned market segments
The report also covers profiling of key industry players that have a significant global and/or regional presence
Who should buy this report?
This study is suitable for industry participants and stakeholders in the consumer appliances and commercial food appliances sectors, who want in-depth insight into the development of the stand mixers market. The report will benefit:
Executives of companies that are a part of the stand mixers business and service providers
Financial managers that are looking to study and publish recent and forecasted numbers pertaining to food appliances for household and commercial sectors
Government organizations, regulatory authorities, policymakers and regional players looking for foreign investment, collaborations, etc.
Analysts, researchers, educators, strategy managers, and academic institutions looking for insights into the market
Stand blenders are designed to make kitchens more functional. Drinks, bakery and confectionary consumption is expected to grow rapidly in developing economies which is expected to uplift the demand for heavy commercial stand mixers in the food processing industry. In addition, rising consumer health consciousness is also anticipated to encourage sales of processed food products which is further projected to increase stand mixer growth over the next few years.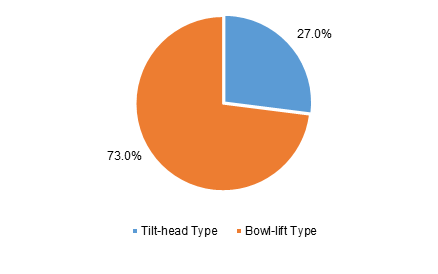 Major factor that is likely to drive the demand of stand mixer in the coming future is the convenience it offers while handling a food. But more to that is various attachments and power versions that are available in the market as per the specific need of consumer. For instance, the attachments and components. There are variety of attachments and power option available in the market. Furthermore, the stand mixer price basically corresponds to the horsepower consumer wants. Mixers are available in a variety of sizes, typically distinguished by the volume of the container. Another optimistic factor about stand mixers growth in regions like North America and Europe is that the stand mixer do not need baby-sitting or upper body strength. In fact, they do a more informative and efficient job than any consumer could manually do. Various pros associated with stand mixer include practicality, time saving, multiple speed settings, stylish design, and long lasting.
In terms of volume, North America accounted for the maximum market revenue share in the year 2018 and is projected to show similar trend over the forecast period. North America stand mixer market is projected to grow at a CAGR of more than 1.2%. Europe is the second largest regional market followed by Asia Pacific and Rest of the World. Varied dietary preferences and lifestyle are the key factors contributing to constrained adoption of stand mixers across Asia Pacific and rest of the world.
The stand mixer market is segmented into bowl-lift and tilt-head. Bowl-lift type accounted for the largest market revenue share in 2018 and is projected to show similar trend over the forecast period. These devices take lesser space on countertops, and also have an efficient engine system and can be used to knead bakery items, including bread and pizza dough. Some of the bowl-lift models are also well-accepted in commercial applications.
Typical components of bowl-lift type stand mixer include speed control knob, attachment hub, bowl lift handle, height adjustment screw, locating pins, bowl support, beater shaft, stainless steel bowl, bowl handle, wire whip, and spiral dough hook. The bowl-lift type segment is projected to grow at a CAGR of over 1.8% during the forecast period.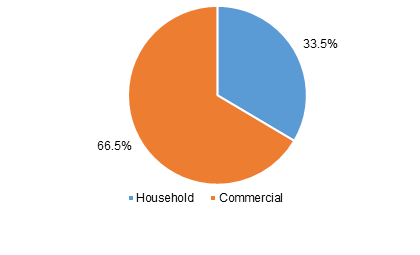 In future, the market for a tilt-head stand mixers will be primarily driven by adoption in household usage. Because of the small size of stand mixer, it is easy to fit into cabinets. However, the evolved quality of the machine makes it ideal for domestic use without being too costly.
The top customers in the stand mixers industry are North America, Europe and Asia Pacific. Customer preference to buy stand mixers varies across the regions. Across North America and Europe, where the main portion of meal comprise baked items, most consumers typically use stand blender, which is also often used for multiple household appliances. Across Asia Pacific, on the other hand, fewer households have hand blenders. Lack of awareness on how grinders, blenders and egg beaters vary among consumers has also prevented the market growth of stand mixers in this area. Across key Asia Pacific countries, this has resulted in low consumer penetration. Nonetheless, this image will shift due to the increased customer disposable income, globalization, improving awareness and cognizance to make local delicacies. This shall contribute to an augmented market share of Asia Pacific when compared to among other geographies.
KitchenAid, Hobart Corporation, SMEG, Electrolux AB, Koninklijke Philips N.V., and Panasonic Corporation are some of the key companies that have been dominating the stand mixers market over the recent years.