Sports composite is the advanced material that is used to manufacture sports equipment in order to improve the performance of the equipment, which in turn helps players boost their playing capabilities. The composite material is a composition of two or more constituent materials, which are characterized by different properties when mixed improves the overall capability of the equipment. Composite possess capabilities to suffice various designs with reduced weight and high strength-to-weight ratio in comparison to conventional materials. Composite including carbon epoxy and glass epoxy have replaced metals that are used in sports equipment. The ongoing introduction of advanced material to manufacture sports equipment is driving the business landscape.
Increasing focus toward durability and light weight of the sports equipment such as bicycle, rackets, skis, golf equipment, and hoverboards is anticipated to fuel industry growth. Moreover, increasing efforts to develop products with improved strength and mechanical properties to be used in sports associated fields and accessories are further complementing the industry size. Composite has the capability to amalgamate with other materials such as steel, wood, aluminum that broadens the application of the composite, which in turn will proliferate the industry outlook in the coming years.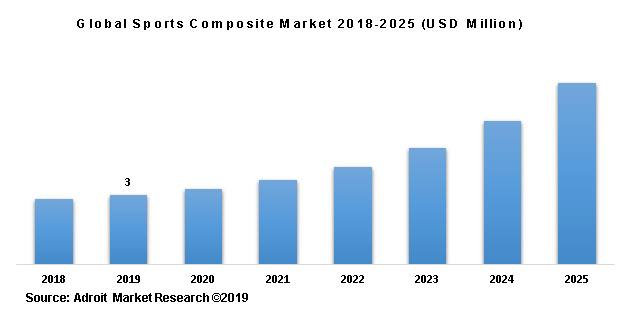 Fiber-reinforced composite materials offer many features comprising, easy processing, deigning flexibility, forming characteristics, and improved strength in sports equipment. For instance, Golf rods comprising carbon fiber-reinforced materials improved mechanical characteristics and reduce weight up to 50%. Further, material possess high damping shock absorption capacity, which expands its application to use as raw material, which in turn will further escalate the industry size.
Key segments across sports composite market
Resin Overview, 2018-2025, (USD Million and Tons)

Polyurethane
Epoxy
Polypropylene
Polyamide
Others

Material Overview, 2018-2025, (USD Million and Tons)
Application Overview, 2018-2025, (USD Million and Tons)

Rackets
Golf Clubs
Bicycles
Hockey Sticks
Skis & Snowboards
Others
Regional Overview, 2018-2025, (USD Million and Tons)

North America
Europe

UK
Germany
Italy
France
Rest of Europe

Asia Pacific

China
India
Japan
Australia
Rest of Asia-Pacific

Middle East & Africa

Saudi Arabia
Rest of Middle East & Africa

South America

Brazil
Argentina
Rest of South America
Reasons for the study
The purpose of the study is to give an exhaustive outlook of the global sports composite industry. Benchmark yourself against the rest of the market.
Be prepared for how investments across sports industry will be impacted by socio-political and economic factors over the next few years
Ensure you remain competitive as new innovations by existing key players boost the market.
What does the report include?
The study on global sports composite includes qualitative factors such as drivers, restraints, and opportunities.
The study covers the competitive landscape of existing/prospective players in the industry and their strategic initiatives for the product development
The study covers a qualitative and quantitative analysis of the market segmented on the basis of type, and form. Moreover, the study provides similar information for the key geographies.
Actual market sizes and forecasts have been provided for all the above-mentioned segments.
Who should buy this report?
This study is suitable for industry participants and stakeholders in the global sports composite. The report will benefit:
Every stakeholder involved in manufacturing and distributing components or solutions.
Managers within financial institutions looking to publish recent and forecasted statistics pertaining to the global sports composite.
Government organizations, regulatory authorities, policymakers, and financial organizations looking for investment trends in the global sports composite industry.
Analysts, researchers, educators, strategy managers, and academic institutions looking for insights into the market to determine future strategies.
Sports composite are the materials that are used to improve the performance of the equipment. These composite exhibits high durability and remain unaffected to harsh environmental conditions such as extreme temperature fluctuations like performance during hot or cold conditions. Furthermore, the composite materials possess critical properties such as thermal insulation, and low moisture absorption will escalate the industry size. The composite is preferred in comparison to other conventional materials such as wood, iron, aluminum due to their high strength and low weight feature. For instance, carbon fibers are around 70% lighter than steel, 40% lighter than aluminum and hold multiple times the high capacity than the aforementioned materials. The growing capabilities of these materials to deliver high capabilities with low weight and cost-effectiveness will augment the product demand over the forecasted timeframe.
Composite material such as inorganic fiber, glass fiber, silicon carbide fibers, hybrid fibers, aromatic polyamide fibers is some of the composite material which blends in different propositions to obtain various properties from the material. This material improves size stability, tensile strength, and adhesion that are key features of sports equipment is exhibited by these composite, which in turn will propel the product demand.

Resin Segment
On the basis of the resin segment, the market is categorized into polyurethane, epoxy, polypropylene, polyamide, and others. Polyamide segment, dominates the global sports composite market in 2018 and is anticipated to dominate the industry for the forecast period 2019-2025.
Material Segment
Sports composite market is segmented into carbon, glass and others. In 2018, the carbon material is accounted for major contributors in revenue and it is expected to lead the sports composite industry thorough the forecast timeline.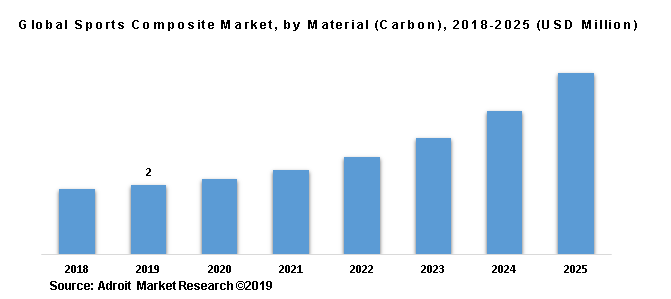 Application Segment
Based upon application sports composite market is segmented Rackets, Golf Clubs, Bicycles, Hockey Sticks, Skis & Snowboards, and others. The bicycle segment is projected to experience highest growth rate owing to increasing demand for bicycle along with growing awareness about health and fitness across the globe.
North America region is analyzed to hold significant industry share over the forecast timeframe. High technological advancement along with growing avenues in various sports across the region is driving the product demand. Growing inclination toward artificial turf for various sports as basketball courts, golf, and American football leading to increased utilization for sports and field equipment is anticipated to stimulate the industry growth over the forecast period. Furthermore, the region is inclined toward cold conditions games such as ice hockey, heli-skiing that require high durability and thermal insulation to keep the body warm, which is sufficed by composite, in turn, is poised to positively sway the industry growth.
The major players of the global sports composite market comprise of Aldila Inc., Amer Sports, Fischer Sports GmbH, Jarden Corporation, Rossignol, Topkey Corporation, E. I. Du Pont De Nemours and Company, Hexion Inc., SGL Group, and Toray Industries Inc. including others The market for sports composite is consolidated with the presence of established global and domestic players across the globe. Moreover, the established companies are shifting focus toward establishing manufacturing facilities associated with the production of equiment. Furthermore, the industry players are coming up with inorganic growth strategies to expand their market presence