The global spinal imaging market was valued at USD 1.87 billion in 2020 and is projected to grow at a CAGR of 5% during the forecast period. Factors driving the growth of the spinal imaging market include rising incidence of spinal injuries, growing risk of spinal cancers, and advancements in spinal image guidance systems.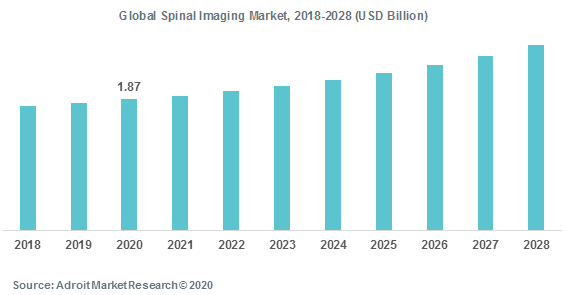 The global spinal imaging market is segmented based on product and application. On the basis of product, the market is segmented into X-ray, CT, MRI and Ultrasound. The MRI was the largest market of the spinal imaging market in 2019. By application, the market is segmented into spinal infection, vertebral fractures, spinal cancer and spinal cord & nerve compressions. The spinal cord & nerve compressions segment accounted for the largest share of the global spinal imaging market and is projected to sustain its dominance over the forecast period.
Regionally, North America accounted for the largest market share of the global spinal imaging market attributable to rising cases of spinal surgeries. Leading players of the global spinal imaging market include GE Healthcare, Siemens Healthineers, Koninklijke Philips N.V., Canon Medical Systems Corp, Mediso Ltd., Bruker, Shimadzu Corp., Hitachi, Ltd., FUJIFILM, Toshiba Medical Systems, Inc. among others.
Key segments of the global spinal imaging market
Product Overview, 2018-2028 (USD Billion)
Application Overview, 2018-2028 (USD Billion)
Spinal Infection
Vertebral Fractures
Spinal Cancer
Spinal Cord & Nerve Compressions
Regional Overview, 2018-2028 (USD Billion)
North America
Europe

Germany
United Kingdom
France

Asia Pacific
Latin America
Middle East & Africa
Reasons for the study
Rising cases of spinal surgeries
Efficient reimbursement policies
Improving healthcare facilities, and favorable government initiatives, especially in developing markets
What does the report include?
The study on the global spinal imaging market includes qualitative factors such as drivers, restraints and opportunities
The study covers qualitative and quantitative analysis of the market segmented on the basis of product and application. Moreover, the study provides similar information for the key geographies.
Actual market sizes and forecasts have been provided for all the above-mentioned segments
The study includes the profiles of key players in the market with a significant global and/or regional presence
Who should buy this report?
The report on the global spinal imaging market is suitable for all the players across the value chain including product manufacturing companies, suppliers/distributors, R&D labs, CROs, healthcare organizations, medical reimbursement and insurance providers
Venture capitalists and investors looking for more information on the future outlook of the global spinal imaging market
Consultants, analysts, researchers, and academicians looking for insights shaping the global spinal imaging market
Lower back pain is the leading reason for spinal imaging. It is a major cause of sickness, disability and absence from work. Minor repeated trauma is commonly accounted for by obesity, bending and lifting, poor posture, pendulous abdomen, flat feet, badly designed shoes with high heels and long hours at work or an office desk. These conditions are characterized by spasm of muscles and it is suggested that spasm may be the cause rather than the effect. Any low back ache caused by gynecological lesion is diffuse, situated in midline and importantly associated with anterior pelvic pain. Any backache which can be pointed with a finger, or associated with local tenderness, is usually not due to intrapelvic lesion.
The MRI spinal imaging dominated the market in 2019. MRI continues to play a significant role in the management of spinal trauma patients. It is the modality of choice for assessment of ligament and other soft tissue structures. Injuries of discs, spinal cord and occult osseous injuries are very well seen with MRI. Quick and proper management of the patients from diagnosis to therapy implies reduction of neurological damage, thus, improving quality of life for posttraumatic patients. Radiologists have a role of great responsibility in establishing the presence or absence of lesions, defining the MRI characteristics, assessing the prognostic value and therefore deciding the treatment.
North America dominated the market for spinal imaging in 2019. The physical, financial, and social squeal of traumatic spinal cord injuries (SCIs) is devastating for individuals and caregivers. The direct lifetime costs of care for over 1 million affected North Americans ranges from USD 1.1 to USD 4.7 million USD per person. SCI is a kind of highly disabling injury; it does not only lead to damage to motor function but can also lead to the dysfunction of multiple organs. Although some treatment techniques, such as cell therapy, have had a positive clinical impact, there is no efficient measure to cure SCI. The costly nature of the treatment, lengthy rehabilitation treatment, and the loss of labor always have a major impact on individuals and families, as well as a heavy burden on society. Therefore, a coordinated multisystem strategy to treat the injury itself and the associated complications must be taken into account. Not only does SCI affect the physical, psychological, and social well-being of patients, it also leads to a heavy burden on households, communities, and health care systems. Understanding and recognizing SCI epidemiology can assist the health care system carry out additional preventive interventions and better allocate funds to manage the disease. Also, by comparing incidence trends of SCI in the United States, SCI cases are anticipated to grow in the coming years and contribute to the overall growth of rehabilitation facilities both in terms of revenue and facilities.