The global Solar PV market worth USD 250.63 billion by 2030, growing at a CAGR of 5.1%
The extensive growth of the photovoltaics (PV) market projected over the forecast can be attributed to the growing awareness and need for sustainable energy resources. In addition, governments all across the globe are increasingly strengthening regulation in favour of reducing the reliance on fossil fuels which is considerably proposing a promising future for the solar PV market.
The photovoltaic (PV) industry is suited for an ideal growth owing to the vast ranging benefits of solar PV panels such as their role in enhancing sustainability, thereby driving the demand for the photovoltaic industry. It is however imperative to understand the imminent threats and challenges in the solar PV market owing to the fast-emerging substitutes such as wind energy which is likely to remain a considerable growth retardant in the foreseeable times. Innovations such as introduction of stellar solar cell layering materials such as crystals of perovskite are substantiating new global opportunities, thereby sufficing expansion in the solar PV market.
Solar photovoltaic services comprise of photovoltaic cells or solar cell technology systems that utilize sunlight as the sole energy source to generate electricity. The conversion process is called the photovoltaic effect as it scientifically refers to conversion of photons to voltage. Solar power has been observed to be the most abundant source of natural energy known for its significance as a reliable renewable energy source available all across the globe.
Solar PV panels are in demand as they can effectively drive reduction of the carbon footprint. Along with this, the advantageous applications of photovoltaics (PV) in generating low-cost energy is expected to propel the growth of the solar PV market over the forecast period. Global solar photovoltaic (PV) market players are placed firmly alongside the surging number of new entrants proposing innovative ideas to the complete utilization of existing solar energy market. The fast-extending competitive environment coupled with large scale deployment of photovoltaic systems powering electric grid and extensive investments in strengthening the R&D infrastructure of the solar PV have resulted in market consolidation.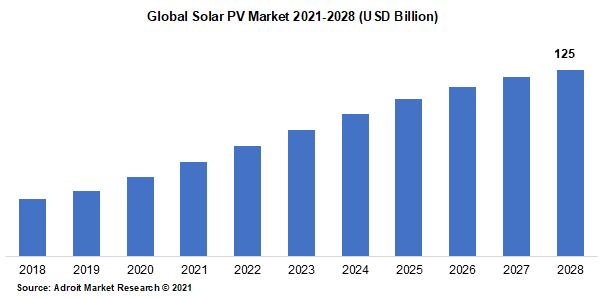 The major players of the solar PV panels market include SunPower Corporation, JinkoSolar Holding, Canadian Solar, Trina Solar, JA Solar Holdings, First Solar, Sharp Corporation, Suntech Power Holding, JA Solar Holdings, Vivaan Solar, Nextera Energy Sources, eSolar and Hanwha Q Cells. The solar photovoltaic market space consists of well-established local players along with international players of global significance. The ancestral solar photovoltaic service providers are observed to introduce advanced technologies and innovative approaches to attain a competitive edge against peers.
Solar Pv Market Scope
| | |
| --- | --- |
| Metrics | Details |
| Base Year | 2022 |
| Historic Data | 2020-2021 |
| Forecast Period | 2022-2030 |
| Study Period | 2020-2030 |
| Forecast Unit | Value (USD) |
| Revenue forecast in 2030 | USD 250.63 billion |
| Growth Rate | CAGR of 5.1% during 2021-2030 |
| Segment Covered | By Technology, By Grid Type, Regions |
| Regions Covered | North America, Europe, Asia Pacific, South America, Middle East and Africa |
| Key Players Profiled | Tata Power Solar Systems Ltd., Canadian Solar Inc., Wuxi Suntech Power Co. Ltd, Nextera Energy Sources LLC, BrightSource Energy Inc., SunPower Corporation, Vivaan Solar, Waaree Group, Trina Solar, Jinko Solar |
Key Segments of the Global Solar PV Market
Type Overview, 2021-2028 (USD Billion)
Modules
Inverters
Balance of System (BOS)
Application Overview, 2021-2028 (USD Billion)
Residential
Commercial and Industrial
Utilities
Material Overview, 2021-2028 (USD Billion)
Cell Type Overview, 2021-2028 (USD Billion)
Full Cell PV Modules
Half Cell PV Modules
Installation Type Overview, 2021-2028 (USD Billion)
Ground Mounted
Building Integrated Photovoltaics (BIPV)
Floating PV
Technology Overview, 2021-2028 (USD Billion)
Monocrystalline Silicon
Thin Film
Polycrystalline Silicon
Regional Overview, 2021-2028 (USD Billion)
North America
Europe
Germany
UK
France
Rest of Europe
Asia Pacific
China
Japan
India
Rest of Asia-Pacific
South America
Brazil
Mexico
Rest of South America
Middle East and Africa
Reasons for the study
Primary objective of the study is to deliver a thorough landscape survey of the global solar PV market. standardised information delivery for industry participants and leaders to benchmark against rising competition.
Aim at assuring that report readers remain significantly ahead of the competition as innovations drive the growth of the market.
What does the report include?
The study on the global solar PV panels market includes in-depth analysis of an array of qualitative aspects including the market drivers, restrains, challenges and opportunities.
The study broadly covers the competitive landscape of the market determining the status and activities of the well-established as well as young players of the global solar PV market.
The study highlights one-stop solutions to all the significant reader queries for better assessment of the market segments. The study also compiles similar data representing the key geographies.
Discussions on solar photovoltaic services, solar PV panels concerning innovations and new technological breakthroughs are integrated in the report on solar PV market assessment.
Market sizes and forecasts of the segment based on type, application, material, cell type, installation type, technology and regions have been provided.
Who should buy this report?
The report on global solar PV market is suitable for the market participants broadly placed across the photovoltaic industry including the solar photovoltaic service providers, distributors, engineers, and technology experts.
Investors, entrepreneurs, and venture capitalists seeking a business perspective and future outlook of the photovoltaics (PV) market.
Analysts and consultants looking for relevant information and insights crucially structuring the global solar PV panels market.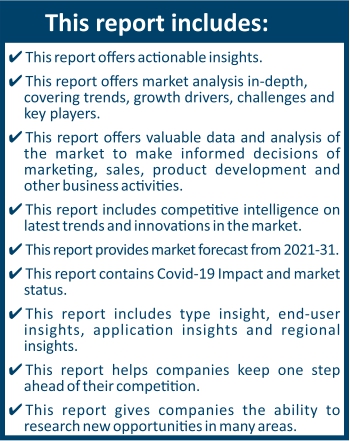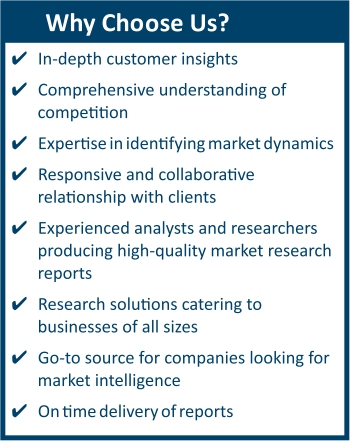 Frequently Asked Questions (FAQ) :
The market value of solar pv market in 2028 was USD 125 billion
The solar pv market is growing at a CAGR of 12% during the forecast period..
The Global solar pv Market is Segmented on the basis of Type, Material, Application, Cell Type, Installation Type, Technology, Regions.
Rapidly rising number of off-grid areas which typically have limited or no access to grid-connected electricity are expected to fuel the demand for solar photovoltaic (PV) solutions over the forecast timeframe. The off-grid areas are heavily dependent on secondary energy sources which includes solar power. Global prevalence of massive sizes of off-grid areas that have compromised access to electricity is quite predominant. As a result, the demand for solar PV panels is expected to rise exponentially over the forecast period.
In addition, investments in support of solar energy are driving the research and development of photovoltaics encouraging technologically advanced solar photovoltaic services. Several international bodies and authorities have deployed standardisations and guidelines associated with renewable power generation. For instance, multiple environmental protection regulations that have been deployed worldwide are mandating power generating companies to adhere to the environment-related regulations asking them to turn towards eco-friendly and clean energy resources.
Solar energy being a very significant renewable resource is understood by many players to effectively meet the current fuel challenges. This explains the massive initiatives undertaken by global and regional market participants in expanding their services in photovoltaics and solar PV panels.
Type Segment
Based on the type, the solar PV market is categorised into modules, inverters and balance of system (BOS). The market demand for modules is expected to witness a sustainable rise with increasing recovery from the COVID-19 pandemic and completion of previously halted projects. Modern outlook towards improved technological approach is expected to support substantial growth of the solar PV inverters. With better system monitoring capabilities and decreased LCOE, the demand for BOS is estimated to increase exponentially. However, in the coming years, revenue generation from solar PV modules is likely to supersede other segments owing to its stooping prices and increasing affordability.
Application Segment
In terms of application, the market is bifurcated into residential, commercial & industrial, and utility. The utility segment has largely dominated the application trends of solar PV market accounting for majority of market share owing to the continuous supply flow of energy with relatively lower expenses as compared to the conventional energy sources. Commercial and industrial solar PV market applications are also expected to witness significant growth over the forecast years.
In May 2020, Amazon came forward with five new utility-scale solar power projects which will successfully power the company's global operations in the U.S., China, and Australia.
Material Segment
Based on the material used, the market is segmented into silicon and compounds. The silicon segment is expected to witness an optimum growth over the forecast tenure with increasing demand for silicon-based photo voltaic cells. The increasing demand can be attributed to the enhanced efficiency coupled with cost effectiveness of the solar cells propelling the market segment. The compounds segment is also expected to grow at a sustainable rate.
Cell Type Segment
In terms of the type of cells, the solar PV market is bifurcated into full and half-cell PV modules. The half-cell PV modules are projected to grow at a faster pace owing to rising adoption as energy providers prefer the more efficient and reliable alternative. Half-Cell PV modules doubles the number of cells and thus maximises productivity. Full cell photovoltaic (PV) modules are estimated to continue the stable growth over the forecast.
Installation Type Segment
Based on the type of installation, the market is fragmented into ground mounted, floating PV, and building integrated photovoltaic (BIPV). Historically, the ground mounted installation segmented accounted for a dominant market share owing to its cost-effective installation service across utility and commercial projects. Floating PV installation is estimated to gradually gather ideal growth.
Technology Segment
In terms of technology, the market is segmented into thin film, monocrystalline, and polycrystalline silicon. The monocrystalline silicon technology segment is anticipated to grow at faster pace through the forecast period with a more prevalent application in solar rooftop systems and large-scale industrial use. The thin film technology is also expected to contribute a significant share in the near future due to the cost-effectiveness of thin film manufacturing.
Asia Pacific is projected to gain highest growth leading the solar photovoltaic services market through the forecast years. The region has a booming solar energy market space with increasing solar irradiance levels coupled with controlled manufacturing costs of components which are the primary factors bolstering the market growth over the projected timeframe. High carbon emission reduction goals have been set in place by countries such as China, and India with increasing electricity demand further augmenting the market growth.
China stands as the world's largest market leading the solar PV market with massive number solar projects. It displays a solar power capacity twice as that of the European countries. Followed by Asia Pacific is Europe with second largest solar power market whereas the U.S. is making striding efforts in renewable energy sources.