Second, the increasing number of foodservice establishments is another factor that is expected to propel market growth. The rising number of restaurants, cafes, and other foodservice outlets across the globe is anticipated to create a significant demand for soda fountain machines. Third, the growing popularity of home-based carbonated beverage dispensers is also expected to contribute to market growth. Home-based carbonated beverage dispensers are becoming increasingly popular due to their convenience and ability to dispense a variety of beverages. This is expected to fuel market growth over the forecast period.
Fourth, technological advancements are projected to provide a major boost to market growth over the forecast period. Soda fountain machines are now available with advanced features such as touch screens and self-cleaning mechanisms that are attracting customer attention and boosting sales. Additionally, manufacturers are continuously introducing new products with innovative features such as Bluetooth connectivity and energy-saving modes that are further expected to drive market growth over the coming years.
There has been an increase in demand for sparkling drinks in recent years, owing to their refreshment and hydrating properties. In addition, the changing consumer preference towards healthy beverages is also driving the demand for these drinks. According to World Health Organization (WHO), nearly one-third of adults worldwide are obese and about half of them are overweight. This rising obesity problem has led people to look for alternative options such as sparkling water and seltzer water, which are low in calories
A soda fountain machine is a device that dispenses carbonated drinks such as soda, seltzer water, and sparkling water. The machine typically consists of a pump, a CO2 tank, and a dispensing valve. There are two types of soda fountain machines: lever soda fountain machines and push button soda fountain machines. Lever machines are operated by pulling a lever, while push button machines are operated by pressing a button.
The soda fountain machines market is expected to grow from USD 1.06 billion in 2016 to USD 1.43 billion by 2031, at a CAGR of 2.66% from 2016 to 2031. The market growth is driven by the increasing number of restaurants and cafes, and the rising demand for carbonated drinks and juices.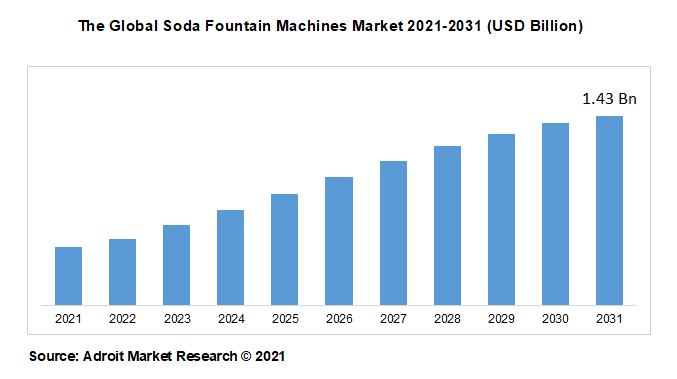 There are several restraining factors of the soda fountain machines market. The high initial investment is a key factor that is hampering the market growth. Also, the maintenance cost associated with these machines is quite high, which is another restraint for the market. Moreover, these machines occupy a large space, which is another challenge for market growth. However, with increasing demand the market is also going to be boosted during the forecast period.
In the soda fountain machines market, some of the key players include Coca Cola, PepsiCo, Royal Crown Cola Company, and Dr. Pepper Snapple Group. These companies have a strong presence in the North American and European markets. In Asia Pacific, Chinese players such as Joyoung Company Limited and Hangzhou Youngsun Intelligent Equipment Co., Ltd. are expected to grow at a significant pace owing to the growing demand for soda fountain machines from restaurant and cinema applications in China.
Segment Analysis
The lever type Segment to be on top of the market
As the demand for carbonated drinks continues to grow around the world, so does the market for soda fountain machines. In terms of type, the market is segmented into lever soda fountain machines and push button soda fountain machines. Among these, the lever type is expected to see the highest growth during the forecast period. There are several reasons for this. First, lever soda fountain machines are generally more affordable than push button models. This makes them a more attractive option for small businesses and individual consumers. Second, they are easier to use and require less training than push button models. This makes them a good choice for busy restaurants and other businesses that don't have time to train staff on using a more complex machine. Finally, lever soda fountain machines are becoming increasingly popular in home settings. As people become more health-conscious, they are looking for ways to make their favorite carbonated drinks at home without having to buy them from a store. Lever machines make this possible, and as more people learn about them, their popularity is expected to continue to grow.
The restaurant application segment to hold the most market share
The restaurant application segment is expected to be the largest contributor to market growth during the forecast period. The increasing number of quick service restaurants (QSRs) and fast casual restaurants across various regions is one of the key drivers for this segment's growth. In addition, these restaurants are increasingly adopting soda fountain machines as they offer cost-effective and efficient beverage dispensing solutions.
Asia Pacific to dominate the market
The Asia Pacific region is expected to be one of the leading market for soda fountain machines during the upcoming years in the forecast period. This is due to the growing awareness about the health benefits of sparkling water and the increasing preference for healthy alternatives to sugary drinks. The region of North American and Europ are also being expected to grow at a significant rate during the upcoming years in the forecast period, owing to the increasing demand for soda fountain machines in restaurants and cafes.
Covid-19 Impact & Market Status
The outbreak of the COVID-19 pandemic has had a significant impact on the soda fountain machines market. The market is expected to decline in 2020 as a result of the pandemic.
Latest Innovations in the Global Soda Fountain Machines Market: A Snapshot
In 2019, the United Kingdom-based company AstraZeneca acquired Alexion Pharmaceuticals inc. for a sum of $39 billion, which was one of the biggest transactions in the global pharmaceutical industry. The acquisition helped AstraZeneca to sharpen its focus on rare diseases and expand its product portfolio.
In 2019, Pfizer Inc., a US-based pharmaceutical company, acquired Array Biopharma Inc., at an enterprise value of $10.64 billion in order to strengthen its oncology business and expand its drug portfolio. This acquisition will add three blockbuster drugs to Pfizer's pipeline and is also expected to drive growth in future periods.
In March 2020, Sanofi announced that it had completed the acquisition of Ablynx, a Belgium-based biotech company for around €3.9 billion ($4.4 billion). The deal was first announced on January 22nd, 2018, and brought together two companies that were leaders in their respective fields (Sanofi in biologics and Ablynx in nanomedicine).
The aim of trade research evaluation is to give lessons which are reliable and trustworthy on the universal Soda Fountain Machines Market. Data which is complicated has been identified by the research study and it also shows the current and past state of the industry along with various market drifts which are expected and expected size of the market. All the descriptions of the sector have been recognized by the report study which also includes leaders of the market, investors, customers, and new entrants

Soda Fountain Machines Market Scope
| | |
| --- | --- |
| Metrics | Details |
| Base Year | 2022 |
| Historic Data | 2021-2022 |
| Forecast Period | 2022-2031 |
| Study Period | 2021-2031 |
| Forecast Unit | Value (USD) |
| Revenue forecast in 2031 | USD 1.43 billion |
| Growth Rate | CAGR of 2.66% during 2021-2031 |
| Segment Covered | Type, Application, Regions |
| Regions Covered | North America, Europe, Asia Pacific, South America, Middle East and Africa |
| Key Players Profiled | Coca Cola, PepsiCo, Royal Crown Cola Company, and Dr. Pepper Snapple Group. These companies have a strong presence in the North American and European markets. In Asia Pacific, Chinese players such as Joyoung Company Limited and Hangzhou Youngsun Intelligent Equipment Co., Ltd. |
Key Segments of the Soda Fountain Machines Market
Type Overview, 2021-2031 (USD Billion)
• Lever Soda Fountain Machines
• Push Button Soda Fountain Machines
Application Overview, 2021-2031 (USD Billion)
• Restaurant
• Cinema
• Others
Regional Overview, 2021-2031 (USD Billion)
North America
• U.S
• Canada
Europe
• Germany
• France
• UK
• Rest of Europe
Asia Pacific
• China
• India
• Japan
• Rest of Asia Pacific
South America
• Mexico
• Brazil
• Rest of South America

Frequently Asked Questions (FAQ) :
Soda Fountain Machines Market is projected to reach USD 1.43 billion by 2031, growing at a CAGR of 2.66%
The Soda Fountain Machines market is growing at a CAGR of 2.66 % during the projection period
The top leaders analyzed in the Soda Fountain Machines market study are GEA Group, Tetra Pak International S.A., Top Y Machinery Co., Ltd., Marchesini Group SpA, and IMA SPA