The global smart dust market is expected to bounce back from the pandemic led economic disruption. The market by 2028 is projected to grow at an annualized CAGR rate of 8.5% reaching revenue close to USD 902.3 million. This impressive growth of the global smart dust market is supported by the continued penetration of nanotechnology, sporadic growth in network and expanded connection with nature, and minor electronic gadgets catching huge amount of data from the environment giving rise to dispersed sensor systems.
Additionally, the smart dust systems are more in demand as they work without human intervention, have their own power supply, capability to monitor environment at a greater level which are collectively increasing demand for micro size computing devices. These are some key reasons boosting the global smart dust market.
However, privacy concerns, control, expense, pollution, potential health risks, and legal issues may lead to market saturation which may depress the demand for microelectromechanical sensors (MEMS). Nevertheless, the disadvantages are being managed and converting them to potential advantages. For example, to address the privacy issues IPv4 protocols are used, the devices are being better controlled by introducing intrusion detection system. This is poised to ensure a great growth opportunity for the global smart dust market.
Smart dust is a wireless network of sub-millimeter-scale autonomous computing and sensing devices that are smaller than grain size. The smart devices sense and record data such as temperature, chemicals, sound, toxins, etc from the environment and transmit the data wirelessly to the larger computer systems to take further actions. For example, micro sensors that monitor road traffic and road surface damage can also be classed under smart dust.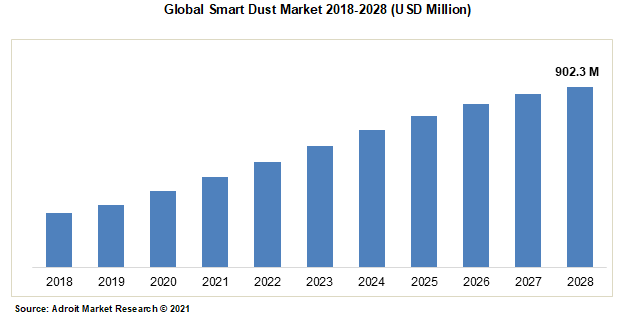 The entities and large corporations who have led the development of smart dust technologies are Defendec, White Labs, Civic Smart, Cleverciti Systems GmbH, Smartdust Solutions, Valarm, Crossbow, BetaBatt, Hitachi, Cisco Systems, Cargil, General Electric, and IBM among all the major players operating in the smart dust market
Key Segments of the Global Smart Dust Market
Type Overview, 2018-2028 (USD Million)
Carbon Neutral Data Center
Hyperscale Centers
Enterprise Type
Colocation Data Centers
Others
Application Overview, 2018-2028 (USD Million)
Hardware (servers, cooling and power, storage, and networking)
Software and Platform
Support Services
Industry Overview, 2018-2028 (USD Million)
Agriculture
Industries
Environment
Transportation
Healthcare
Aerospace
Defense
Regional Overview, 2018-2028 (USD Million)
North America
Europe
Germany
UK
France
Rest of Europe
Asia Pacific
China
Japan
India
Rest of Asia Pacific
South America
Brazil
Mexico
Rest of South America
Middle East and Africa
Reasons for the study
To highlight the changing demographics of the global smart dust industry worldwide.
To uphold and identify the major driving forces of the global smart dust market.
To study the interface between the global smart dust market and the customer.
To elaborate strategizing the marketing for global smart dust industry.
What does the report include?
Market size, market statistics, and other financial details of the global smart dust market.
Businesses that are bringing innovative solutions in smart dust technology.
Highlights of average profit margin of investing into the segments of the smart dust.
The report on the global smart dust market provides data, analysis, and charts including financial rations of the industry, revenue forecasts, historical, and forecast growth.
The report studies the major players, profitability analysis, SWOT analysis, trends shaping the global smart dust technology industry, current operating conditions of the market, and Porter's Five Forces Analysis.
Who should buy this report?
This report is useful for all the interested players in the global smart dust industry including the technology innovators, scientific researchers, R&D experts, business professionals, academicians, and others.
Application of smart dust in monitoring real world phenomenon is proving extremely beneficial to the world. This has led to a rising adoption of smart dust technology in agriculture, healthcare, defense etc. The rising popularity of micro computing devices, increasing demand for minimal size and advanced tracking and monitoring systems, rapidly flourishing miniaturization technologies are some key factors driving the growth of global smart dust technology market.
Market players to stay competitive are working on advancing the smart dust technology field. In regards to the same, IBM is working on developing tiny computers smaller than a grain of sand that could help authenticate products, track medications with many other functionalities. DARPA's SHIELD Program is implementing smart dust technology developed micro-chips for tracking and authenticating supply chain of computer chips in defense. The smart dust applications and its profitability is projected to remain at a higher level.
Type Segment
For reader understanding and absolute investment ease and confidence, a segment-wise analysis of the global smart dust market has been successfully incorporated based on which colocation data centers, carbon neutral data center, and hyperscale centers are identified as top categories based on type of smart dust.
Application Segment
Besides support services, software and platform, followed by hardware (servers, cooling and power, storage, and networking) are termed as core categories of the smart dust market based on application segment. The support services segment accounted for a major share in the global smart dust technology market. The smart dust is revolutionizing the support services with enhanced medical technology and environmental monitoring.
Industry Segment
Depending upon various industry segments the smart dust technology is classified into various categories such as agriculture, industries, environment, transportation, healthcare, aerospace, and defense. The agriculture segment recorded maximum growth. The use of smart dust technology is increasing in agriculture sectors. Smart dust in agriculture helps monitor nutritional requirements of crops, watering, fertilization, and pest control. The valuable information gathered by smart dust is helping farmers improve the crop quality and track plant's growth. This is providing better yield leading to increased revenue benefits.
The North American region is one of the most mature markets in the global smart dust technology contributing greatly to the growth of global smart dust market. This reflects in high penetration of micro computing technologies in the areas like defense, healthcare, environment, etc. Its market share is projected to increase greatly in the forecasted years.
Also, Asia Pacific is the next major contributor to the growth of global smart dust market due to increasing adoption of smart dust technologies, innovation in miniaturization, and other.