The fast expansion of the real estate industry as a result of 100 percent foreign direct investment in townships, smart cities, commercial buildings, and settlement development projects is encouraging investment, raising the value of housing properties.
It's being expected that by 2028, the Smart Bed market cap will hit USD 739.18 million at a CAGR growth of about 7.25 %.
Impact of Covid-19 on the Market
As the COVID-19 virus grows, regulatory agencies throughout the globe are being required to undertake strict shut downs and travel restrictions. Moreover, this has had a huge influence on the Smart Bed industry's growth.
The COVID-19 pandemic disrupted supply chain systems, since a number of fundamental equipment and consumables are significantly reliant on foreign imports. Moreover, the strict demand of governmental bodies to adhere to social distance requirements pushed businesses to function with a basic minimum of workers, resulting in a decline in the efficiency rate of the sectors. As a result, all of these problems harmed the Smart bed business.
Manual Smart Beds Will Propel The Global Smart Bed Market Growth
In 2020, the manual category had the largest global smart bed market share, and this trend is likely to continue throughout the smart bed market forecast timeframe. Manual smart beds are best for small operations that require a lot of caution and human involvement. Customers or businesses can go in a cost-effective and thorough manner by using a manually operated smart bed. This category is predicted to increase at a significant rate because to the convenience and advantages of manual smart beds.
The Healthcare Segment Will Be The Leading Segment Due To Growing Demand From Smart Hospitals.
The healthcare sector is expected to demand a significant segmental position in the global market as a result of its rising comfort facilities and offerings. Furthermore, developments in medical technologies have allowed the medical industry to invest in better healthcare options, leading in an increase in demand for new items in smart hospitals. Smart medical beds have become more vital in monitoring patients and giving medicines, improving the global market's growth potential. Smart beds in healthcare facilities are predicted to grow fast throughout the world because they can detect critical signs in individuals early, allowing healthcare professionals to respond swiftly to the patient's condition, and it has expanded the usage of smart beds in health systems.
The expansion of smart beds in health facilities is due to the rising appearance of hospital beds as more sophisticated medical instruments with a greater emphasis on the comfort and safety of patients. Body temperature, blood, pulse, oxygen, and pressure sensors are all included in these beds. These smart beds also have percussive and vibration functions, which are beneficial for patients who are sensitive to pneumonia or have respiratory disorders.
Specialty Distribution Have The Largest Market Share In Smart Bed Market
The specialty store distribution network segment is expected to dominate the smart bed market in terms of revenue in 2019, with a share of 67 percent. The benefits of speciality stores include knowledgeable employees, a large selection of product categories, product demos, and quick product delivery. These shops offer customer service training to their personnel, and some even provide price-matching promises. Specialty stores are one of the key distribution channels in emerging nations such as India, Bangladesh,Thailand, Vietnam and China.
Furthermore, large retail chains are concentrating on opening new locations with an unique layout, which is expected to help this industry flourish. For example, Sleep Number opened a new store in the Flatiron neighbourhood in 2018. A big digital map depicting how people sleep around New York is part of the retail experience. To give value-added items, the Sleep Number retail experience blends the newest technologies with the knowledge of its sleep specialists.
From 2020 to 2029, the online distribution channel category is predicted to grow at the quickest rate of 5.1 percent. The increasing amount of smartphones and internet users, particularly in industrialised nations, fuels sector expansion. E-commerce channels, such as social networking and Google Ads, also play an important role in influencing customer choices. The rising number of online shops selling competitively priced items is also contributing to the segment's rise. eBay, Aliexpress, Amazon, Walmart, and Wayfair are several well online merchants, in addition to company-owned web portals in the industry.
North America Followed By APAC Region Are Dominating The Smart Bed Market Growth.
In United States especially north america holds a market share of 63 percentage in 2020, United States especially north america will be the industry leader. The quick adoption of modern home furnishings, notably smart beds, has expanded in North America due to the rapid expansion of the online network. Smartphone utilization, as well as mobile cellular contracts and internet usage, is on the rise within region, boosting the appeal of smart beds.
People in the United States are increasingly demanding excellent sleep due to a variety of sleep-related problems. As per american sleep association 70 million people in the USA suffer from sleep disorders. In fact, over 25 million Americans suffering severe chronic obstructive pulmonary disease.
Due to enormous home remodelling projects undertaken by clients as a result of increasing urbanization and the region's rising purchasing power, China accounts for a substantial portion of the regional market, fuelling demand for smart beds. In recent years, Asia Pacific has indeed been leading the charge in digitalization and influencing global technology trends. The most technologically sophisticated countries in the region include Singapore, China, Japan, South Korea, and India. Cutting edge smart home devices and connected device technologies are available in these technologically savvy nations. Over the projected period, these market developments are expected to enhance demand for smart clocks in the area.
Tourism has been rapidly increasing over the world. Additional hotel rooms are likely to be required to meet the rising tourist sector's demand, resulting in a rise in smart furniture such as beds and mattresses. The furniture sector would gain from either the hospitality industry's future demand.
In the forecast timeframe, 2021-2029, the worldwide smart bed market is expected to increase at a CAGR of 5.8%, from USD 2.99 billion in 2021 to USD 4.44 billion in 2029.
Smart beds are a type of smart bed that lets customers to go beyond the fundamental functions of their beds by automatically altering the settings to the users' comfort. Smart beds give customers with the both pleasure and health advantages. Smart mattresses use cutting-edge technology with unique features to give comfortable modifications and networking while sleeping. A few of the features include sleep tracking, temperature settings, smart fabric technology, flexible bases, anti snoring functionality, Internet of things, and smart home networking.
The demand for smart products, such as smart beds, has grown as technological advancements in the healthcare sector have improved care delivery and treatment outcomes. Robotics, digitization, and other technological advancements have been widely used in smart hospitals to enhance treatment efficiency and expand the usage of smart beds to measure sleep quality and other vital indicators. As just a consequence of the fast technological development in healthcare, the need for complex goods has grown. For example, Forbes, an American business magazine, reported in July 2021 that advances in medical science enable healthcare firms to deliver more tailored treatment and be preemptive in health situations. Additionally, this will assist medical institutions in having additional testing options. 3-D printing, telemedicine, artificial intelligence, augmented reality and virtual reality, and other technologies are increasingly becoming incorporated into medical practices, and the paradigm has evolved radically. In March 2020, for example, AT&T teamed with Elo Self-Service Solutions and LifeMedID to speed patient registration and consult, giving the firm a competitive advantage in offering healthcare solutions. The technologies being used are expected to increase the need for smart beds in smart hospitals.
More over half of the world's population lives in cities. The worldwide urbanisation rate is 55.7 percent, according to the UNCTAD. Furthermore, the need for smart beds is boosted by the parabolic growth in population growth rate. As a result, growing urbanisation and population growth benefit the residential and hotel industries, increasing demand for smart beds. Furthermore, the hospitality business offers its consumers the utmost comfort and sleep. As a result, the hotel sector is requesting more comfortable beds in order to give better services. As a result, growth of smart beds in the hotel industry is increasing. Furthermore, due to urbanisation, there is an increase in the healthcare industry and enhanced bedding alternatives in metropolitan and developed regions, which expands the market.
As technology progresses at a fast pace, consumers are seeking for fresh ways to better their lifestyles. It has sparked customer enthusiasm in adopting cutting-edge technology and smart solutions, which bring a slew of advantages. Increased client interest in establishing a home automation ecosystem has spurred demand for smart home accessories, such as smart beds, which is likely to stimulate product demand in residential spaces. According to Xiaomi Corporation, 70% of individuals have started making adjustments in their housing conditions since the epidemic began in March 2020, and nearly 51% have acquired at least one smart home gadget throughout the pandemic.
Copyright infringement is the illegal manufacture or distribution of products in the name of someone else without their consent. This is a widespread technique in the worldwide bedding industry. Copyright infringement companies deliver faulty and inferior bedding to consumers' homes for much less than the brand name price. Furthermore, the sale of counterfeit bedding items bearing a similar brand name but lacking adequate safety certifications has grown common, limiting the expansion of the smart bed business.
Manufacturing and selling products under many trademarks might taint the brand's or company's reputation. Copyright infringement firms might penetrate distribution channels and offer counterfeit goods, affecting customer demands and restricting product demand. The proliferation of counterfeit goods available through internet channels may limit the smart bed market's expansion.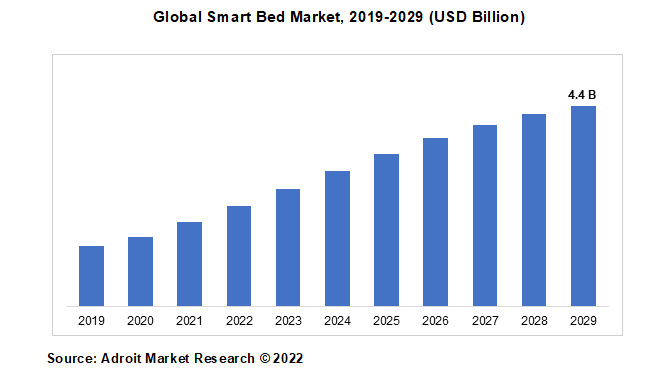 Key players operating in the global Smart Bed market include PARAMOUNT BED CO. LTD.; ReST; Sleep Number Corporation; Ascion, LLC.; Hi-Interiors srl; Ultimate Smart Bed; Stryker Corporation; The BodiTrak; Hill Rom Holdings Inc.; Invacare Corporation and others.
These companies have used a range of strategic planning to improve their position in the market. These companies' main growth strategies include expansion, new product development, and cooperation in order to improve their product range and geographical presence to address the rising demand for Smart Bed from emerging nations.
Latest Innovation in the Global Smart Bed Market: A snapshot
Aron I. Schwartz, 51, was formerly the chief executive of ACON Investment, and on March 21, 2022, he was named to the Management board of Invacare Corporation.
Sleep monitoring, automatic smart fabric technology, bedding firmness adjustment, climate control, flexible bases, anti snoring functionality, Internet of things, and smart home connectivity will all be new advancements in the Smart Bed Market by 2021.
Stryker Corporation unveiled the ProCuity Bed Series in October 2020, which are linked and expandable beds with wireless and enhanced fall prevention technology for all patient care scenarios.
Smart Bed Market Scope
| | |
| --- | --- |
| Metrics | Details |
| Base Year | 2020 |
| Historic Data | 2018-2019 |
| Forecast Period | 2021-2028 |
| Study Period | 2018-2028 |
| Forecast Unit | Value (USD) |
| Revenue forecast in 2028 | USD 4.44 billion |
| Growth Rate | CAGR of 5.8 % |
| Segment Covered | Type, End User, Distribution Channel, Regions |
| Regions Covered | North America, Europe, Asia Pacific, Middle East and Africa, South America |
| Key Players Profiled | PARAMOUNT BED CO. LTD.; ReST; Sleep Number Corporation; Ascion, LLC.; Hi-Interiors srl; Ultimate Smart Bed; Stryker Corporation; The BodiTrak; Hill Rom Holdings Inc.; Invacare Corporation and others |
Key Segments of the Global Smart Bed Market
By Type Overview, 2019-2029 (USD Billion )
Manual
Semi-Automatic
Fully Automatic
By End User, 2019-2029 (USD Billion )
Residential
Hospital
Other End Users
By Distribution Channel, 2019 – 2029 (USD Billion)
Supermarkets/Hypermarkets
Specialty Stores
Online
Other Distribution Channels
Regional Overview, 2019-2029 (USD Billion )
North America
Europe
Germany
France
UK
Rest of Europe
Asia Pacific
China
India
Japan
Rest of Asia Pacific
South America
Mexico
Brazil
Rest of South America
Middle East and South Africa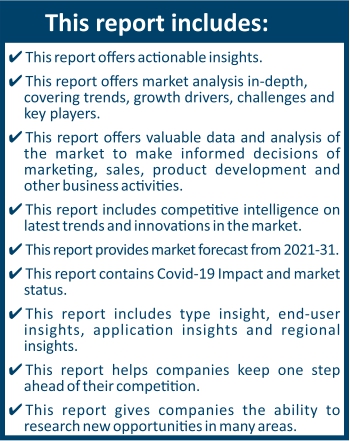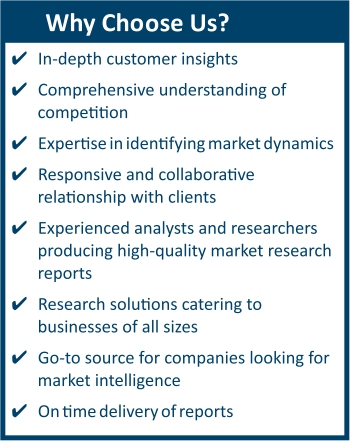 Frequently Asked Questions (FAQ) :
The market value of smart bed market in 2029 was USD 4.44 billion.
The smart bed market is growing at a CAGR of 5.8% over the forecast period.
North America dominated the market for smart bed market and accounted for the largest revenue share.
The top companies that hold the market share in smart bed market are PARAMOUNT BED CO. LTD.; ReST; Sleep Number Corporation; Ascion, LLC.; Hi-Interiors srl; Ultimate Smart Bed; Stryker Corporation; The BodiTrak; Hill Rom Holdings Inc & among others.
To get latest version of smart bed market report can be obtained on demand from the website.