The market for sliding door harnesses is primarily driven by rising awareness of vehicle safety and a rising desire for lighter cars. Strict pollution regulations, demands for fuel efficiency, and falling production costs are driving up demand for lightweight automobiles. To make automobiles lighter without sacrificing strength or durability, lightweight materials like plastic and aluminium are used. Furthermore, by offering better protection from outside dangers, the usage of sliding door harnesses contributes to the improvement of safety features in passenger cars. This has increased their use in commercial vehicles, fueling the global market growth for sliding door harnesses. Along with this, government rules about car safety requirements also significantly contribute to the growth of sliding door harness sales in various geographical areas. As an illustration, the European Union has put into effect a set of motor vehicle safety standards that require the installation of specific safety features in passenger cars. Over the course of the projection, this is anticipated to spur the sliding door harness market yet further.
Sliding door harness is a crucial component in automotive applications because it offers superior protection from outside dangers like dust and moisture. Making sure that all of the doors are firmly closed and locked, contributes to enhancing the vehicle's safety characteristics. Likewise, a crucial part of making it easier for travellers to enter or exit the car is played by the sliding door harness. The use of lightweight materials like plastic and aluminium in place of expensive steel components further contributes to sliding door harness's ability to save production costs and vehicle weight. Due to their expanded security measures and capacity to maintain sturdiness and longevity, these items are now being used more frequently in large vehicles.
A system of cables and connectors known as a sliding door harness is used to operate an electronically actuated sliding door in a car. It supplies electricity to the electric motor that is attached to the sliding door assembly. When running vehicles with automated doors, the harness helps to ensure safety by enabling the actuators and sensors connected within the system to function properly. It also aids in preventing any malfunction or failure brought on by temperature changes, voltage fluctuations, and other environmental factors like dust or water. Because of this, they are much more crucial for usage in commercial vehicles like vans, coaches, station wagons, etc., where the welfare of the passengers is of the biggest significance.
At a CAGR of 6.5% from 2021 to 2031, it is anticipated that the global market for sliding door harnesses would increase from USD 3.32 billion in 2021 to USD 5.09 billion by 2031.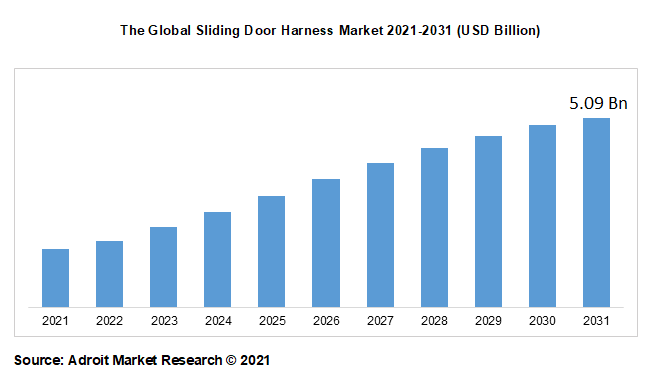 The demand for lightweight automobiles is on the rise, and collision avoidance consciousness is growing, which are both factors contributing to the market's expansion. Further, the industry's expansion is anticipated to be aided by the rising demand among automakers for sliding door harnesses.
The high cost of its installation and upkeep is the key factor restricting the global market for sliding door harnesses. Furthermore, the market's expansion during the projection period may be hampered by a lack of uniformity in component design. Additionally, the COVID-19 outbreak-related instability in some nations' economies may result in a decline in the demand for automobile items, which would be detrimental to the worldwide sliding door harness industry. Furthermore, during the projected period, this market's growth may be constrained by stringent government regulations about safety requirements. The expansion of this market is additionally hampered by issues with labour and production cost issues. Moreover, in the coming years, it is anticipated that Europe's dominance over this market will be challenged by protracted product lifecycles and competitive pressures from Chinese suppliers. Meanwhile, it is anticipated that rising R&D spending and the drive for electric vehicles would open up the new market potential for sliding door harnesses.
COVID-19 Impact and Market Status
Due to different safety requirements put in place by governments all over the world, the COVID-19 pandemic has resulted in a decrease in the manufacture of automobiles. During this time, it is anticipated that this will slow the growth of the worldwide sliding door harness market, along with diminished consumer expenditure and economic instability. A second factor compounding the industry's slump is supply chain interruptions brought on by border controls. Nevertheless, despite the negative effects of COVID-19 on the manufacturing and sales of automobiles, several producers have kept funding R&D for cutting-edge technology like driverless and electric vehicles. Eventually, this is probably going to lead to more prospects for the sliding door harness industry to expand globally. Moreover, throughout the projected period, rising expenditures in sliding door harnesses from OEMs and aftermarket providers are anticipated to support market expansion. In light of this, it can be said that even if the COVID-19 pandemic has severely harmed the worldwide sliding door harness market's current state, there are still promising signs for its potential to expand in the future. These are possibilities that businesses should seize, and they should develop plans that will enable them to profit from them.
Segment Analysis
Type I followed by Type II to emerge as the Most Booming Segment
The market for sliding door harnesses is divided into Type I and Type II categories based on types. Due to its use in vehicles such as electric, hybrid, and other, the Type I segment is anticipated to dominate the global sliding door harness market. Due to its growing use in electric, hybrid, and other cars, the Type II segment is also anticipated to have considerable expansion during the projected timeframe.
The Most Promising Deployment Segment is the On-premise
On-premises, cloud-based, and hybrid deployments make up the market's segmentation by deployment. Due to its low installation and maintenance costs, as well as its adaptable deployment choices, the on-premise segment is anticipated to occupy the majority of the market share for sliding door harnesses over the projection period.
The Most Prominent Application Segment is the OEM Sector
Divisions for OEM and after-loading products are separated based on applications. Due to the high demand from vehicle manufacturers, the OEM segment led the world market for sliding door harnesses. Its excellent efficiency and low cost are further factors boosting this sector's growth. Due to increasing demand from participants in the manufacture and supply, the after-loading category is anticipated to increase steadily during the projection period.
The European Region to render Ample Financing Opportunities
The North American, South American, African, Asian Pacific, European, and Middle Eastern regions make up the majority of the global sliding door harness market. Europe is anticipated to rule the worldwide sliding door harness market throughout the forecast period among these areas. This is a result of the region's rising demand for electric automobiles. Furthermore, the expansion of this market in Europe has been significantly influenced by the strict government rules governing safety procedures.
The leading companies in the world market for sliding door harnesses are Delphi Technologies PLC (U.K.), Lear Corporation (U.S.), DENSO CORPORATION (Japan), TE Connectivity Ltd. (U.S.), Yazaki Corporation (Japan), Sumitomo Electric Industries, Ltd. (Japan), Fujikura Ltd. (Japan), FURUKAWA ELECTRIC CO., LTD. (Japan), Aisin (Germany). To expand their reach in this marketplace and boost their proportion of the sliding door harness market size, these players have taken several techniques, including new releases, expansions, and alliances.
Recent Developments in the Sliding Door Harness Market
• 12-pole sliding door harnesses with increased corrosion resistance and high tensile strength have been made available by Molex for use in automobile applications. Furthermore, Yazaki Corporation has unveiled intentions to invest USD 3 billion by 2023 it increase its production capacity across Japan, Mexico, and Taiwan. These expenditures will give the business a competitive advantage in the marketplace and help it expand its branches all over the world.
• The new line of sliding door harnesses for electric vehicles that Kromberg & Schubert introduced in 2021 is compliant with EU regulations. To create goods of the highest calibre and with unique features that meet the demands of the automotive sector, the enterprise has also cooperated with other organisations. Long-term growth of the worldwide sliding door harness marketplace is anticipated as a result of these corporate initiatives.
Sliding Door Harness Market Scope
| | |
| --- | --- |
| Metrics | Details |
| Base Year | 2021 |
| Historic Data | 2020- 2021 |
| Forecast Period | 2022-2031 |
| Study Period | 2021-2031 |
| Forecast Unit | Value (USD) |
| Revenue forecast in 2031 | USD 5.09 billion |
| Growth Rate | CAGR of 6.5 % during 2022-2031 |
| Segment Covered | by Type, By Application, by Deployment, Regions |
| Regions Covered | North America, Europe, Asia Pacific, Middle East and Africa, South America |
| Key Players Profiled | Delphi Technologies PLC (U.K.), Lear Corporation (U.S.), DENSO CORPORATION (Japan), TE Connectivity Ltd. (U.S.), Yazaki Corporation (Japan), Sumitomo Electric Industries, Ltd. (Japan), Fujikura Ltd. (Japan), FURUKAWA ELECTRIC CO., LTD. (Japan), Aisin (Germany) |
Key Segments of the Global Sliding Door Harness Market
By Type Overview, 2021-2031 (USD Billion)
Sliding Door Harness

Type II
By Deployment 2021-2031 (USD Billion)
On-premises

Cloud-based

Hybrid
By Application Overview, 2021-2031 (USD Billion)
By Regional Overview, 2021-2031 (USD Billion)
North America
Europe
Germany

France

UK

Rest of Europe
Asia Pacific
China

India

Japan

Rest of Asia Pacific
South America
Mexico

Brazil

Rest of South America
Middle East and Africa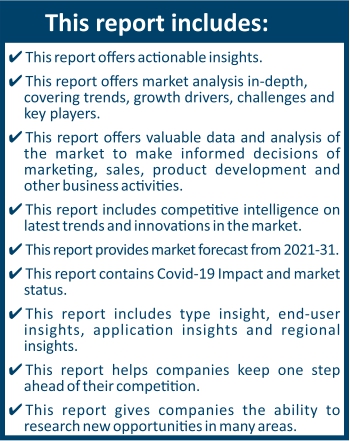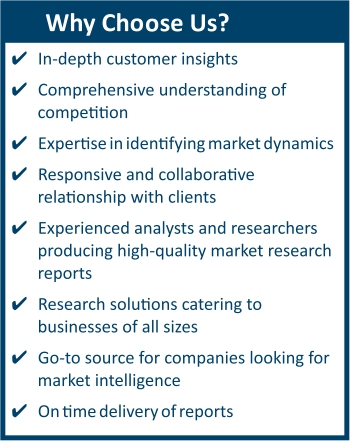 Frequently Asked Questions (FAQ) :
The global Sliding Door Harness market size is expected to reach in USD 5.09 billion
The Sliding Door Harness market is estimated to grow at a CAGR of 6.5 %
The key market players listed in the Sliding Door Harness report are Delphi Technologies PLC (U.K.), Lear Corporation (U.S.), DENSO CORPORATION (Japan), TE Connectivity Ltd. (U.S.), Yazaki Corporation (Japan), Sumitomo Electric Industries, Ltd. (Japan), Fujikura Ltd. (Japan), FURUKAWA ELECTRIC CO., LTD. (Japan), Aisin (Germany)