In recent years, the number of territorial battles has increased over the world. The South and East China Seas, an area rich in hydrocarbons and natural gas and through which trillions of dollars in global trade travel each year, are claimed by six governments
The Scramjet market is expected to grow at a CAGR of 4.58% to reach usd 84.77 BILLION in 2029.
Covid-19 Impact & Market Status
The impact of COVID-19 on the Sramjet industry is unknown, however it is projected to last until the second quarter of 2021. For the most of 2020, governments throughout the world were obliged to institute strict lockdowns and limit import–export of raw materials goods because to the COVID-19 pandemic. This resulted in a sharp decrease in the availability of critical raw materials used in the production of ground defence equipment. Furthermore, the countrywide lockdown compelled component manufacturing plants to shut down partially or fully. The COVID-19 pandemic has caused widespread delays in efforts and projects related to the development of new hypersonic technology.
Regulatory agencies all across the world are compelled to enforce stringent lockdowns and travel bans as the COVID-19 epidemic spreads. Furthermore, this has had a significant impact on the expansion of the sramjet industry. The resumption of oil exploration activities and the commencement of industry operations will put the waste oil market back on track.
Around Mach 3 Is Expected To Drive The Scramjet Market Growth
Mach 3 has the most markset share since that helps the companies to attain supersonic speed for their purposes.
While everything below Mach 1 is classified as subsonic, aircraft that travel at or near Mach 1 are classified as transonic. This applies to ships travelling at speeds ranging from 0.8 to 1.3 Mach. Around Mach 1, the compression effect of sound is taken into account, and because of the high drag caused by the compression, transonic aircraft often have swept wings to reduce drag.
The Supersonic range of speed ranges between 1.3 and 5.0 Mach. Planes flying at Mach 1 must be extremely aerodynamic, with sharp edges, since air behaves differently at that speed. Planes travelling at supersonic speeds will create continuous shockwaves, demanding a sleek design. Planes travelling at supersonic speeds must additionally account for aerodynamic heating.
Military Applications Gain The Highest Market Share In Sramjet Market.
As mentioned earlier there has been a rise in political ruse and tuffle among various countries & mostly with the countries who share borders with a lot of neighbouring nations. Hence for this reason the military application is widely utilising scramjet, however supersonic and hypersonic transporataion is also an upcoming trend which is currently utilised by hyperloop by virgin group of companies.
North America Region Will Gain The Lions Share In The Sramjet Market.
The United States plans to deploy hypersonic weapons in the future years, despite Russian and Chinese ambitions to deploy important Sramjet considerably sooner than the United States. China developed the DF-17, which could theoretically strike the US mainland if launched from a naval vessel. Russia proclaimed its Avengard missile operational in 2019 and recently modified Kh-32s to carry hypersonic missiles.
The United States continuously invests, including huge contracts to build hypersonic weapons (Hacksaw). The US is also working on a common missile body that will be used by many armed branches (C-HGB).
Just a few countries throughout the globe have the potential to create scramjet technology for hypersonic missiles, which is critical for achieving hypersonic speeds. Although, in recent times, countries including as India, the United States, and Australia have pushed scramjet technology research. For example, India successfully tested a domestically produced manufactured Sramjet demonstration vehicle (HSTDV) using a scramjet engine in September 2020. India has now entered the club of countries that have perfected Sramjet as a result of the successful launch. The United States Air Force Research Laboratory conducted a set of scramjet engine tests in November 2020. Furthermore, the United States and Australia joined forces in January 2021 to develop air-launched supersonic cruise missiles that have the potential to change the military balance of power in the Asia-Pacific. SCIFiRE stands for Southern Cross Integrated Flight Research Experiment, and it is a new US-Australian Allied Prototyping Initiative that both countries announced in December 2020.
Hypersonic technologies need the development of powerful and dependable scramjet engines, and an increase in worldwide activities to produce efficient scramjet engines is likely to move the Sramjet market forward throughout the forecast period.
Guided missile will propel the sramjet market, guided rockets function by using several ways to monitor the location of a moving object in space. Using a sensor or a heat signature to hunt it down and thereafter strike it with pinpoint accuracy. Particular types of guided systems may be found in missiles, each serving a different operational function.
In 2022 the market for Scramjet was valued at USD 5.2 billion. At a CAGR of 3% the market is exteped to have USD 6.3 billion during the forecast period.
Combustion at supersonic speeds Ramjet, commonly known as Scramjet, is a rocket technology that burns oxygen from the atmosphere rather than carrying oxygen tanks. This is accomplished by pushing air at supersonic speeds and burning the fuel without decelerating the input air speed. Rockets can attain supersonic speeds as a result of this. Sramjet was successfully demonstrated by a company in 2002, when the technology was originally envisioned and tested. In 2007, NASA successfully tested ten flights at hypersonic speeds greater than Mach 10 with its X-43 prototype. DARPA then commissioned Boeing to enhance the technology, resulting in the X-51 model reaching Mach 7. The technique offers important benefits over current-generation engines in that it removes the oxygen cylinder, allowing the aircraft to be lightweight and carry greater cargo. It's also conceivable to fly at hypersonic speeds, which might help us cut down on long-distance trip time.
Lockheed Martin is also working on similar technology with their SR-72 project. Following recent successful testing, the technology is experiencing huge advances and breakthroughs. As early as 2029, the technology is likely to make its way into commercial airspace.
Apart from assessing the 'Scramjet' potential market during 2016 and 2029, the research looks at who may be the industry leaders and what collaborations could help them gain market share.
A scramjet, also known as a supersonic combusting ramjet, is an air-breathing engine that uses atmospheric oxygen as an oxidant rather than transporting it like traditional rocket engines. An aeroplane propelled by this type of propulsion can go faster than any other jet-powered aircraft currently in service. The ability to fly at supersonic speed is the most critical characteristic of these planes (more than Mach five). Scramjet engines use supersonic airflow to burn fuel, allowing for high-speed aerospace and automotive industries jet propulsion.
They are generally employed on rockets and aeroplanes, but due to their comparatively easy design compared to rocket motors that can run at similar speeds, they have also been investigated for use with a propulsion for supersonic vehicles. While both types of ramjets release exhaust that contains some unpressurised atmospheric oxygen, the gas inside a scramjet enters a humidifier that increases its velocity until it approaches the speed of sound; alternatively, they depend on the vibrant pressure created by stream acceleration over curvatures.
In 1991, NASA and Boeing collaborated to conduct the first successful scramjet flight test over the Soviet Union. It was an axisymmetric hydrogen-fueled dual-mode scramjet developed by Moscow's CIAM (Central Institute of Aviation Motors) in the late 1970s, but it was modified on a converted SM-6 missile with a FeCrAl alloy to achieve initial flight parameters of Mach 6.8, before the scramjet flew at Mach 5.5. The scramjet mission was carried out atop the SA-5 surface-to-air missile's "Hypersonic Flying Laboratory," an innovative flight support equipment.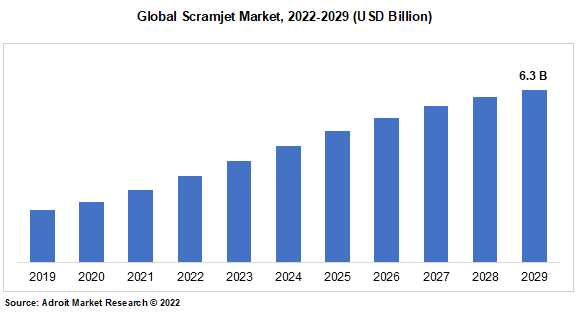 Key players such as NASA, Institute of Mechanics, Aerojet Rocketdyne, Chinese Academy of Sciences, Hypersonix SPARTAN, Boeing, Northrop Grumman, Lockheed Martin Corporation, China Aerodynamic Research and Development Center, Beijing Power Machinery Research Institute, National University of Defense Technology, Physical Sciences Inc, MBDA, Raytheon, Mitsubishi Heavy Industries and others.
The scramjet market is extremely concentrated, with the top three firms controlling almost 90% of the worldwide market. In addition, this circumstance reflects a monopolistic market. NASA, Boeing, Northrop Grumman,are among the biggest enterprises.
Because of the existence of many global competitors throughout the world, the global scramjet market is projected to be fragmented. It has been discovered that key vendors of scramjet are active in introducing technical advances to their goods in order to improve their market position. The conventional scramjet market's value chain includes system makers and integrators, as well as equipment wholesalers, who control the sales & acquisition of raw material situation with significant trade margins.
Latest Innovation in the Global Sramjet Market: A snapshot
NASA's X-43 Hydrogen will be used to power the aircraft. Air-breathing scramjet engines use oxygen extracted from the atmosphere, whereas rockets have their own oxygen supply. Scramjets receive their oxygen in the same way as regular jet engines do. Air-breathing hypersonic vehicles using traditional turbojet technology ought to be capable of carrying more cargo/payload than rocket-powered counterparts merely because they have greater weight and payload space available owing to the lack of oxidizer on board.
Boeing and hypersonix teamed up to develop a hypersonic launch vehicle. The SPARTAN reusable scramjet from Hypersonix is being utilized to develop a long-term space launch vehicle. According to Hypersonix, this aircraft would be capable of hypersonic speeds of over 7,000km/h and would operate on hydrogen.
Scramjet Market Scope
| | |
| --- | --- |
| Metrics | Details |
| Base Year | 2020 |
| Historic Data | 2018-2019 |
| Forecast Period | 2021-2028 |
| Study Period | 2018-2028 |
| Forecast Unit | Value (USD) |
| Revenue forecast in 2028 | USD 6.3 billion |
| Growth Rate | CAGR of 3.0% during 2021-2028 |
| Segment Covered | Type, Application, Regions |
| Regions Covered | North America, Europe, Asia Pacific, Middle East and South Africa |
| Key Players Profiled | NASA, Institute of Mechanics, Aerojet Rocketdyne, Chinese Academy of Sciences, Hypersonix SPARTAN, Boeing, Northrop Grumman, Lockheed Martin Corporation, China Aerodynamic Research and Development Center & among others. |
Key Segments of the Global Scramjet Market
Type Overview, 2022-2029 (USD Billion)
Around Mach 6
Around Mach 3
Others
Application Overview, 2022-2029 (USD Billion)
Military Applications
Supersonic or Hypersonic transportation
Others
Regional Overview, 2022-2029 (USD Billion)
North America
Europe
Germany
France
UK
Rest of Europe
Asia Pacific
China
India
Japan
Rest of Asia Pacific
South America
Mexico
Brazil
Rest of South America
Middle East and South Africa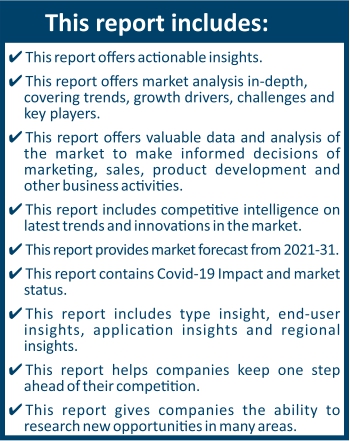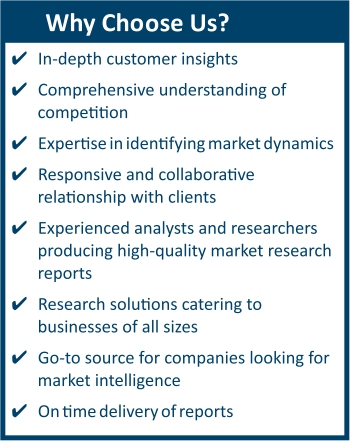 Frequently Asked Questions (FAQ) :
The market value of scramjet market in 2029 was USD 6.3 billion.
The scramjet market is growing at a CAGR of 3.0% over the forecast period.
The application of the scramjet market Supersonic or Hypersonic transportation, Military Applications and other.
North America dominated the market for scramjet market and accounted for the largest revenue share.
The top companies that hold the market share in scramjet market are NASA, Institute of Mechanics, Aerojet Rocketdyne, Chinese Academy of Sciences, Hypersonix SPARTAN, Boeing, Northrop Grumman, Lockheed Martin Corporation, China Aerodynamic Research and Development Center & among others.
To get latest version of scramjet market report can be obtained on demand from the website.