The global Hypersonic market size is expected to reach close to USD 12.5 Billion by 2029 with an annualized growth rate of 9.5% through the projected period.
The global hypersonic market is estimated to grow at a sustainable rate likely to reach close to USD 10 billion by the year 2028 at an exponential CAGR growth of 8.5% throughout the forecast years from 2018 to 2028. The massive rise in growth can be credited to the increasing competitiveness among the global power rivals to gain a lead in the fields of space, defense and military and a parallelly applied field that is technology.
Major power rivals are increasingly accelerating the demand for hypersonic weapons understanding the advantages of the technology. However, counteractive technology developments have led to introduction of advanced radar systems displaying capabilities of detecting the weapon trails, the most significant feature of hypersonic weapons is a crucial challenge.
Rising investments worldwide to enhance radar system capabilities could potentially hamper the growth of the global hypersonic market. Offsetting these, several new market participants are gearing up with tech-developments that are likely to reinstate growth in the forecast years.
Hypersonic objects adhere to the hypersonic range of speed which is exceptionally high exceeding the speed of sound. Hypersonic speed is typically represented by a terminology called Mach, an important statistical concept to determine and compare the speed of different objects with that of the sound.
Hypersonic technology-based devices and objects such as long-range missiles, space launch vehicles and theater-reach or global reach aircrafts particularly designed to transport weapons typically showcase a Mach number somewhere between 5 to 10. Hypersonic vehicles are potent in facilitating the development of new class of flight vehicles achieving faster and easier access to space along with advantages such as rapid military response at long range.
Hypersonic technologies propose an array of advantages thus ensuring a highly efficient and fully equipped system, a particular requirement across defense and military. Hypersonic weapons are popularly adopted and deployed for their enhanced maneuverability a very critical phenomenon in aerodynamics and the ability to conduct a smooth flight.
Unlike the traditional missiles, hypersonic weapons are not easily detected and therefore offer greater advantage over power rivals. The demand for high-speed specifically faster than supersonic speed vehicles and weapons and the need to deploy weapons that can prevent detection are encouraging advancements in hypersonic technologies.
Global hypersonic market players are firmly placed with a well-established foundation witnessing a surge in the number of young market entrants bringing in to the market disruptive technologies with the aim of achieving traditional obsolescence and establishing dominance of the next-generation technologies. The increasing competitive environment with the soaring number of entrants along with the consistent up-gradation of the hypersonic technologies has resulted in market consolidation.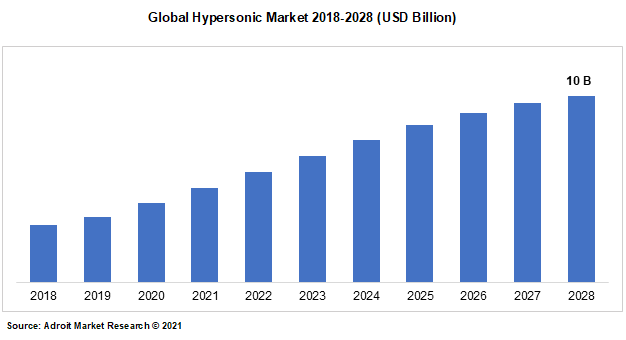 The major players of the global hypersonic market are Raytheon Company, Lockheed Martin Corporation, The Boeing Company, Kratos Defense & Security Solutions, Northrop Grumman Corporation, Brahmos Aerospace, Aerojet Rocketdyne Holdings, SAAB AB, BAE Systems, Hermeus Corp, Velontra, Reaction Engines and China Aerospace Science & Industry Corp. the hypersonic market houses a large-scale well established local players as well as global participants. Additionally, the recognized market players are introducing an array of novel technological solutions and services along with advanced strategies in order to achieve a significant lead in the global market.
Hypersonic Market Scope
| | |
| --- | --- |
| Metrics | Details |
| Base Year | 2020 |
| Historic Data | 2018-2019 |
| Forecast Period | 2021-2028 |
| Study Period | 2018-2028 |
| Forecast Unit | Value (USD) |
| Revenue forecast in 2028 | USD 10 billion |
| Growth Rate | CAGR of 8.5% during 2021-2028 |
| Segment Covered | Type, Application, Product, Regions |
| Regions Covered | North America, Europe, Asia Pacific, Middle East and Africa, South America |
| Key Players Profiled | Raytheon Company, Lockheed Martin Corporation, The Boeing Company, Kratos Defense & Security Solutions, Northrop Grumman Corporation, Brahmos Aerospace, Aerojet Rocketdyne Holdings, SAAB AB, BAE Systems, Hermeus Corp, Velontra, Reaction Engines and China Aerospace Science & Industry Corp. |
Key Segments of the Global Hypersonic Market
Type Overview, 2018-2028 (USD Billion)
Air Launched
Surface Launched
Subsea Launched
Application Overview, 2018-2028 (USD Billion)
Product Overview, 2018-2028 (USD Billion)
Hypersonic Glide Vehicle
Hypersonic Spaceplanes
Hypersonic Cruise Missile
Regional Overview, 2018-2028 (USD Billion)
North America
Europe
France
UK
Germany
Rest of Europe
Asia Pacific
China
Japan
India
Rest of Asia Pacific
South America
Brazil
Mexico
Rest of South America
Middle East & Africa
Reasons for the study
The chief objective of the study is to deliver a highly reliable, accurate and conclusive analysis of the global hypersonic market. Grab a high-end information trail to fortify your commercialization USP and decrease competition.
Ensure a competitive gain based on novel innovations which are growth promising.
What does the report include?
The study on the global hypersonic market covers an all-inclusive survey of the qualitative factors including market drivers, restrains, key trends, and opportunities
The study incorporates competitive analysis consisting of existing and prospective players in the hypersonic industry along with their strategic initiatives and development efforts focused on product portfolio
The research report comprises of qualitative and quantitative inputs of the different market segments based on the type, application and product. Key geographies of the market are also studied with a similar data format.
Actual market size, estimations and forecasts have been incorporated with each market segment stated above.
Who should buy this report?
The report on the global hypersonic market provides a well-documented data archive with relevance to the analytical needs of market participants including the manufacturers, raw material providers, suppliers and distributors along with other intermediaries.
Venture capitalists, entrepreneurs and public organizations looking for detailed future outlook of the global hypersonic market
Researchers, scientists, engineers and space research institutes seeking insights reconstructing the global hypersonic market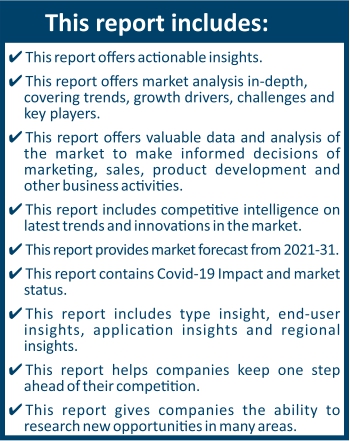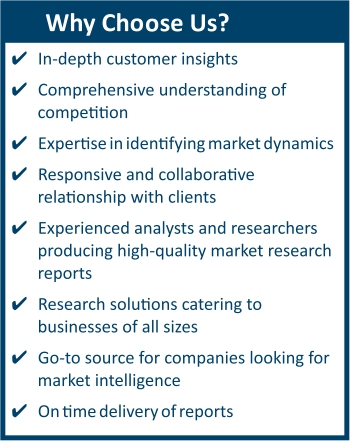 Frequently Asked Questions (FAQ) :
The application of the hypersonic market military, space
The market value of hypersonic market in 2028 was USD 10 billion
The global hypersonic market market is Segmented on the Type, Application, Product, Regions
Increasing power struggle between the fiercely competitive economies added with growing incidences of territorial conflicts all across the globe are speeding up the process of strengthening defense and military profile of countries as a result bolstering the adoption of technologies such as hypersonic weaponry and vehicles.
Hypersonic weapons and objects allow immediate deployment and a fast-speed action which are only some of the advantages of the technology that helps countries in war-like situations facilitating urgent military operations thus propelling the demand for hypersonic weapons as the economic rivals prepare for future possibilities.
Strenuous relations between countries like China, the U.S., and Russia are exponentially accelerating the rate of adoption of advanced and highly efficient technologies such as the hypersonic vehicles and missiles.
Major advantage of hypersonic objects that is the ability to travel at a speed five times faster than the speed of sound is expected to offer lucrative growth opportunities during the forecast years. Developed countries are extensively working towards large-scale deployment of hypersonic technologies at the earliest and in turn displays a substantial influx in investments thus encouraging the growth of the global hypersonic market.
Additionally, soaring rate of technological advancements in the development of scramjet technology that is a vital component in achieving hypersonic speeds by countries like Australia, the U.S., and India is further enhancing the growth opportunities for the global hypersonic market over the forecast.
Type Segment
Based on the type of launch segment, the market is categorized into air launched, surface launched and subsea launched. The air-launched hypersonic segment is likely to experience enormous success rate over the forecast years with extensive launch operations and other initiatives focusing on advanced and successful missions. For instance, the U.S. Air Force recently launched AGM-183A, an air-launched rapid response weapon which is expected to be the nations very first hypersonic-based offensive system to be implemented with real life utilitarian application.
Headquarters of the United States DOD, Pentagon has boldly prioritized its focus on air-launched hypersonic weapons.
Application Segment
In terms of application, the market is split into military and space. Hypersonic technologies are predominantly used in defense and military sectors with an expanding rate of demand and burgeoning rate of adoption as well as deployment.
Countries worldwide anticipating territorial disputes and preparing for worst case scenarios is leading to substantial uptake of hypersonic technologies by the military sector of different economies.
The space segment is also expected to witness a sustainable growth during the forecast years with increasing advancements in hypersonic vehicles and the growing rate of adoption owing to its ability to provide faster access to space.
Product Segment
Based on the type of product, the market is fragmented into hypersonic glide vehicle, hypersonic spaceplanes and hypersonic cruise missiles. With increasing military applications of the hypersonic weapons and the advantages of hypersonic based cruise missiles such as the relatively smaller size and shape with a relatively affordable price range is boosting the growth of the hypersonic cruise missiles segment during the forecast years.
The hypersonic spaceplanes segment is also likely to exhibit substantial growth over the forecast owing to the growing number of space operation involving hypersonic vehicle enabled transport.
The global hypersonic market is diversely spread across various economies including the U.S., China, and Russia. The United States is among the major countries with well-established research and development platforms particularly dedicated to the development advanced technologies used in military and space with the encouraging support of strongly placed government bodies regulating extensive research.
The country also proposes a solid geographic footprint with large-scale manufacturers introducing next-generation technologies and increasing collaborative efforts among private and public organizations with an optimum exchange of investments and fundings. China and Russia are two very predominant marketspaces with massive advancement and skyrocketing initiatives to deploy hypersonic technologies surpassing the U.S. however, countries such as Australia, France, India, Japan and Germany are expected to emerge as critical participants developing advanced hypersonic weapons technology.