The global sauces, dressings and condiments market stood at USD 131.82 billion in 2018. Furthermore, the global market is projected to grow at a CAGR of 4.2% in forecast period of 2019 to 2025.
Spices and condiments have played a major part of human history and nutrition, and has inevitably have an imperative role in the development of most cultures worldwide. There are a variety of salts, sauces, spices, soups, salads, and protein products that are added to the food in order to enhance its aroma and taste or are also consumed directly.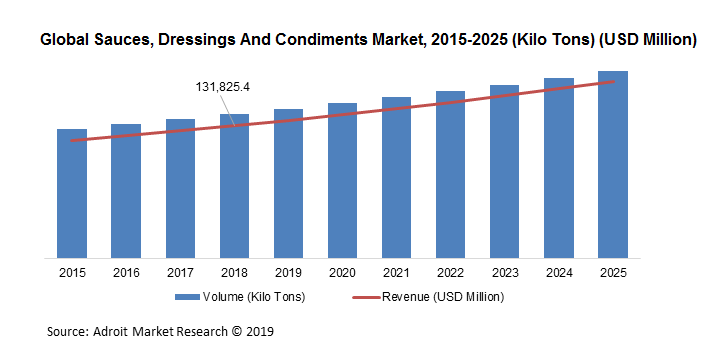 Other than taste, spices also act as antioxidant, antibiotic, antiviral, anticoagulant, ant carcinogenic and anti-in?ammatory agents. Their functional medicinal and healing properties have been well recognized and made use of. Spices have majorly been beneficial and also valued for its ability to make better food taste. Spices are even more essential today as there is an urge for more delicious and spicy food around the globe, along with growing preference for exotic foods and flavors. In medicine, pharmaceutical, perfumery, cosmetics and several other sectors, spices or their extracts have been always used.
Growing popularity of exotic cuisines around the world plays a vital role in boosting the market growth. The growing cross-cultural cuisine interest lead to a considerable increase in demand for exotic cuisine, resulting in augmented consumption of dressings, sauces and condiments. With sales of pasta, sauces and cheese growing, families are also actively adopting Westernized food concepts; and Italian food service outlets are becoming increasingly popular. Consumer preferences and dietary patterns have changed in traditional staple products, like ketchup, mayonnaise and mustard, while in the United States consumption of flavorful ethnic sauces, and condiments has increased significantly.
Owing to these factors, the market demand is projected to grow at a healthy rate over the forecast period despite sauces, dressings and condiments market being a matured industry across most parts of the globe.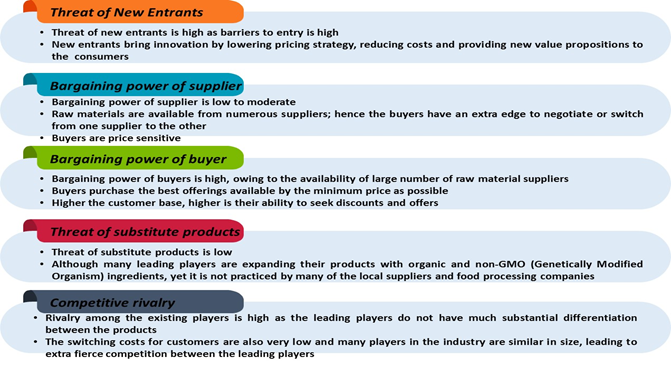 The global market for sauces, dressings and condiments is a robust marketplace with continuously increasing demand from several countries. Since the last few decades, the market has witnessed significant developments owing to changing trends in food consumption patterns and inclination towards new exotic flavors. Based on this, the market has been categorized in terms of segments such as sauces, dressings, condiments, spreads & syrups, and seasoning mixes among others.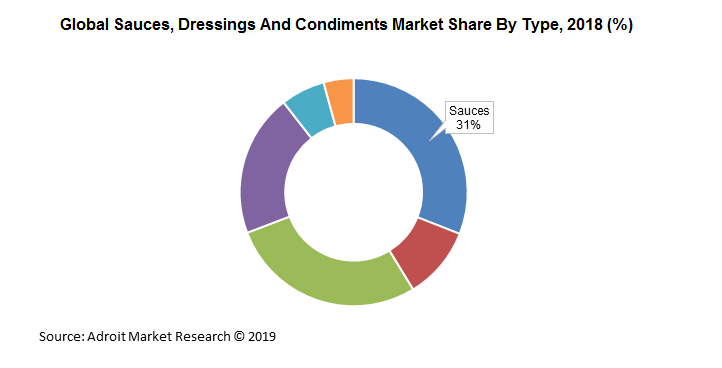 Condiments accounted for the highest market share with over 26% in 2018; whereas syrups & spreads and seasoning mixes are projected to show fastest growth in terms of revenue over the forecast period. Syrups & spreads segment also includes dips and mayonnaise, which are highly consumed in the west but were not very popular few years ago. With the rising popularity of the western cuisine in countries such as China, India, South Korea, UAE, Saudi Arabia, syrups & spreads and seasoning mixes are also gaining demand in these countries. As the taste for cross border cuisine is developing among the consumers, they also tend to use these condiments in their day to day lives. Owing to this, these categories of condiments are estimated to witness high growth over the forecast period.
Based on application, sauces, dressings and condiments market has been categorized into commercial and household segment. Between these, commercial segment is expected to continue its dominance whereas household sector is projected to show high growth over the forecast period. Increase in per capita income & rising urbanization has led to consumption of exotic flavored condiments, which is expected to increase the demand for condiments in coming years.
Rapidly changing lifestyle across the globe is one of the significant factor which has led to dynamic changes in several industries across the globe. Food & beverage is one such industry. Rising disposable income, urbanization, increasing spending on food, beverage and its related ingredients, rapid globalization and emergence of digital platform has quirked interest in international cuisine owing to which sales of international food ingredients has also increased in several regions. Furthermore, trends such as rise in preference for quick and ready to eat foods is significantly shaping the condiments industry. These factors are contributing to the growth of the market across the globe.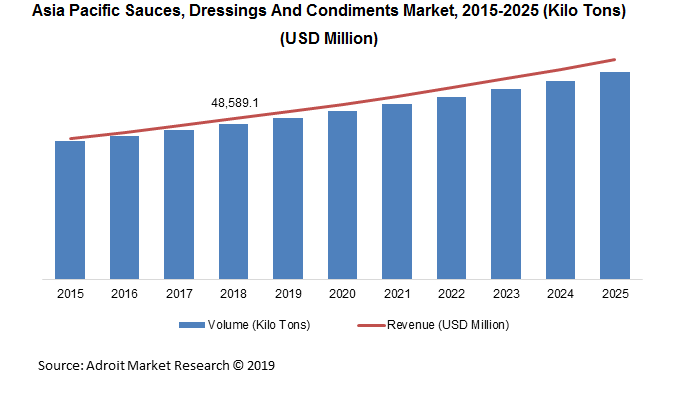 The global demand for sauces, dressings and condiments was led by Asia Pacific. The region accounted for more than one third of the market share in 2018, and is anticipated to show the highest growth with CAGR of 4.6% over the forecast period.
Increasing number of fast-food restaurants, and the demand for condiment sauces in China is expected to boost demand in the coming years. Asia Pacific's growing demand for condiment sauces can be mainly ascribed to busy lifestyles and rising urbanization in developing countries such as India, China, and Southeast Asia. Growing preference for fast food, in which condiment sauces plays a significant role, is also a major driving factor behind escalating demand in these countries.
Lifestyle changes and decreased leisure time have led to a change from traditional full-service restaurants to fast-food facilities over the past few years. Increased Western influences in China have also boosted fast-food demand. Due to the swift development of fast-food service suppliers, improvements in chain store and franchise management, and fresh brands and food styles, sector growth over the previous decade has been powerful. China's fast food sector was valued at more than USD 160 billion in 2018, up by 7.0% from 2017.
North America and Europe are among the most prominent market places for sauce, dressings and condiment makers due to already high adoption rates for these products. As an established market, both the regions are projected to show steady growth in demand over the forecast period.
Sauces, dressings and condiments Market Scope
| | |
| --- | --- |
| Metrics | Details |
| Base Year | 2019 |
| Historic Data | 2017-2018 |
| Forecast Period | 2020-2025 |
| Study Period | 2015-2025 |
| Forecast Unit | Value (USD) |
| Revenue forecast in 2025 | USD 131.82 billion |
| Growth Rate | CAGR of 4.2% during 2021-2028 |
| Segment Covered | Type, Application, Regions |
| Regions Covered | North America, Europe, Asia Pacific, South America, Middle East & Africa |
| Key Players Profiled | McCormick & Company, Inc., Unilever PLC, The Kraft Heinz Company |
Key segments of the global sauces, dressings and condiments market
Type Overview, 2015-2025 (Kilo Tons) (USD Million)
Sauces
Dressings
Condiments
Syrups & spreads
Seasoning mixes
Others
Application Overview, 2015-2025 (Kilo Tons) (USD Million)
Regional Overview, 2015-2025 (Kilo Tons) (USD Million)
North America
Europe

Germany
France
U.K.
Italy
Russia
Rest of Europe

Asia Pacific

China
India
Japan
ASEAN
Rest of Asia Pacific

Central & South America

Brazil
Rest of Central & South America

Middle East & Africa

GCC
Turkey
Egypt
South Africa

Rest of Middle East & Africa
Reasons for the study
The market research study on sauces, dressings and condiments market gives an exhaustive insights of the market
The global food & beverage industry is witnessing significant changes for quite some time with technology and supply chain logistic changes slowly shaping new trends in the industry
Increasing inclination towards international cuisine is also a key factor which is significantly shaping the industry
What does the report include?
The research on global sauces, dressings and condiments market provides market assessment in market drivers, restraints and opportunities
PESTEL, Porter's five forces analysis, consumer behavior and pricing analysis provides different aspects of the market
The sauces, dressings and condiments market is segmented on the basis of type, application and region (and country)
The study includes company profiles of major players that have wide global/regional presence
Who should buy this report?
Companies associated in the sauces, dressings and condiments supply chain
Manufacturers and suppliers present across the value chain
Strategy managers, academic institutions, researchers, educators, analysts seeking insights to determine future policies