Population expansion as well as modifications in consumer behaviour, dietary patterns, and food production are driving forces in the salt market. Population growth raises the overall demand for salt, which has an impact on the market's supply and price of salt. The need for salt can also be impacted by dietary patterns, particularly in wealthy nations where sodium intake is on the decline. The demand for particular forms of salt, such as iodized or kosher salts, may also be impacted by changes in food production. Salt production and price may also be impacted by environmental factors including variations in weather patterns and salinity levels in water sources.
The production and distribution of salt, is a vital component of many food products, depending on the salt market. Iodine, which helps to prevent shortages in the populace, is also a key component of salt. Furthermore, it is essential for keeping food and medicinal plants fresh. The market aids in ensuring that salt is widely accessible to companies and people at reasonable costs. Additionally, it gives industry people employment options. Finally, it provides a forum for traders to interact with one another and exchange ideas.
Crystalline sodium and chlorine minerals make up salt. It is employed in numerous industries, including the chemical industry, the food business, and road de-icing, and is abundantly found in the Earth's crust. As a flavouring and preservative, salt has been used for ages. It is a crucial component of many processed meals in the current era. In addition, it is employed in water treatment and as a de-icer for sidewalks and roadways. It is also utilised in the manufacture of numerous typical household goods, including laundry detergent, soap, and cleaning supplies.
By 2031, it is expected that the worldwide salt market would be worth USD 24.3 billion. During the projected period from 2021 to 2031, the market is anticipated to grow at an outstanding 5.2% annual pace.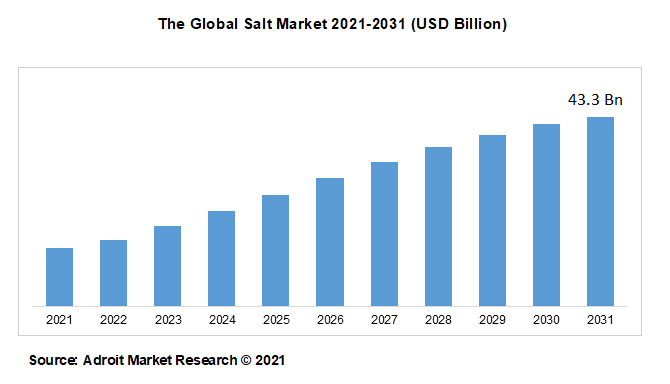 This can be due to the increased need for salt in a number of industries, including food manufacturing, chemical processing, de-icing for roads, and water treatment. The rising need for salt across North America, South America, Asia Pacific, Europe, and the Middle East & Africa serves to emphasise this growth even more.
Various difficulties are anticipated for the global salt market in the upcoming years. The fluctuating cost of raw materials is one of the major problems. The primary raw materials used in the production of salt, potassium chloride, calcium carbonate, and sodium sulphate, have experienced variable prices in recent years. The margins of salt producers have suffered as a result.
The rising competition from alternatives like calcium chloride and magnesium chloride is expected to present another difficulty for the salt market. These alternatives are increasingly being employed in situations where salt has historically been used, such as water treatment and de-icing. This is expected to limit the expansion of the salt market over the forecasted timeframe. However, rising consumer health consciousness is anticipated to fuel demand for iodized salt, which could boost the world salt industry.
Additionally, it's anticipated that the growing demand for organic salt may present difficulties for the salt market because it might be challenging to find organic salt in significant quantities and at competitive costs. Additionally, the development of the global salt market may be hampered by strict governmental rules surrounding the manufacture and distribution of salt in some nations.
The extremely fragmented worldwide salt market is home to a large number of small and medium-sized firms. Cargill Inc., Compass Minerals International Inc., Morton Salt Inc., Tata Chemicals Ltd., K+S AG, AkzoNobel N.V., and Guangdong Qunxing Co., Ltd. are the major producers in the market. There are numerous varieties of salt on the market that are used for various things. Salt is primarily produced by Morton Salt, Cargill, Inc., and Compass Minerals. These businesses offer a wide variety of things at affordable costs.
Segment Analysis
The Sea Salt Segment emerged as the Most Lucrative Type
The market for salt is divided into types such as lake salt, well mineral salt, and sea salt. When compared to the other products, sea salt is anticipated to have the biggest market share. This can be ascribed to its affordability and the simplicity with which raw materials are produced from it. Over the course of the forecast period, sea salt's increasing use in chemical processing, the food industry, road de-icing, and water treatment is anticipated to fuel market expansion.
The Most Prominent Application is the Chemical Processing Segment
Based on application, the salt market is segmented into Chemical Processing, Food Industrial, Road De-icing, Water Treatment, and Others. Given its vast range of applications in sectors including medicines, cosmetics, detergents, and metalworking, the Chemical Processing segment is anticipated to have the most impact on the salt market.
The European Region to render Ample Financing Opportunities
The Middle East, Africa, Asia Pacific, Latin America, and North America are the regional divisions of the worldwide salt market. Europe is anticipated to have the largest salt market among these areas due to rising demand from a number of food businesses as well as highly processed food consumption. The existence of sizable sea salt-producing facilities and their simple access to traditional sources are additional factors influencing the demand for salt in Europe.
COVID-19 Impact and Market Status
The worldwide salt market has been significantly impacted by the COVID-19 pandemic outbreak. Due to the closure of restaurants and food service outlets around the world as a result of the pandemic, the market is anticipated to experience a major reduction in demand from the food and beverage industry. The outbreak is also anticipated to have a negative impact on the chemical processing sector, as numerous nations have implemented lockdown measures that have reduced industrial activities. The COVID-19 pandemic is anticipated to have the greatest impact on regional markets in Asia Pacific, followed by North America and Europe. The outbreak is anticipated to have a relatively smaller impact in the Middle East and Africa. The COVID-19 pandemic's transient effects on the world salt market are anticipated, and within a few years, the market is anticipated to revert to pre-pandemic levels.
Recent Developments in the Salt Market
• Cargill, Inc. announced in March 2022 that it had purchased Morton Salt from K+S. This acquisition boosts Cargill's position as a market leader in speciality salts and increases its foothold in the salt industry.
• A deal to acquire Compass Minerals International, Inc., one of the top producers of minerals and trace element solutions globally, was announced by K+S AG in April 2021. The agreement enhances K+S's foothold in North America and places them among the major salt product suppliers worldwide.
• Tata Chemicals Limited purchased US-based speciality salt manufacturer Solar Sourcing USA LLC in November 2020 for an unknown value. The company specialises in sea salts that are both organic and non-GMO. Tata Chemicals hopes that this acquisition would increase its position in the North American speciality salt market.
• Shree Marutinandan Salts Private Limited, based in India, and AkzoNobel Specialty Chemicals signed a joint venture agreement in November of 2020. (SMSPL). To develop cutting-edge solutions for the Indian market, the cooperation will bring together SMSPL's expertise in evaporated salts and AkzoNobel's expertise in water treatment chemicals.
Salt Market Scope
| | |
| --- | --- |
| Metrics | Details |
| Base Year | 2022 |
| Historic Data | 2020-2021 |
| Forecast Period | 2022-2030 |
| Study Period | 2020-2030 |
| Forecast Unit | Value (USD) |
| Revenue forecast in 2030 | USD 24.3 billion |
| Growth Rate | CAGR of 5.2 % during 2021-2030 |
| Segment Covered | Type, Application, Regions |
| Regions Covered | North America, Europe, Asia Pacific, South America, Middle East and Africa |
| Key Players Profiled | Cargill Inc., Compass Minerals International Inc., Morton Salt Inc., Tata Chemicals Ltd., K+S AG, AkzoNobel N.V., and Guangdong Qunxing Co., Ltd. |
Key Segments of the Salt Market Market
Type Overview, 2021-2031 (USD Billion)
• Sea Salt
• Well Mineral Salt
• Lake Salt
Application Overview, 2021-2031 (USD Billion)
• Chemical Processing
• Food Industrial
• Road De-icing
• Water Treatment
• Other
Regional Overview, 2021-2031 (USD Billion)
North America
• U.S
• Canada
Europe
• Germany
• France
• UK
• Rest of Europe
Asia Pacific
• China
• India
• Japan
• Rest of Asia Pacific
South America
• Mexico
• Brazil
• Rest of South America
• Middle East and South Africa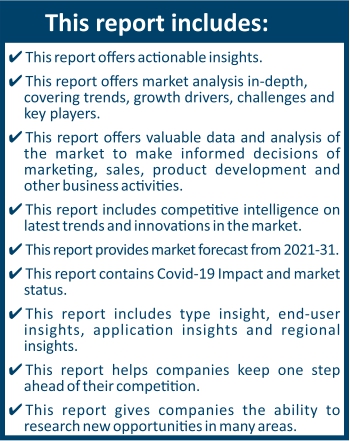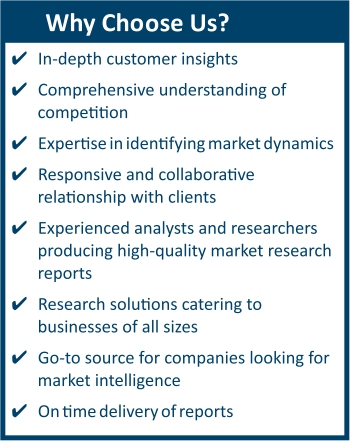 Frequently Asked Questions (FAQ) :
Salt Market is projected to reach USD 24.3 billion by 2031, growing at a CAGR of 5.2%