The global sailcloth market is expected to gain rapid growth momentum with a market size estimation of USD 820 million by 2028. acquiring a significant CAGR valuation of 7.3% throughout the forecast tenure, 2021-2028. The considerable future growth estimations of the global sailcloth market can be attributed to the rising end-use applications of sail cloth. In recent times, growing need for modern and high-quality backpack materials to accommodate user preferences is one of the most dominant driving factors in global sailcloth market.
Constant developments in improving fabric strength, durability, quality, and performance are likely to serve as apt growth opportunities in the coming years. Additionally, new blending technologies, new components for variety diversification and commercialization techniques are anticipated to fuel growth traction in the coming years in global sailcloth market. Existing drawbacks such as poor water absorption capacities and poor weather resistance are likely to be addressed with upcoming opportunities.
Sailcloth is a relatively sturdier and heavier cloth as compared to most of the other fabrics which justifies its rapid adoption. The material is widely used in making tents or sails which is a crucial strategic part within a boat's structure. Sailcloth gains its robust characteristics due to the components used in creating the fabric which includes a wide variety of natural fibers like flax or cotton in varying forms, for instance they can be used in the form of canvas or synthetic fibers.
The range of synthetic fibers that can be applied in the process include aramid, nylon, polyester, and carbon fibers varying across spun, woven, and, molded textiles. The raw materials used to derive sailcloth are quite expensive and are worth the cost owing to the greater durability and extended shelf life which allows these products to be fit for use for over ten years.
The global sailcloth market players are firmly established with large-scale manufacturers scaling up production to compete with the relatively young market entrants. The global sailcloth market is lined up with international and local players focusing on technological developments to advance the characteristics, performance, and endurance capabilities of the fabric. Constant upgradations in processing and manufacturing techniques coupled with rapidly pacing competition have resulted in market consolidation.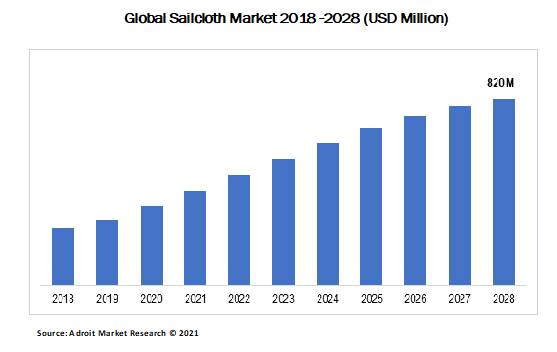 The major players of the global sailcloth market are Doyle Sailmakers, Dimension-Polyant GMBH, Challenge Sailcloth, Bainbridge International Limited, Contender U.S., British Millerain, IYU, Quantum Sails, Aztec Tents, Hood, Powerplast, Mazu Sailcloth North Sails & North Technology Group. The sailcloth market consists of both well-established local industry players and international players. in addition, the previously determined players are rapidly introducing novel strategies and innovative techniques to ensure competitive advantage by maximising productivity and elevating traction in the global market.
Sailcloth Market Scope
| | |
| --- | --- |
| Metrics | Details |
| Base Year | 2020 |
| Historic Data | 2018-2019 |
| Forecast Period | 2021-2028 |
| Study Period | 2018-2028 |
| Forecast Unit | Value (USD) |
| Revenue forecast in 2028 | USD 820 million |
| Growth Rate | CAGR of 7.3% during 2021-2028 |
| Segment Covered | Type, Application, Regions |
| Regions Covered | North America, Europe, Asia Pacific, Middle East and Africa, South America |
| Key Players Profiled | Doyle Sailmakers, Dimension-Polyant GMBH, Challenge Sailcloth, Bainbridge International Limited, Contender U.S., British Millerain, IYU, Quantum Sails, Aztec Tents, Hood, Powerplast, Mazu Sailcloth North Sails & North Technology Group. |
Key Segments of the Global Sailcloth Market
Type Overview, 2018-2028 (USD Million)
Nylon Sailcloth
Polyester Sailcloth
Laminate Sailcloth
Others
Application Overview, 2018-2028 (USD Million)
Cruising Sails
Racing Sails
Others
Regional Overview, 2018-2028 (USD Million)
North America
Europe
Germany
France
UK
Rest of Europe
Asia Pacific
China
Japan
India
Rest of Asia Pacific
South America
Brazil
Mexico
Rest of South America
Middle East & Africa
Reasons for the study
The aim of this market study is to establish key findings and provide an exhaustive primary and secondary research surveys of the global sailcloth market. Gain yourself latest industry details.
Help you in sustaining your competitive position whilst aiding in your decision-making process amidst the innovations driven by the key players to accelerate the market.
What does the report include?
The study on the global sailcloth market encompasses an illustrative description of qualitative factors including the market drivers, restrains, and opportunities that tend to shape the market prognosis.
The study covers a granular assessment of the competitive landscape identifying the key players including the existing as well as prospective players driving the global sailcloth market analysing their strategic innovations and techniques for product development.
The study is inclusive of qualitative and quantitative analysis of the categories derived after market segmentation including type segment, application, and regional segment.
Accurate market estimations, sizes, share, and future forecasts have been incorporated for each market segment mentioned above.
Who should buy this report?
The report on the global sailcloth market comprises of truthful and valuable data suitable for all the market players across the textile industry particularly the market participants across the supply chain such as the raw material providers, textile manufacturers, distributors, and other intermediaries
Venture capitalists, entrepreneurs and investors seeking in-depth analysis on the future outlook of the global sailcloth market
Consultants, experts within the shipping and sailing industries and major boat producers looking for actionable and reliable insights shaping the global sailcloth market panaroma.
Increasing sailcloth demand across a broad spectrum of application is one of the major contributors significantly driving the growth of the global sailcloth market. Constant developments in the textile industry focusing on innovative and more sustainable strategies to manufacture fabrics have resulted in a wide opportunistic landscape for the global sailcloth market thus offering lucrative opportunities during the forecast period. For instance, recent developments in bio-based fabrics have accelerated the demand for eco-friendly textile products and textile manufacturing processes opening up new avenue of opportunities for the global sailcloth market.
While the high cost of the fabric hampers the market growth considerably emergence of alternative and much more efficient raw materials is expected to propel the market growth through the forecast years. In addition, rising popularity of sailing sports worldwide coupled with increasing purchasing power are expanding the sailing adventurous activities ultimately fuelling the demand for sailcloth substantially over the forecast span. Rapidly growing adventure tourism is also considered to be a significant contributor to enhancing the sailing industry reflecting upon the need of boat producers for sturdy materials capable of withstanding adversities therefore boosting the global sailcloth market growth over the forecast years.
Type Segment
Laminated and polyester type sailcloth fabrics are the most predominantly used materials and are anticipated to witness a drastic hike in the market segment growth owing to advances feature integration such as features extended shelf life with sturdy structure of the fabric. Nylon sailcloth segment market share is expected to surge over the forecast due to the enhanced durability of the material and its cost-effective nature in the market. among other sailcloth fabrics, cotton, and Kevlar, are also popular sailcloth fabrics used across a wide application base.
Application Segment
As far as applications of sailcloth market are concerned, the market is broadly clustered into racing sails and cruising sails primarily followed by others. Cruising sales segment is expected to register a substantial growth over the forecast years owing to the rapid developments and advancements in sailcloth fabrics appealing the modern cruise industry. Growing tourism is accelerating demand for cruising sails thus augmenting the growth of the cruising sales in global sailcloth market segment over the forecast years. Rapidly growing adventure tourism is expected to witness a surge in demand for sailcloth for racing sails thus boosting the segment growth throughout the forecast.
With historic roots of sailcloth application in ships and cruising sails boats across North America and Europe, the regions are expected to witness massive growth over the forecast years. With a well-flourished adventure tourism blended with cultural nuances, North America and Europe have the largest shares in the global sailcloth market with exponential rate of demand to supply. Europe is culturally more predominant in sailcloth application with the popular history of Viking longships using sailcloth as a key component in boats.
Europe and North America display a robust landscape of large-scale sailcloth manufacturers driving the market growth over the forecast period. Also, Asia Pacific is also expected to grow at a sustainable rate over the forecast years with expanding adventure tourism and strengthening textile infrastructure.