benefits like increased runway security, shortened response and investigation times for incidents, improved asset management for airport operations, cost savings from enhanced surface recovery operations, and improved aircraft maintenance decision-making. Additionally, RDMS offers thorough information on the types and amounts of debris that are present at any given time, which can be used to spot trends or new problems.
The aviation industry's need for Runway Debris Monitoring System (RDMS) is growing quickly as a result of the rise in runway incursions. Runway incursions happen when an aircraft, a vehicle, or a person inadvertently and without permission enters a runway. This puts other aircraft and ground personnel in grave danger. Airports can find a dependable system for finding foreign objects and debris on runways thanks to the RDMS market. By sending out early warning alerts, this helps lower the possibility of foreign object damage (FOD) to aircraft and helps prevent runway incursions. Airports can keep an eye on their runways in real-time and notify air traffic controllers of any potential dangers by using sophisticated sensors like infrared cameras and radar. The use of this technology in the aviation sector is becoming more and more crucial for ensuring the safety of both passengers and crew.
The Runway Debris Monitoring System (RDMS) Market has a number of benefits, including By lowering the possibility of debris-related accidents on the runways and taxiways, RDMS enhances overall safety. It is possible to prevent aircraft accidents brought on by foreign object damage by routinely inspecting and clearing debris from the runway surface (FOD). Airports can be sure that their operations are running smoothly with the implementation of RDMS. The system cuts down on the amount of time needed for runway maintenance and inspections, which lowers operational costs. The RDMS assists airports in adhering to regional aviation regulations regarding FOD prevention by checking the runway surfaces for debris. This guarantees that airports continue to adhere to all relevant laws and regulations. The automated nature of RDMS increases its dependability because it constantly scans the runway surfaces for any debris or obstruction that might potentially interfere with aircraft flight paths or pose other safety risks.
The market size for Runway Debris Monitoring System (RDMS) is anticipated to be USD 1.2 billion in 2020 and USD 6.7 billion by 2031, growing at a CAGR of 28.6% during that period.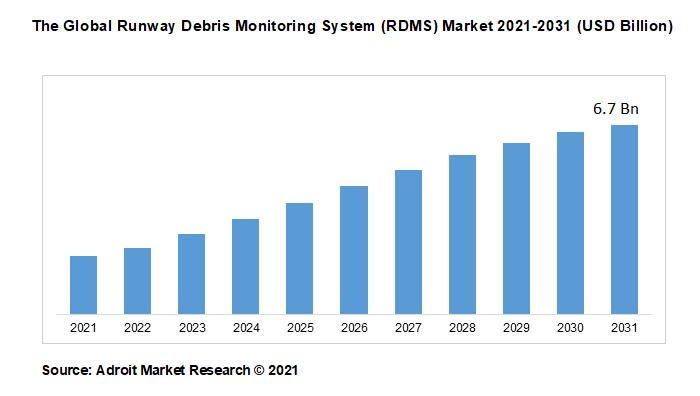 The growth of the RDMS market is being driven by the rising number of aircrafts in the world and the need for airports to improve security. Runway debris monitoring systems offer options that enable airport operators to keep an eye out for foreign object debris (FOD), which can harm an aircraft during takeoff or landing and includes metal scraps, rocks, rubber particles, and other materials on the runway surface. By lowering the risks associated with FOD on runways, which in turn lowers the likelihood of potential accidents that may occur as a result of FOD on airport surfaces, these systems offer an all-encompassing solution for airports. Additionally, the automatic detection and removal of FOD from airport surfaces is now possible thanks to technological advancements like advanced sensors, computer vision technology, and AI-based analytics, which is once again fueling the expansion of the runway debris monitoring system market globally. Additionally, rising government spending is encouraging the installation of these systems in airports, which is bolstering the expansion of this market.
A cutting-edge technology called the Runway Debris Monitoring System (RDMS) Market is used to find and keep an eye on potentially dangerous debris on the runway's surface. It is intended to lessen the likelihood of accidents brought on by debris, such as metal fragments, tyres, bird strikes, and other objects that are challenging to see visually. By monitoring the runway environment in real time with sophisticated sensors and cameras, RDMS systems give airport operators comprehensive information on any detected debris.
The Runway Debris Monitoring System (RDMS) Market is being driven by a number of factors. Airports must maintain a safe runway environment as air traffic increases by reducing debris buildup and the chance of foreign object damage (FOD). By providing real-time monitoring of debris and warning airport staff of potential FOD risks, the RDMS contributes to an increase in runway safety. To ensure aircraft safety, governments all over the world are putting strict regulations in place. According to these regulations, airports must implement cutting-edge technology like RDMS, which has been shown to be successful in lowering the risk of FOD. The price of replacing an aircraft component that has been harmed by FOD is significantly higher than the price of deploying an RDMS system. Airports are now spending money on RDMS systems to reduce maintenance and repair expenses related to FOD damage.
The accuracy and range of the sensors used in RDMS systems have significantly increased over time thanks to developments in sensor technology. This has made it possible to detect small objects on runways more effectively, improving airport efficiency and safety.
The market for Runway Debris Monitoring System (RDMS) is being constrained by a number of factors. RDMS system installation and maintenance are very expensive. Complex hardware and software needed for RDMS systems can be very expensive to instal and maintain. For many airports, especially small or medium-sized ones that might not have the resources to finance these projects, this cost can be a significant barrier. Modern runway debris monitoring systems can be complicated, which can result in technical difficulties like hardware incompatibility, software bugs, and system integration problems that can impair the accuracy and dependability of the system. The absence of a standardised technology or protocol for runway debris monitoring systems makes it challenging for airport operators to compare the compatibility and performance of various technologies. The cost of combining various systems into one functional whole is also increased by this lack of standardisation. Due to financial restrictions on debris removal services, airport operators may occasionally be hesitant to invest in RDMS. It might not seem important to invest in a pricey monitoring system if an airport is unable to remove debris from its runways.
The report includes profiles of several major manufacturers, vendors, and market participants, including the following. Saab AB, FLIR Systems, Inc., Lufthansa Technik AG, UTC Aerospace Systems, a division of United Technologies Corp., SAGEM, Airports International Group (AIG), Thales Group, Honeywell International Inc., Rockwell Collins, Inc.,
The Runway Debris Monitoring System (RDMS) Market is divided into Fixed System and Vehicle Mounted System based on type. Due to its widespread use in highways, railroad stations, and airports, the Fixed System segment is anticipated to hold the largest market share during the forecast period. The demand for fixed systems is growing as there are more airports, railroad stations, and highways. Furthermore, the growth of the fixed system market is being driven by rising security concerns as well as ongoing technological advancements.

Runway Debris Monitoring System (RDMS) Market is divided into Civil Aviation and Military Aviation based on application. With a market share of xx% in 2020, Civil Aviation is the market leader in this sector. This trend is anticipated to persist over the forecast period due to an increase in commercial fleet and aircraft numbers, global passenger traffic growth, and growing safety and security concerns at airports around the world. Additionally, the segment's growth is being aided by the growing trend of digitalization and automation for increased safety.
Based on a regional analysis of the Runway Debris Monitoring System (RDMS) Market, it is predicted that North America will account for the largest share of the global market during the forecast period. This is because many RDMS manufacturers, including Honeywell International Inc. and FLIR Systems, Inc., are located in this region. Furthermore, it is anticipated that over the next few years, regional growth will be fueled by the rising demand for runway debris monitoring systems in the United States, Canada, and Mexico. Because airport authorities in nations like India, China, Japan, and South Korea are becoming more aware of aviation safety and security regulations, the Asia-Pacific region is anticipated to be a rapidly expanding market for runway debris monitoring systems. Rising airport infrastructure development investments are also anticipated to fuel regional market expansion over the course of the forecast period.
Market Status for Runway Debris Monitoring Systems (RDMS) and COVID-19 Impact
The market for runway debris monitoring systems (RDMS) has been significantly impacted by the COVID-19 outbreak. The pandemic-related slowdown in the aviation sector has had a significant impact on the demand for RDMS systems. The market is anticipated to experience a decline in 2020 compared to 2019. There are two main effects of COVID-19 on the market for runway debris monitoring systems. RDMS system production is affected: The lockdown enacted by numerous governments around the world has had an impact on the production of RDMS systems. As a result, the supply chain has slowed down and the production capacity has decreased. RDMS system demand is impacted by: The slowdown in the aviation sector has resulted in a significant decrease in the demand for RDMS systems. This is a result of the pandemic-related operations reductions or suspensions made by numerous airlines.
Recent Development in the Runway Debris Monitoring System (RDMS) Market in 2019:
The modernization of airports, rising demand for airport security and safety, and rising air traffic will all contribute to the growth of the global Runway Debris Monitoring System (RDMS) market. Due to rising investments in airport technology and infrastructure, the market is anticipated to grow significantly during the forecast period.
Runway Debris Monitoring System (RDMS) Market Scope
| | |
| --- | --- |
| Metrics | Details |
| Base Year | 2022 |
| Historic Data | 2021-2022 |
| Forecast Period | 2022-2031 |
| Study Period | 2021-2031 |
| Forecast Unit | Value (USD) |
| Revenue forecast in 2031 | USD 6.7 billion |
| Growth Rate | CAGR of 28.6 % during 2022-2031 |
| Segment Covered | by Type, By End User, By Application , Regions |
| Regions Covered | North America, Europe, Asia Pacific, South America, Middle East and Africa |
| Key Players Profiled | Saab AB, FLIR Systems, Inc., Lufthansa Technik AG, UTC Aerospace Systems, a division of United Technologies Corp., SAGEM, Airports International Group (AIG), Thales Group, Honeywell International Inc., Rockwell Collins, Inc., |
Key Segments of the Runway Debris Monitoring System (RDMS) Market
By Type Overview, 2021-2031 (USD Billion)
• Fixed System
• Vehicle Mounted System
By Application Overview, 2021-2031 (USD Billion)
• Civil Aviation
• Military Aviation
By Regional Overview, 2021-2031 (USD Billion)
North America
• U.S
• Canada
Europe
• Germany
• France
• UK
• Rest of Europe
Asia Pacific
• China
• India
• Japan
• Rest of Asia Pacific
South America
• Mexico
• Brazil
• Rest of South America
Middle East and Africa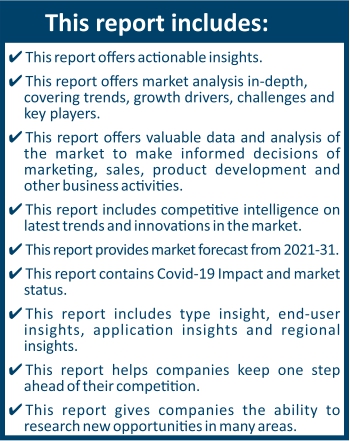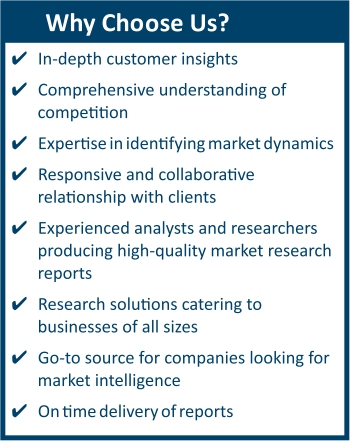 Frequently Asked Questions (FAQ) :
Runway Debris Monitoring System (RDMS) Market is projected to reach USD 6.7 billion by 2031, growing at a CAGR of 28.6