The global market for the Rogowski Coil is anticipated to develop at a compound annual growth rate (CAGR) of 6.3% throughout the course of the forecast, to reach $2.61billion by 2027.
Owing to benefits such as high cost efficiency and low lifecycle expenditure, Rogowski coils are experiencing rapid adoption as opposed to conventional alternatives such as current transformers, thus fostering growth in the global Rogowski coil market
The need for uninterrupted power supply across end-use applications such as care centers, hospitals as well as data centers have accentuated the need for power monitoring, thus improving reliance on Rogowski coil
Rapid end-use applications across industries such as consumer electronics, automotive industry, data center services, healthcare industry, and the like are fostering remarkable progress in the global Rogowski coil market.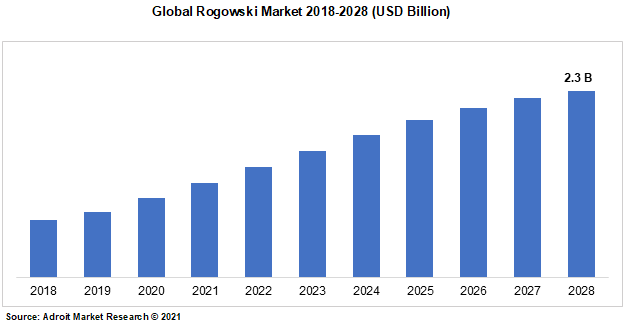 Advantages such as superlative power-saving capabilities, low lifecycle expenditure, light-weight built, and high performance across multiple voltage levels such as high, low, and medium voltages encourage further adoption.
Rogowski coils are uniquely designed current transformers which replicate the structure of an ordinary rope and are designed to encircle current-transforming cables with negligible impact on the resultant current output. Owing to multiple advantages such as even design and high flexibility, Rogowski coils are also known as flexible coils.
Rogowski flexible coils are therefore used extensively across a range of end-use applications. From the design perspective, one interesting feature is the uniform design of the coil that ascends back to the origin wherein both the ends of the Rogowski coils are well-connected to the cable, and wind across the non-magnetic air core instead of the commonly used iron core that are typical to the conventionally used current transformers.
Factors such as superlative design due to light-weight built, mechanical flexibility, and streamlined installation, along with low calibration current and high voltage measurement capacities make Rogowski coil a superlative option.
However, Rogowski coils are not designed to measure the DC voltage, which could be a significant growth retardant for the global Rogowski coil market growth in the coming years. New technologies enabling features such as protection relay integration for electrical power systems are likely to drive new opportunities in the global Rogowski coil market.
The major players of the global Rogowski coil market are Signals and Systems India Pvt Ltd., ROGOWSKI TECHNOLOGY, Manutech Europe, SENECA, HEYI, Magnelab, Dahms GmbH, AGW Electronics Ltd., and Zappar among others. The Rogowski coil market is a fast-growing industry and is identified to have well-established international behemoths as well as aggressive new players prevalent across local and regional markets. Further, renowned industry players are unraveling new product portfolios and technological advancements for market fortification amidst Covid-19 impact.
Rogowski Coil Market Scope
| | |
| --- | --- |
| Metrics | Details |
| Base Year | 2020 |
| Historic Data | 2018-2019 |
| Forecast Period | 2021-2027 |
| Study Period | 2017-2027 |
| Forecast Unit | Value (USD) |
| Revenue forecast in 2027 | $2.61billion |
| Growth Rate | CAGR of 6.3 % during 2021-2027 |
| Segment Covered | Sensor Type, Method, End-use Vertical, Regions |
| Regions Covered | North America, Europe, Asia Pacific, Middle East and Africa, South America |
| Key Players Profiled | Allegro MicroSystems, Inc., Eaton, Honeywell International Inc., Infineon Technologies AG, TAMURA Corporation, TDK Corporation, Sensitec GmbH, Others |
Key Segments of the Global Rogowski Market
Type Overview, 2018-2028 (USD Billion)
333 mV AC
4-20 mA DC
5V DC
10V DC
5A AC
Application Overview, 2018-2028 (USD Billion)
Industrial
Commercial
Residential
Downstream Fields Overview, 2018-2028 (USD Billion)
Protection
Metering
Control
Others
Regional Overview, 2018-2028 (USD Billion)
North America
Europe
Germany
France
UK
Rest of Europe
Asia Pacific
China
India
Japan
Rest of Asia Pacific
South America
Mexico
Brazil
Rest of South America
Middle East and South Africa
Segment Analysis
333 mV AC Rogowski Coil Type to Emerge as the Most Lucrative Segment
Global Rogowski coil market is classified into 333 mV AC, 5A AC, 10V DC, 4-20mA DC, and 5V DC on the basis of type. Among these, the 333 mV AC Rogowski coil is poised to incur the highest revenue streams owing to several advantages such as appropriate design for device monitoring, availability of multiple dimensions, sizes, and input ratings. Adoption across diverse end-use applications is likely to support segment expansion in the forecast years.
Metering Downstream Field to Remain Atop
Due to advantages such as suitability across multiple voltage range, Rogowski coils are widely used in metering. Further, as Rogowski coils help in producing secondary current matching the primary current, the coils are widely used in metering. Therefore, in the forecast span, metering downstream field is likely to be the most lucrative. Other variants of downstream field include control and protection.
Industrial Applications to Ensure Revenue Maximization
The industrial segment is likely to be the most dominant application segment owing to rampant adoption of Rogowski coils across industries such as welding wherein high amount of precision and accuracy are indispensable. However, in the coming years, its expected that applications such as residential and commercial would also emerge successfully owing to investments and expansions globally.
North American Region to Render Ample Investment Avenues
Based on regional performance and segmentation, the North American region is likely to garner the lion's share of revenues in the forecast years. This is evident from the rapid industrial, commercial, and residential applications of the Rogowski coils across countries such as the US and Canada.
Additionally, technological developments owing to dominance of several research initiatives, commercial mergers of research institutes with leading companies, besides corporate M&A agreements are clearly improving growth feasibility in the region. Following suit the European market is also emerging as a lucrative region based on similar market dynamics. Moreover, in the forecast years, the Asia Pacific region is also likely to emerge as a significant region backed by intense developments across emerging countries such as China and India.
Covid-19 Impact & Market Status
Business models are being thoroughly revised to align with current business dynamics and appropriately address all the challenges that have sprung amidst the ongoing Covid-19 pandemic and its associated implications. Market players in the global Rogowski coil market are aggressively targeting new opportunities to emerge from the pandemic inflicted growth downturn and reverse the financial vulnerabilities.
New working models that have emerged are being promoted and adopted by market veterans to unravel new growth possibilities. New market participants are also steadily coining ways to sustain tremendous competition. The world economy has been showing signs of deterioration, thus flaring up risk factors for the global Rogowski coil market. Under prevailing circumstances, several new, as well as established players in the global Rogowski coil market, are maneuvering ways to recoup growth.
This report has a detailed outlook of the many changes that have emerged in the Rogowski coil industry chain depending on upstream and downstream market conditions. A deep analysis of the Covid-19 pandemic inflicted changes in the businesses and the best industrial practices to restore growth trends across regions and countries have been documented in thorough detail to encourage progressive investment decisions by players and aspirants in the global Rogowski coil market.
Latest Innovations in the Global Rogowski Coil Market: a Snapshot
Electrification veteran ABB has recently upgraded its network analyzers with novel Rogowski coil integration to enhance uninterrupted power monitoring capabilities across facilities, boosting the global Rogowski coil market expansion.
New ongoing researches are underway to develop highly efficient and cost-effective lattice Rogowski coil sensors to improve the discharge monitoring capabilities of power transformers.
Leading producer of energy measuring equipment, Accuracy Inc. has recently upgraded its offerings of Rogowski coil with the latest launch of Rogowski integrator kit to improve protection relays and enhance electrical power systems to support critical infrastructure. The latest Rogowski coil kit is highly flexible and light-weight to ensure hassle-free installation.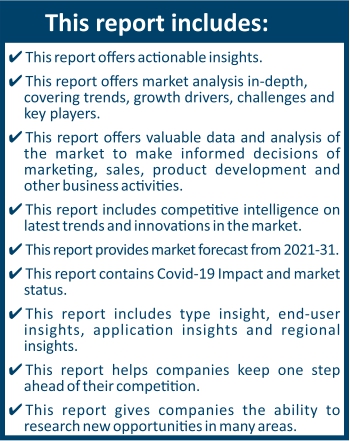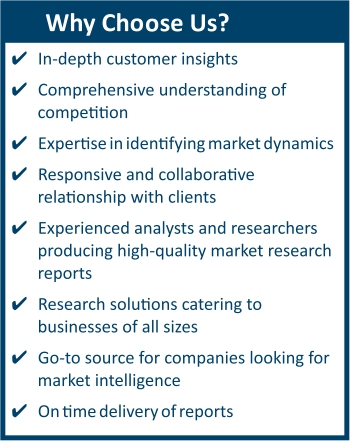 Frequently Asked Questions (FAQ) :
The rogowski coil market is growing at a CAGR of 3% over the forecast period.
The Global rogowski coil market is Segmented on the Type, Application, Downstream Fields, Regions.
The base year for the report is 2021 in embedded computer market.