It's being expected that by 2029, the Robo-taxi market cap will hit USD 61.07 billion at a CAGR growth of about 65.34%.
The global robotaxi market has been expanding poised to reach over 40.6 USD billion at a CAGR of 59% during the forecasted period, 2021-2028. Aspects such as growing concerns about road safety, pollution, and rising demand for ride-hailing services are aiding systematic market expansion. Autonomous vehicles also help fleet operators save money. Due to the high cost of components such as cameras, ultrasonic sensors, and LiDAR, deploying a full-fledged robotaxi service demands substantial investments. This is likely to lend a cold shoulder to the overall growth trajectory briefly.
Robotaxi fleet deployment and acceptance is a time-consuming and challenging procedure. Currently, there has been limited progress in testing robotaxis pertaining to level 4 and level 5 autonomous cars. As a result, widespread deployment of robotaxi services is difficult. The race to deploy self-driving vehicles, particularly in developed nations, has kindled public officials' interest in autonomous mobility and its potential impact. Advances in sustainable commutation, need to reverse environmental implications are likely to bolster reliance on robotaxis in the coming times.
Several countries across the globe have already relaxed legal constraints on self-driving car testing. Finland's Ministry of Transport and Communications has made an important step by creating a legal framework for testing self-driving vehicles. Many other nations are following suit, including France, Austria, the UK, the Netherlands, and the US.
Robotaxis are categorized as self-driven autonomous vehicles that are not dependent on human intervention and interactions to operate. They are usually run by on-demand mobility and fleet operators.
The development of automation in automobiles has increased demand for self-driving vehicles, contributing to the global spread of robo-taxi.
Furthermore, as customer interest in autonomous vehicles has risen, companies have begun to develop vehicles that do not require a human driver. The advancement of automation in automobiles has reduced the need for a human driver, decreasing the liklihood of accidents caused by human error. A robotaxi is also loaded with various sensors such as LiDAR, RADAR, and others, making the vehicle more efficient to operate, offering bankable opportunities for the global development of the robotaxi industry.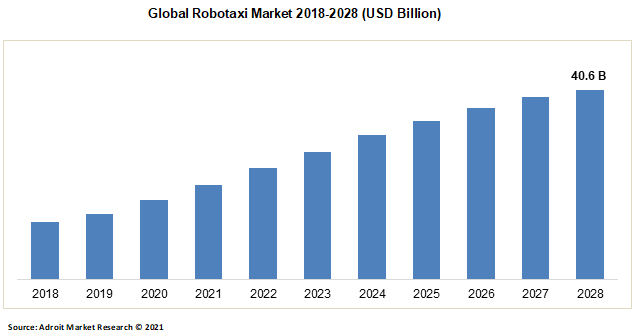 The major players of the global robotaxi market are Waymo, Baidu, Cruise LLC, AutoX, and Tesla. The projection cycle will assist the user in understanding the characteristics of the players by highlighting their product pricing, international earnings, and market share. It also covers regional market trends and drivers, risk and penetration barriers, opportunities and threats, suppliers and customers, and distribution networks. To gain momentum in the high-growth robotaxi industry, these firms create new products, implement expansion plans, and engage in collaborations, partnerships, and mergers and acquisitions.
Robo-taxi Market Scope
| | |
| --- | --- |
| Metrics | Details |
| Base Year | 2020 |
| Historic Data | 2018-2019 |
| Forecast Period | 2021-2028 |
| Study Period | 2018-2028 |
| Forecast Unit | Value (USD) |
| Revenue forecast in 2028 | USD 40.6 billion |
| Growth Rate | CAGR of 59% during 2021-2028 |
| Segment Covered | Application Type, Level of Autonomy, Vehicle Type, Propulsion, Service Type, Component Type, Regions |
| Regions Covered | North America, Europe, Asia Pacific, Middle East and Africa, South America |
| Key Players Profiled | Waymo (US), Baidu (China), Cruise LLC (US), AutoX (China), and Tesla (US). |
Key Segments of the Global Robotaxi Market
Application Type Overview, 2018-2028 (USD Billion)
Goods Transportation
Passenger Transportation
Level of Autonomy Overview, 2018-2028 (USD Billion)
Vehicle Type Overview, 2018-2028 (USD Billion)
Propulsion Overview, 2018-2028 (USD Billion)
Hybrid
Electric
Fuel Cell
Service Type Overview, 2018-2028 (USD Billion)
Component Type Overview, 2018-2028 (USD Billion)
Radar
Camera
Ultrasonic Sensors
LiDAR
Regional Overview, 2018-2028 (USD Billion)
North America
Europe
France
UK
Germany
Rest of Europe
Asia Pacific
China
Japan
India
Rest of Asia Pacific
South America
Brazil
Mexico
Rest of South America
Middle East and Africa
Reasons for the study
The research examines major advancements in the global robotaxi industry, as well as organic and inorganic growth methods.
The industrial chain structure of the robotaxi industry, raw material costs, production base, and marketing channel analysis are all covered.
It covers probability analysis, mergers and acquisitions, and analyst viewpoints and opinions.
What does the report include?
Comprehensive company profiles for the main market participants include corporate insights, a business description, a SWOT analysis, and product benchmarking.
Includes a thorough assessment of the market from a number of angles, including Porter's five forces approach.
The scenario of industry dynamics and market growth possibilities will be investigated.
Who should buy this report?
Managers in the robotaxi Market who want to talk about the current and future global market statistics.
Strategy managers, researchers, and government agencies seek market data to help in the planning of future operations.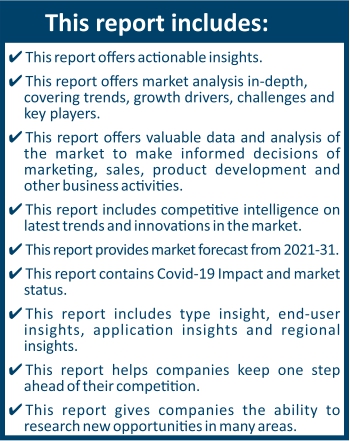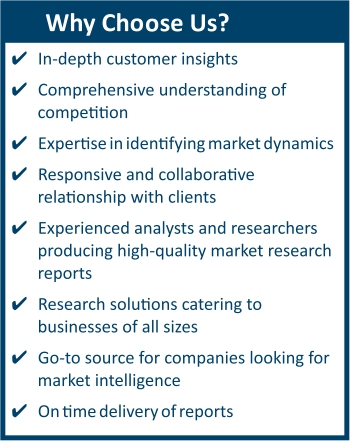 Frequently Asked Questions (FAQ) :
The application of the robo taxi market passenger transportation and goods transportation
The robo taxi market is growing at a CAGR of 59% over the forecast period.
The major contenders in the global market are Waymo (US), Baidu (China), Cruise LLC (US), AutoX (China), and Tesla (US)
The battle to develop self-driving cars and transit infrastructure is heating up rapidly across the globe. With the advent of ride-booking apps in recent years, the global population has witnessed a transformation in the taxi business. Following the trend, a number of established businesses have upgraded their products by introducing new taxi booking applications.
With the introduction of artificial intelligence, taxi firms now have the chance to implement new and innovative concepts. One such innovative idea has evolved into robotic taxis, or robo taxis, the next stage in public transportation innovation. The transportation industry is consciously pushing toward self-driving cars for public transit.
Furthermore, this highly automated technology is predicted to transform the globe in a variety of beneficial ways. As autonomous cars are equipped with connectivity car technology, highly automated technologies can assist to reduce traffic congestion. With this technology, automobiles may interact with one another, allowing them to better their routes for individual vehicles.
This data can aid in the distribution of an appropriate traffic flow. This may enable robotaxis to provide a more convenient trip while also saving time. Robotaxis will be able to park themselves without taking up much room because they do not need to open their doors. This can improve the parking ecosystem.
Vehicle Type Segment
In the future years, the automobile segment is projected to be the largest and fastest-growing category. Self-driving vehicles are witnessing tremendous advancement in trems of novel technologies to improve deployment and testing prudence. Vans, vehicles, and shuttles are now being developed and tested. However, owing to the growth in ride-sharing services, industry analysts predict that the autonomous car market will dominate the total market. In the battle to deploy autonomous fleets, firms such as Uber, DiDi, Lyft, and Baidu are cooperating with Tier 1 companies.
Propulsion segment
Electric segment is expected to have the highest market share in the future. Concerns about the environment have spurred demand for fuel-efficient automobiles. Robotaxis would not only provide robotic help but would also herald in a new era of fuel economy and zero carbon emissions. Volvo and Uber's cooperation is planned to introduce self-driving cars in the mid-size premium market by 2021, with half of them being completely electric. By 2030, metropolitan regions would house two-thirds of the world's population.
In the forthcoming years, European region is poised to witness the highest revenue with positive adoption rates across countries such as France, Germany, and Norway. Technological milestones and improved funding potential are all expected to fetch tremendous growth in the global robotaxi market. The industry will be significantly influenced by emerging technological developments for self-driving automobiles.