The global Road LED Traffic Signals market is growing at a significant pace owing to the increasing awareness among people regarding the benefits of using LED traffic signals. Moreover, the government across various countries are supportive of installing LED traffic lights as they help in reducing carbon emissions and also consume less power as compared to traditional bulbs.
Apart from this, technological advancement in LEDs which has resulted in the development of high-power LEDs that are more efficient and offer longer lifespans is another key factor driving the growth of the Road LED Traffic Signals market. Furthermore, an increase in infrastructure development activities, especially in the Asia Pacific and South America region is expected to create lucrative opportunities for the Road LED Traffic Signals market during the forecast period.
The current global road infrastructure is inadequate to meet the needs of the growing population and the ever-increasing number of vehicles on the road. Accidents and traffic congestion have increased as a result of this. By giving vehicles better sight, especially at night or inclement weather, LED traffic lights are said to increase road safety. Due to the high electricity consumption of conventional traffic lights, there is also an increasing need for energy-efficient solutions. LEDs consume a great deal less power, which can lower emissions and save money.
LED traffic signal lights are now being increasingly used in various countries across the world owing to their many advantages over traditional incandescent traffic lights. Some of the major advantages of using LED traffic lights include:
• LEDs are much more energy efficient than incandescent bulbs and can help save on electricity costs.
• Additionally, LEDs cost less to maintain and replace because they need to be changed less frequently because they live so much longer than conventional bulbs.
• The brightness of LED bulbs can be easily controlled, making them ideal for use in dim or dark conditions.
• LEDs produce very little heat, making them safer to use in locations where flammable materials are present.
Road LED traffic signals are electronic visual signals placed above or beside the road to control the flow of vehicular traffic. They indicate when it is safe for drivers to proceed, stop, or yield. Red, yellow, and green are the most often used colours in LED traffic signals for roads. Road LED traffic lights employ high-power LEDs because they have a high brightness and require less power than ordinary LEDs. In the long term, high-power LEDs are a more cost-effective solution because they last longer than standard LEDs
Applications for road LED traffic signals include urban roads, rural roads, and other applications such as airports and railway crossings. Urban roads typically have higher traffic volume and thus require more powerful and energy-efficient signal lights. Rural roads typically have lower traffic volume and can therefore use less powerful signal lights. Other applications for road LED traffic signals include airports, railway crossings, and pedestrian crossing signs.
The global road LED traffic signals market is expected to reach a market value of USD 759.83 Million by 2031 from USD 585.24 Million in 2021, growing at a CAGR of 3.80% during the forecast period.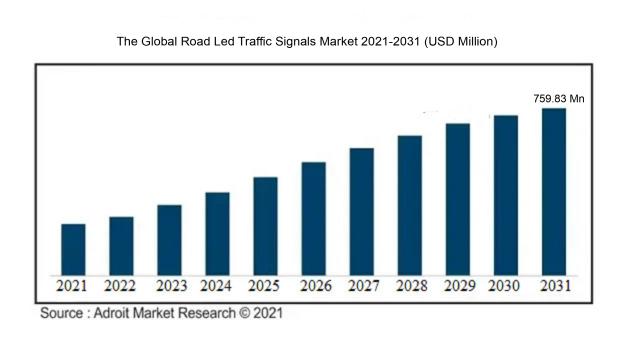 Several restraints are anticipated to prevent the market for road LED traffic signals from expanding during the anticipated time frame. High initial investment costs, a lack of regional uniformity, and the challenge of upgrading existing infrastructure are a few of these concerns. Road LED traffic signals typically cost more than halogen or conventional incandescent lamps. When considering a conversion to LED signals, many towns and transportation organisations may be discouraged by the high expense.
There is no global standard for road LED traffic signals, which can make it difficult for companies to enter new markets. In addition, different countries have different regulations regarding signal colours and placements, which can add to the complexity. Many roads and highways have existing infrastructure that is not compatible with LEDs. This means that a complete overhaul of the system would be required in order to switch to LEDs, which can be cost-prohibitive for many organizations. However, increasing demand will definitely boost the market.
The key players in the road LED traffic signals market are OSRAM Licht AG, Philips Lighting Holding B.V., Dialight plc, Eaton Corporation plc, Cree, Inc., Federal Signal Corporation, and Acuity Brands Lighting, Inc. These companies are expected to have a significant growth in the coming years owing to the increasing demand for road LED traffic signals globally.
Segment Analysis
The LED traffic Lights segment forms the major portion of the market
LED traffic lights are becoming increasingly popular around the world as they offer several advantages over traditional incandescent bulbs, including lower energy consumption, longer life span, and better visibility. Additionally, LEDs have the potential to result in significant long-term cost savings.
The Urban Road Segment to be on top of the market
The urban road segment is anticipated to grow at the highest CAGR during the forecast period, owing to factors such as the increasing number of vehicles on roads, the need for efficient traffic management, and the growing number of smart city projects.
America will command the market.
During the projection period, North America is anticipated to be the region with the largest market for road LED traffic signals. Due to strict government requirements regarding energy efficiency and pollution, the region has seen a substantial increase in the deployment of LED traffic signals. Additionally, the existence of major players in this area is fostering the expansion of this market. Europe is also expected to be a key market for road LED traffic signals due to the increasing focus on smart city projects by various countries in this region.
Impact & Market Situation of Covid-19
Nearly all sectors of the world economy have been impacted by the COVID-19 pandemic, which has had a tremendous impact. Due to the lockdown imposed by numerous countries around the world, the automotive industry has been one of the most affected. The production and supply chain of the automotive industry has been disrupted due to the shutdown of factories and the suspension of transportation services. This has had a direct impact on the Road LED Traffic Signals market as road projects are being put on hold due to a lack of funds. However, it is anticipated that some government stimulus plans may help the market in the upcoming months.
A Snapshot of the Most Recent Innovations in the Global Market for Road LED Traffic Signals
• In January 2019, the US Department of Health and Human Services (HHS) released a new regulation called the Interoperability and Patient Access Rule which would enable patients to access their medical records through third-party applications.
• In October 2019, The Centers for Medicare & Medicaid Services (CMS) announced that it was setting new requirements for electronic health records (EHRs). The new requirements are aimed at making EHRs more user-friendly and interoperable.
• A developer of open-source software solutions, Red Hat Inc., was purchased by IBM Corporation in May 2019. It is anticipated that the acquisition will support IBM's ambitions to create hybrid cloud capabilities.
• In February 2019, Cerner Corporation acquired AbleVets LLC, a provider of healthcare IT solutions. The acquisition is expected to help Cerner in its efforts to expand its footprint in the government healthcare market.
Road LED Traffic Signals Market Scope
| | |
| --- | --- |
| Metrics | Details |
| Base Year | 2022 |
| Historic Data | 2021-2022 |
| Forecast Period | 2022-2031 |
| Study Period | 2021-2031 |
| Forecast Unit | Value (USD) |
| Revenue forecast in 2031 | USD 759.83 Million |
| Growth Rate | CAGR of 3.80% during 2021-2031 |
| Segment Covered | Type, Application, Regions |
| Regions Covered | North America, Europe, Asia Pacific, South America, Middle East and Africa |
| Key Players Profiled | OSRAM Licht AG, Philips Lighting Holding B.V., Dialight plc, Eaton Corporation plc, Cree, Inc., Federal Signal Corporation, and Acuity Brands Lighting, Inc. |
Key Segment of Global Road LED Traffic Signals Market
By Type Overview (USD Million)
• High Power LED
• Conventional LED
By Application Overview (USD Million)
• Urban Road
• Rural Road
• Others
By Region Overview (USD Million)
North America
• USA
• Canada
Asia Pacific
• China
• India
• Japan
• Rest of Asia Pacific
South America
• Mexico
• Brazil
• Rest of North America
Europe
• Germany
• France
• UK
• Rest of Europe
Middle East and Africa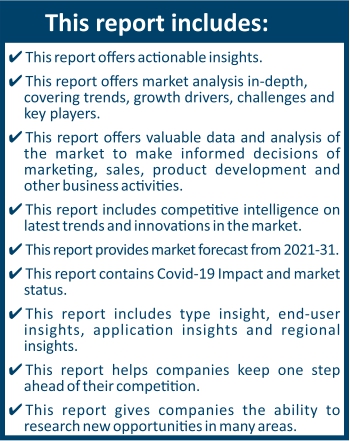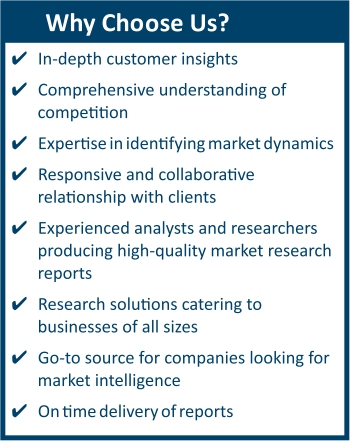 Frequently Asked Questions (FAQ) :
Road LED Traffic Signals Market is projected to reach USD 759.83 Million by 2031, growing at a CAGR of 3.8%