An effective skincare technique for maintaining clear, healthy skin is the LED mask. It provides a number of skin advantages, including improving skin clarity and radiance as well as complexion. LED masks can also assist to lessen facial redness, acne, wrinkles, and dark spots.
COVID-19 Impact and Market Status
Due to the closure of beauty parlours and rehabilitation facilities during in the COVID-19 epidemic, the need for LED masks is essentially non-existent contrast to aesthetic things, consumers are more interested in purchasing necessities and safety items. However, this industry is anticipated to develop following lockdown because to an increase in demand. The LED Mask industry was negatively hit by the coronavirus. Public transportation restrictions and the lockdown's interruption would be detrimental to the market. Due to influence of Covid-19, the majority of sectors are not operating as intended, which has had a negative effect on the overall LED mask industry.
Emerging as a Lucrative Segment in the Industry
Over the course of the projected period, the market is anticipated to grow due to an increase in skin-related issues in metropolitan areas brought on by growing pollution levels and rising unhealthy habits. Increased blood flow and the targeting of microorganisms by an LED mask further improves the skin by reducing acne, wrinkles, dark spots, facial redness, and other aging-related issues. The skin damage brought on by UV radiation is also lessened by these masks. Rising urbanisation and a desire for healthier skin are expected to fuel market expansion throughout the forecast period. The market is being supported by rising disposable income. Over the anticipated period, the market expansion is anticipated to be aided by the rising demand of beauty care products. Women's growing scepticism of beauty is anticipated to positively impact market expansion.
Regional Insights in the Market
One of the key reasons fuelling market expansion in the area is the existence of technological advancement. Over the projected period, the population's rising skin-related worries and rising disposable income are anticipated to fuel market expansion. The industry is being supported by rising consumer awareness of light therapy for skin care. The economic incentive in the area is anticipated to increase as LED masks become more widely used in hospitals and beauty parlours across developed nations. Over the course of the projected period, the market is anticipated to benefit from the well-established healthcare sector and the presence of significant players in North American developed nations. At XX percent CAGR, Europe is anticipated to grow significantly as well.
It is a helpful tool for enhancing skin texture. Other advantages of these masks include anti-aging properties, protection from UV radiation damage, and a reduction in the appearance of fine lines on the face through promoting collagen formation. Under the direction of a dermatologist, professional users of LED masks include actors, models, and beauticians.
The demand for disposable face masks among customers has been fuelled by the increasing use of face masks as a preventative method to shield oneself from numerous diseases, such as tetanus, hepatitis, migratory bird flu, swine flu, Congo, and the most recent coronavirus. People are becoming more aware of the fact that wearing masks can help prevent the spread of viruses to others and the environment, that has immediately increased demand for the product.
B A beauty product called an LED mask helps to enhance skin and restore skin lustre. LED masks boost face blood circulation, which promotes skin healing and reduces acne by using colour light-weight medical treatment (UV-free) at certain wavelengths. LED masks penetrate the patient's dermis to the deepest level, providing numerous anti-aging advantages. These masks encourage the skin to create new capillaries and repair damage from the sun and other factors. LED masks can assist with issues including wrinkles and sagging skin.
The market Is projected to reach mask market is directly impacted by the expanding health and wellness sector, particularly from professional consumers like models, actors, and beauticians. The wellness sector and the market for LED masks are interdependent. The global wellness market has been driven by rising consumer awareness of beauty products as well as rising personal health consciousness as well as the adoption of healthy lifestyles. As a result of the COVID-19 pandemic, local currency in several countries has declined. The market for LED masks is primarily driven by rising expendable cash in emerging nations and rising need for protection against skin-related clinical concerns. LED masks are high-value items in the beauty and personal care industries.
The market Is projected to reach mask market is anticipated to develop at a CAGR, 19.87 percent from 2019 to 2029, reaching USD 754.4 Million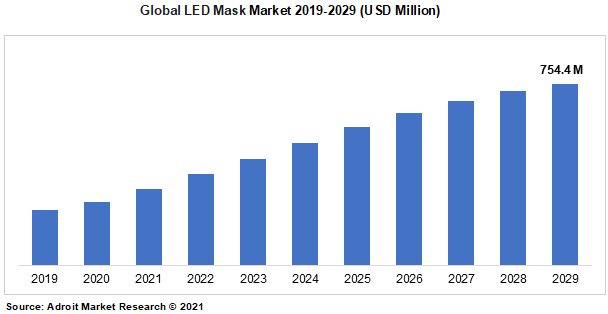 Some of the key market players that are profiled in this report are LG, Kindoncares, Joyjuly, Hankey, BlingBelle, Konmison, and Neutrogena. These companies dominate the global LED mask market for these companies provide state-of-the-art technology embedded LED masks ensuring customer convenience, scalability, safety, and functionality. The key and vital market players are the current market leaders and have attained their respective positions via thorough and well-thought executions of their strategies. The success of these companies is assisting the overall international market to grow and evolve; the growing innovations and use of modern techniques is setting the benchmark in terms of the quality of products being delivered in the global market. These aspects aid the newcomers too as they have a way paved for them to success in the fuse market.
Latest trends and Innovation in the Global LED Mask Market: A Snapshot
The demand for LED masks has increased as a result of changes in women's lifestyles, rising disposable income, and an increase in the metropolitan population. Because individuals are becoming more aware of their appearance, there seems to be an increase in supply for LED masks. Spending on more skincare products has been popular in recent years due to the powerful influence of social media. The market Is projected to reach mask market is growing primarily due to rising skin perceptions and customer interest in health. Contrarily, there are a lot of factors that prevent the LED mask market from expanding. The LED mask's market growth is severely hampered by its expensive cost.
In addition, the industry's development is hampered by the negative environmental effects of its single component, plastic packaging, and disposal. Since many middle-class consumers cannot pay the LED masks treatment, they turn to alternative goods like cream masks, clay face mask, and peel-off masks instead. This creates a barrier to the LED mask market's expansion. Additionally, this industry encounters difficulties in meeting the demands of many customers with various skin tones, ages, and financial levels. However, an increase in the consumption for LED mask from actors and models who favour cosmetic procedures for luminous and youthful-looking skin is driving.
LED Mask Market Scope
| | |
| --- | --- |
| Metrics | Details |
| Base Year | 2021 |
| Historic Data | 2019-2020 |
| Forecast Period | 2022-2029 |
| Study Period | 2019-2029 |
| Forecast Unit | Value (USD) |
| Revenue forecast in 2029 | USD 754.4 Million |
| Growth Rate | CAGR of 19.87 % during 2021-2029 |
| Segment Covered | Product, Application, Regions |
| Regions Covered | North America, Europe, Asia Pacific, South America, Middle East and South Africa |
| Key Players Profiled | LG, Kindoncares, Joyjuly, Hankey, BlingBelle, Konmison, and Neutrogena. |
Key Segments of the Global LED Mask Market
Product Overview, 2019-2029 (USD Million)
Application Overview, 2019-2029 (USD Million)
Hospitals
Beauty Salons
Rehabilitation Center
Regional Overview, 2019 -2029 (USD Million)
North America
Europe
Germany
France
UK
Rest of Europe
Asia Pacific
China
India
Japan
Rest of Asia Pacific
South America
Mexico
Brazil
Rest of South America
Middle East and South Africa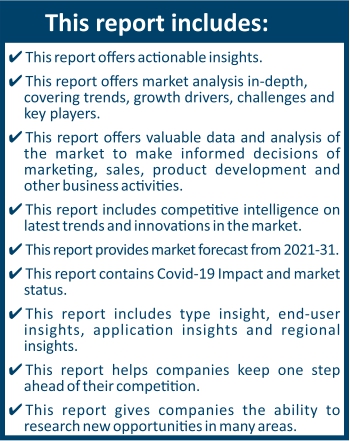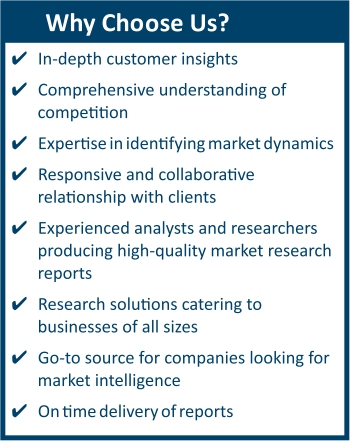 Frequently Asked Questions (FAQ) :
The market value of led mask market in 2029 was USD 754.4 Million.
The led mask market is growing at a CAGR of 19.87% over the forecast period.
The application of the led mask market hospitals, beauty salons, rehabilitation centre and other.