Owing to benefits such as improved signal integrity, RF diplexers are gaining traction in the market. They are used to combine or separate multiple signals across different frequency bands, which helps in avoiding interference and maintain signal quality. The global RF diplexers market is experiencing a rise in its demand lately. There has been a greater demand for this market in comparison to its other traditional alternatives.
The need for high-frequency filters in various applications such as digital television, wireless communication, and data transmission systems is also expected to drive market growth. The demand for RF diplexers is further supplemented by the introduction of advanced technologies such as IoT (Internet of Things), M2M (Machine to Machine) communications, and other related services. Additionally, increased spending on defense systems across the world is expected to propel the market growth during the forecast period.
Rapid applications such as consumer electronics, wireless base station equipment, radio communication systems, commercial broadcast systems, and military applications are responsible for propelling the growth of the global RF diplexers market in the long run. The market consistently undergoes a series of developments in order to provide better services.
Advantages such as low power consumption, low insertion loss, and high rejection of unwanted signals are expected to create opportunities for the market players. In addition, the emergence of intelligent systems is further expected to drive the demand for RF diplexers in the near future.
Considering these factors, it is reasonable to say that the global RF diplexers market is growing at an appreciable compound annual growth rate (CAGR) of 4.2%. It is expected that the market might acquire a size of USD 691.6 million during the forecast period, that is, 2021-31.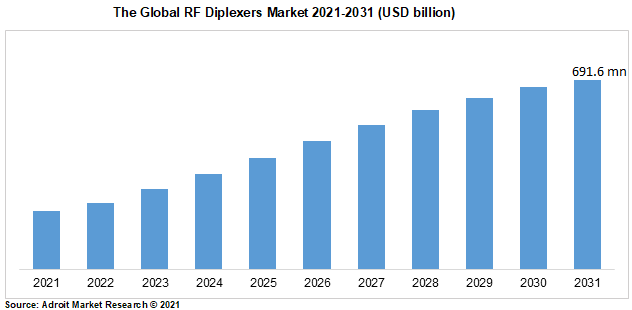 RF diplexers are passive devices that are used to combine or separate radio frequency signals. They are composed of two low-passes and two high-pass filters, connected in parallel so that the signals can be split into either two separate frequencies (for separation) or combined into one frequency (for combining). Cellular communication systems and other wireless networks frequently use RF diplexers.
With a significant rise in the prevalence of 5G networks worldwide, there has been an increase in demand for advanced devices that support high-speed data transmission through robust communication networks with better coverage and reliability. This has further led to a surge in the adoption of RF diplexers for achieving better performance levels for these applications. The growth is primarily driven by increasing demand from consumer electronics applications such as smartphones and tablets due to their increasing penetration in emerging economies.
However, during the period of forecast, the high costs involved in the manufacturing process of these products is likely to act as a hindrance in the process of growth of this market. In spite of the limitations, the market is expected to witness growth due to the increasing demand for efficient communication networks and the rising adoption of advanced technologies in emerging countries. The global RF diplexers market is expected to experience a considerable rate of growth with new additions and developments that might take place in the market during the forecast period, that is, 2021-31.
The key players in the global RF diplexers market are Intel, MSI, ASUS, Gigabyte Technology, Supermicro, ASRock Computer Inc., Biostar Group, EVGA Corporation, Tyan Computer Corporation, and PC Partner Limited. These companies have adopted various strategies such as collaborations, mergers & acquisitions to gain a competitive edge over each other in the RF diplexers market space. These players operate in the market and adopt a number of strategies to stay in the market and establish themselves at a higher position than their competitors.
Segment Analysis
The Ceramic Type Remains the Most Lucrative Segment
It is divided into categories such as crystal type, ceramic type, and others based on kind. Due of its expanding use in 5G applications, the ceramics type segment is anticipated to develop among these at the highest CAGR.
During the Study Period, the Smart Phone Segment Will Predominate the Market
The application segment is classified into smartphones, notebooks and tablets, automobile electronics, and others. Among these, the smartphone segment is more likely to hold the largest share in the market during the forecast period.
Asia Pacific Region is Expected to Render Ample Investment Avenues
Geographically, the global RF diplexers market has been divided into North America, Europe, Asia Pacific, Middle East & Africa (MEA), and South America. The market in Asia Pacific is projected to witness the highest growth rate during the forecast period owing to the high adoption of RF diplexers in countries such as China and India. This can be attributed to factors such as growing demand for consumer electronics products and increasing investments by major players in developing countries such as India. Moreover, government initiatives aimed at promoting digitization are further driving the growth of this region.
Covid-19 Impact and Market Status
The Covid crisis had a varying impact on industries across the world. Various economies were disturbed due to the restricted cycle of demand and supply. The outbreak of the COVID-19 pandemic has had a significant impact on the global RF diplexers market. The pandemic has resulted in a decrease in demand for RF diplexers from the consumer electronics and automotive industries. However, the 5G rollout is expected to drive demand for RF diplexers over the forecast period. The major players in the market are focusing on developing innovative products to cater to the increasing demand for 5G applications.
Latest Innovations in the Global RF Diplexers Market: a Snapshot
• In October 2019, Intel Corporation introduced the next-generation Xeon processor Scalable family of processors to enable simultaneous 4K video streaming with faster performance.
• ASUS focuses on product launches to gain traction in the market. In November 2019, the company released the world's first 14-inch convertible laptop powered by an 11th Gen Intel Core processor with Iris Xe graphics for increased productivity and a better gaming experience.
• In January 2020, MSI launched a new line of gaming motherboards featuring advanced cooling solutions that are specifically designed for gamers' needs. MSI is focusing on product launches and strategic collaborations with other companies.
• Apart from this, Gigabyte Technology has adopted geographical expansions and acquisitions as its key strategies. For instance, in January 2020, Gigabyte Technology announced its expansion into Mexico by setting up a new office in Guadalajara city to increase its presence in Latin America.
RF Diplexers Market Scope
| | |
| --- | --- |
| Metrics | Details |
| Base Year | 2021 |
| Historic Data | 2020-2021 |
| Forecast Period | 2022-2031 |
| Study Period | 2021-2031 |
| Forecast Unit | Value (USD) |
| Revenue forecast in 2031 | USD 691.6 million |
| Growth Rate | CAGR of 4.2% during 2021-2031 |
| Segment Covered | Type, Application, Regions |
| Regions Covered | North America, Europe, Asia Pacific, Middle East and Africa, South America |
| Key Players Profiled | Intel, MSI, ASUS, Gigabyte Technology, Supermicro, ASRock Computer Inc., Biostar Group, EVGA Corporation, Tyan Computer Corporation, and PC Partner Limited. |
Key Segments of the RF Diplexers Market
By Type Overview, 2021-2031 (USD Billion)
• Crystal Type
• Ceramics Type
• Others
By Application Overview, 2021-2031 (USD Billion)
• Smart Phone
• Notebook and Tablet
• Automobile Electronics
• Others
By Regional Overview, 2021-2031 (USD Billion)
North America
• U.S
• Canada
Europe
• Germany
• France
• UK
• Rest of Europe
Asia Pacific
• China
• India
• Japan
• Rest of Asia Pacific
South America
• Mexico
• Brazil
• Rest of South America
Middle East and Africa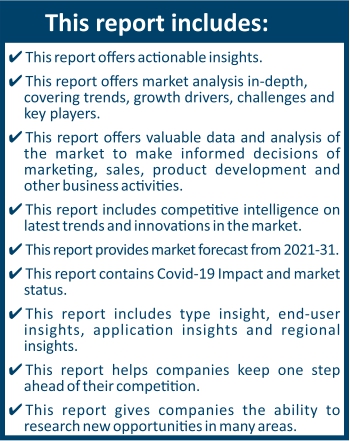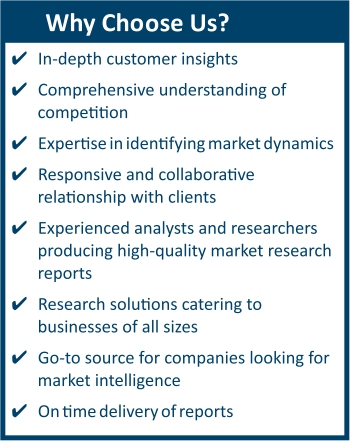 Frequently Asked Questions (FAQ) :
The global RF Diplexers market size projected to reach USD 691.6 million by 2031.