In 2019, the global reverse osmosis (RO) membrane market size was valued at >2.50 billion. Growing water scarcity, increasing government regulations regarding clean drinking water, increasing population, and rising demand for water treatment in emerging economies are expected to drive global reverse osmosis (RO) membrane market over the forecast period.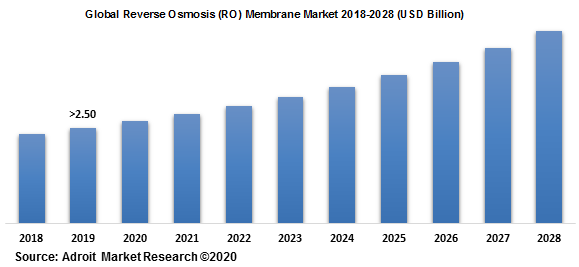 In a typical reverse osmosis (RO) system, membrane plays a critical role as it is responsible for separation of water from other particulates. Thus, with constant operation, membrane tends to get weaker which then get susceptible to fouling for which pre-treatment methods are used as replacement of RO membrane is costly. Overall, reverse osmosis requires high installation cost owing to which manufacturers are focused on bringing innovative solutions for ease of process. Makers are focused on up gradation of the membrane by making changes in its nano-material composition so as to increase the efficiency and reduce the energy consumption. Other new technologies for reduction of the energy consumption are forward osmosis, pressure retarded osmosis, recapturing of energy by using effective component are some of the techniques are currently focused by the manufacturers which are expected to be adopted over time.
Key Segments of the Global Reverse Osmosis (RO) Membrane Market
Filter Module Overview, 2018-2028 (USD Billion)
Plate & Frame
Tubular-Shaped Membranes
Spiral-Wound Membranes
Hollow-Fiber Membrane
Application Overview, 2018-2028 (USD Billion)
Desalination System
RO Purification System
Medical Devices and Diagnostic
Material Overview, 2018-2028 (USD Billion)
Cellulose-Based Membranes
Thin Film Composite Membranes
Regional Overview, 2018-2028 (USD Billion)
North America
Europe
UK
Germany
France
Rest of Europe
Asia Pacific
China
Japan
India
Rest of Asia-Pacific
Middle East and Africa
UAE
South Africa
Rest of Middle East and Africa
South America
Brazil
Rest of South America
Reasons for the study
The purpose of the study is to give an exhaustive outlook of the global reverse osmosis (RO) membrane market. Benchmark yourself against the rest of the market.
Ensure you remain competitive as innovations by existing key players to boost the market.
What does the report include?
The study on the global reverse osmosis (RO) membrane market includes qualitative factors such as drivers, restraints, and opportunities
The study covers the competitive landscape of existing/prospective players in the reverse osmosis (RO) membrane industry and their strategic initiatives for the product development
The study covers a qualitative and quantitative analysis of the market segmented based on filter module, type, and animal type. Moreover, the study provides similar information for the key geographies.
Actual market sizes and forecasts have been provided for all the above-mentioned segments.
Who should buy this report?
This study is suitable for industry participants and stakeholders in the global reverse osmosis (RO) membrane market. The report will benefit: Every stakeholder involved in the reverse osmosis (RO) membrane market.
Managers within the reverse osmosis (RO) membrane industry looking to publish recent and forecasted statistics about the global reverse osmosis (RO) membrane market.
Government organizations, regulatory authorities, policymakers, and organizations looking for investments in trends of global reverse osmosis (RO) membrane market.
Analysts, researchers, educators, strategy managers, and academic institutions looking for insights into the market to determine future strategies.
The reverse osmosis membrane-based water and waste water treatment systems are expected to have significant potential in the future, considering the increasing pattern of reverse osmosis membrane usage in alternative water supply treatment, including desalination plants and waste water recycling. The supply of water from seawater desalination plants is becoming increasingly necessary in regions of water shortages in particular.
Fouling is the biggest technical problem for reverse osmosis devices. Fouling occurs in the case of membrane pores which are obstructed by salts or suspended particles. This restricts the quantity of water which can be handled before washing. Fouling of the membrane may be rectified by washing or purifying it for approximately every 4 months and replacing cartridge filter elements every 8 weeks. Apart from the capital cost, electricity cost, membrane replacement and labor costs are the most significant costs of reverse osmosis plants. All the desalination techniques in contrast to traditional technologies are energy intensive.
Filter Module Segment
Global reverse osmosis (RO) membrane market on the basis of filter module is segregated as spiral-wound membranes, tubular-shaped membranes, hollow-fiber membranes, and plate & frame. Spiral-wound membranes dominated the global reverse osmosis (RO) membrane market in 2019 and is accounted for more than 30% of the overall market. Robust design, avoids membrane breakage, low cost, and low operating cost of spiral-wound membranes are further expected to drive the market in coming years.
Application Segment
Based on application, the global reverse osmosis (RO) membrane market categorized as, desalination system, RO purification system, and medical devices and diagnostics. Increasing adoption in residential, commercial, municipal, industrial, pacemaker, dialysis equipment, medical devices, diagnostics, seawater and brackish water desalination systems are expected to open new avenues for global reverse osmosis (RO) membrane market over the coming years. Increasing demand for desalination coupled with rising number of ongoing desalination plants in Middle East & Africa are expected to open potential future for reverse osmosis (RO) membrane.
Material Segment
Global reverse osmosis (RO) membrane market on the basis of material is segregated as thin film composite membranes and cellulose-based membranes. Cellulose-based membranes consist of nitrocellulose membranes and cellulose acetate (CA) membranes. Thin film composite membranes consist of polyamide composite membranes, graphene oxide-based, and polyacrylonitrile composite membranes.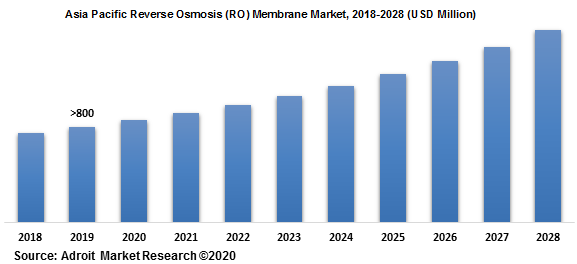 Middle East & Africa and Asia Pacific accounted for majority of the market share in global reverse osmosis (RO) membrane market. Increasing population coupled with depleting fresh water reserves are expected to drive the market in these regions.
Leading companies engaged in reverse osmosis (RO) membrane market are Seaps, Toray Industries, Inc., Transfilm, LG Chem, Keensen, Hydranautics, Vontron, Dow Water & Process Solutions, Recsun, Membranium, Toyobo Co., Ltd., Trisep Corporation, LANXESS AG, GE Water & Process Technologies, and Trisep Corporation. Key companies present in the market are adopting new product development, technological advancement, research & development, investment, merger & acquisition, and partnerships to form strategies in order to stay competitive in the industry and strengthen their distribution network in order to increase their customer base.
In April 2018, Kuwait's Ministry of Electricity and Water signed two agreements, worth USD 141 million that are aimed at boosting the country's power supply sector in the future. In support of this news, the country's Minister of Oil, Al-Rashidi revealed that nearly 76% of the construction operations of a reverse osmosis desalination plant has been completed. The minister further stated that, this RO desalination facility located at the Doha West power plant, will be in service by November 2018 and produce 60 million gallons of water per day.