The global reverse logistics market is predicted to reach close to USD 958.55 Bn by 2028 with an annual growth rate of 5.7% from 2021 to 2028. This strong growth can be attributed to the increasing e-commerce businesses around the world allowing customers return and replacement of items. Additionally, the growing demand for unhindered client satisfaction, and 'go-green' initiatives are driving the global reverse logistics market. Favorable consumer centric regulatory framework, advances in electronic devices and automotive industries are furthering expansion in the global reverse logistics market.
However, challenges in reverse logistics such as lack of streamlined processes, neglect by service provider, retailer-manufacturer conflict, unidentified or unauthorized returns are likely to hamper the market growth. However, these existing loopholes in the reverse logistics process are creating new opportunities.
Vendors and market participants are aggressively focusing on optimal use of material, improved profits, better customer satisfaction, creating and maintaining a green image, and smaller returns inventory to mitigate existing challenges and further growth in the global reverse logistics market.
Reverse logistics is a process that starts post-delivery of products to the customers. It involves moving of the purchased item backward through the supply chain to the distributor or from distributor to manufacturer. A process that involves end consumer who is responsible for final disposal of products including recycling or resale. Therefore, in the reverse logistics space, recycling and resale of the items are also classed under reverse logistics.
Today, in a competitive world companies are searching for innovative ways for improving processes, customer satisfaction, and remain competitive. And reverse logistics is used as a strategic aspect by the companies. Reverse logistics supports cost savings, optimal use of resources, improved customer loyalty, and helping firms creating green image. These factors are fanning the global reverse logistics market and providing huge opportunities to the firms. Also, companies are adopting reverse logistics as a part of green environment target.
Moreover, the depleting resources and rising costs are enabling companies to adopt reverse logistics for developing new strategies for improving competitiveness. As reverse logistics reduce the overall cost, it is anticipated to be an opportunity for companies to capitalize incremental opportunities and profits in the forthcoming years.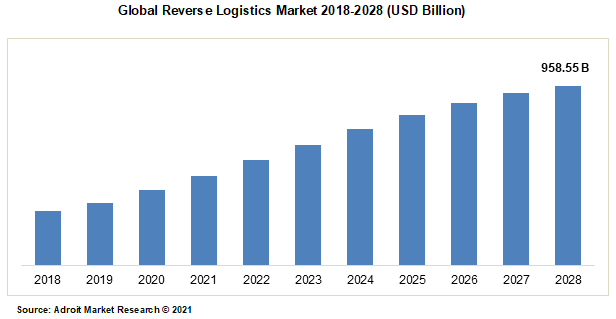 There are numerous logistics companies getting a competitive edge over their rivals and creating green image among their customers. Some leading global reverse logistics market companies are CCR Logistics, Core Logistic, DB Schenker, Deutsche, FedEx, Kintetsu, Safexpress, United Parcel Service, Yusen Logistics, and C.H. Robinson among other emerging and well-established reverse logistics companies.
Key Segments of the Global Reverse Logistics Market
Return Type Overview, 2018-2028 (USD Billion)
Consumer goods
Industrial goods
Civil objects
Other materials
End User Overview, 2018-2028 (USD Billion)
E-commerce
Retail
Pharmaceutical
Luxury goods
Others
Service Overview, 2018-2028 (USD Billion)
Transportation
Warehouse
Resell
Refund management
Others
Regional Overview, 2018-2028 (USD Billion)
North America
Europe
Germany
UK
France
Rest of Europe
Asia Pacific
China
Japan
India
Rest of Asia Pacific
South America
Brazil
Mexico
Rest of South America
Middle East and Africa
Reasons for the study
This research study gives you an idea of the fundamentals of the global reverse logistics market.
Readers are provided with a bird-eye view of the competitive arena and prominent developments across the entire landscape of the global reverse logistics market.
This research study sheds light on the key market aspects such as current trends and opportunities and how companies are competing in the market.
This report points out the drivers, challenges, and investment opportunities, and looks into logistics models that need to be adopted to stay ahead of the competitive landscape.
What does the report include?
The report gives a better understanding of the obstacles challenging the market players and associated solutions and recovery strategies adopted
The report explains the financial benefits or impacts of investing in the global reverse logistics market
The report includes qualitative and quantitative factors having a major influence on the global reverse logistics market such as drivers, restraints, opportunities, market sizes, GDP, annual growth rate, and future revenue forecasts
Who should buy this report?
This global reverse logistics market reports is helpful to all the participants in the reverse logistics activities including forward supply chain actors such as supplier, manufacturer, wholesaler and retailer.
The specialised players in the market such as jobbers, recycling specialists and opportunistic players can use this report as strong reference point.
Reverse logistics has greatly influenced the managerial decisions and has played an important role in improving customer satisfaction. It has improved customer satisfaction which thereby is boosting the company's growth. Thus, increasing number of SME's are getting involved in reverse logistics activities. Reverse logistics is proving to be advantageous to the companies with direct and indirect gains.
Reverse logistics allows stakeholders to follow the legislative protocols thereby helping them to create a clean and green image. Most importantly, corporate citizenship is another important aspect, why companies are getting inclined to adopting reverse logistics. Recovery and return programs are used to create awareness among customers by the companies.
These factors are having a major influence on the global reverse logistics market and influencing substantial growth. The growing number of e-commerce, retail, pharmaceutical sales, and other companies are getting involved in the refurbishment initiatives, and recycling and reusing crucial vehicle components.
Return Type Segment
Depending on different segments the market is classified into return type segment namely consumer goods, industrial goods, civil objects, and other materials. The consumer goods segment is experiencing tremendous market growth in the global reverse logistics market. The emergence of e-commerce companies offering returns and replacements of purchase is driving growth of the segments.
End User Segment
Depending on different segments the market is classified into end user segment namely e-commerce, retail, pharmaceutical, luxury goods, and Others. The retail segment emerged as the most dominant and favorable segment. The key factors such as emergence of e-commerce retail giants like Amazon and Flipkart offering returns and replacements on purchases, and increased innovation and development of automation technologies are driving growth of this segment.
Service Segment
Depending on different segments the market is classified into service segment namely transportation, warehouse, resell, refund management, and others. In the past few years, the segment which has witnessed pathbreaking growth is the warehouse segment. The forward rise could be attributed to favorable connectivity, expansion in the e-commerce space, and large- scale adoption among lead manufacturers across verticals.
North America is leading the global reverse logistics market companies in this region are offering forward and reverse logistics solutions. Companies in the region ensure optimization of the reverse flow using digital technologies and maintaining extensive international network. Also, APAC is experiencing good market growth as a number of companies are getting involved in reverse logistics activities to take advantage of both direct and indirect gains of reverse logistics.