Some of the key factors influencing the growth of the refrigerated trailer market include the rising demand for frozen and chilled food products, the increasing competition among suppliers to offer technologically cutting-edge temperature-controlled trailers, and government initiatives to support perishable cargo transportation.
Due to their ability to carry fragile and perishable commodities over long distances cost-effectively and effectively, refrigerated trailers are becoming more and more in demand. Regardless of the weather outside, they are made to maintain a constant and consistent temperature within the trailer. They are able to keep food products fresh and of high quality for a longer period of time thanks to this. As a result, industries like food and beverage, healthcare, and other consumer items are using refrigerated trucks more frequently.
The use of refrigerated trucks has several advantages. It increases the food products' shelf life while preserving their quality, freshness, and accessibility in far-off locations. They are also used to transport medical supplies including medications, immunisations, and other things that need to be delivered in a certain temperature range.
They are therefore far more desirable than conventional cargo trailers and other types of vehicles. Due to these trailers' improved economy, using them also contributes to lower fuel expenditures. In order to produce and distribute goods using refrigerated trailers, manufacturers are investing in cutting-edge technology, which is anticipated to fuel market expansion throughout the course of the forecast period.
Trucks with specialised designs called "refrigerated trailers" are used to transport consumer goods like food and drink, pharmaceuticals, and other items that need to be transported at specific temperatures. These trailers are made out of an insulated container with a refrigeration unit and utilise various cooling technologies to maintain specified temperatures. They come in a range of sizes, from small to huge, and are also known as reefers or cold storage containers. They are frequently employed for long-distance transportation of goods that must maintain a specific temperature range. As a result, they provide a practical and affordable replacement for conventional cargo vehicles.
The market for refrigerated trailers is anticipated to increase at a CAGR of 5.9% between 2021 and 2031, reaching a value of USD 30.27 billion by that year.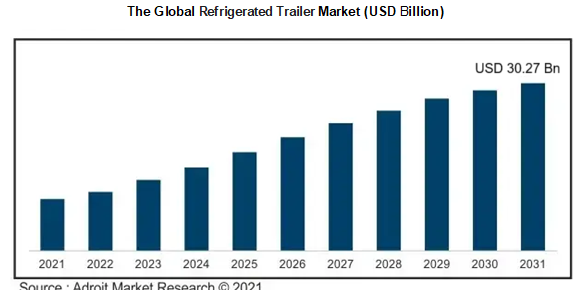 The industry is growing because of the rising demand for chilled and frozen goods worldwide. The Asia Pacific region is predicted to experience the fastest market growth during the projection period.
The pricey initial outlay required to purchase and maintain a refrigerated trailer is one of the main obstacles preventing the market from expanding. Additionally, because these trailers need to be regularly inspected to ensure correct operation, maintenance and operating costs are also fairly significant. This would limit its acceptance in some places, which would impede the market's overall growth. However, throughout the projected period, the market for refrigerated trailers is anticipated to see development prospects due to the expansion of supermarkets and hypermarkets as well as growing consumer awareness of food safety.
Many regional and foreign businesses are vying for market share, creating a very fragmented competitive landscape. The Utility Trailer Manufacturing Company (US), Great Dane Limited Partnership (US), Wabash National Corporation (US), CIMC Vehicles Group Co., Ltd. (China), Schmitz Cargobull AG (Germany), and Krone Trailer GmbH are some of the major participants in the market (Germany). These companies are focusing on product innovations and collaborations to strengthen their market positions.
Segment Analysis
A significant chunk of the market is made up of the frozen Transport segment.
The frozen transport category is anticipated to increase at the quickest rate during the anticipated period. This increase can be attributed to the growing appeal of frozen goods, which include ice cream, vegetables, fruits, and other items. Due to the rise in supermarkets and hypermarkets, there is a demand in the market for these trailers. Additionally, technological advancements have made it possible for manufacturers to include better cooling systems in these trailers, which is further fueling market expansion.
The food and Beverage segment to be on top of the market
During the projected period, the food and beverage industry is anticipated to increase at the fastest rate. This can be due to the rise in popularity of convenience foods like frozen foods and ready-to-eat meals, which need to be transported effectively through these trailers. Additionally, the expansion of supermarkets and hypermarkets across various countries has increased the demand for these trailers to transport food, propelling market expansion.
Asia Pacific will command the marketplace.
The Asia Pacific region is predicted to have the quickest market growth throughout the projection period. This regional market is anticipated to increase as a result of the countries like China, India, Japan, and South Korea's rising demand for frozen and chilled food products. To further improve their market positions, producers in this area are concentrating on product innovations and partnerships. Additionally, during the anticipated period, this is anticipated to generate growth prospects in the refrigerated trailer market.
Covid-19 Impact & Market Status
The COVID-19 epidemic has significantly altered the world market for refrigerated trailers. Food waste has increased as a result of supply chain interruptions, which has hurt this market's expansion. Furthermore, the limitations imposed by governments in many nations have hindered their operations and reduced the need for these trailers.
Latest Innovations in the Global Refrigerated Trailer Market: A Snapshot
Wabash National Corporation unveiled the Refrigerator Evolution Trailer (RET), its newest trailer, which comes equipped with cutting-edge insulation technology, a one-piece composite roof, and other elements that improve fuel efficiency.
Utility Trailer Manufacturing Company debuted the Ultima 53, a new trailer with a patented aerodynamic design that improves fuel economy and minimises drag. During the anticipated period, the market for refrigerated trailers is anticipated to benefit from these product introductions by offering expansion prospects
Refrigerated Trailer Market Scope
| | |
| --- | --- |
| Metrics | Details |
| Base Year | 2022 |
| Historic Data | 2021-2022 |
| Forecast Period | 2022-2031 |
| Study Period | 2021-2031 |
| Forecast Unit | Value (USD) |
| Revenue forecast in 2031 | USD 30.27 billion |
| Growth Rate | CAGR of 5.9% during 2021-2031 |
| Segment Covered | Type, Application, Regions |
| Regions Covered | North America, Europe, Asia Pacific, South America, Middle East and Africa |
| Key Players Profiled | The Utility Trailer Manufacturing Company (US), Great Dane Limited Partnership (US), Wabash National Corporation (US), CIMC Vehicles Group Co., Ltd. (China), Schmitz Cargobull AG (Germany), and Krone Trailer GmbH |
Key Segment of Global Refrigerated Trailer Market
By Type Overview (USD Billion)
• Refrigerated Trailer
By Application Overview (USD Billion)
• Food and Beverages
• Healthcare
• Others
By End-User Overview (USD Billion)
• Foodservice Providers
• Retailers
• Others
By Region Overview (USD Billion)
North America
• USA
• Canada
Asia Pacific
• China
• India
• Japan
• Rest of Asia Pacific
South America
• Mexico
• Brazil
• Rest of North America
Europe
• Germany
• France
• UK
• Rest of Europe
Middle East and Africa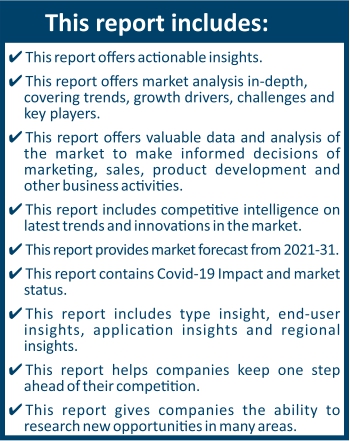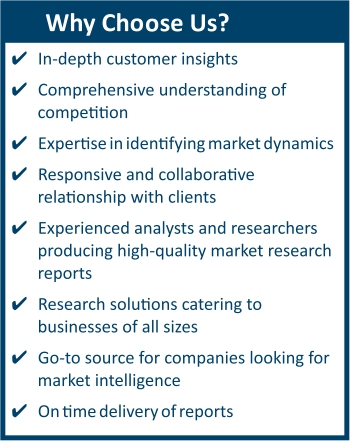 Frequently Asked Questions (FAQ) :
Refrigerated Trailer Market is projected to reach USD 30.27 billion by 2031, growing at a CAGR of 5.9