Mounting demand for plant-derived protein and growing population around the world to magnify the growth in the Red Algae Market
Covid-19 Impact & Market Status
The report offers an exhaustive overview of the business dynamics and new investment strategies that are being adopted by business leaders across countries and regions to overcome the acute challenges and financial instabilities that have emerged in the post pandemic times.
The report highlights some of the best industry strategies and practices that are adopted by the players across local and global markets. Ever since the Covid-19 broke out in 2019, it has spread aggressively, resulting in rapid declaration by the WHO affirming Covid-19 as a global pandemic and an emergency.
The impact of the pandemic is widespread and the aftermath is well pronounced, gravely affecting the Food & Beverages market, thereby seriously affecting the Red Algae market globally. The sudden pandemic and its implications have posed significant challenges such as travel bans, quarantines, and lockdowns with restaurants and factories closing down, obstructing the supply chain.
These developments are hampering operations resulting in stock market inefficiencies, and vendor chaos. These are constantly interfering with the normal functioning of industries.
Ever since the outbreak of the global crisis, impact on upstream, downstream, and midstream industries have been appalling. The report delivers a quick ready-to-deploy approach to counter such crisis and steer the Red Algae market towards steady growth and systematic progression.
Amidst the pandemic, aligning with new dynamics, Red Algae market has been witnessing new dynamics which are further necessitating new business models and approaches to recoup growth and revenue streams.
In this report, inquisitive business players would be provided with sufficient guidelines regarding business transformation, integral to sustain stiffening competition in the pandemic and beyond pandemic era Red Algae market.
Red Algae in Food & Beverages to Sustain the Highest Revenues
Owing to the great nutritional and health benefits, there seems to be huge potential in the red algae market in the food & beverages industry. Mainly, it is used as a dietary supplement but is also found in frozen foods such as fruit juices, jams, syrups, and instant food items.
Carrageenan, commonly known as Irish Moss, is extracted from red algae. Carrageenan is an essential component in the food & beverage industry as it helps to bind the food together. Red Algae acts as an ingredient in a variety of products in restaurants globally due to the high amounts of protein, fiber and minerals present in it.
North America to Sweep the Largest Revenue Streams, Followed by Europe
North America region is a lucrative regional market for the red algae market because of the growing health concerns and rising demand of natural treatments to diseases like diabetics and high blood pressure. Food & Beverage industry is also rapidly growing in countries in the North American region.
Europe is one of the biggest producer and consumer of red algae. The high demand for plant-derived protein has boosted the growth in the market. However, the Asia Pacific region is showing the fastest growth in demand for red algae products and is expected to follow the same trend in the Forecast Period.
Rising cases of diseases such as high blood pressure and diabetics and the correspondingly increasing health awareness among people to intensify demand in the Red Algae market
The presence of a pigment named phycoerythrin makes the red algae red. Being rich in magnesium and calcium, red algae balances the blood sugar levels by improving the blood circulation in the body. It is thus an effective cure for diabetics and high blood pressure. Red algae are adopted extensively in the food and beverage industry.
Despite a minor growth dip owing to Covid-19 implications, the red algae market is expected to recoup growth and register over USD 44.3 million by 2028 ticking at a CAGR of 6.7%.
Red algae by type can be classified into freshwater red algae, marine red algae, and coralline algae. Out of the three, freshwater red algae and marine red algae are the ones that are most commonly used in the manufacturing industry as by-products.
Red Algae are also used for tertiary oil treatment, chromatographic media, and enzyme immobilization. Shampoos, toothpaste, and even creams also owing to skin-nourishing properties that boost the immune system of the body.
Red Algae is rich in antioxidants, which thus helps to fight many diseases including heart disease and cancer. It also improves the bone structure with its high calcium content. Mainly found in marine and freshwater, it is a natural food for fish and other aquatic animals.
Red algae have small amounts of iodine content which can be a limiting factor in the red algae market. Iodine can cause various health problems like gastrointestinal problems or hypertension along with high blood pressure. However, red algae have a much lower iodine content than brown algae which acts as a major source for economically important productions.
Red Algae have various applications in industries such as food and beverages, medical and pharmaceutical, industrial applications, and cosmetics and personal care industries. In the medical and pharmaceutical industry, red algae are used to derive various pharma products such as antimicrobials, antivirals and antifungals, neuroprotective products, therapeutic proteins, and drugs.
The main aim of red algae remains to increase the calcium, potassium, and magnesium levels in the body. Over the years, the growth of the red algae market has been positive. These factors fuel ample growth in the red algae market, and the growth trend is likely to continue in the coming years.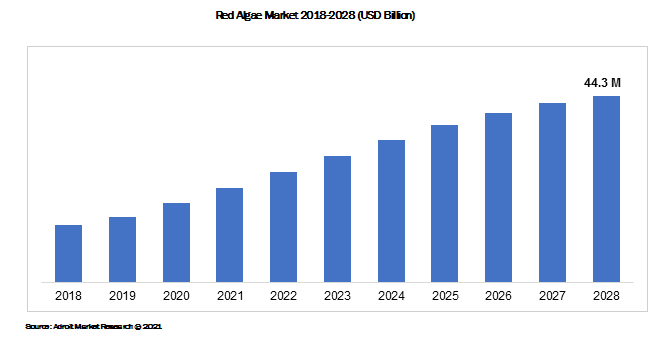 The major players of the Red Algae market are Alga Technologies, SIMRIS ALG AB, Bioprocess Algae, E.I.D – Parry (India) Limited, DuPont, AlgaeCan Biotech Ltd., Cyanotech Corporation, Cellana Inc., Algatech LTD and Earthrise Nutritional.
The red algae market is a rapidly progressing industry and is characterized to have industrial frontliners as well as aspiring new players aiming to penetrate into the aggressive competitive landscape across global and local markets. Additionally, various new and aspiring players are improving their product lines and upgrading technological capabilities to improve revenue streams amidst Covid-19 impact.
Latest Innovations in the Global LVDS Chip Market: A Snapshot
In October 2020, a new powder was announced by Cyanotech Corporation named BioAstin Hawaiian Astaxanthin. It is a powerful antioxidant derived from a type of microalgae.
In February 2020, Cargill introduced the WavePure ADG series taken from the Red Sea Gracilaria i.e., considered a traditional food ingredient in the European Union.
Red Algae Market Scope
| | |
| --- | --- |
| Metrics | Details |
| Base Year | 2020 |
| Historic Data | 2018-2019 |
| Forecast Period | 2021-2028 |
| Study Period | 2018-2028 |
| Forecast Unit | Value (USD) |
| Revenue forecast in 2028 | USD 44.3 million |
| Growth Rate | CAGR of 6.7% during 2021-2028 |
| Segment Covered | Type, Application, Region |
| Regions Covered | North America, Europe, Asia Pacific, Middle East and Africa, South America |
| Key Players Profiled | Alga Technologies, SIMRIS ALG AB, Bioprocess Algae, E.I.D – Parry (India) Limited, DuPont, AlgaeCan Biotech Ltd., Cyanotech Corporation, Cellana Inc., Algatech LTD and Earthrise Nutritional. |
Key Segments of the Red Algae Market
Type Overview, 2018-2028 (USD Million)
Freshwater Red Algae
Marine Red Algae
Calcified Red Algae
Application Overview, 2018-2028 (USD Million)
Food and Beverages
Medical and Pharmaceutical
Industrial Applications
Cosmetics and Personal Care Industry
Regional Overview, 2018-2028 (USD Million)
North America
Europe
Germany
France
UK
Rest of Europe
Asia Pacific
China
India
Japan
Rest of Asia Pacific
South America
Mexico
Brazil
Rest of South America
Middle East and South Africa
Frequently Asked Questions (FAQ) :
The global red algae market is poised to grow at a CAGR of around 6.7% by 2028.
The verticals assessed in the market research report are food and beverages, medical and pharmaceutical, industrial applications, cosmetics and personal care industry.
The key manufacturers are Alga Technologies, SIMRIS ALG AB, Bioprocess Algae, E.I.D – Parry (India) Limited, DuPont, AlgaeCan Biotech Ltd., Cyanotech Corporation, Cellana Inc., Algatech LTD and Earthrise Nutritional.
North America Region is projected to rank higher in terms of market share than other regions of the global market for red algae.