In today's tech-driven world, the need for PVD coating machines has grown exponentially. From electronics and panel display to automotive and tools and hardware, this versatile machinery is essential for various industries.
Drivers of the PVD Coating Machine Market
The drivers of the PVD Coating Machine Market are
1. Increasing demand for corrosion-resistant and wear-resistant coatings in the automotive sector.
2. Growing need for high performance, cost effective and durable PVD coating machines in the aerospace and defence industries.
3. Advancements in technology that have enabled precise control of the deposition process.
4. Growing usage of PVD coating technology in medical device manufacturing to improve product longevity and wear resistance.
5. Increasing demand from industrial sectors such as energy, electronics, and food processing for high quality coatings with excellent adhesion properties.
Advantages of the PVD Coating Machine Market
Some of the advantages of the PVD Coating Machine Market are as follows :
1. Cost Saving: PVD coating machines offer high-quality coatings at a cost-effective price, providing customers with cost savings in the long run.
2. Durability: PVD coatings are known for their superior durability and are resistant to corrosion, abrasion, chemicals and extreme temperatures. This makes them ideal for use in industrial and commercial applications.
3. High Quality: The coating process used in these machines is highly precise and efficient, allowing manufacturers to produce high-quality coatings that meet stringent industry standards.
4. Versatility: PVD coating machines can be used to apply a variety of different types of coatings on various substrates such as metals, plastics, ceramics, and glass. This allows manufacturers to customize coatings for specific requirements.
Market Value and CAGR of the PVD Coating Machine Market (2021-2032)
The Market Value and CAGR of the PVD Coating Machine Market is expected to reach USD 8.4 billion by 2032, registering a CAGR of 7.8% between 2021 and 2032.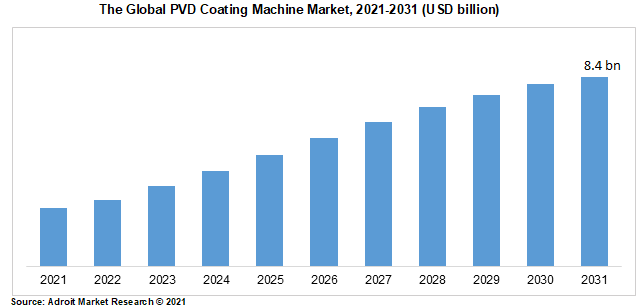 The growing demand for PVD coating machines from the automotive and consumer electronics industries is driving the market growth. Additionally, technological advancements in PVD coating machines are further propelling the market growth. Increased focus on improving product performance, efficiency, and aesthetics is expected to fuel the market demand in the near future.
Challenges of the PVD Coating Machine Market
Some of the challenges of the PVD Coating Machine Market are as follows :
1. Stiff Competition: The PVD coating machine market is highly fragmented and competitive, with many players offering similar products and services. In order to stand out from the crowd, companies need to develop unique solutions that provide superior performance and cost-effectiveness.
2. High Cost of Equipment: The cost of PVD coating machines can be significantly higher than conventional or manual processes. This can create a barrier for entry for some businesses looking to make a move into the market.
3. Technical Complexity: The technology underlying PVD coating machines is quite complex and requires a great deal of technical know-how in order to properly manage the equipment and apply the coatings correctly. This may limit the number of potential customers who are able to use these types of machines effectively.
Key Players of the PVD Coating Machine Market
Some of the key players of the PVD Coating Machine Market are Buhler AG, ULVAC Technologies, Inc., Oerlikon Blazers Coating AG, Praxair Surface Technologies, Inc., ZENITH Surface Innovations Pt. Ltd., TYKMA Electro, Nippon Oil Pump Co. Ltd., Sigma seal Industries Pt. Ltd., Denton Vacuum, LLC., and Veeck Instruments Inc.
Market Analysis into type, application, end user and region of the PVD Coating Machine Market
The most demanded product of the PVD Coating Machine Market is expected to be the vacuum-based PVD coating machine. This type of machine is used to create a thin film of metal vapor layer on the surface of an object, which can improve its durability and aesthetic appeal. The application of this type of coating machine includes automotive, aerospace, medical implants, electronics, and jewellery industries.
The end users of the PVD Coating Machine Market are mainly automobile manufacturers, aircraft manufacturers, medical device manufacturers, and jewellers. Automobile manufacturers use PVD coating machines to provide improved corrosion resistance and wear resistance for their vehicles. Aircraft manufacturers use the machines for increased durability in their parts that are exposed to extreme temperatures or are subject to high-impact forces. Medical device manufacturers also use PVD coating machines for improved performance in implants used in various operations.
The global PVD Coating Machine market is segmented geographically into North America (the USA and Canada), Europe (the UK, Germany, Italy, Spain, etc.), Asia Pacific (China, India, Japan), Latin America (Brazil and Mexico) and Middle East & Africa (GCC Countries). Currently Europe is leading the overall market due to increasing demand from automotive industry in countries like Germany and Italy coupled with high technological infrastructure in this region. North America
Impact of Covid-19
Covid-19 has had a profound impact on the PVD coating machine market. The global pandemic has resulted in a sharp decline in demand for PVD coating machines, as many industries have been forced to curtail production. The electronics and panel display industry, in particular, has been hard hit, as the Covid-19 outbreak has disrupted supply chains and halted production in many factories. The optics and glass industry has also been affected, as the pandemic has caused a slowdown in demand for products such as eyeglasses and sunglasses. Automotive manufacturers have also been impacted, as the Covid-19 outbreak has led to a decrease in vehicle sales. However, some industries have seen an increase in demand for PVD coating machines, such as the tool and hardware industry, as people are looking to purchase tools for home improvement projects during the pandemic. Overall, the Covid-19 pandemic is expected to have a negative impact on the PVD coating machine market in 2020.
Key developments in the PVD Coating Machine Market
In January, 2020, an Austrian-based company, PVD Coating Machines GmbH, launched its new line of automated coating machines for industrial use in a variety of industries. The launch includes the Duckwater 5C and Duckwater 6C models, two fully automatic PVD coating machines that provide consistent results at higher volumes.
In July 2020, the company unveiled their newly developed plasma-enhanced PVD (Physical Vapor Deposition) Technology. This technology is able to apply precise and repeatable thin-film coatings with a high degree of accuracy and control. The process is designed to be applicable to any surface including glass and metal substrates.

PVD Coating Machine Market Scope
| | |
| --- | --- |
| Metrics | Details |
| Base Year | 2021 |
| Historic Data | 2020-2021 |
| Forecast Period | 2022-2031 |
| Study Period | 2021-2031 |
| Forecast Unit | Value (USD) |
| Revenue forecast in 2031 | USD 8.4 billion |
| Growth Rate | CAGR of 7.8 % during 2021-2031 |
| Segment Covered | By Type, By Application, End Users, Regions |
| Regions Covered | North America, Europe, Asia Pacific, Middle East and Africa, South America |
| Key Players Profiled | Buhler AG, ULVAC Technologies, Inc., Oerlikon Blazers Coating AG, Praxair Surface Technologies, Inc., ZENITH Surface Innovations Pt. Ltd., TYKMA Electro, Nippon Oil Pump Co. Ltd., Sigma seal Industries Pt. Ltd., Denton Vacuum, LLC., and Veeck Instruments Inc. |
Key Segment of PVD Coating Machine Market
By Type Overview 2021-2031, (USD Billion)
• Evaporation equipment's
• Sputtering Equipment's
• Others
By Application Overview 2021-2031, (USD Billion)
• Electronics and Panel Display
• Optics and Glass
• Automotive
• Tools and Hardware
• Others
By End-User Overview 2021-2031, (USD Billion)
• Manufacturing companies
By Region Overview 2021-2031, (USD Billion)
North America
• USA
• Canada
Asia Pacific
• China
• India
• Japan
• Rest of Asia Pacific
South America
• Mexico
• Brazil
• Rest of North America
Europe
• Germany
• France
• UK
• Rest of Europe
Middle East and Africa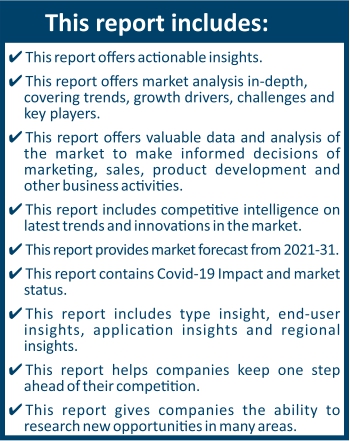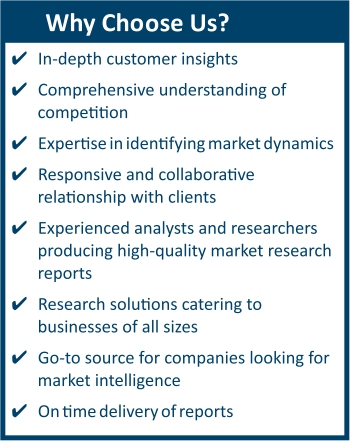 Frequently Asked Questions (FAQ) :
PVD Coating Machine Market is projected to reach USD 8.4 billion by 2031, growing at a CAGR of 7.8